I'LL TAKE OCTOBER
I'll provide fuller details on my attendance at the Southeastern Outdoor Press Association's annual conference in "Jim's Doin's" below, but one of the gratifying aspects of being there (and I've never missed an annual meeting since I became a member in the mid-1980s) was winning a couple of awards in the Excellence in Craft competition. One such recognition was second place in the weekly newspaper category, and I thought you folks might enjoy reading the entire text of the entry as a portion of this month's newsletter. If you live in a part of the world where the climate is conducive to "porch sitting," and most everywhere there's some portion of the year where a porch offers comfort, perhaps you'll enjoy the piece below. It looks back on the days of my youth and the manner in which two porches—the one at my boyhood home and that of my paternal grandparents—loomed large indeed in not only my daily existence but that of everyone around me.
THIS MONTH'S SPECIAL BOOK OFFERINGS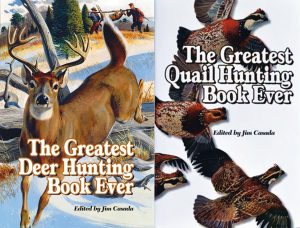 That bit of rumination appears below, but first let's get to the material side of things. I don't make much out of this newsletter, especially if you judge income against time spent, but it is a vehicle for selling books. If you pay close attention to the books section of my website, there are literally thousands of volumes in a wide variety of areas for sale. They include my own books, books I have edited or contributed to in some way, and a vast range of out-of-print works in fields such as African hunting and exploration; individual authors including Nash Buckingham, Robert Ruark, Archibald Rutledge, Jack O'Connor, and George Bird Evans; special fields such as upland hunting; and beautifully reproduced books in two series I edited, The African Collection and The Premier Collection. This month (and the offer is good on any order through November 30) I am in effect putting every one of those books on sale. Take 10% off of any order; 15% off of orders from $100 to $200; and 20% off on orders over $200. Payment will be accepted only via personal check or money order. Between PayPal taking a cut of the pie and the complications involved in reduced prices when using that approach, payment in that fashion just isn't possible for this special offer. I would suggest you e-mail (jimcasada@comporium.net) or call (803-329-4354) me for one-of-a-kind items.
**********************************************************************************
IN PRAISE OF PORCHES
One of the many blessings folks living in the Smokies tend to take for granted is that they can enjoy their porches on balmy spring days, throughout the summer in early morning and from late afternoon until bedtime, and well into autumn when Indian Summer holds sway. With a fan and shade trees, even mid-day in the summer can be tolerable. Such is not the case everywhere. In fact, what might be styled the "porch season" has quite a lengthy run in the high hills of the southern Appalachians.
In today's world of air conditioning, near addiction to television screens, and a seeming compulsion to be indoors, porches don't loom nearly as large in everyday life as was once the case. Yet I'd like to sing the praises of porches, and much of my tribute comes directly from countless wondrous hours spent on them, mostly on the one at my boyhood home or that of my paternal grandparents. Of course there were porches aplenty elsewhere–summertime courtships where I had neither the money nor the transportation to do anything but visit (they provided a welcome bit of privacy), picking and grinning sessions on summer evenings, visits with friends or relatives, and much more.
When visitors came a-calling, weather permitting we adjourned to the porch overlooking the town and offering vistas of Frye Mountain, the head of Kirklands Creek, and the beginning of the Alarka range on the opposite side of the Tuckaseigee River valley. It was a grand place to be when thunderstorms threatened. On countless occasions when a good shower would have been most welcome we watched rains falling on the opposite ridgeline, sometimes so heavy they hid Frye Mountain, with flashes of lightning momentarily brightening the sky. We almost never got the benefit of those evening showers, because typical summer rain patterns brought rain from the southwest, moving up the river.
That porch was almost a second home to my sister. She would sing and rock for hours on end, and on one occasion when Daddy accidentally ran over a cat in the driveway, she purt nigh drove the rest of the household crazy with mournful tunes that in essence amounted to dirges. It was also a place to watch lightning bugs as light gave way to night, to observe Independence Day fireworks, or during the day to watch birds go about their business. A pair of screech owls which raised several generations of young in a huge white oak located nearby added to the appeal, and during the summer there was always a chorus of grasshoppers, katydids, and jar flies as background music.
Porches were a place for relaxation at day's end, but they also witnessed plenty of work. Indeed, quite often work and rest went hand in hand. Sometimes a number of family members would gather to talk, but while they did so their hands were busy. The job at hand might involve stringing and breaking beans for a run of canning the next morning; shelling crowder peas or lima beans with the same end result in mind; peeling and quartering apples, either for drying or canning; working up a bushel or two of corn (shucking, scrubbing away silks, then cutting from the cob) for soup mix; cutting up okra; going through peaches beginning to go bad Mom had bought for a song to make preserves, and the like. More often than not anything that was canned included a session of porch work as part of the overall process.
Occasionally, usually on a Sunday afternoon, there would be a run of hand-churned ice cream. I don't ever recall doing this at home but it happened periodically at the home of Grandpa Joe and Grandma Minnie, usually when a bunch of cousins from out of town visited or maybe when a lot of us got together for a family meal.
Most memorable of all for me were porch sitting sessions with no one involved except Grandpa Joe and me. Sometimes this came when we had been placed in verbal exile (that is to say, Grandma had told us, in no uncertain terms, that we needed to get out of the house). Grandpa would mutter something about "they" not wanting us underfoot (he referred to Grandma Minnie as "they" whenever she was upset, apparently thinking the impersonal pronoun would ease the brunt of her ready wrath—it never did) and we would retreat to the porch.
There he would take his throne, a comfortable rocking chair which now, a full 60 years later, sits nearby as I'm writing this. Before long I would have induced him to share tales of yesteryear. Grandpa was a natural, gifted storyteller and it didn't take much—just a request for a re-run of some oft-told tale such as the time he shot a "painter" (cougar)—and magic would unfold. I would sit enchanted for hours, doing little other than offering a bit of encouragement or tendering an occasional expression of rapt interest, as he relived what was clearly a rugged but exciting time in his life.
Add to that enjoyment of an icy watermelon or just resting after hours of hoeing corn, and the overall picture emerges of porches being special retreat, a tiny piece of paradise. They were the perfect place for so many things. Family gatherings, courtships, music, relaxation, rest between periods of work, enjoying the soothing movement of a rocking chair, sensing and savoring the rhythm of a gentle rain, and more. Porches were a place where you could be at peace with the world, and as singer/songwriter Tracy Lawrence suggested years ago in a country hit, "If the World Had a Front Porch," they were a place to reduce stress, solve problems, and slow down life's often hectic pace.
**********************************************************************************
JIM'S DOIN'S
My attendance at the annual meeting of the Southeastern Outdoor Press Association at the beginning of the month was, as is invariably the case, a four-day exercise in pure delight. It involved seeing plenty of old friends, making some new ones (it was particularly pleasing to have a number of college students and young folks in attendance), getting my mental batteries re-charged thanks to seminars and interaction with a lot of talented folks, and just flat-out enjoying the overriding sense of camaraderie which characterizes the conference.
The setting, Florence, S. C., and our hosts could not have been finer and more congenial. You don't usually expect exceptional food in a convention center atmosphere, but from a first night moveable feast in downtown Florence right through to the meal preceding the final night's traditional "pickin' and grinnin'," we were fed in truly fine fashion. Holly Beaumier, the head of the Florence Convention and Visitors Bureau, is a skilled professional who was right on top of everything. Despite a tragic shooting which took the life of a local law enforcement officer, and a second one has since died of injuries from the incident, she handled everything with consummate skill. The settings for both breakout day, where supporting members display all that is new and noteworthy in their product lines, and shooting day, were first-rate.
The latter event was held at a local law enforcement shooting/training range, and despite the grief and stress associated with the shootings, those stellar public servants gave us a first-rate reception. I particularly enjoyed a demonstration of the training and abilities of police dogs. After watching one of those dogs literally knock a burly, fit man to the ground when given an attack signal, realization immediately dawned that these staunch canine companions can be a real asset not only in locating illicit drugs but in tense, dangerous encounters with criminal elements. The "subject," who was well protected by special gear and knew exactly what was coming, probably weighed 200+ pounds. Yet a dog possibly a third his weight, attacking from a run of no more than 30 yards distance, bowled him over as if he were an empty cardboard box. It was truly impressive and gave ample visual evidence of the capabilities sound training and the right dog, bonded with his law enforcement handler, can produce.
Thanks to circumstances on the home front, this was the first time I had ventured away to spend several nights in strange surroundings in all of 2018. It was good for me, and since then a fair number of sessions of pondering life's vagaries and vicissitudes while watching and waiting in a deer stand have likewise sustained me. Mind you, it wasn't until a couple of days ago that I killed the first of the 2 or 3 does which form my normal allotment of "meat for the winter," and that came only after a good many afternoons in a stand. I did have an earlier opportunity to put venison in the freezer during muzzleloading season, but probably the less related about that debacle the better. Suffice it to say that only fools and those who should know better pull the trigger on black powder poles topped by a scope which hasn't been sighted in for three seasons.
As is ever the case I've got several projects at various stages of completion. They include a story on pocket knives which will appear in the next issue of Carolina Mountain Life, a sort of history of South Carolina Wildlife Magazine I intend to wrap up in the next few days, another effort for the same magazine on the grand old man of the wild turkey world who was Henry Edwards Davis, a feature on making complete use of your turkey for Wildlife in North Carolina, a short history of the 100 years of Mossberg, several 2019 pieces for Smoky Mountain Living, my weekly contributions to the Smoky Mountain Times, and the book projects which always form one focal point for my literary endeavors.
In truth I plan to be busier than usual in the immediate future, because I've found that a solid work ethic and simply doing things to occupy my mind are of vital importance. To some degree I've shared with all of you the ongoing downward spiral of my dear Ann as dementia works its horrid way with her. She's been under hospice care for a far longer time than is typical, but in a plan of care meeting a couple of days ago the medical experts confirmed what I already knew to be stark reality. She has only weeks, and perhaps only days, left in her earthly journey. I've come to grips with this to as great a degree as is possible for me, but other than the opportunity for mental preparation, foreknowledge doesn't ease the burden. I would simply ask you to think of her, bear with me for a momentary departure into being maudlin, and forgive me for straying from an upbeat path. Indeed, with the word "upbeat" as a signpost, let's switch gears to the always enjoyable topic of food and festive feasts.
************************************************************************************
RECIPES
My 2018 garden was a decidedly mixed bag. I've never had a worse season for tomatoes, with early rains, blight, and generally bad growing conditions in a key period meaning I barely had enough to eat and freeze, never mind my normal practice of giving maters away by the peck. On the other hand, I've never had a finer year for okra. Here it is the end of October and amazingly I've still cutting a few pods from plants which are now so tall I have to bend them over just to reach the pods. That has meant taking some new directions in preparing a food I love, and I'll share two additions to normal offerings such as gumbo, fried okra, stewed okra, and hearty soups thickened by the versatile vegetable.
DEEP-FRIED OKRA PODS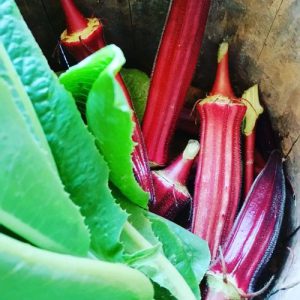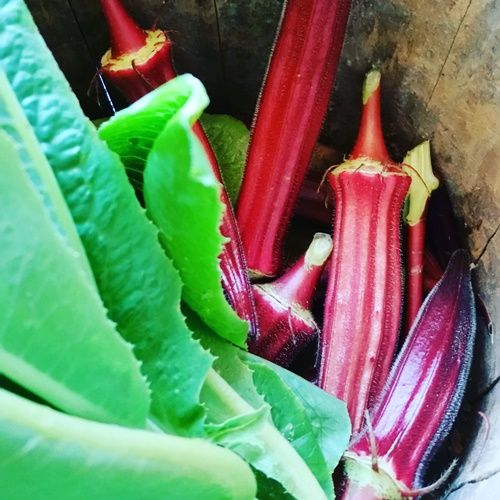 This idea comes from a good friend and hunting buddy, Darrin Dawkins. He and his wife, Robin, have been regular recipients of my okra bounty and I suspect they may have become tired of my delivering a mess a couple of times a week. Be that as it may, they had me over for a fish fry a few weeks back, and in addition to the normal sides of hush puppies, French fries, onion rings, and slaw, Darrin had deep fried a big batch of whole okra pods. They were crunchy crisp, not at all greasy (piping hot oil and a deep fryer had been the trick in that regard), and flat-out delicious.
ROASTED OKRA PODS
Several years ago a Cajun cook did a demonstration at a writers' conference I attended in Louisiana, and one of the dishes she prepared was roasted okra. I frankly didn't remember everything she did, so I just took my own approach. It involved brushing okra pods with some olive oil, dusting them with a bit of black pepper (I'm sure, if you like a bit of "heat" in your food, that you could do the same thing with red pepper flakes) and sprinkling them with salt. I then placed the pods on a lightly oiled cookie sheet and placed them in the oven turned up to 450 degrees. After a few minutes, as the tops began to turn brown, I used tongs to turn the pods over. When they were well browned I took them out of the oven and served as part of an all-vegetable meal. Picked up in one's fingers and enjoyed as a sort of finger food, they were both crunchy (exterior) and soft (inner pod) as well as flat-out delicious.
My other food focal point this month is shrimp. I'm fortunate enough, periodically, to be able to purchase locally caught shrimp when visiting a little bungalow we have in Garden City. Other that what overcooking does to them, it's difficult to mess up on shrimp, and to my way of thinking wild caught local shrimp are not one but several steps above the "raised" ones you get at the grocery store. Even the latter, however, are tasty, and if you aren't blessed to have access to the "real McCoy," those store-bought ones will do quite nicely.
VENISON STEAKS WITH SHRIMP AND ASPARAGUS SAUCE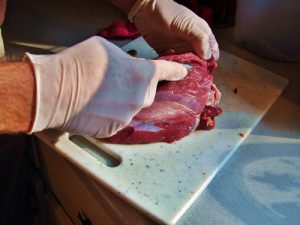 For me, this is a "can't go wrong" recipe, because I absolutely love all three ingredients.
1 pound asparagus
1 package of béarnaise sauce (or make from scratch)
1 tablespoon butter
2 tablespoons olive oil
Several sliced green onions
1 pound venison loin steaks
¼ cup all-purpose flour
½ pound shrimp, cooked, peeled, and chopped
Steam the asparagus until tender-crisp, then drop into ice water to stop cooking. Prepare the béarnaise sauce. Melt the butter with the olive oil in a non-stick skillet and sauté the green onions until tender. Drain and add to the béarnaise sauce.
Flatten the steaks with a meat mallet until very thin. Coast with flour and brown quickly in the drippings in the skillet. Add the shrimp and asparagus to the béarnaise and heat gently. Serve the steaks topped with shrimp and asparagus sauce. Garlic mash potatoes or oregano mashed potatoes, along with a green salad, make fine side dishes.
SHRIMP GRAVY
1 cup olive oil
2 large sweet onions, chopped
½ cup all-purpose flour
4 cups milk
¼ cup finely chopped parsley
2 pounds deveined, peeled shrimp
Salt and pepper
Heat the olive oil in a Dutch oven over medium heat. Saute the onions in the oil until translucent. Add the flour and stir until well blended. Whisk in two cups of the milk. Stir until the mixture begins to thicken. Add the remaining two cups of milk and stir until the mixture thickens. Add the parsley and shrimp. Simmer for five minutes or until the shrimp turn pink. Season with salt and pepper. Serve over piping hot biscuits, grits, rice, or pasta.
SHRIMP CHOWDER
½ large onion, chopped
¼ cup butter
2 large potatoes, peeled and chopped
1 cup boiling water
¾ teaspoon salt
8 ounces grated cheddar cheese
2 cups milk
1 pound shrimp, cooked, peeled and chopped
Parsley
Black pepper to taste
Saute the onion in the butter in a large saucepan. Add the potatoes and water. Simmer until the potatoes are tender. Season with the salt and pepper. Add the cheese and milk and cook until the cheese melts, being careful not to bring the chowder to a boil. Add the shrimp and simmer until the shrimp are warm. Add parsley as a garnish or to taste.