THIS MONTH'S SPECIALS
The Christmas season lies just around the corner, and as is annually the case, I have a number of special book offers geared towards the reading sportsman. I've always maintained that books make ideal Christmas gifts, because their pages keep providing joy and warm memories year after year. In fact, one of my most memorable Yuletide gifts ever was an inexpensive copy of Zane Grey's Spirit of the Border which my parents gave me when I was 9 or 10 years old. It was the first real book I could call my own and it marked the start of a reading/collecting passion which has continued unabated over the decades. The book still holds a special place in my personal library and an even more important place in my heart.
I'm offering three different packages or bundles as this month's specials. All feature books which I either wrote or edited, all come with appreciable price reductions, and all make highly suitable gifts for, respectively, deer hunters, turkey hunters, and upland game hunters. Here are the details.
DEER HUNTING PACKAGE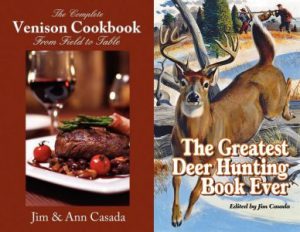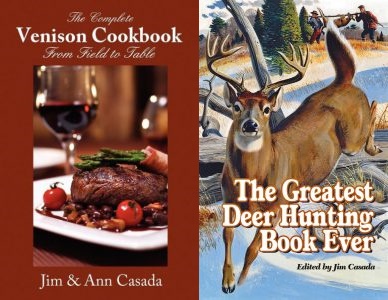 Combine the pleasures of fine reading with some scrumptious eating with The Greatest Deer Hunting Book Ever and The Complete Venison Cookbook. The first features upwards of 350 pages and 43 dandy whitetail tales from the greatest writers in the field, while the second offers more than 200 recipes, from the simple to the sublime, for venison. Most of the recipes are simple and none of them require extraordinary culinary skills. The books retail for $40 and $15 respectively, but this package lets you buy them for $40 and I'll pay the shipping. If you include normal shipping charges that's a whopping savings of $22.50.
TURKEY HUNTING PACKAGES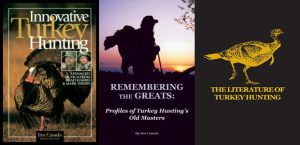 In this instance, I'm offering two different packages. Both involve original books I wrote, but in the first instance there are three books, including one pricey limited edition work, while in the second case there are only two books involved. Offer #1 is for The Literature of Turkey Hunting (limited edition of 750 signed and numbered copies with a slipcase, Skivvertex binding, all edges gilt, a ribbon marker, and other distinguishing characteristics of a fine book); my award-winning Remembering the Greats: Profiles of Turkey Hunting's Old Masters (detailed biographical vignettes of 27 icons of the sport with ample supporting photographs); and Innovative Turkey Hunting. Retail for the three is $160 and I'm offering them at $112 (that's a 30% discount AND I'll pay the shipping).
Alternatively, if you don't want to make the plunge for The Literature of Turkey Hunting, the other two can be obtained for $42 (again, a 30% discount) postage paid.
UPLAND GAME HUNTING PACKAGE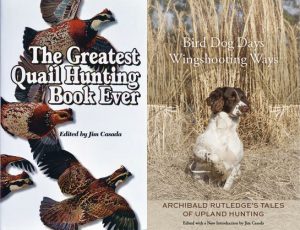 The third offer is for two dandy upland game hunting anthologies, The Greatest Quail Hunting Book Ever and Bird Dog Days; Wingshooting Ways: Archibald Rutledge's Upland Game Hunting Stories. This pair of attractive hardbacks retails for $65 and I'm offering them for $50 postage paid. If you include my normal shipping costs, this is a savings of $22.50.
For these special offers, payment is by personal check or money order only. PayPal takes enough of a cut from me that I just can't afford to use it for these specials. Also, S. C. residents will need to include 7% tax. You can contact me at, Jim Casada, 1250 Yorkdale Drive, Rock Hill, SC 29730 or at jimcasada@comporium.net.
If you want books signed and/or inscribed, just let me know. I'll gladly give them a personal touch.
**********************************************************************************
THINGS I REMEMBER ABOUT NOVEMBER
If my mind indulges in time travel all the way back to boyhood, something I'm increasingly inclined to do these days, two things about November stand out. One is recollections of family feasts and all the background behind those grand exercises in culinary delight—from final harvest work to hog killing, from days or even weeks of planning and preparation by the women folks to the sheer belt-loosening indulgence of the actual day of giving thanks for another growing season coming to an end. The second focuses squarely on rabbit hunting, an activity which loomed inordinately large in my youth. Thanks to our raising beagles, cottontails being plentiful, and my having an almost inexhaustible supply of energy, I was almost constantly afield from when the rabbit season opened during Thanksgiving week until its closure in late February.
Today those festive times are muted, and this Thanksgiving I'll have a nice meal with my daughter (and maybe my granddaughter, although as a high school senior she's got an incredibly busy schedule and I've heard rumblings about attending the Virginia Tech-Virginia football game with friends on that day). As for rabbit hunting, with the rare exception of someone inviting me for an outing, the sport belongs to a world I have lost. Instead, I'll spend a portion of the week dealing with big "cottontails' (deer). That's more likely to involve watching and simply enjoying the wilds than shooting. I've already shot two deer for the freezer—they are being processed as these words are being written—and I'll shoot again only if a really prime doe or an outstanding buck appears or possibly if I learn of some folks down on their luck who could use the meat.
*********************************************************************************
MOMMA'S APPLESAUCE CAKE
As I've noted time and again over the years, a fair share of my most powerful and poignant holiday memories revolve around food, and each year at this season I find myself involved in some culinary time travel back to my boyhood.  None of those recollections is deeper or more meaningful than ones associated with Momma. Not only was she a wonderful cook; she thoroughly enjoyed preparing dishes for the holiday season.
A half century ago, along with decades on either side of that time span, come this specific weekend (immediately on the heels of Thanksgiving), she would have set a specific task set for herself. For this particular weekend, and it was a fixed part of her annual routine, she concentrated on making applesauce cake.
Maybe background information is in order at this point, because the setting and the way the ingredients were produced are integral parts of the story. Two of the key ingredients in her applesauce cake were the fruit which gave the wonderful dessert its name and black walnuts. We raised the apples and the "applesauce" which went into the cake came straight from our tiny orchard. We had a small apple orchard on the hillside below the house, and Dad tended the Red Delicious, Stayman, and Golden Delicious trees with great care.  That meant annual pruning, careful spraying, and hard if joyous work at harvest time.
Much of the apple crop would be canned in late September or early October, with Mom's annual goal being 200 quarts of cooked apples.  Thanks to those efforts, seldom did a day, especially in the colder months, go by when we didn't have cooked apples on the table (it wasn't really applesauce in the sense of that name as applied to store-bought stuff; just stewed apples cooked to the point of falling apart before being canned).  Other apples would be dried, providing the key ingredient for a mainstay of hearty winter breakfasts, fried apple pies, as well as the layering for stack cakes.
The cream of the crop, those apples which were unblemished and not used in the frenetic period of peeling, cooking, and canning, was stored in a huge bin and airy baskets in the basement.  One of my youthful jobs was to go through these every week or so to cull out rotting apples.  Typically I would catch them when they just showed a spot, and Mom would turn these into a cobbler which was delicious and easily prepared.
By the end of November we had already gathered the year's harvest of black walnuts as well, and these too went into a variety of Christmas delicacies.  We cracked them as a family and picked out the meats. It was a tedious but ultimately rewarding process. A marriage of the oily, pungent flavor of walnut kernels with the juiciness of apples, the meaty tang of raisins, and just the right blend of spices made for a cake of incomparable delight.
By the end of the Thanksgiving weekend, Mom would have the year's batch of applesauce cakes made, with all of the work being done while her sons and the man of the house were busy getting another rabbit season off to a rollicking start.  Look back, I'm sure she was glad to have us out from under foot.
Come Sunday after Thanksgiving, she would have a bevy of perfectly baked applesauce cakes "aging" in a downstairs room we never heated.  They got better with each passing week, thanks at least in part to the addition of a dollop of wine or apple cider to keep them moist and because, like fruit cakes, they benefited from a bit of time before being eaten.  I think a few weeks just allowed the myriad flavors to mix, mingle, and eventually mate in a marriage of perfect taste. Whether that was the case or not, those cakes were sacred and inviolable until the week of Christmas. Not a bite was eaten up until that point.
But oh the glories of that first slice of her applesauce cake! It was so moist it literally glistened in the light like dew or frost sparkling on grass as the sun clears the eastern horizon, and to take that first bite was to be transported into a hillbilly heaven of fine eating. Unlike many cooks, Momma was never selfish with any of her specialties. Unfortunately, when afflicted by Parkinson's Disease late in life she went through a spell of "throwing away" which saw her dispose of many of her wonderful recipes. This one survived that purging though, and here it is. While the cake is delicious right out of the oven, I recommend the periodic anointing with moisture (just a couple of tablespoonfuls a week) for a fortnight or more.
APPLESAUCE CAKE
1 cup butter (the real McCoy, no margarine substitutes)
2 cups sugar
4 cups flour
1/3 cup cocoa
4 teaspoons baking soda
1 teaspoon cinnamon
2 teaspoons allspice
2 cups raisins
3 cups applesauce
2 cups black walnut meats
2 teaspoons vanilla
Pinch of salt
Cream butter and sugar.  Add applesauce and remaining ingredients a small amount at a time, mixing as you go.  When the batter is ready pour into a Bundt-type cake pan and bake for 50 minutes to an hour at 350 degrees.  Check with toothpick to see if cake is done (toothpick will come out dry). Cool and then store in a cool place (the bedrooms in our home were unheated and a closet in the downstairs one became a temporary cake repository each December).
**********************************************************************************
TALE OF AN OLD COFFEE CUP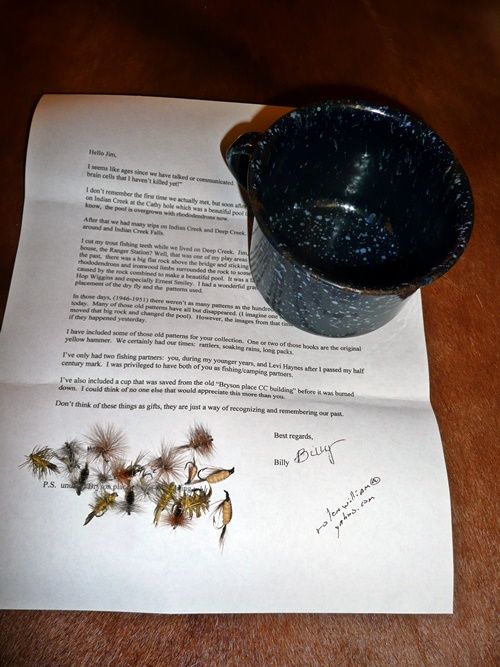 About this time of year back in 2014 a lifelong buddy of mine called from a nursing home and, in the course of a lengthy conversation, told me to be on the lookout for a little surprise sometime soon. I had no idea what to expect, especially given the fact that he had always been a bit of a prankster, and I certainly had no idea he only had months left to live. Here's a story I wrote at the time, and while my staunch friend insisted I accept what he sent not as a gift but something to be shared, I think you'll agree he gave me a treasure beyond measure. Valued by monetary amounts it may have been worthless, but from the standpoint of what it meant to me and the memories it evoked his offering was priceless.
*********************************************************************************
For sportsmen and outdoor enthusiasts there comes a stage in life where they either own pretty much all the gear they need or else cannot afford it. I've long since reached that stage, although honesty compels me to acknowledge that a fly fisherman really never has too many rods and the hunter always welcomes just one more gun. Of course spouses often have markedly different outlooks, and based on personal experience I can tell you it's mighty difficult to justify another fly rod when you own a dozen or an additional shotgun when you already have at least two of every gauge from 10 to .410.
Such particulars of paraphernalia being duly recognized, once in a while an item comes along which is truly the cherry atop a hunter's sundae. That happened to me a few weeks back when, the week before Thanksgiving, a package arrived in the mail bearing the return address of my longtime friend and boyhood fishing and hunting buddy, Bill Rolen.
We have stayed in touch by e-mail, phone, and occasionally in person over the years, and Bill helped me appreciably with photographic support and information when I was writing Fly Fishing in the Great Smoky Mountains National Park: An Insider's Guide to a Pursuit of Passion. A substantial portion of my early "pursuit of passion" was in his company—just two boys living a dream on Deep Creek, Indian Creek, Luftee, Bradley Fork, and other streams in the Smokies. During those carefree teenage years both of us added a great deal of mental gold to the vaults of our respective memories.
Yet in my wildest dreams I could never have imagined a tangible link to those days in the 1950s which would be so meaningful, much less one that would resurrect not only happy days in my own life but a whole world of sport in the Smokies of yesteryear, as what he sent. The contents of the box were simple—20 or so trout flies in old-fashioned patterns such as Yellarhammers tied on a long-shanked hook and legendary angler Mark Cathey's favorite, a Grey Hackle Yellow, along with an old coffee cup.
The flies, tied by Bill, a master of the vise since boyhood, meant a great deal, but in terms of significance they paled in comparison with the coffee cup. At first glance it was just another example of the once popular backcountry cookware featuring dark blue enamel with white specks. The enamel has worn away in a spot or two, with rust showing through, although the cup would still be perfectly serviceable when it came to holding a steaming cup of coffee or hot chocolate beside a backcountry campfire during evening tale-telling time.
What sets this cup apart, to use one of those ten-dollar words English teacher Thad DeHart drummed into my thick skull so many years ago, is its provenance. The cup was part of the set of utensils which stocked a cabin the Civilian Conservation Corps (CCCs) built in the 1930s at the Bryson Place on Deep Creek. That structure replaced an earlier building hunters and fishermen had utilized for decades—certainly from early in the 20th century and possibly even in the late 19th century.
The "new" cabin constructed by the CCCs was still standing in my youth, and some of the most memorable of my many camping trips with Dad were spent there. To me, even as a boy, it was hallowed ground. After all, the spot was one where the icons of sport in the Smokies–men like Mark Cathey, Sam and Waitsel Hunnicutt, O. P. Williams, Granville Calhoun, and others–had camped in pre-Park days while on bear hunts or fishing trips.
Sometime around 1960 the Park, in one of its seemingly unending actions aimed at destroying history (old homesteads, out buildings, and indeed any and all evidence of the human presence had, for the most part, been leveled and burned in the 1930s), ordered the ranger at the time to burn down this legendary gathering spot for sportsmen. The Deep Creek ranger then just happened to be Bill Rolen, the father of my pal, and I have no doubt whatsoever that this was one of the toughest duties he undertook over the entire course of his stellar career. After all, he was a man with deep roots in and an abiding love for the Smokies and Swain County.
He carried out his orders to burn the Bryson Place, but in doing also decided to save a bit of history. In an act which, had it been known at the time, doubtless would have brought the wrath of his superiors over at Sugarlands down on his head, Bill removed a few items before setting that historic structure ablaze.
In due time they were passed on to his son and namesake, and young Bill's letter accompanying the cup resurrected memories so meaningful to me they shine as brightly as if they occurred this past summer. "We certainly had our times," Bill reminisced, "rattlesnakes, soaking rains, long backpacking trips." He recalled the anglers we idolized—Claude Gossett, Hop Wiggins, Levi Haynes, Alvin Miller, Ernest Smiley, and my father—and some of their favorite pools on Deep Creek. He relived our good times together on Indian Creek, Left Fork, and elsewhere. Then he wrote, in simple yet for me deeply moving words: "I've only had two fishing partners; you, during my younger years, and Levi Haynes after I passed my half-century mark. I was privileged to have both of you as fishing/camping partners."
Then Bill added, "Along with the flies I've included a cup from the old Bryson Place. I can think of no one else who would appreciate this more than you. Don't think of these things as gifts. They are just a way of recognizing and remembering our past."
I'll honor Bill's wishes and just call the cup and flies mementos, but they are more meaningful than the most precious of gifts.  After all, it's possible, even likely, that those fly fishing heroes of my youth drank from the coffee cup. Indeed, it's not much of a stretch to reckon that Mark Cathey, after a long day astream performing his mesmerizing "dance of the dry fly," may have mixed a goodly dollop of snakebite medicine with his post-supper coffee in this very cup.
I'd like to think so. Certainly every time I look at that old cup, every time I gaze on those enduring mountain fly patterns, they will take me magically back to endearing angling days and enduring angling ways.
NOTE: Bill died in the early spring of 2015 and I was singularly privileged to be asked by his wife to deliver his eulogy. When she told me he had specifically requested that I do it I was deeply moved, and I hope that my remarks on the occasion were in some small way worthy of the man. You can rest assured that the coffee cup loomed large in my mind as I put together my thoughts. Although those thoughts were highly personal, they are reflective of the shared joys of a Smoky Mountain boyhood. If any of you would like to read them I would be glad to share a copy.
*********************************************************************************
RECIPES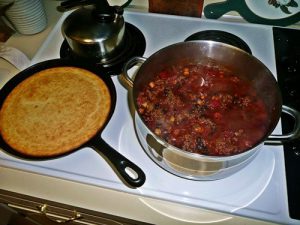 Since it is deer season, given the fact that my freezer will be well stocked with this healthy and delicious meat, and because one of the special offers this month features our The Complete Venison Cookbook, I thought I'd focus exclusively on this versatile meat. It can be prepared in endless ways, and the examples below give at least a hint of that. Personally, I have almost all my deer processed in one of three ways—cube steaks, ground meat (with a bit of suet added to the process), and the choice cuts (backstraps and tenderloins) either whole or butterflied. Maybe every third or fourth deer I'll have a couple of tubes of summer sausage done, but that's pretty much it. Obviously there are countless other options—breakfast sausage, jerky, bologna, kielbasa, and other specialty preparations—and a top-rate processor will offer really wide variety.
I do have a couple of thoughts on processors. Do some checking to be sure of the processor's reputation. You want to get back the deer you delivered, not someone else's. Similarly, ask straight out how long the processor ages a deer and how they do it. Five to seven days of hanging at a temperature around 40 degrees can make a world of difference. Not all processors are equal, and when you find a good one, even if the operation is a bit pricier, it's worth it.
Of course you can also process your own, and if you live in a part of the country where you can hang a deer for several days without having a refrigerated area, or if you have the facilities and equipment to work the animal up, it's worth the effort. I did that for many years but no longer have either the equipment or the inclination. I do still handle the skinning and gutting, knowing that by doing so I have cleaned up and readied the carcass in proper fashion (and it saves $25 in the case of the processor I use).
CROCKPOT CUBE STEAK
This has to rank well towards the top of my list of favorites, at least in part because it is something you can do, leave to the magic of the crockpot, and sit down to a fine meal several hours later. I just coat cubed sections of steak with flour and brown quickly on both sides in a skillet with just enough olive oil in it for the frying process. From there the browned steaks go into a crockpot along with a can of mushroom soup, that can filled with water, and the left over drippings from the frying process. Leave in the crockpot at medium or medium low temperatures for several hours and the meat will be so tender it can be easily cut with a fork. If you wish, you can add some carrots and potatoes for the last couple of hours. I usually add the carrots but cook the potatoes separately. Served with a green salad or fresh fruit, this makes a grand meal. Heated leftovers, with the mushroom gravy mixture part of the picture, make dandy open-face sandwiches.
VENISON MEATLOAF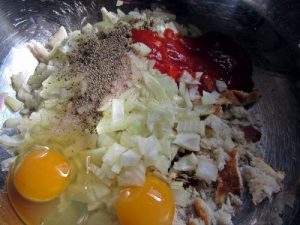 Start with two pounds of ground venison (I have my processed with a bit of beef suet). Place in a large bowl and add two eggs and some type of "filler." This can be bread crumbs, small chunks of the heels from loaf bread, crumbled Saltine crackers, or my personal preference, old-fashioned oats which have been cooked as if you were preparing oatmeal. Add salt, black pepper, a medium-size onion chopped up into small pieces, and if you like, green pepper.  Season to taste with Italian seasoning or dried herbs of your preference and mix everything together thoroughly using your hands or a mixer. Place in a suitably sized pan (I use a loaf pan for baking) which has been thoroughly coated with cooking spray and cook at 350 degrees until the meat reaches an internal temperature of 160 degrees (around 40 minutes–check with a meat thermometer). At this point, or 5 to 7 minutes before taking the meatloaf from the oven, top with tomato ketchup.
A variant on this is what might be termed Italian venison meat loaf. Use Italian seasoning when mixing the meat prior to cooking and some type of spaghetti sauce (I like Prego) instead of ketchup as the topping. One of the joys of meatloaf is that it is just as good as leftovers as when just out of the oven. Another is that it makes fine sandwiches.
VENISON ZITI
1 pound ground venison
¼-1/2 pound venison sausage
½ cup chopped onion
2 minced garlic cloves
3 ½ cups meatless spaghetti sauce
1 cup chicken broth
1 tablespoon chopped fresh oregano
1 tablespoon chopped fresh parsley
16 ounces ziti, cooked and drained
2 cups shredded mozzarella cheese, divided
1 cup grated Parmesan cheese, divided
In a large skillet over medium-high heat, sauté ground venison, sausage, onions, and garlic for 6 to 8 minutes or until the meat is browned. Stir in spaghetti sauce, chicken brother, and herbs. Reduce heat and simmer for 10 to 15 minutes. Stir one cup of the sauce into cooked ziti. Spoon half the ziti mixture into a 9 x 13-inch baking dish. Sprinkle with 1 ½ cups mozzarella and ½ cup Parmesan cheese. Top with 2 cups sauce, then the remaining ziti mixture and sauce. Cover and bake in a 350 degree oven for 20 minutes. Sprinkle with remaining mozzarella and Parmesan cheese. Bake uncovered 10 minutes longer or until heated through and cheese has melted.
EASY PEASY CHILI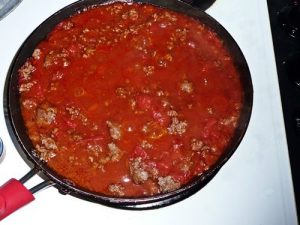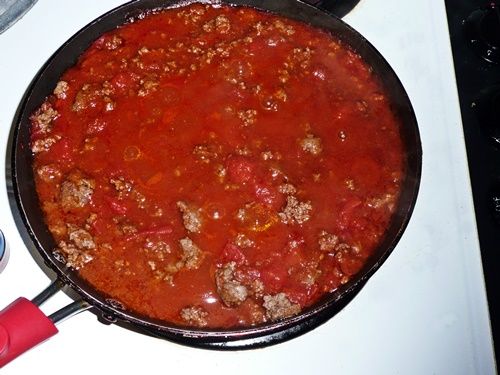 2 pounds ground venison
1 large onion, chopped
1 can (14 ounces) tomatoes, diced
1 can (16 ounces) drained beans (kidney or pinto)
1 can (6 ounces) tomato paste
1 cup water
1 package of chili seasoning or use chili powder to taste
Salt and pepper to taste
Brown venison and onion. Add tomatoes, drained and rinse beans, tomato paste, water, and seasonings. Simmer 45 minutes or longer for flavors to mix and marry. Serve hot, topped with grated cheese and chives. A pone of cornbread makes an ideal side.
NORWEGIAN VENISON GOULASH
3 pounds venison cube steaks or roast
½ cup flour
4 tablespoons butter
1 cup chopped onion
2 minced garlic cloves
2 teaspoons salt
1 tablespoon paprika
1 cup dry red wine
1 (8 ounce) can tomato sauce
1 ½ cups beef broth
1 cup sour cream
Pound venison with a meat hammer, sprinkle with flour, and pound again. Cut into 1 to 2 inch cubes. Melt butter in a Dutch oven and sauté the onions for 10 minutes. Add garlic and sauté briefly. Add the venison and brown on all sides. Mix in the salt, paprika, wine, tomato sauce, and brother Cover and cook over low heat for 2 to 2 ½ hours or until venison is tender. Stir in sour cream just before serving. Serve over egg noodles, dumplings, or spaetzle.