SEPTEMBER SONG—2018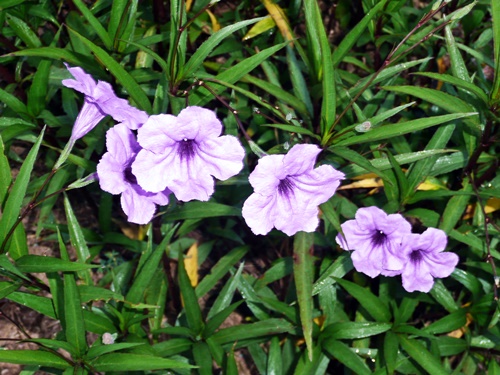 The month of September offers a surfeit for the senses. At dawn and dusk there's a smell, delicately delicious and wonderfully elusive, that tells of a coming change in the seasons. The aroma of kudzu in full flower drifts along on afternoon breezes and whenever a hint of rain touches dusty fields the earth gives off its special perfume. Wild muscadines fill thermals with tangy promise of fine eating for man and beast alike while pawpaws provide their subtle fragrance. But for me September is, most of all, the month of the apple.
Then there are the month's sounds—katydids lift their voices in chorus as if they somehow know to sing their hearts out while they can; mockingbirds fuss and crows roundly condemn hawks, owls, and indeed the world in general in their busybody fashion; the soft rustle of drying leaves falling to the forest floor is a symphony for those attuned to nature's ways; the staccato pounding of raindrops on a tin roof provides the finest of go to sleep music; the roll of heavenly drums from a late afternoon thunderstorm moving in either thrills or threatens depending on one's perspective; and the soft murmur of a mountain creek, low from a prolonged dry spell, as it moves in its never ending watery path invariably brings to mind, for me, Simon and Garfunkel's "Sounds of Silence."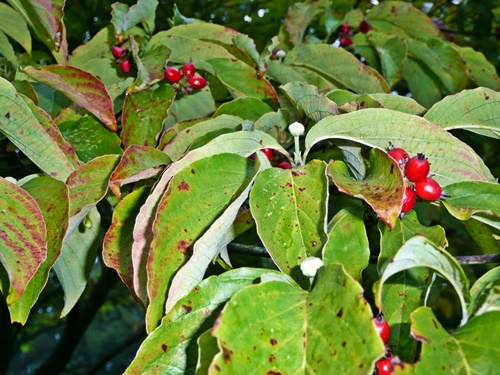 As for sights, the month brings color aplenty to the natural world. Red is dominant, with the leaves and berries of dogwoods beginning to trend towards scarlet, with much the same process occurring with sumac, and with cardinal flowers showing off all their considerable splendor. Purple has its place with Joe Pye weed and ironweed taking leading roles while wild asters, the delicate blooms of beggar lice, the splashy display Mexican petunias offer amidst the dew of early morning, and the fruits of black gum trees also offer eye-catching sights in this hue. Yellow is everywhere—in golden rod a-flower, turning leaves on poplars, persimmons easing towards orange, morning blooms on okra stalks grown tall and still bearing well, and the beauty of tickweed blooms along trails and roadsides belies the pest they become once the flowers are gone.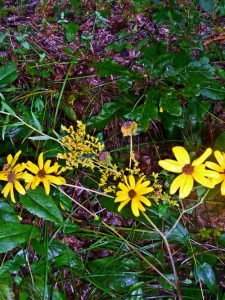 Along with sensing and savoring the myriad of offerings to the senses, September is also a time for getting ready—for the coming deer season, sowing of fall crops, cleaning up the garden (all I have left is okra), making sure seeds to be saved have been stored (other than zinnias from which I still need to cut dried heads, I have this accomplished) and in general bidding goodbye to one season while preparing to welcome another. The mere thought of crisp mornings and days devoid of depressing humidity cheers me, and right now I long for the solitude and solace afforded by a deer stand at dawn or as light gradually fades at day's end. There may be finer settings for meditation and contemplation, but resting in a deer stand while watching and waiting suits me just fine.
**********************************************************************************
JIM'S DOIN'S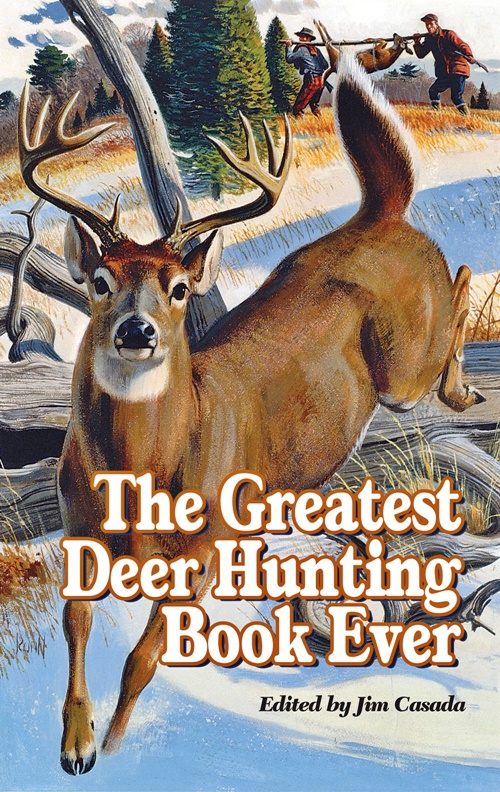 Probably the biggest news on the personal front is that, finally, copies of The Greatest Deer Hunting Book Ever have arrived. Thanks to all of those among you who placed pre-publication orders. You should have had your signed and inscribed copies in hand two or three weeks before the arrival of this newsletter. For everyone else, I'm quite pleased overall with the way the book turned out. It runs to well over 450 pages; features delightful illustrations by noted wildlife artist Ron Van Gilder; contains  an introduction, commentary with each individual story, biographical notes on each of the contributors, and a bibliographical essay by me; and contains 43 of the finest tales of whitetails ever told. The contributors include the likes of William Faulkner, Robert Ruark, Archibald Rutledge, John Madson, Theodore Roosevelt, Gordon MacQuarrie, and a number of the great modern writers on deer. If you have a deer hunter or hunters on your holiday list, not to mention keeping yourself in mind, here's a great gift idea. Signed and inscribed copies are $40 + $5 shipping. I also have a handful of the limited and numbered deluxe edition of 350 copies at $80 postpaid.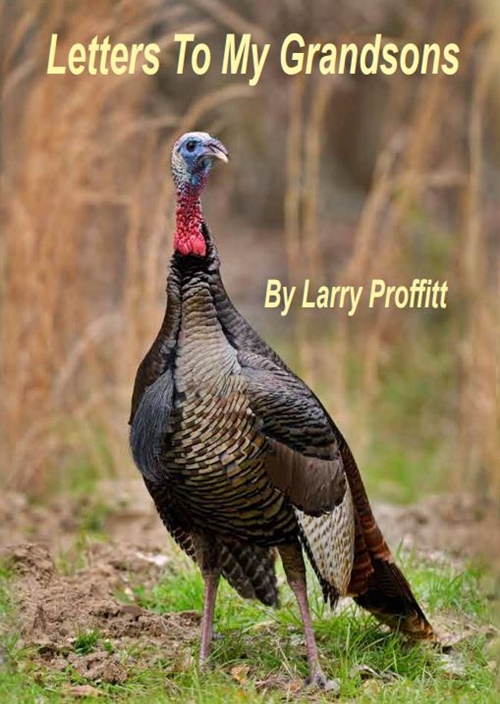 There's another book just out with which I had a bit of involvement. My longtime friend and kindred son of the Appalachian soil, Larry Proffitt, is one of the country's finest turkey hunters. As serious a student of the sport as you will ever encounter, he decided to take his decades of accumulated experiences, hunting in both fall and spring, and put them in a book. The result was a compendium of turkey-hunting wisdom, Letters to My Grandsons, the likes of which you seldom encounter. The book is jam-packed with useful information from the first page to the last, with insights from a whole bunch of talented callmakers including my neighbor and hunting buddy Darrin Dawkins, stories of Larry's interactions with the likes of legendary icon Dwain Bland, and more insight on dealing with old gobblers in the fall than is available anywhere else.
I was honored to have a small part in the "making" of the book. My contributions come in the form of writing the foreword and having helped out with editing the manuscript. It is a 314-page hardback with a lovely dust jacket featuring one of talented wildlife photographer Tes Jolly's beguiling images of a gobbler along with lots of internal illustrations. Half a dozen callmakers—Billy Buice, Darrin Dawkins, Roger Parks, Ralph Permar, Mark Sharpe, and Lamar Williams—share stories from their wealth of personal experiences. There are also inveigling tales from a trio of skilled hunters Larry styles "Mountain Turkey Hunters"—Judge Arden Hill, Fred Markland, and Harry Vines. I have a few copies of the limited, numbered, and signed edition of 200 available for $35 postpaid, and I give the book's contents a hearty, unreserved nod of being a special addition to the sport's literature.
Otherwise I've begun work on the next volume in the series of great sporting stories in which the quail and deer books have already appeared (this one will deal with bears and bear hunting), am busy on a capsule history of Mossberg (the company celebrates its centennial in 2019), and am taking a retrospective look at 65 years of publication of South Carolina Wildlife. I've been a fairly regular contributor to the publication for roughly half its existence and can state, without any reservations whatsoever, that it is a magazine which has always made my work look and read better than it was on submission. I'm proud to have had my byline appear in it over the decades.
As these words are being written, I'm also filled with worry. Not long before dementia laid its awful grip on my wife, Ann, I purchased a little beach place at Murrells Inlet for her to enjoy. Sadly, she was only able to use it (which she did frequently) for a couple of years before her faculties began to fade. On the other hand, our daughter, granddaughter, and various friends have been able to enjoy the place and that's a blessing. I'm not much of a beach bum but having others get pleasure out of it does me a world of good.
I don't own the land, just the mobile home which rests on a small lot in a community of similar homes (some have permanent residents; others just beach lovers who visit when they can). It is squarely in the path of Hurricane Florence and the likelihood of substantial wind and/or water damage is all too real. There's nothing whatsoever I can do but wait and worry, and of course the forecast locally is grim enough in its own right. Still, I'll do what I've always done when faced with adversity—plug along, hope for the best, deal with things as best I am able, and hold fast to a belief that there's precious little in life that hard work and a positive outlook can't handle.
*************************************************************************************
BOOK SPECIALS
In addition to the two new books mentioned above in "Jim's Doin's," I thought, with the deer season once more just around the corner, I'd offer The Complete Venison Cookbook at a bargain price of $13.17. That's $10 for the book and the actual postage costs to me to ship via Media Mail rate. Of the books where I received royalty statements or was otherwise able to track numbers, this is the most successful book I've ever written (or co-written, since Ann was a major part of it). I think the reason is fairly simple—it offers score upon score of venison recipes, most of which are easy to prepare and all of which we taste tested, and there's something for every taste. I would ask that orders be via personal check or money order for this book, as opposed to PayPal (PayPal is fine for the other two books). The chunk of my hide PayPal requires is just a bit too large in cut-rate situations like this.
FAMILY FUNNIES—EPISODE 2
HILLBILLY BUBBLE BATH
My mother had a rough childhood. It was characterized by the death of her mother when she was only two years of age, a father abandoning her and her younger sister in the aftermath of that tragedy, and youthful years involving constant moves and a dearth of love. How she weathered all of that and became an adult with as cheery an outlook and an inexhaustible supply of optimism lies beyond the reach of my understanding, but I do know of a certainty that Momma was the most upbeat, enthusiastic, and loving individual I've ever met. One of many ways she showed her zest for life involved her love of the Christmas season.
She loved every aspect of Yuletide—the preparation of foodstuffs (and she was a masterful cook), handcrafting decorations, the air of joy which permeated the season, and especially, opening presents. No youngster anxious to see what Santa left, no hunting crazy boy hoping for his first gun, could possibly be more excited than Mom. For a fortnight or more before December 25, she would prowl beneath the tree looking at presents bearing her name, and when we actually opened gifts as a family she had some predictable words which would be heard every year. "Another one for me!" she would say gleefully as gifts were passed out, and it was all she could do to open each gift carefully (as a child of the Depression she wasn't about to waste a perfectly good ribbon or the chance to recycle attractive wrapping paper). When it was all over with she would then pronounce, one year after the next, "I believe this is the best Christmas ever." For her it was, because she was adding to a storehouse of joy which seemingly had no limits.
However, all her enthusiasm (and truth be told she was at times, for all her practicality, somewhat gullible) made Mom a prime object for some innocent fun. Our family had a well-established tradition of gag gifts and one my brother and sister-in-law came up with was a real dandy. Mom simply could not resist shaking packages bearing her name, trying, just like a kid, to guess their contents.
This particular box rattled noisily with the slightest shake, and so intriguing were the sounds it made that Momma had to pick it up at least a couple of times a day. She made all sorts of wild guesses while the family just chuckled and "egged" her on with suggestions it was something she really needed, would be a big surprise, and that she was sure to be delighted.
Come Christmas morning she had to open this grand and noisy mystery first. As she always did once the wrapping was removed, she uttered "oh my" even before she knew just what she had. In this case the gift was a box of dried pinto beans, nicely packaged and carrying the name "Hillbilly Bubble Bath." Mom initially gasped with joy and offered words along the lines of "just what I needed" before the convulsive laughter of the rest of the family brought realization that she held in her hands the raw materials from which a guaranteed formula for flatulence could be derived. At that point she came as close to profanity as was ever her wont, saying "Aw foot!"
************************************************************************************
MY EVOLUTION AS A WRITER: ENTERING A NEW CENTURY
By the turn of the century I was pretty solidly established as a sporting scribe, and looking back from today's perspective I realize that the years immediately on either side of 2000 were a sort of golden era. I don't think that was in any way unique to me. It was just a time period when the industry was hosting a lot of writer trips, spending promotional money more on efforts likely to find print outlets than today's fascination (fixation might actually be more accurate) with the Internet, instant gratification through some blog or You Tube offering, or television.
Mention of that major shift puts my old-fashioned mind, where the printed word is sacrosanct and where tradition and the wider meanings of the outdoor world loom large, in turmoil. For that reason I'm going to take a sort of side path, something regular readers are aware I do with considerable regularity, and share what I consider "gospel truths" connected with the profession of communicating the outdoor experience. That means bursting some bubbles, hopefully dispelling some myths, and goring a bunch of sacred cows. Or, to put it another way, I'm going to indulge in one of the things, which rightly or wrongly, has been something of a hallmark to my entire life; namely, exhibit a singular lack of so much as a scintilla of diplomacy. Here, in no particular order other than the way they come to my cluttered mind, are some thoughts and observations about outdoor communication and communicators.
*Far too much of what you watch on the outdoor television shows is sheer sham. Pay close attention and you will see browse lines on many whitetail programs along with other indications that the hunt is being filmed in a high fence setting. To me, it's a stretch to call that hunting. Shooting, culling, or target practice on live animals is actually closer to the mark.
*One major exception to this is turkey hunting. Wild turkeys can be lured to chufa patches, food plots, or scattered corn, but they can't be confined by fences. Hunts may be filmed in exclusive private settings which are a far call from going after a gobbler on public land, but they are still the real deal. If you watch a TV turkey hunt, it's truly wild birds.
*I'll make no bones about the fact that I'm a great admirer of the female form, and while my vision may not be quite what it once was it is still readily drawn to a well-turned, lithe young lass, or for that matter to a demure, shapely, and fetchingly dressed woman who is closer to the matron stage than the maiden one. That being said, I find the "tits and ass" approach of a number of television shows disgusting and dismaying. Some of the "stars" draw tremendous attention and lines of admirers flock to shows to get their autographs, but I'm much more interested in their abilities as woods women or anglers. Don't get me wrong. There are highly skilled women in the industry who are truly at the top of their game. Two who are dear friends come immediately to mind. You won't find a better wildlife photographer (or person) than Tes Jolly, and she's about as good a turkey hunter as you'll encounter anywhere. She's a lovely lady as well, and while I've never actually asked her I suspect her level of disdain for the "showwomanship" of some of the outdoor TV starlets is comparable to mine. Similarly, Jill Easton is a talented woman who knows how to turn a phrase, makes delightful Texas toothpick necklaces (if you don't know what a Texas toothpick is I'll simply note that they are a vital reproductive part of the anatomy of a male 'coon), and can show off a full-length fur coat made from bobcats she trapped in a most vivacious fashion.
*I also find the blasé, almost totally predictable "praise the Lord" or "thank you Lord" aftermath with so-called television "kill shots," along with the use of words and phrases such as "awesome," "can you believe that?,"  and "dude" repulsive and, with rare exceptions, lacking in genuineness. For goodness sakes—broaden your vocabulary and leave religion for a different setting.
*Contrary to the image many attempt to portray, most outdoor writers, and that includes some of those at the top of their game, are not experts. They may present themselves in that fashion but far more often than not the reality of the situation is quite different. I'd like to think that I know a good deal about some of the things I write about—fly fishing for trout, turkey hunting, game cookery, and the folkways of the Appalachians—but when I venture on to strange ground I've always preferred to interview experts rather than pretend I was one.
*I also have some problems with the self-ordained authorities who seemingly feel egotistically compelled to give themselves a grandiose moniker or nickname.  Maybe it's just branding, but for my part I don't want anything to do with it. Admittedly I often call myself a "son of the Smokies," but that isn't self-aggrandizement. It's simply stating, and doing so with pride, the nature of my origins. The late Lovett Williams, although arguably the finest authority on the wild turkey who ever lived, didn't feel constrained to style himself "Dr. Turkey" (though he did have a Ph. D.) or otherwise propagandize. Along the same lines, although the title Dr. appears in front of my name in one or two books I've done (that was the choice of the publisher, not me), throughout my career I've eschewed use of the title. With a few exceptions, my Ph. D. in history has nothing to do with what I've produced as an outdoor writer, and in my eyes it doesn't add one iota of credibility.
*Far too often pretention and chronic cases of what Momma used to call "getting too big for your britches" occur. Jack O'Connor touched on quite a bit of this in The Last Book, which was published posthumously and probably had to be because of his frankness. I don't understand the mentality which drives someone to pretend, through their chosen attire, they are a cowboy. Likewise, it's purt nigh impossible for some city slicker, no matter how hard he tries, to make a complete transformation to a close-to-the-earth country boy. I just don't have a lot of use for those who present blatantly false fronts.
*One of the things about the vast majority of my fellow outdoor writers I find troubling is that they don't read. There's an old historian's adage which runs "you can't know where you're going if you don't know where you've been," and how a writer expects to be at the top of his game if he doesn't read classic works in the field along with studying the offerings of his peers is beyond me. There are some exceptions, mind you. I've got a number of cherished friends in the industry who are well read and with whom I can (and do) discuss books on a regular basis. Husband-and-wife team Jill Easton and Jim Spencer, for example, are both inveterate readers, and I might add that both are top-drawer trappers and turkey hunters to boot. I particularly admire Jill's expertise in both pursuits, because they are things she came to long after reaching adulthood. For his age, Kevin Tate is remarkably well and widely read. The late Harry Middleton, a wonderfully talented and immensely troubled guy whom I was proud to call a friend, absorbed books and some of it showed, in my view, in his sparkling prose. On the other hand, I would bet you a pretty penny that a quiz of say 30 outdoor writers taken from the annual gathering of organizations such as the Southeastern Outdoor Press Association, which I'll attend early next month, would find most of them hard pressed to name a single title by 10 (any 10) major outdoor writers from yesteryear.
*Another real sore spot for me is writers who are always looking for a handout. There are lots of them and in some cases they have given the whole industry a black eye. Apparently small-time "wannabes" on the television side of things are the most egregious offenders, especially when it comes to complimentary trips, but writers are guilty as well.
*Goodness knows I make mistakes aplenty in my writings, and if you pay close attention there are invariably grammatical and stylistic glitches in this newsletter. However, I do read and re-read my work, and in the case of books in particular I've always had other sets of eyes to examine my efforts. Even so, errors creep in, although I'd like to think to a lesser degree than a lot of my fellow communicators. I can't tell you how many times I've seen what should have been "foreword" (a short introduction to a book, usually written by someone other than the author) rendered as "forward," "foreward," and even "forehead."  Another pet peeve, and I have scores of them, is misuse of the word unique. The word means one of a kind and something can't be "pretty unique" or "quite unique." There's ever so much more. Maybe a longtime friend who is also a highly skilled editor, now retired, who has helped me with proofreading on more than one occasion put it best when he said: "I see a lot of books (he was commenting after having judged a contest) which simply aren't ready for prime time."
*Finally, while I'm in the general business of stomping toes, let me throw in one more pet peeve. It concerns editors who feel compelled to justify their existence by changing your prose simply for the sake of change. To me it is a cardinal sin to rob a writer of his voice, yet this is what sometimes happens. The only thing possibly worse is making changes that introduce errors into one's work. I've encountered a good bit of this over the years, and almost always it comes from an editor not long removed from graduating with a degree in journalism or communications or else one who can't write worth a piddle toot yet thinks his editorial prowess is such that he could vastly improve the offerings of eloquent wordsmiths such as Jack O'Connor or Havilah Babcock (I mention them as examples because both taught English on the college level). On the other hand, an editor who makes you look better, catches your mistakes, questions you when something is unclear, or otherwise improves your work is a gift from the literary gods. I've had a few of them and in every instance I've been blessed.
*That's enough of this, and I'll close by saying I think one thing sorely missing in most of today's offerings to outdoorsmen is old-fashioned storytelling of what is sometimes known as the "Me and Joe" genre. Personally I've long since been oversaturated by "how to" and "where to" material, not to mention endless advertorials. I thoroughly enjoy excursions into the realm of being taken along with the writer as if I was his boon companion.
***********************************************************************************
SEPTEMBER IN THE KITCHEN
This month's recipes include several featuring venison, and they are quite varied in nature. Then, for the sweet tooth and in recognition of the abundance of grapes with which I've been blessed (I've had literally gallons of them go to waste), there's a recipe for a scuppernong pie. This delicacy is often known as a hull pie, since it makes full use of that portion of the grape. Bon appétit!
SHRIMP AND VENISON KIELBASA SKILLET
2 pounds shrimp
¼ cup extra-virgin olive oil
2 tablespoons butter
1 ½ cup long grain white rice
1 cup chopped onion
Venison kielbasa cut into one-inch pieces
2 teaspoons finely chopped garlic
1 14.5 ounce can diced tomatoes
Salt and pepper to taste
4 cups chicken broth
In a large, deep skillet, heat the olive oil and butter over medium high heat.  Add the rice and onion and cook, stirring occasionally, until the onion is softened (about five minutes).  Add the kielbasa and garlic and cook, stirring until the garlic is softened (about three minutes).  Remove from the heat and stir in the tomatoes and broth and their juices.  Season with salt and pepper.  Bring the rice mixture to a boil, lower the heat, cover and simmer until the rice is tender (about twenty minutes).  Drain peeled shrimp and add to the rice mixture.  Cook over medium heat, stirring often until opaque (about five minutes).
BACKSTRAP WITH RASPBERRY SAUCE
1 pound backstrap
1/3 cup Dale's steak seasoning
1/3 cup water
½ stick margarine
1 garlic clove, minced
½ cup raspberry jam
Marinate backstrap in Dale's steak seasoning and water, then drain.  Melt the margarine and add garlic.  Sauté briefly.  Add backstrap and cook to desired doneness.  Remove loin and de-glaze pan with jam.  Serve as sauce for dripping bites of backstrap.
VENISON CROQUETTES
1 pound ground venison, uncooked
½ cup onion, finely chopped
1 garlic clove, minced
Salt and pepper to taste
2 cups cook, mashed potatoes (no butter or milk added)
¼ cup milk
1 egg, beaten
Cracker meal (make by placing crackers in blender or processor)
Lightly mix venison, onion, garlic, potatoes, and salt and pepper.  Make out into patties.  Beat egg and milk in shallow dish.  Dip patties in milk and egg mixture.  Roll in cracker meal.
Brown patties in a non-stick skillet with just enough oil to keep from sticking (two or three tablespoons).  Cook over medium heat until done.  Serve immediately.
OVEN MEAT BALLS
2 pounds ground venison
1 cup quick or regular oats (not instant)
1 cup soft bread crumbs
½ cup milk
1 teaspoon salt
Mix above ingredients and roll into two-inch balls.  Roll meatballs in flour and place in a casserole dish.  Pour one envelope dry onion soup mix and one and a half cups water over meatballs.  Bake at 350 degrees for an hour.
SCUPPERNONG PIE
Squeeze pulp from ripe scuppernongs or muscadines and discard inside (or save it to make jelly).  Do this gently in order to retain as much of the juicy, sweet flesh attached to the hull.  Do this until you have a pint of hulls.  Add three-fourths cup of sugar and stir in.  Cook over gentle heat until tenderized, adding half teaspoon of almond flavor and a half stick of real butter as you do so.  Once tenderized, add cornstarch to thicken and as mixture begins to cool, pour over pie crust.