MARCH—A MONTH OF "LITTLE WINTERS," WILD WEATHER, AND WONDER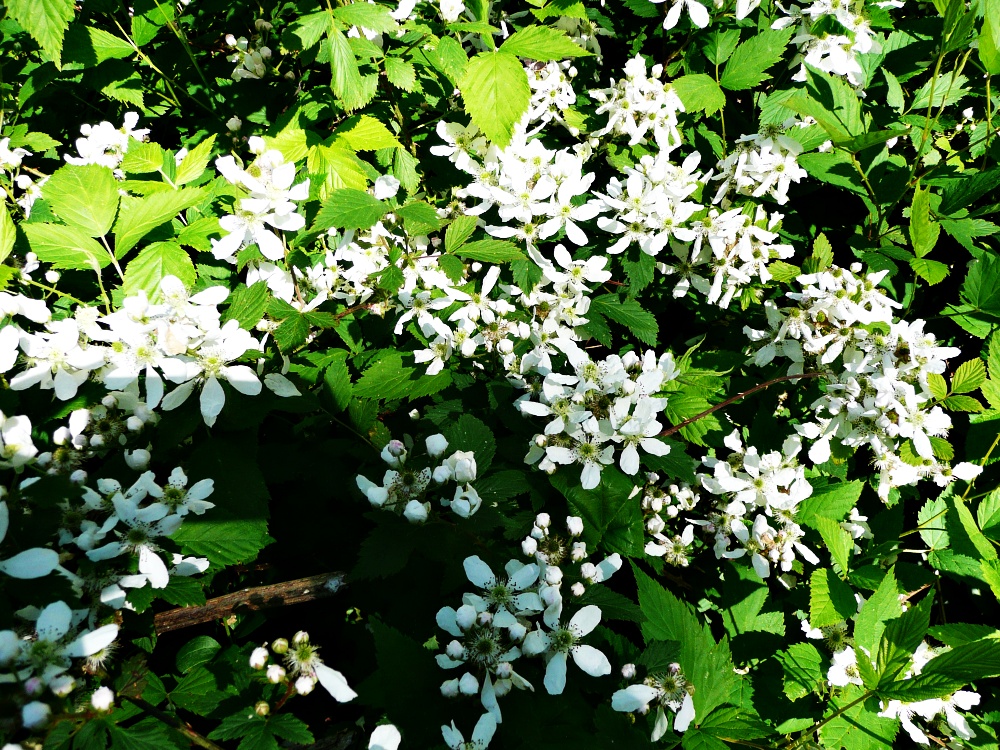 At this time of year during my youth, folks in my native heath, the Great Smokies of North Carolina, often talked about what were sometimes referred to as the "little winters." Like so many old-time customs I have always cherished, these references to the folklore of weather seem to be gradually disappearing. You still hear blackberry winter mentioned with some frequency whenever there's a cold snap that coincides with blackberries showing the wonderful white blossoms that herald scrumptious eating come late June and early July. 
Blackberry winter is actually the last of the cold snaps, most of which have traditionally been associated with some type of bloom. For the gardener it supposedly heralds the last threat of a hard frost and is a signal that it's time to set out tomato plants. But blooming blackberries and their seemingly inevitable accompaniment of a spell of blustery winds and cold temperatures (sometimes with a skiff of snow) are but one of the little winters.
The first to arrive is sarvis winter, although I can't remember when I last heard that mentioned. The service tree, invariably pronounce sarvis in mountain talk, is one of the first, along with red maples and pussy willows, to show new blooms. Just seeing splotches of white amidst a grey, barren landscape is wonderfully uplifting. Much the same holds true its successors including, in order of seasonal progression, redbud winter, dogwood winter, and the cold season's last hurrah, blackberry winter.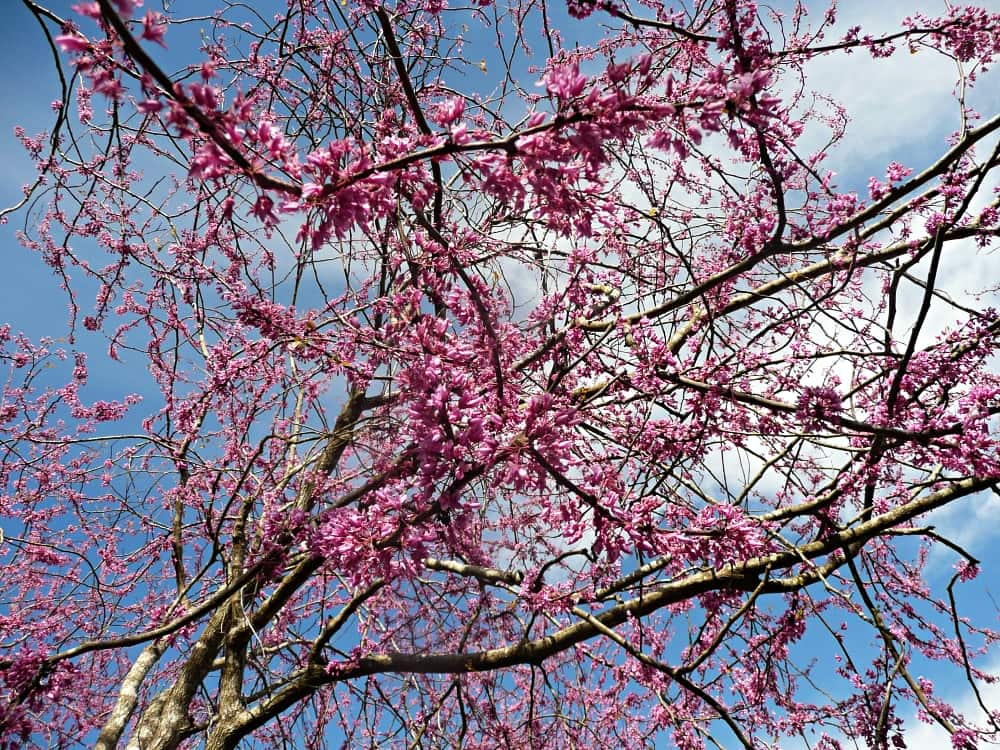 As I write these lines, at the beginning of the second week in March, local redbuds are in full flower and indeed maybe just past their peak. Daffodils are already beginning to fade, my cooking pear tree is in full flower, blueberry bushes are beginning to bloom, and I can't remember a year where these varied harbingers and signs of spring have come earlier. That's worrisome, because it means there's all too much likelihood of a cold snap playing the devil with tender fruits and berries that have just set their bounty. Yet there's not a lot a fellow can do except watch, worry a bit, and hope for the best.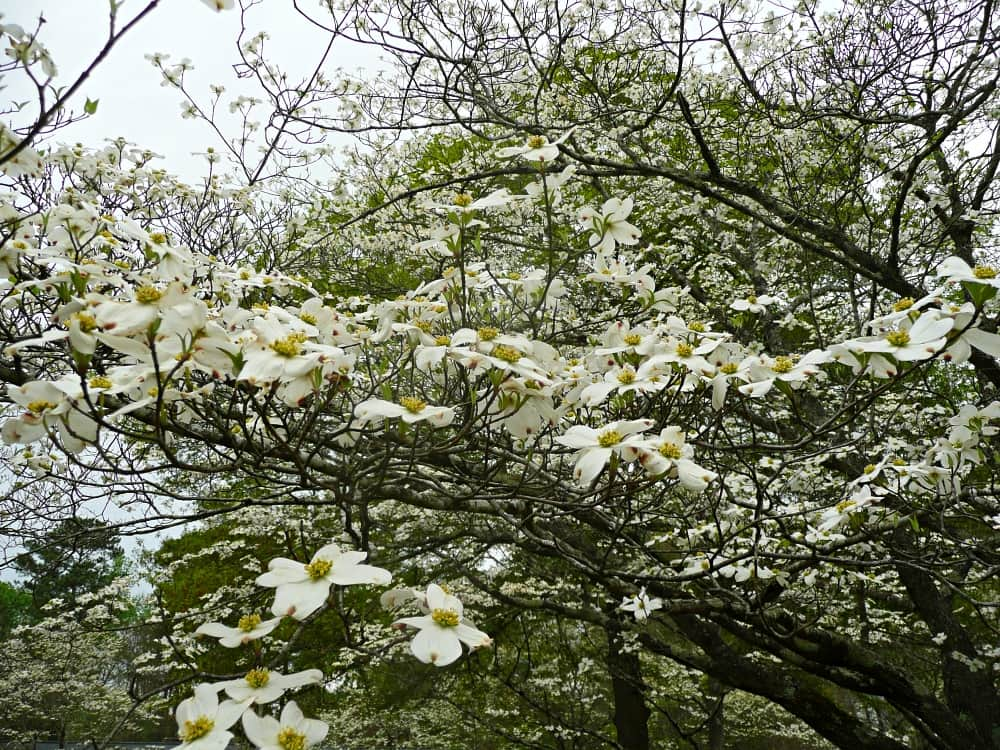 Dogwood winter is yet to come here, although just this morning I noticed that buds on the twenty or more trees I have scattered across the three acres surrounding my home are swelling a bit. Blackberries, on the other hand, carry not so much as a hint of white. 
Not every aspect of folk wisdom of my ken regarding ever-returning spring focused on flowering. One of the signs connected with little winters that Grandpa Joe always watched for with considerable care was what he called "catbird squall." It seemed that about the same time as the first catbirds returned from their annual migrations to balmier climates to begin a new nesting season there would be a windy, bitter spell, maybe with spitting snow, that cut to the bone. Hence the apt description catbird squall (not squawl, as I've seen it written, although the sound of a catbird, named because of their "song" that sounds more like a cat's caterwauling, is arguably second only to that of crows when it comes to lacking beauty or musicality).
JIM'S DOIN'S
Seems like every time I turn around there's a development that in some way rocks my tiny world. An organization to which I belonged from my earliest days as an outdoor writer, the Southeastern Outdoor Press Association (SEOPA), has ceased to exist.  That hurts, because I twice had the honor of serving as SEOPA's president, received one of the signal honors of my professional life when its board unanimously selected me as an Honorary Lifetime Member, and never missed a single annual meeting from the point when I first joined the organization in the mid-1980s. Some of the friendships I cherish most in my life have been formed with those in its ranks.
The reasons for SEOPA's demise are complex and numerous, but in essence, and in my view, they boil down to two key points. The world of outdoor communication has changed so dramatically that the folks who were once at its heart are dead, have ceased to write, or no longer have many options in the way of traditional markets (newspapers and magazines) to accept their prose. The second thing is that the majority of today's younger generation dedicated to communicating the outdoor experience through blogs, vlogs, and other largely electronic means, simply aren't joiners. They are self-centered (and that's not a critique because anyone who has known me as a writer for an extended period of time will likely tell you there's a good bit of the loner in me) and simply uninterested in professional organizations of the traditional sort. I think that's a shame, because second only to what I've garnered in the way of wisdom through reading I've learned from fellow craftsmen.
Anyway SEOPA is, after almost 60 years of existence, no more. Additionally, most other communicators' groups are struggling, although happily one of which I happened to be a founding member, the South Carolina Outdoor Press Association, is faring quite well. I now know, from a "long in the tooth" perspective (at least for such teeth as are still present!), that I was blessed to get in on the latter part of the golden era of outdoor communication. I've been privileged to hunt and fish all over the world, have seen many of my wild dreams from boyhood become reality, and have rubbed elbows with men and women I consider modern giants when it comes to communicating the wonders of the natural world.
Sadly, far too many of them, folks such as Wade Bourne, Gerry Blair, Tom Fegely, and Lee Wulff, are gone to realms where turkeys are always gobbling or trout always rising. Others, and I specifically have a longtime colleague at Sporting Classics, Mike Gaddis, in mind, have left the keyboard and ceased to work their literary wonders. I never knew Mike really well, but our bylines appeared together in the table of contents for countless issues of the magazine and every time I read one of his exquisitely crafted columns I simply shook my head and mused to myself: "This guy works a kind of literary magic I wish I could merely touch." I also was mighty partial to him thanks to a number of shared sporting interests.
My recent publications include a short tribute to Mike on p. 18 of the Mar./Apr. issue of Sporting Classics and "Elgin Gates: A Legendary Big Game Hunter" as my books column in the same issue (pages 127-34). That same issue of the magazine contains a profile of bass fishing legend Ray Scott, "The Genius of Ray Scott," on pages 40-42. My regular contribution on mountain cooking and foodways appears in the April/May issue of Smoky Mountain Living. It is "Our Daily Bread: The Joy of Biscuits," on pages 16-19.I also have an article, "Weather Wisdom," in the March issue of Columbia Metropolitan magazine on pages 34-39 and, in the same publication's April issue, "Gobbling Up Spring: Tom Boozer's Handcrafted Turkey Decoys," on pages 64-69. Finally, I enjoyed the privilege of writing the Foreword to a dandy book, Jim Mize's The Jon Boat Years, just out from the University of South Carolina Press. Mize is a gifted teller of tales and this book contains dozens of his finest stories. Get a copy. You won't regret it.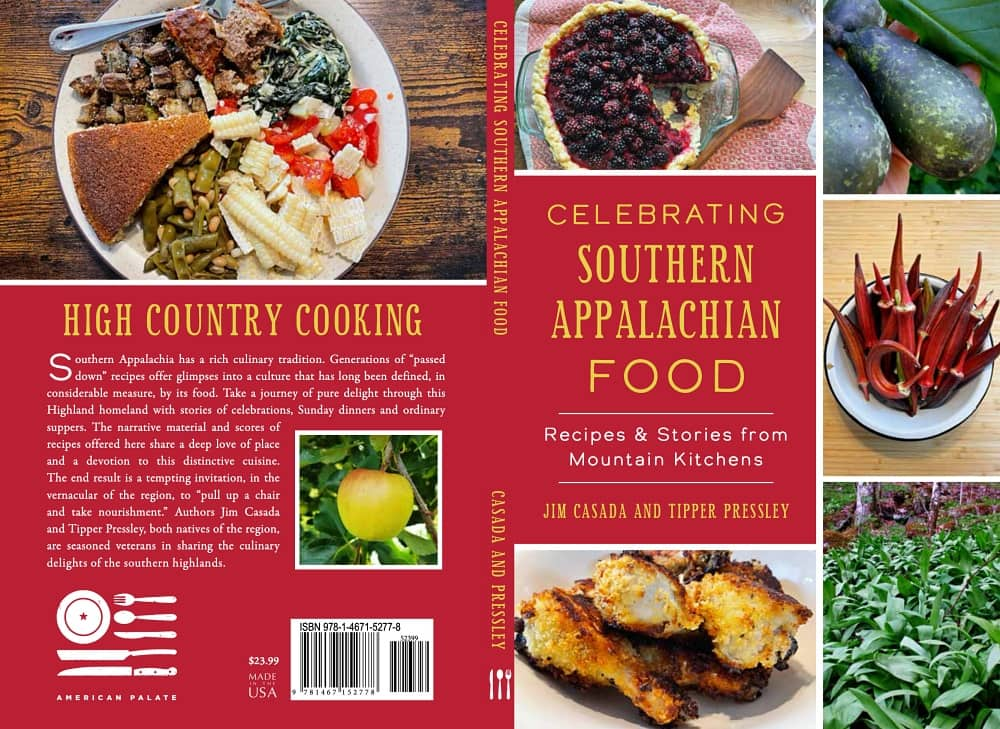 As I've mentioned in the last two or three newsletters, and a number of you have pre-ordered the cookbook Tipper Pressley and I have done together, Celebrating Southern Appalachian Food: Recipes & Stories from Mountain Kitchens, will be out the first week in May. My offer of pre-orders for $23.99 and I pay the shipping (a savings of $6) still stands through this month and until the end of April. Just send a check or money order to Jim Casada, 1250 Yorkdale Drive, Rock Hill, SC 29730 to reserve your copy and save a few bucks. I'm mentioning this again primarily because Tipper and I are in the process of finalizing a number of appearances/book signings at the famed Mast General Stores. Arrangements are in the works for late spring and early summer event at Mast General Stores in Knoxville, Roanoke, Waynesville, Hendersonville, Boone, and the original Mast General Store in Sugar Grove. Other appearances are also in the works. I'll share full details next month once things are finalized.
***********************************************************************************
FOCUS ON FOOD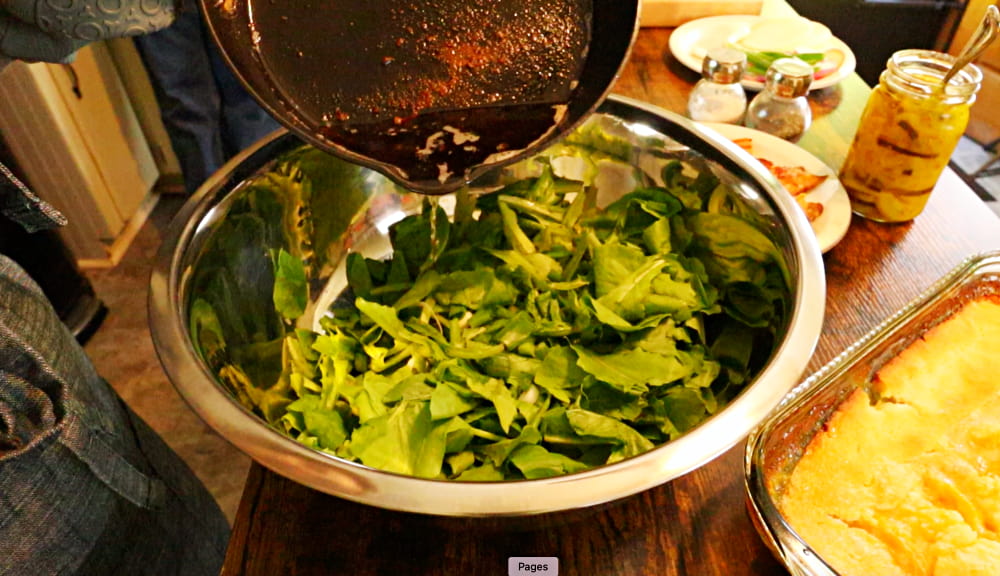 For me, early spring has long meant special dishes on the kitchen table. The joys of fresh lettuce or radishes just pulled from the soil still lay a few weeks off, as did treats from the wild such as ramps, branch lettuce, poke salad, lamb's quarters, sochan, and a bunch of other delicacies. Meanwhile, it was time to check pantry shelves to see what remained and start making room for another cycle of growth, harvest, and preservation. Then, with the advent and widespread use of freezers, there was also remaining items that need to be used, again to furnish hearty meals and clear space.
One of my fondest memories, and the dish is one I still prepare with some regularity, was vegetable soup. Momma always canned quart jar after quarter jar of "mix." The contents varied depending on what happened to be available from the garden at a given moment, but regular ingredients included tomatoes, green beans, corn, crowder peas, and lima beans. Heated and flavored with some beef broth or perhaps simmered for hours with a soup bone bought from the butcher for a dime or fifteen cents, then served with a pone of cornbread fresh from the oven, it made for mighty fine and filling eating on a chilly day that was a feature of one of the "little winters" described above.
I enjoy the considerable luxury of turning that vegetable soup into venison and vegetable soup, and I regularly introduce either pasta or barley as part of this delectable feast. Here are a couple of recipes, although I'll admit my approach tends to be more of a "Slumgullion" one as Daddy used to describe it. That means putting whatever leftovers, recently cooked or needing to be removed from the freezer, happen to be available. Of course I don't always accomplish much in terms of gaining space, since inevitably I have a big pot of soup and need to freeze a good bit of it.
PASTA E FAGOLI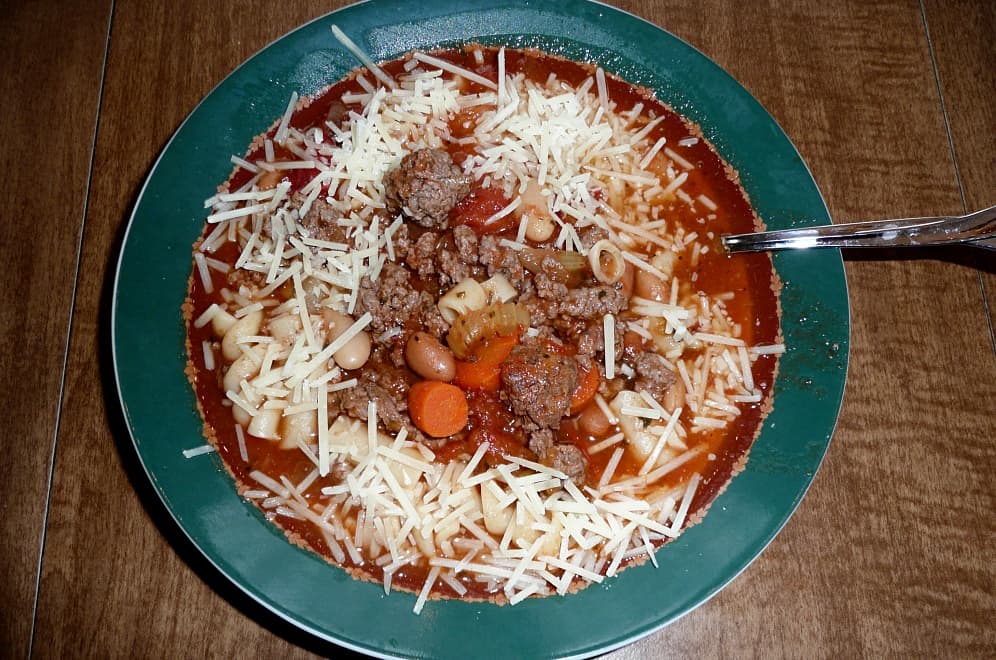 Of all the venison-based soups I've prepared, and with two cookbooks devoted totally to venison behind me there are a bunch of them, this one may well be my favorite. 
½ cup chopped onion
2 minced garlic cloves
½ cup chopped celery
½ cup grated carrots
2 tablespoons olive oil
1 can chicken or beef broth
½ pound ground venison, browned
2 (14-ounce) cans diced tomatoes or equivalent of frozen ones
1 (8-ounce) can tomato sauce
1 (16-ounce) can red kidney beans
1 (16-ounce) can cannellini (white kidney beans) 
1 cup chopped and cooked ziti or pasta shells
½ teaspoon freshly ground black pepper
1 teaspoon dried parsley
½ teaspoon dried basil
1 ½ teaspoons Italian seasoning
Salt to taste
Sauté the onion, garlic, celery, and carrots in olive oil until tender crisp. Add broth and simmer. Brown ground venison. Add venison, diced tomatoes, and tomato sauce to vegetables. Drain and rinse red and white kidney beans and add to soup. Cook pasta and chop with scissors before adding to soup. Add seasonings. Simmer for 20 to 30 minutes.
VENISON AND VEGETABLE SOUP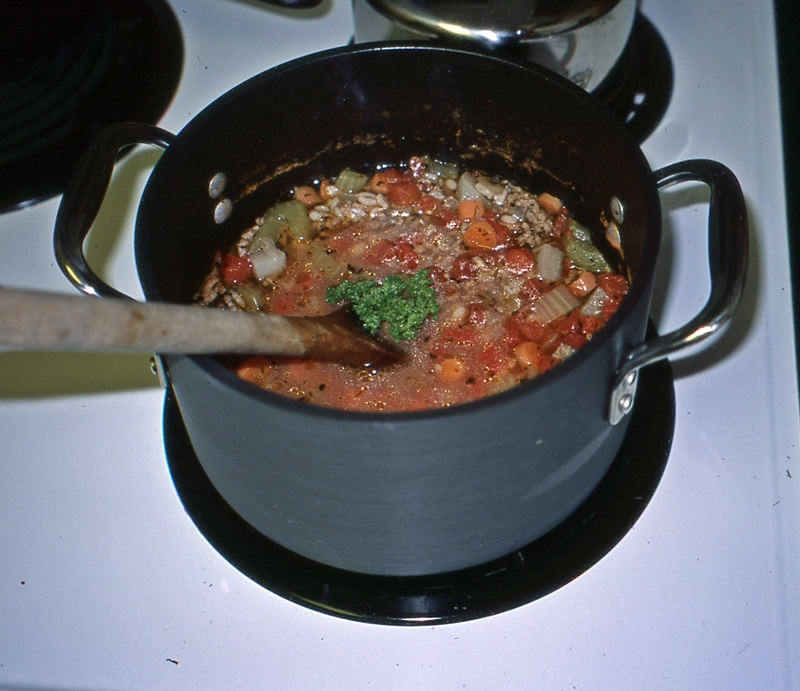 This is sort of a modern-day equivalent of what Momma made with her canned soup mix. The major differences are that venison (we never had it—deer were scarce as hen's teeth when I was a lad) replaces beef and fresh vegetables are used instead of canned ones.
1 medium onion, chopped
1 garlic clove, minced
4 carrots, chopped
2-3 potatoes, chopped
2 stalks celery cut in small pieces
1 zucchini, chopped
1 yellow squash, chopped
1 to 2 cups chopped or ground venison (leftovers from a roast or browned burger)
2-3 cans of beef broth
1 bay leaf
1 tablespoon dried parsley
½ teaspoon Italian seasoning
Salt and pepper to taste
Place all ingredients in a large Dutch oven and bring to a boil. Reduce heat to a simmer and let cook, covered, for an hour or until the vegetables are tender. Remove bay leaf before serving
OPTION: Diced tomatoes can be added to the other vegetables if desired. Goes well with Texas toast and topping each bowl with grated Parmesan cheese adds a bit of special taste.
VENISON AND ONION STEW
I've never been sure precisely where the dividing line between a stew and soup came. A thick soup could be called a stew and a thin stew could be described as soup. It's a matter of language, not taste, and the latter is what counts. My late wife called this a stew, and far be it from me to judge her culinary wisdom.
2 pounds venison, cut in small pieces (I sometimes use cubed steak)
2 tablespoon canola oil
1 minced garlic clove
2 medium to large onions, chopped
1 tablespoon dried parsley
3-5 carrots, sliced
3-5 potatoes, diced
3 stalks celery, sliced
1 (10-ounce) package frozen green peas
Salt and pepper to taste
2 tablespoons cornstarch
Heat oil in a large skillet and brown venison in it along with onion and garlic. Transfer to a stew pot. Add salt, pepper, parsley, and bay leaf and enough water to cover. Simmer for 45 minutes. Add water as needed , stirring frequently. Add water only as it has almost cooked away. Add carrots, potatoes, and celery at the end of the 45 minutes and enough water to almost cover. Place lid on pot and cook on slow simmer until vegetables are almost tender. Add green peas and cook until all vegetables are tender.
Dissolve two tablespoons cornstarch in ½ cup of cold water and add to stew. Simmer until thickened and sample to be sure any starchy taste is gone. Adjust seasonings to taste as need. Garnish with fresh parsley. With some rolls or homemade bread, perhaps along with a side dish of fruit, this makes a hearty meal.