THE CRUELEST MONTH
T. S. Eliot, a noted English poet from the early part of the last century, opens what is perhaps his most famous piece of work, "The Waste Land," with the words "April is the cruelest month.' Although I like his poetry far more than that of most of his contemporaries, and honesty compels me to admit that for the most part if it doesn't rhyme I ain't got time (to read it), I'll flat out have to disagree with that particular thought. Admittedly Eliot was writing from a time of real darkness, the dismal aftermath of World War 1, but let's put that aside and simply pause to ponder about April.
For my part, it is my third favorite month, falling into the ranks behind only May and October. It's greening-up time in the parts of the world I've lived in over the course of my life (first 18 years in Bryson City, NC; 4 years of undergraduate school mostly spent in Bristol, TN; 3 years of teaching/coaching in Chatham, VA; 1 year in graduate school in Blacksburg, VA; 3 further years in graduate school in Nashville, TN; and all the rest of my years in Rock Hill, SC). With that material just offered parenthetically, you've got the chronological unfolding of my life. That doesn't matter doodly squat, but all those Aprils do.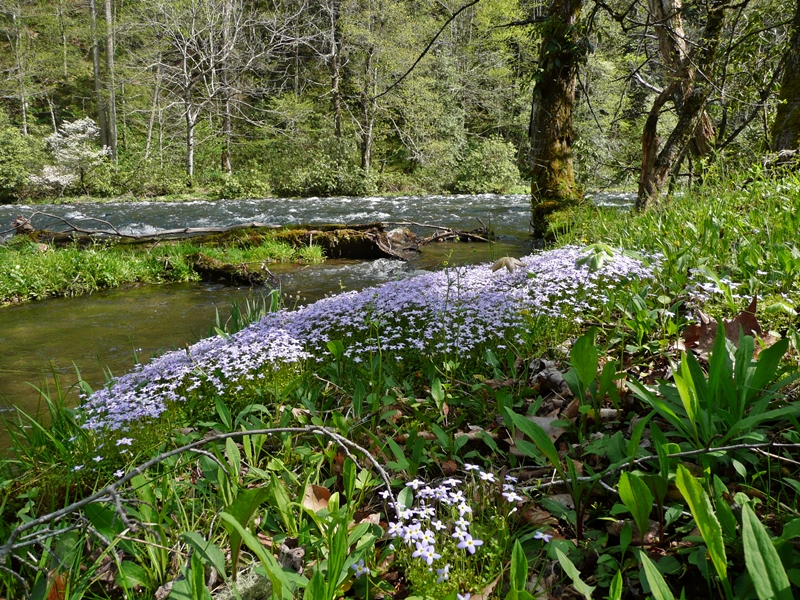 They have meant wildflower magic; relishing the joys of nature's abundant bounty in forms ranging from morel mushrooms to poke salad; turkey hunts without number; putting in many a garden even while watching and worrying about frost; enjoying balmy afternoons with gentle breezes heralding warmer days to come; and the sheer joy of being able to put another year of cabin fever behind me. If you can't find joy in seeing the first burst of green from a row of potatoes break through the soil or are unmoved by the white blossoms of blackberries spackling the landscape, I scarcely know what to say other than to reckon your emotions are a long way from mine.
In other words, I'll just have to disagree with Eliot, never mind his undoubted poetic mastery, and instead cast my lot with old Will Shakespeare, who wrote of "The uncertain glory of an April day." With just two words, uncertain and glory, this consummate master of the English language went to the heart of April as I have known it. Unquestionably, at least in my eyes, it is a time of glory, and the sheer uncertainty of April's whims and changes makes it all the more appealing. It is a month to seize, to squeeze, and to relish. I hope each of you do so.  
JIM'S DOIN'S
Over recent weeks I've been busy travelling back and forth to Clinton, SC to watch my granddaughter, Ashlyn, perform in her final home meet as a member of the acro & tumbling team at Presbyterian College, see her involvement in the institution's annual Honors Day (she'll be graduating with high honors and was recognized in a number of areas, most notably as recipient of a prestigious award given annually to a senior who exemplifies "superior qualities of leadership on behalf of the college community." Needless to say I'm puffed up with pride like a big old bullfrog and will be attending her graduation on May 13 imbued with a sense of love, devotion, delight, and recognition that my input into her college years has paid dividends in a splendid way. Interestingly, this is the second time I get to enjoy such a moment, since her mother graduated from the same institution, also magna cum laude, a bit over a quarter of a century ago.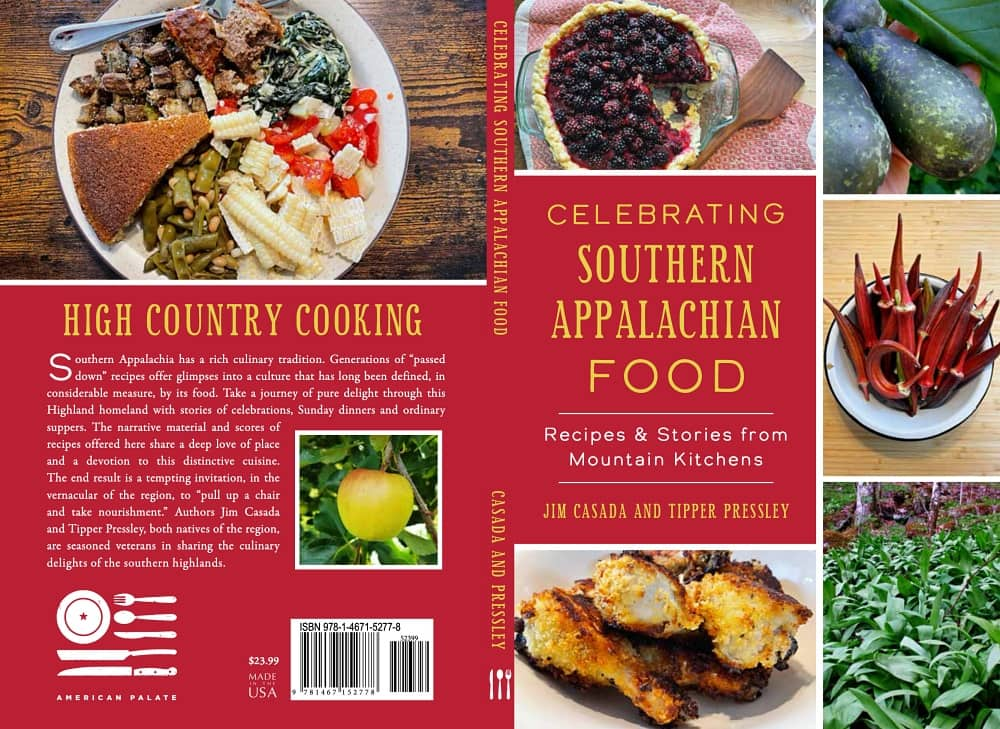 Making this time in my life even more rewarding is the fact that copies of the cookbook Tipper Pressley and I have written just arrived. Both of us are delighted with its appearance, quality of the paper, heft (it weighs just over a pound, which is impressive for a paperbound book), and overall quality. Hopefully readers will concur. The publishers, The History Press out of Charleston, SC, are doing a bang-up job of promotion when it comes to appearances and signings, and over the next couple of months Tipper and I have a whole bunch of them scheduled. We hope you can make one to shake and howdy, chat a bit, have a look at the book and perhaps find it worthy of purchase. Here's a listing of appearances as things stand at the moment. 
Those of you who ordered in advance should receive your copies about the same time as this newsletter arrives, and certainly they will have been shipped by then. If not, here's a list of the dates and times for various signings, and of course you can order signed copies directly from me through my website for $23.99+$6 shipping.
May 6—Mast General Store, Waynesville, NC, 12:00-3:00 p.m.
May 13—Mast General Store, Hendersonville, NC, 10:00 a.m.-1:00 p.m. (Tipper only—I will not be present for the simple reason that the date will be that of the graduation of my granddaughter, Ashlyn (see above
May 27—Mast General Store, Knoxville, TN, 11:00 a.m.-2:00 p.m.
June 1—Swain County Genealogical and Historical Society, Swain County Business Education Center, Bryson City, NC—6:30 p.m. (presentation followed by book signing)
June 10—Mast General Store, Roanoke, VA, 10:00 a.m.-2:00 p.m.
June 17—Mast General Store, Boone, NC, 11:00 a.m.-2:00 p.m.
June 17—Original Mast General Store, Sugar Grove, NC, 3:00-6:00 p.m.
July 1—City Lights Book Store, Sylva, NC, 3:00 p.m.  (presentation followed by book signing)
RECIPES FOR APRIL
Since Celebrating Southern Appalachian Food: Recipes & Stories form Mountain Kitchens has now been released, I thought it might be appropriate to share several recipes from its pages that focus on springtime foodstuffs. Of course I also hope you'll want a copy and that these offerings provide a hint of what the book's contents, well above 200 recipes in all, offer. Some of the recipes below are from me; others from my co-author, Tipper Pressley.
"NEW" POTATO SALAD
There's something particularly appealing about the taste and texture of new potatoes. This recipe features that most notable of all root crops along with another food item closely associated with the season, eggs.
3-6 boiled eggs, chopped
New potatoes (roughly three times the amount of eggs)
½-1 cup sweet pickles, coarsely chopped
Mustard and mayonnaise to taste (make sure there's enough to make the salad creamy)
1 teaspoon dried dill weed of 1 tablespoon fresh dill, chopped fine
Salt and pepper to taste
Paprika
Boil eggs and set aside. While they are boiling, cut potatoes into chunks and boil in a second pot until just tender. Drain and set aside. Peel and chop the eggs. Place eggs and potatoes in a large bowl, add the pickles, then stir in mustard and mayonnaise, dill weed, salt and pepper. Sprinkle the finished potato salad with a hefty dusting of paprika and place the bowl in the fridge to chill. 
Tip: If you like raw onion, chop up a large Vidalia onion and add it to the bowl.
ASPARAGUS CASSEROLE
Much like the situation with rhubarb, asparagus is a perennial normally relegated to a location where it can be productive year after year with minimal care—occasional infusions of manure, weeding combined with mulching to allow it to grow without competition, and due diligence to avoid disturbing the roots come plowing time. A properly maintained asparagus bed will remain productive for many years, and the tender shoots offer a springtime treat of sheer joy. Whether stewed with a bit of butter, steamed, grilled, coated in olive oil and prepared in the deep fryers which have of late become all the rage, or as the central ingredient in a casserole (the recipe offered here), asparagus is an upscale vegetable that does wonderfully well in high country gardens.
MAIN INGREDIENTS
30 spears of asparagus (or one large can)
3 hard-boiled eggs, sliced
1 cup grated sharp cheese
WHITE SAUCE
Blend 2 tablespoons of flour, 2 tablespoons of butter, ¼ teaspoon salt, ¼ teaspoon black pepper, and 1½ cups Carnation milk. Cook in a double boiler, stirring until thickened and smooth.
Alternate layers of asparagus, eggs, cheese and sauce. Bake in a 350-degree oven for 20 minutes.
KILT LETTUCE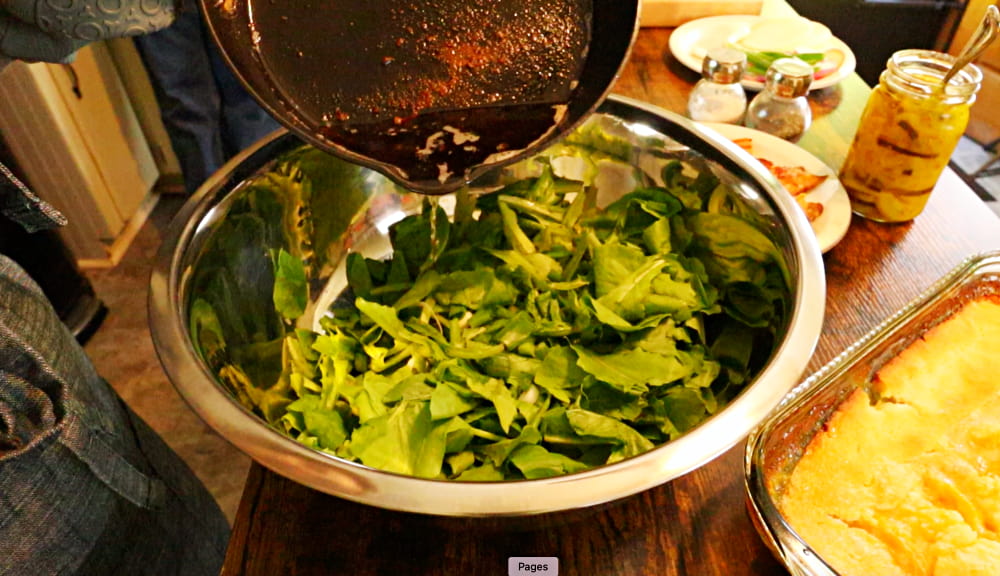 Leaf lettuce
Onions
Hot grease
Salt and pepper
Each Spring I look forward to the first kilt lettuce of the season. Various names are used for the traditional Appalachian dish: killed lettuce, kill lettuce, wilted lettuce, lettuce and onions, killed salad.  Kilt Lettuce should be served immediately after making. The dish uses fresh leaf lettuce from the garden or branch lettuce that grows wild along the creek. The way Granny taught me was to begin by picking and washing leaves of lettuce, making sure to dry off as much water as possible. Sometimes I wash mine early in the morning and leave it drying on a towel in the fridge. Cut up several green onions, including tops, and mix with torn lettuce in a bowl, adding salt and pepper to taste. Pour hot bacon or streaked meat (salt pork) grease over mixture. Be prepared for lots of hissing and popping when the grease hits the lettuce. Toss and serve quickly. It doesn't take much grease; a little goes a long way.
Tip: Kilt Lettuce goes wonderfully with cornbread and soup beans. 
SAUTEED PURSLANE
Purslane is a readily available weed in most areas. The easiest way to utilize this free, nutritious vegetable which is considered a super food is to toss the tender, succulent leaves with other greens for a fresh salad. My favorite way to cook it is also simple and easy. Dice up an onion and cook in your favorite oil in a frying pan until it's just beginning to brown around the edges. Throw in a minced clove of garlic and let cook for a minute. Next add some diced tomato and a handful or two of chopped purslane. Cook for 8 to 10 minutes and serve as a side dish. Other vegetables can be added depending on what you have available or personal preferences. I love to eat mine with cornbread, and it's especially good over rice. 
TIP: If you pick wild purslane away from home (it readily grows in home gardens) be sure it isn't in an area that has been sprayed.
NOTE: The stems and flowers, as well as the leaves, are edible.
FRIED RAMPS WITH POTATOES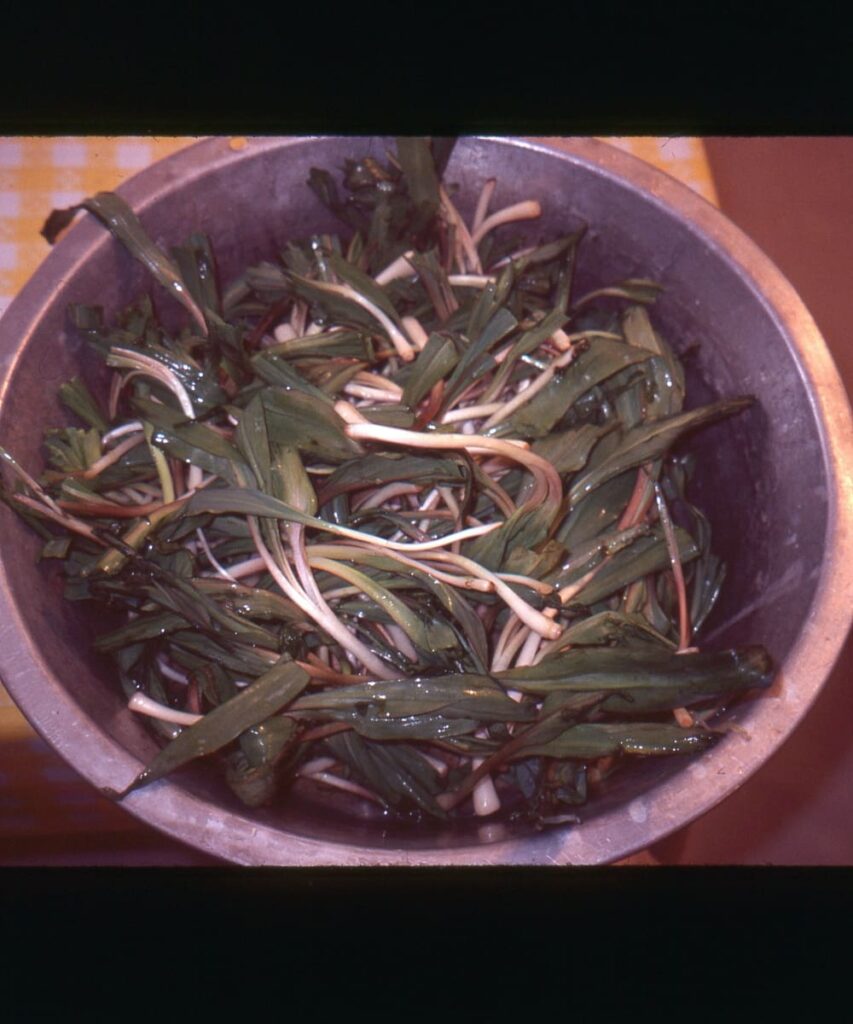 Ramps are rightly notorious for their pungency, and in their raw form they have an after effect that makes garlic-induced halitosis seem like a pantywaist pretender. Yet with cooking that impact (in my youth coming to school after having eaten a "bait" of raw ramps meant a guaranteed three-day dismissal from school—you simply couldn't stay in the same room with someone who had consumed them) and they've become an item making regular appearances on menus in fancy restaurants. Rest assured this pair of recipes, not to mention the cookbook from which they are taken, are anything but haute cuisine. Yet they are "right tasty," as my Grandpa Joe used to say about some dish he had just enjoyed, not to mention the essence of simplicity.
Diced potatoes
Chopped ramps
Oil-vegetable, lard, olive oil, bacon grease
Fry potatoes in your choice of oil. Once potatoes are nearly done add chopped ramps and finish cooking.
RAMPS WITH EGGS
Eggs
Butter or bacon grease
Chopped ramps
Add bacon or grease to frying pan and heat to medium high. Cook ramps for a few minutes till tender. Add eggs and scramble. Serve with biscuits or toast.