MAY NEWSLETTER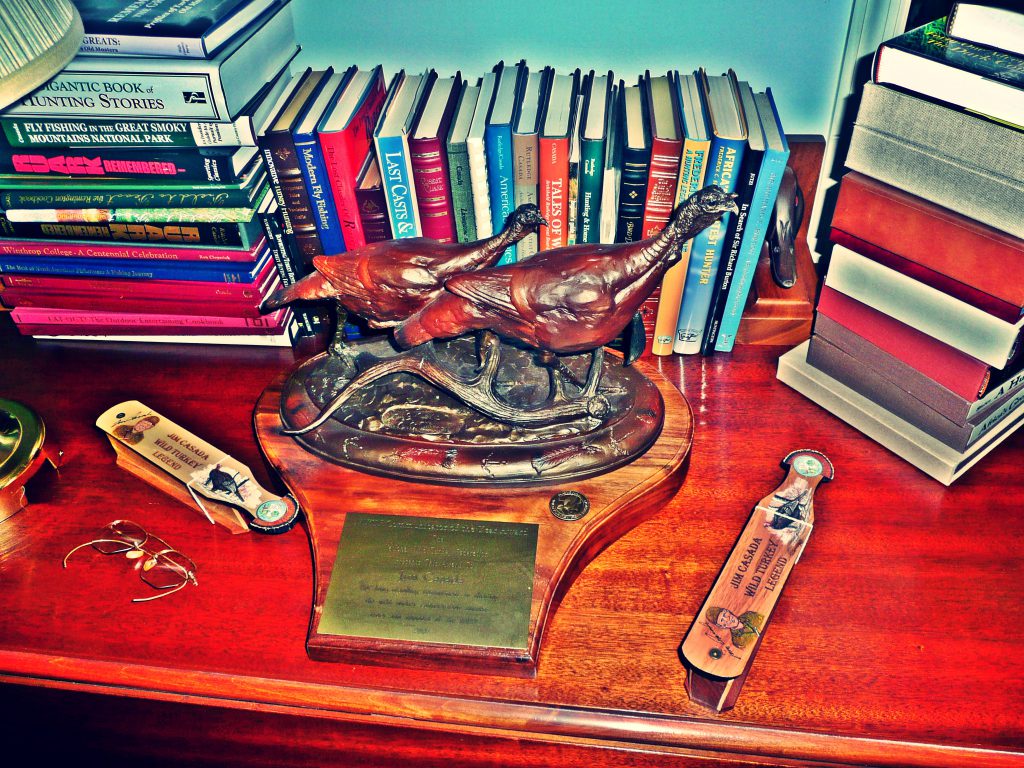 As anyone who has followed the ramblings and ruminations of this newsletter knows, I'm a lifelong bibliophile, a voracious reader, and a hopeless collector of books. In recent years I have begun, valiantly but in considerable measure in vain, to reduce my personal library. It runs to many thousand volumes in several fields—Africana, hunting (with particular emphasis on turkey hunting), fishing (the bulk of my holdings in this area involve fly fishing), exploration, cookbooks, and the history of the Great Smokies in particular along with the Southern Appalachians. Then, on top of all that, I've got a sizeable section of books I personally wrote, edited, or contributed to in some fashion. It seems like every time I manage to sell a few books I acquire some more.
Clearly I'm not the only one who is getting a bit long in the tooth and sparse in the hackle. Over the last 15 months or so I have begun, working with Sporting Classics magazine, a program whereby we act as brokers or middle men to sell collections of sporting books. The response, both in terms of folks wanting to sell books and those who are buyers, has been most gratifying. Incidentally, if you would be interested in learning more about this endeavor, and I'm right in the middle of it as the person who describes and evaluates every book offered for sale, get in touch with me by e-mail (jimcasada@comporium.net).
My love of the printed word goes about as far back as my memory. I had exhausted the outdoor-related books in Bryson City, North Carolina's Marianna Black Library by the time I was in high school, and as I think I've related in these monthly meanderings at some point in the past, my visits to the local barber shop were always timed so that there was a long wait. This gave me ample opportunity to delve deeply into the latest issue of Field & Stream or Outdoor Life. I grew up with books and magazines as boon companions, never mind that they were vicarious friendships, that took me to distant destinations and exotic places. Among them were my all-time favorite, Robert Ruark (he just happened to be a son of the Tar Heel soil, as I was), Jack O'Connor, Corey Ford, Archibald Rutledge, Nash Buckingham, Charlie Elliott, Ray Bergman, Russell Annabel, Gordon MacQuarrie, Havilah Babcock, Edmund Ware Smith, Burton Spiller, and a whole host of others.
Sadly the little local library didn't have many books by these writers, but they did have the classic works of writers such as Theodore Roosevelt, Ernest Hemingway, Jim Corbett, Ernest Thompson Seton, Charles Sheldon, Samuel W. Baker, and some of the greats of African exploration including Henry Morton Stanley, Dr. David Livingstone, and Fred Selous. Some index to just how much influence these boyhood literary pursuits had on me can be offered by the fact that my doctoral dissertation focused on African explorers (almost all of whom were also great hunters), and in my years as a "recovering professor" I've written or edited more than a dozen books on those sporting authors who gave me such a full measure of pleasure as a boy. I might add that particular pleasure has continued unabated in manhood. Those efforts recently took concrete form with the publication of Lords of the Veldt and Vlei (see more in "Jim's Doin's" below).
Books have loomed so large in my life that I have become increasingly determined, as I reach the stage where looking back on simpler days and simpler ways seems, increasingly, to be a part of my existence, to pay tribute to the printed word as best I can. One such avenue I have already traveled is to create the Jim Casada Outdoor Collection in the Marianna Black Library (the library chose to name it for me, and although I made no such request I'm honored). It ranges widely enough that certainly there should never be another youngster in my highland homeland who has to worry about exhausting the locally available outdoors' literature before he heads off to college.
Beyond that specific gesture and unfolding plans to see that my collection of what I just call "mountain material" (mostly books but also post cards, pamphlets, and ephemera) ultimately finds a home in Special Collections at Western Carolina University, I find myself doing more and more to tout the joys of reading for the outdoorsman. Of course one way in which I have long done that is through my books column in Sporting Classics magazine. Another has been through this newsletter, and still another has taken the form of scores of articles in a wide array of outdoor-related magazines profiling great sporting scribes and their works. With that in mind, what follows is a list of some of my favorite hunting authors. It is intended as a sort of beginning guide to reading, but I can't overemphasize the fact that it is, at best, a mere scratching of the surface of what is available. I would also note that some of this material appeared in a previous newsletter dating back more than a decade ago. What follows is a sort of start on some authors and books I feel every serious sportsman should read.  
You won't find any "how to" or "where to" books here. They have their place and there are plenty of them on my personal shelves, but to my way of thinking the works which endure are those which reach out and grab your soul or, to borrow from the man I personally consider America's greatest outdoor writer, Robert Ruark, ones which make you glad, sad, or mad.  The authors and their books come in no particular order of importance, but I do offer brief commentary on each writer and what I consider his best works or special merits. If nothing else, maybe these listings will give you something to occupy some armchair hours during the withering heat and humidity of summer or the deep, depressing cold of winter.
*Robert Ruark. In my studied opinion, Ruark ranks as America's finest outdoor writer. The timeless tales of the "doings" of a sage grandfather and his irrepressible grandson, "The Old Man and the Boy," first appeared as a long-running and immensely popular column in Field & Stream. Later most of the pieces were compiled into The Old Man and the Boy and The Old Man's Boy Grows Older. Some years ago I discovered that a goodly number of the columns did not appear in either book and these, along with other Ruark magazine pieces which had not been in a book, formed the basis of The Lost Classics of Robert Ruark, which I compiled, edited, introduced, and concluded with a bibliographical essay. I also had a major role in Alan Ritchie's biography, Ruark Remembered. Mike McIntosh (who is mentioned below) did the same with Robert Ruark's Africa. Also of note is Ruark's Horn of the Hunter, a book which I consider a far better representation of hunting in Africa than anything Hemingway wrote.
*Archibald Rutledge. South Carolina's first poet laureate, "Old Flintlock" (as he was known to family and friends, was an incredibly prolific writer. Among the more than two dozen books he wrote on the outdoors, those which have won the most acclaim include An American Hunter, Tom and I on the Old Plantation, Days Off in Dixie, Hunter's Choice, Old Plantation Days, and Plantation Game Trails. These works, as well as many others by Rutledge, are difficult to find and quite pricey. That was one reason, with the fact that he wrote lots of magazine articles which never made it into his books being another, I began what has turned out to be almost a cottage industry in compiling thematic collections of his writings. These include Hunting and Home in the Southern Heartland:  The Best of Archibald Rutledge, Tales of Whitetails, America's Greatest Game Bird, Carolina Christmas, and Bird Dog Days, Wingshooting Ways. I have all but the last-listed work in stock and all are priced at $29.95. 
*Havilah Babcock. An English professor at the University of South Carolina who wrote on the outdoors as an antidote for chronic insomnia, Babcock was masterful when he wrote about the things he loved most, such as quail hunting and fishing for redbreast bream. He had a real facility with book titles, and all of his outdoor-related works but one (The Education of Pretty Boy) are collections of stories previously published in magazines. They include I Don't Want to Shoot an Elephant, Tales of Quails 'n' Such, Jaybirds Go to Hell on Fridays, and My Health Is Better in November.
*Gordon MacQuarrie. As a son of the South, my preferences seem to trend towards great outdoor writers from the region, but MacQuarrie hailed from the upper Midwest and his work, filled with humor, good cheer, and an obvious love for the subject matter, is wonderful. Zach Taylor brought together most of his magazine stories in a trilogy, Stories of the Old Duck Hunters and Other Drivel, More Stories of the Old Duck Hunters, and Last Stories of the Old Duck Hunters. More recently, a group dedicated to perpetuating his memory has begun gathering "forgotten" MacQuarrie material, including a lot of is newspaper writings, into anthologies.
*Theodore Roosevelt. Several American presidents, including Cleveland, Hoover, and that pantywaist poltroon, Mr. Peanut (Jimmy Carter), wrote books on the outdoors. However, none was the man, the president, or the sportsman that TR was. He was a prolific writer, arguably America's greatest conservationist, and the author of upwards of a dozen books on the outdoors. The best of them include The Wilderness Hunter, Ranch Life and the Hunting Trail, Hunting Trips of a Ranchman, and his books on his grand African and Brazilian adventures. I edited and compiled a book, Forgotten Trails and Vanished Trails, which brings together many of his "lost" classics on the outdoors.
*Jack O'Connor. Widely hailed as the greatest gun writer of the 20th century, O'Connor was a fixture at Outdoor Life for many years before concluding his year as a masthead presence for Petersen's Hunting. His books include, among others, The Rifle Book, The Shotgun Book, Hunting in the Rockies, The Big Game Rifle, Sheep and Sheep Hunting, Game in the Desert, and two autobiographical works, Horse and Buggy West and The Last Book. In recent years I have edited two collections of O'Connor pieces which didn't appear in his books or previous anthologies, The Lost Classics of Jack O'Connor  and Classic O'Connor.
*Elmer Keith. A little guy with a big hat, big cigar, ample braggadocio, and affinity for big calibers, Keith was a sort of rival to O'Connor. Although nowhere near the stylist or wordsmith O'Connor was, Keith was colorful and knew guns. His books include Big Game Hunting, Big Game Rifles and Cartridges, Keith: An Autobiography, Hell!  I Was There (an expanded version of his autobiography), Safari, and Shotguns by Keith.
*Russell Annabel. The guru of Alaskan sport, Annabel wrote Hunting and Fishing in Alaska and Tales of a Big Game Guide. Many years after his death the folks at Safari Press resurrected his writings with a whole series of anthologies comprised of his long forgotten magazine articles.
*Edmund Ware Smith. Maine has always been a bedrock of Eastern sport, and Smith's wonderful writings on a fictional character, Jeff Coongate, along with additional Down East tales, are a pure delight. His books include For Maine Only, The One-Eyed Poacher and the Maine Woods, The One-Eyed Poacher of Privilege, The Further Adventures of the One-Eyed Poacher, Up River and Down, and A Tomato Can Chronicle. 
*John Taintor Foote. Masterful and prolific, Foote was at his best when writing about fishing and bird dogs, although his work covered other areas as well. Some of his many works are Anglers All, Blister Jones, Dumb-Bell and Others, Fatal Gesture, Jing, Pocono Shot, and A Wedding Gift. 
*Nash Buckingham. Tennessee's Mr. Buck essentially devoted his life to hunting (almost exclusively waterfowl and upland game birds) and went through both his inheritance and that of his wife before becoming poverty-stricken late in life. But what a life he lived, and at his best he is without peer as a storyteller. His best known book is De Shootinest Gent'man and Other Tales, with his other works including Blood Lines, Ole Miss', Game Bag, Tattered Coat, and Mark Right!  George Bird Evans brought together a fine selection of Buckingham's writings in The Best of Buckingham.
*Burton Spiller. The writer on grouse, in my opinion, Spiller's books include Firelight, Fishin' Around, Grouse Feathers, and More Grouse Feathers.
*Corey Ford. A grand humorist who wrote on a variety of subjects beyond the outdoor experience, Ford produced a great column for Field & Stream, "The Lower Forty," for many years. You can find many of those rollicking tales in Uncle Perk's Jug and Minutes of the Lower Forty, and Laurie Morrow has produced anthologies of some of his other writings. He was a masterful writer on dogs, and two of his pieces, "Just a Dog" and "The Road to Tinkhamtown" are revered classics.
*To these I would add a list of mostly more modern writers including Mike McIntosh, Mike Gaddis, Steve Bodio (in addition to several dandy original works he compiled a reference-type work listing what he considers a hundred must-read books on the outdoors), Charlie Elliott, Charley Dickey, Tom Kelly, Jim Spencer, most of the longtime columnists for Sporting Classics, and more. That doesn't even get into the fishing side of things, but maybe we can travel that route sometime soon.
For now, May is a mighty fine month—my favorite of all of them—to be outside wandering woods and admiring wildflowers, wading a trout stream, digging in the ground to plant something, harvesting early bounty from nature or your garden, or just piddling around. But don't forget reading—books are treasures beyond measure and boon companions that can take you to faraway places even though you never leave the comforts of home or have to worry about physical ability. To me the power of the written word is powerful and is satisfying, and obviously it has been a key shaping factor in my life.
JIM'S DOIN'S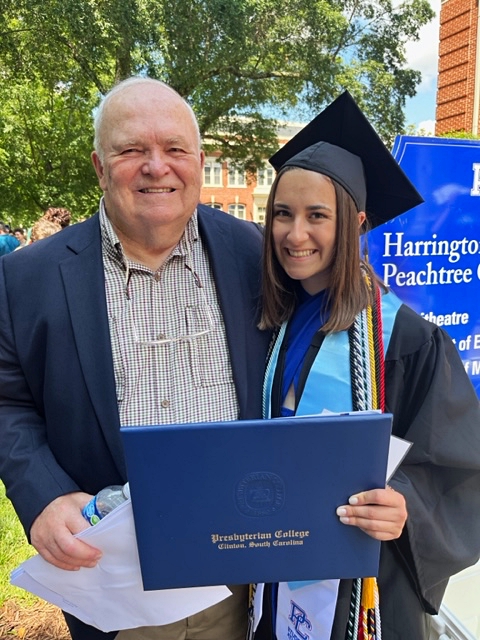 Without question, the single biggest development on the personal front in recent weeks was my granddaughter's graduation from Presbyterian College with a bachelor's degree in psychology and a minor in English. She graduated magna cum laude (as did her mother before her at the same institution), and the less said about the standing of yours truly after four years of undergraduate school, at least in comparison with the two of them, the better. She also garnered a whole bunch of honors—such matters are recognized in today's world by what are known as cords, something that was new to this out-of-touch soul. You can see from the accompanying photo how they adorn Ashlyn. Now comes a summer break in the form of a job before heading right on to graduate school to pursue a dream she has held for a long time—to become an occupational therapist. It's quite interesting to me because at the same point in life I had absolutely no idea what the future held, nothing approaching her level of maturity, and no job or detailed plans. I'm going to claim I was a "late bloomer" although skeptics might say, quite possibly with more than a bit of justification, that the bloom never opened.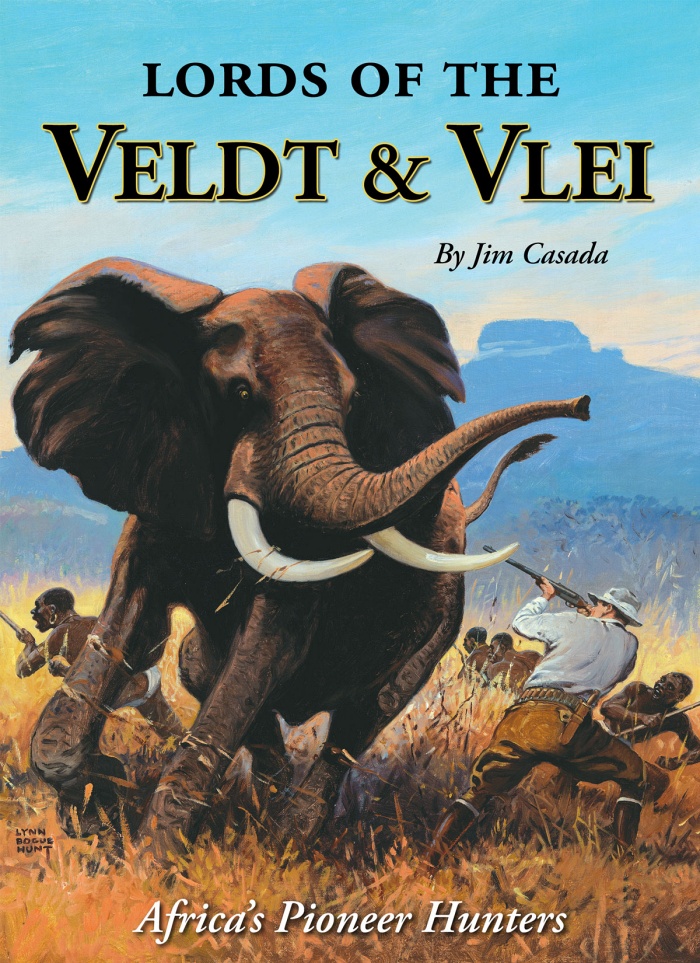 Another recent occurrence of note is that the Professional Outdoor Media Association will be recognizing my book, Lords of the Veldt and Vlei: Africa's Greatest Hunters, with its 2023 Pinnacle Award at its upcoming annual meeting in mid-June. Each year the organization recognizes one book as the outstanding work from members for the preceding 12 months. I'm greatly gratified to be this year's recipient. The book is in many senses the result of literally half a century or reading and research, since appreciable portions of the material date back to study while I was in graduate school.
On the publication front, in addition to my weekly columns in the Smoky Mountain Times, the following articles have appeared recently: "Zane Grey: American Sportsman," Sporting Classics, May/June, 2023, pp. 115-19; "Negley Farson: Forgotten Giant of the Angling World," Sporting Classics, May/June, 2023, pp. 121-23; and "Makin's from Maters," "Smoky Mountain Living" on-line, April 21.
RECIPES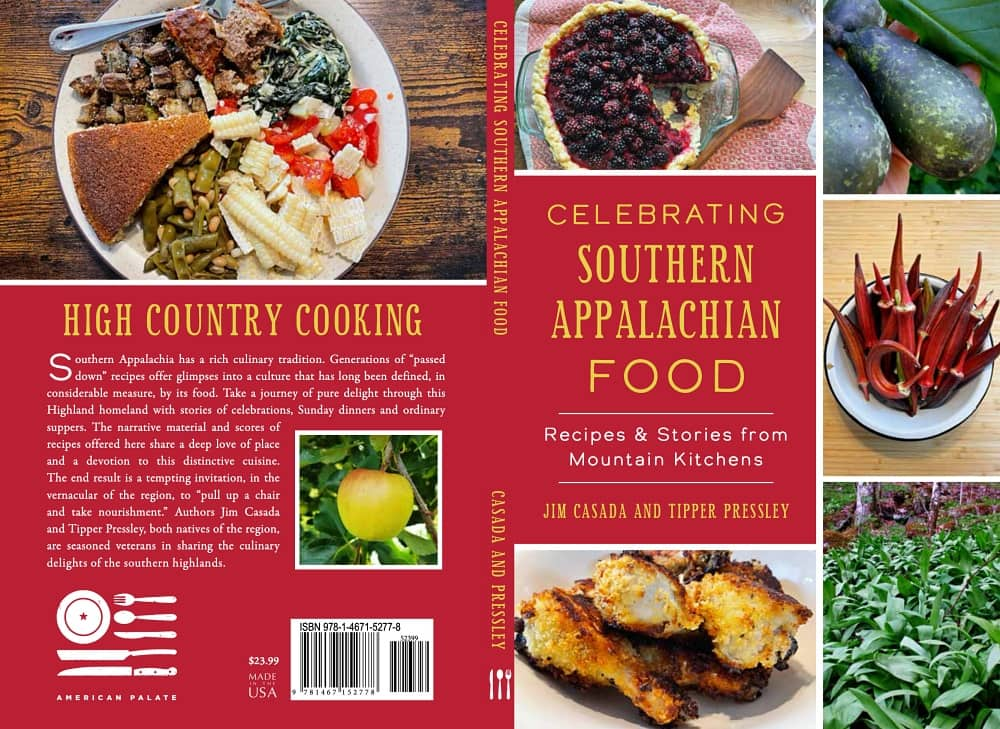 Sales of the cookbook I co-authored with Tipper Pressley, Celebrating Southern Appalachian Food: Recipes & Stories from Mountain Kitchens, continue to be gratifying and for the past month the book has been in the top ten in on Amazon in one or more of the special categories where they list it. It also has about 90% five-star reviews and those that are lower are directed at printing problems rather than the work's contents. All the recipes below can be found in its pages, and I've still got plenty in stock ($23.99 + $6 shipping—order directly from me c/o 1250 Yorkdale Drive, Rock Hill, SC 29730 or on-line through PayPal).
Tipper and I have several upcoming book events. We would love to meet you if you're able to attend.
Mast General Store Book Signing Events
May 27, 11:00 a.m. – 2:00 p.m. – Knoxville, TN

June 10, 10:00 a.m. – 2:00 p.m. – Roanoke, VA

June 17, 11:00 a.m. – 2:00 p.m. – Boone, NC

June 17, 3:00 p.m. – 6:00 p.m. – Sugar Grove, NC
Other events
June 1, 6:30 p.m. Swain County Genealogical & Historical Society – Bryson City, NC

July 1, 3:00 p.m. City Lights Bookstore – Sylva, NC
HUSH PUPPIES
May means bedding bream, hungry crappie, and trout becoming increasingly active. All of that, in turn, translates to fish fillets or whole fish being turned to tasty wonder in a frying pan or deep fryer. Aunt Mag Williams, a wonderful black cook from my youth, always had piping hot hushpuppies (and slaw) to go with fish. I have no idea how she made them, but they did have as essential ingredients cornmeal and onion as is true of this recipe. She also often, though not always, included corn kernels in her batter. This was in the summertime when fresh corn on the cob was readily available.
1½ cups cornmeal 
1 cup self-rising flour
½ teaspoon seasoned garlic salt
½ cup chopped onion (or scallions)
1 (8-ounce) can cream-style corn
1 egg
1 cup whole milk
Combine the cornmeal mix, flour and garlic salt in a bowl and mix well. Beat the onion, corn, egg, and milk in a separate bowl and add to the dry ingredients. Place the mixture in the freezer to cool while you heat cooking oil to 375 degrees in a deep fryer. Drop teaspoons of the batter, just a few hush puppies at a time, into the hot oil. Cook until gold brown, turning to cook evenly on all sides. Makes about 30 large hush puppies.
Note: Recipe can be doubled (or expanded by other multiples).
CORNPONE PIE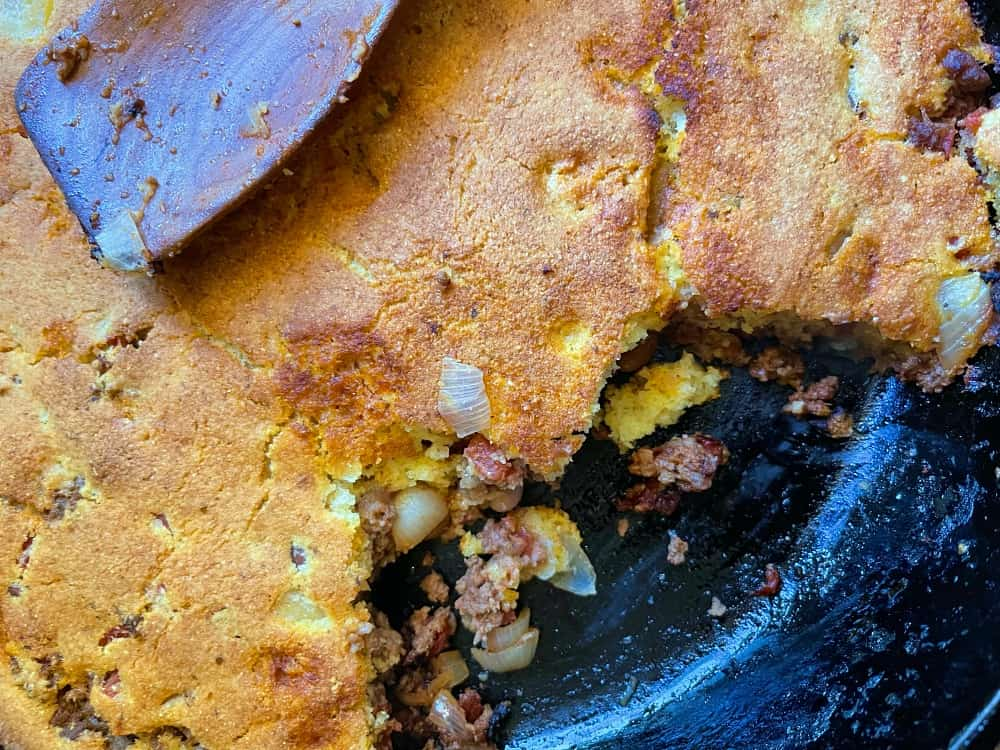 This recipe is really just a variation on time-tested approaches to making cornbread in a fashion which basically becomes, if not an entire meal, at least the key dish. In a sense it is a derivative of both cracklin' cornbread and cornbread with soup beans. The ingredients vary a bit from those traditional standards and the meat and beans provide a double dose of protein. 
Begin with your regular recipe for cornbread, leaving out the cooking oil, and prepare your batter. Set it aside (something I also do when making regular corn bread) while browning a half pound of 80% lean hamburger or a comparable amount of ground venison (if you use the latter mix in a bit of bacon or pork fat) in a skillet along with a diced sweet onion. 
When the meat is fully browned, empty a drained can of pinto beans or a cup and a half of previously cooked pintos into the cornmeal batter, add the meat-and-onion mix, stir just enough to mix completely, and pour into a pre-heated baking dish or well-greased cast-iron skillet. Bake at 400 degrees until done.
Note: A variation on this dish is to use crowder peas rather than pintos.
PORK ROAST WITH KRAUT
This recipe comes from my co-author (she's also the webmaster bringing you this newsletter), Tipper Pressley. I've tried it and boy howdy, do the combination of the "bite" of kraut and the meatiness of pork evermore make a dandy dish. Passing along food traditions to the next generation is widely celebrated in Appalachian culture. When Tipper was first married she relied on the knowledge her mother and grandmothers had shared. A pleasant and rewarding surprise came from learning traditional foodways from her new family. My mother-in-law, Miss Cindy, taught me a deliciously easy way to cook an outstanding pork roast with a jar of kraut. 
2 to 3 pound pork roast (tenderloin or butt works well)
Salt
Pepper
Flour
Butter, lard, or your preferred oil
Quart of homemade kraut (store bought can also be used)
Season roast and dredge in flour. Heat pan with oil and sear roast on all sides. Transfer roast to a Dutch oven or roasting pan. Pour kraut with liquid over roast. Cover and cook at 350 degrees until done. 
TIP: Potatoes can be added before the roast finishes cooking. Goes very well with a cake of cornbread.
Note: Miss Cindy, who shared this recipe with Tipper and thence it came my way, has recently been diagnosed with cancer that has metastasized to numerous areas. She is at peace with her situation and has wonderful care in the form of loving family. As her earthly days edge towards conclusion, I would ask you to hold her, Tipper, Matt (Tipper's husband and Miss Cindy's son), and all the family in prayerful thought.
ANNA LOU'S FRIED CHICKEN
We are not long past what Grandpa Joe sometimes called "peeper season." He wasn't referring to the chorus of frogs tuning up as spring arrived but rather newly hatched chickens. Some came from his own setting hens and others were added to the flock via purchase of "peepers" from the local Farmers Federation. They grew almost magically and by the end of May or early June were prime frying size, and that was the fate of almost all the cockerels (today sexes are identified almost immediately on hatching, but in those days you got a mixture when you bought chicks). 
Every dedicated and skilled kitchen wizard has a few recipes that stand out as being truly special. My mother, Anna Lou Casada, was gifted with a wide array of culinary skills, but when it came to frying chicken she invariably outdid herself. It was the standard Sunday meat on our family table and even now, as I write this, my mind goes drifting back to coming home from church to a feast where fried chicken was a weekly standard. I've never quite been able to replicate her fried chicken magic, but the recipe below comes close.
Cut one (or more) chickens into frying portions (legs, thighs, wings, and halved breast) and leave the skin intact
1 or 2 eggs, whisked
Salt and pepper to taste
Flour
Lard or cooking oil (cast iron skillet should have between an eighth and a quarter inch)
Drench each piece in the egg wash and then coat thoroughly with flour (mix salt and pepper in with the flour) before placing in piping hot oil in a large cast iron pan. It is important that the oil be so hot the chicken sizzles immediately on contact; otherwise it will soak up too much oil. Reduce heat once pieces brown and continue to cook slowly until thoroughly brown and done.
All of this seems normal enough, but it was Mom's final step that made all the difference. Once she had all the chicken fried and placed atop paper towels to drain a bit, she would clean the cast iron skillet and put the fried chicken back in it. She then turned the oven on at low heat (200 degrees or maybe a bit less) and put the chicken in it. She normally did this just before heading off to church on Sunday. After church, once she had readied the rest of the meal, she would pop the skillet out of the oven and serve the chicken immediately. Being in the oven seemed to do two things—cook away some of the surplus grease and make the chicken so tender it almost fell from the bones and melted in your mouth. 
Tip: For crustier chicken, do the egg wash/flouring process twice and use tongs, ever so gently to turn the chicken in the pan and transfer it to a serving plate.
CREAMED GREENS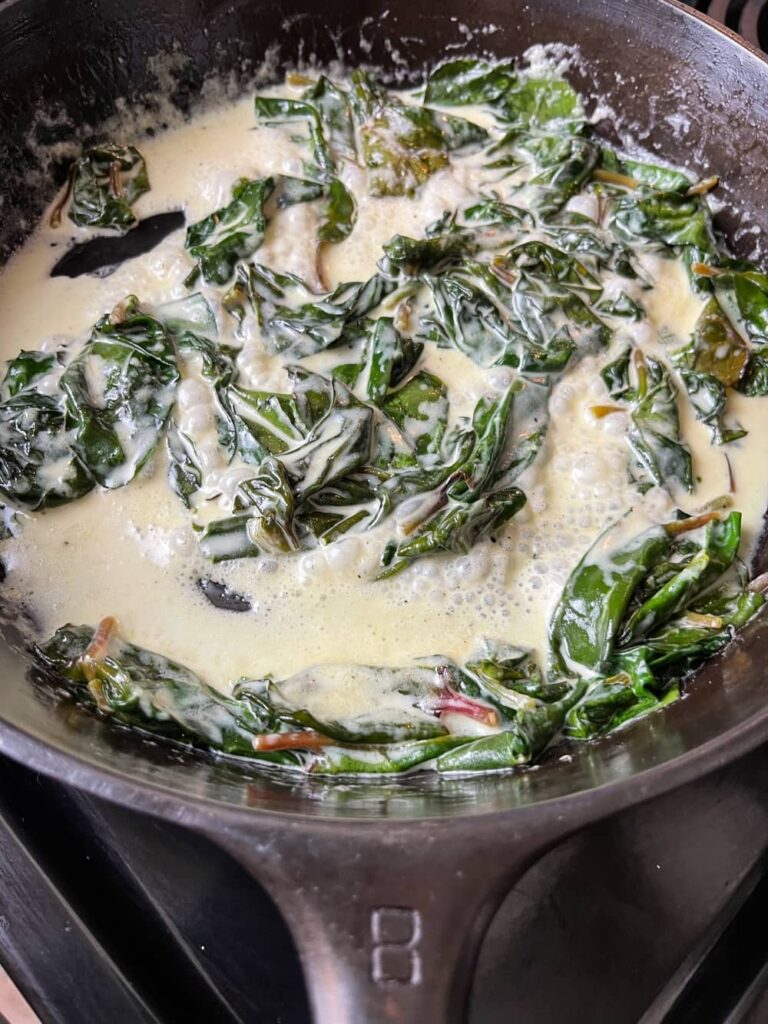 Spring always brought a bounty of greens from both the wilds (poke salad, creasy greens, sochan, and the like) and the garden. The recipe below works well with spinach, chard, or kale but can also be used with mustard or turnip greens.
Spinach or other greens
Olive oil or butter
Salt
Pepper
Nutmeg (optional)
Heavy cream
Cook spinach in oil or butter for a few minutes. Add additional butter or oil, salt, pepper, and nutmeg to taste. Pour in heavy cream. The amount depends on the quantity of spinach you're working with, but it only takes a few tablespoons full.  Allow spinach to cook a till it thickens slightly.
TIP: Garlic or onions may also be added.