SEPTEMBER SONG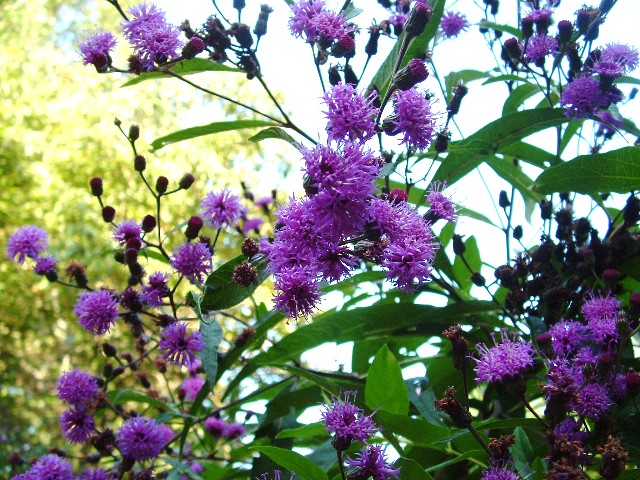 September sings a mighty soothing song, and it's a month of great sweetness intermingled with a certain degree of sadness. I'll have more to say about that momentarily, but I thought I'd start this month's newsletter by indicating that is an anniversary of sorts. Seventeen years ago this month I issued my first e-newsletter. Over the ensuing years I've missed a handful of months, done a few special editions, and doubled up to offer two newsletters in a single month from time to time. Altogether there have been upwards of 200 newsletters.
All in all, it's been an interesting road, especially since I've traveled the entire path in an ongoing state of profound technological ignorance. Had it not been for my first webmaster, Tracy Watt, who encouraged me to stick a toe in the waters of this type of social media, and my highly capable webmaster in recent years, Tipper Pressley, rest assured none of this would have been possible. When it comes to social media, use of a computer, and indeed pretty much anything and everything connected to what passes for communication in today's world. I'm under a washtub where the sun never shines.
I went back and looked at my September offerings over the years. What follows is a mixture of some current thoughts combined with a few snippets from early newsletters for the month.
Come September woodlands cry out for a stroll to check out stands, do a bit of scouting, or merely savor thoughts of fall's upcoming coming rites. Nature's bounty approaches the fullness of the season as well. Soon the first white oak acorns will be dropping; already persimmons are showing hints of the yellow which will in due course turn from alum tartness to spicy orange succulence, and pawpaws are beginning to ripen.
Nights are carrying a hint of cool and the humidity seems slightly less oppressive. Up in the high country of my boyhood, brown trout will become increasingly restless, somehow knowing what lies ahead, and they feed readily on grasshoppers and other terrestrial insects. Rainbows too are quite active, although with both species the season demands long casts, delicate delivery, and light tippets. If you aren't a fly fisherman, things are picking up with warm water species as well. Bass begin to chase schooling bait, slashing the surface and bringing back the joys of topwater action that one knew back in May.
Then there are the wildflowers of autumn. Purple clusters of late blooming phlox along field edges, a whole array of wild asters, the regal stalks of Joe Pye week and the eye-catching purple of ironweed, and best of all, the striking loveliness of stalks of cardinal flower with all the vivid red the plant's name suggests. Add to that the colorful display of turning dogwood berries and leaves, brilliant splashes of sumac, purple clusters of elderberries, and the first hints of yellow on hickories and poplars– nature's eye candy becomes quite fetching while serving as a harbinger of October glories to come.
September is mist hugging the ground on a cool morning. It's dust devils dancing across bone-dry fields in the mid-afternoon sun. It's time alone on a trout stream where stealth and precise casting are at a premium. September is the comfort of a campfire in the backcountry, and if you are mathematically inclined you can listen to katydids and figure out the air temperature. Just count the number of chirps in a minute, subtract 40, divide the result by four, and then add 60. Never mind the math, the insect chorus swells in song as if there were no tomorrow.
In some senses the insects are right, because once you hear katydids offering an insect equivalent of a hallelujah chorus fall can't lie too far away. The sweet month means muscadines and scuppernongs are ripening on the vines, as are fox grapes up in the high country where I was raised. That translates to all sorts of culinary delights such as fox grape jelly, sucking the goodness from a near-golf ball-sized muscadine fresh from the vine, or the indescribable delights of a hull pie.
In the high country of my youth September also sees at least a partial and temporary departure of what the Old Man in Robert Ruark's The Old Man and the Boy referred to as "willies off the pickle boat." He meant tourists, and after Labor Day, until fall leaf color time, visitors pretty much go back to wherever they came from, taking with them the hordes of howling kids which were in tow. This development is greeted with a mixture of relief and regret, because folks in the Smokies have always had a sort of love-hate relationship with outsiders. They refer to them (behind their backs, to be sure) as "tourons" (word play on morons) or Floridiots (since so many season visitors come from that state, whence most first moved from somewhere north of the Mason-Dixon Line). The money they bring drives the economy, but stubborn, independent minded hillbillies (and I'm one of them) don't take kindly to thoughts along the line of "back home we don't do it this way." Meanwhile, for a time until the leaf peepers bring it all back, peace and quiet reign sublime.
Anywhere in the Southeast, especially as October draws ever nearer, it's a grand time to be alive. September is a joy, but to me arguably the greatest thing about the month is that it is the prelude to October. It's a time of getting in crops, fattening hogs, harvesting the various types of what I've always known as "winter" squash (see the recipes below), dreaming of the first cold snap and initial heavy frost, bidding a welcome farewell to mosquitoes, cleaning the last of the venison out of the freezer in anticipation of upcoming hunting success, and it general making the transition to a grand time of the year.
TALES FROM YESTERYEAR
Most communities and small towns boast one or two individuals who are natural comedians. They may be funny thanks to behavior, be gifted with a rare sense of humor, possess quick wit, enjoy exceptional storytelling abilities, or otherwise be mirthful souls. I've been privileged to know a number of truly hilarious human beings over the years, but without question the funniest person I've ever known was a fellow named Britt McCracken. He was one of Daddy's golfing buddies, the father of a schoolmate who was a year behind me, and a pillar of the local community. Most of all though, Britt was a natural comic.
If I continue to offer this aspect of the newsletter on a regular basis, I'll probably return to him a number of times, but let's begin with a favorite Britt story of mine. It's one where I was present to enjoy the situation first-hand.
"Britta McCrack," as some of his buddies were wont to call him, was a good friend and golfing buddy of my father. It was in the context of his golfing pursuits, while working and caddying at the local nine-hole course, now long gone, that I first came to know him. It was always a delight to be carrying the bag of a golfer in any foursome which included Britt, because to do so was to enjoy a front-row seat in a moving feast of comedy. He could keep folks in stitches, and in particular I recall one time when he literally had almost everyone in a foursome, golfers and caddies alike, rolling on the ground. The sole exception was Jack Williams, the "pro" and course manager at the Bryson City Golf Club. Even Jack, who bore the brunt of Britt's wit on this particular occasion, eventually had to smile, albeit in a somewhat rueful fashion.
The golfers had a modest wager on their match, and they had reached the final hole with Jack and his partner in prime position to defeat Britt and his teammate. All Williams had to do was sink a short putt—perhaps three feet in length—to close the deal. A far better golfer than most local linksmen, Jack was a bright, likeable fellow who taught school and managed the golf course on the side. However, he did possess an exceptionally short fuse, and on this occasion he exploded before the laughter of others in effect forced him to overcome his wrath.
Temporarily though, Williams absolutely went ballistic. It all came about when, just as he was stroking what seemed sure to be the match-winning putt, Britt broke wind in a fashion fit to shake leaves off nearby trees. The release could have come straight from Geoffrey Chaucer's story of the miller in Canterbury Tales. Jack's putt, far from being holed, ended up all the way across the green. His team lost the match and the bet, and it was a full 10 minutes before matters returned to even a semblance of normalcy. Crude? Undoubtedly. But it was also hilariously funny.
JIM'S DOIN'S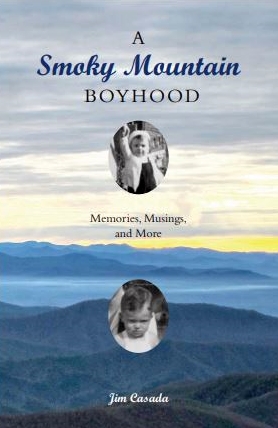 As the lateness of this newsletter might suggest, I've been busy. At long last A Smoky Mountain Boyhood: Memories, Musings, and More has gone to the printer, and if everything goes along on scheduled I'll have the 300+ page book in hand sometime in the next couple of months and certainly in plenty of time for the Christmas season. I have several recent articles out for the reading public. These include a trio of electronic publication pieces in "Sporting Classics Daily" ("Must-Have Cookbooks for the Sportsman" on Sept. 4, "Dove Hunting and the Making of a Sportsman," Sept. 8, and ""A Book to Stir the Sporting Spirit," Sept. 22). I also wrote a little story on an old mountain fellow I knew in my boyhood who walked more than 50 miles in a single day to hear President Roosevelt dedicate the Great Smoky Mountains National Park ("A Long Day's Walk to Hear President Roosevelt," on "Smokies Live"). In the Sept. /Oct. print version of Sporting Classics you'll find my "Slingshot Days" and "Colonel Harold P. Sheldon: Teller of Tranquil Tales." "Fishing Small Streams," appears in the Sept. /Oct. issue of a magazine for which I write frequently, S. C. Wildlife. "Makin' Molasses," is my latest column in Carolina Mountain Life, (Fall issue) while "Apple Time in the High Country," is in the Oct. /Nov. issue of Smoky Mountain Living.
The Southeastern Outdoor Press Association did not hold its annual meeting this year, thanks to all the coronavirus mess, but it did have the regular excellence in craft competition. I was fortunate enough to have a piece I wrote for "Sporting Classics Daily," "Sweet Soul of the Smokies," receive first place recognition in the electronic publication category, while a book for which I served as editor and to which I contributed several essays, Black Belt Bounty, placed third in the book category. That's about it on the personal level, so let's wrap things up with a look at some winter squash recipes.
FOCUS ON FOOD—WINTER SQUASH
During my boyhood what mountain folks called winter squash figured prominently in our fall and winter diet. Eating pumpkins, candy roasters, cushaws, and acorn squash kept well, were easy to grow, and could be prepared in a wide variety of ways. Here are some examples.
CANDY ROASTER CASSEROLE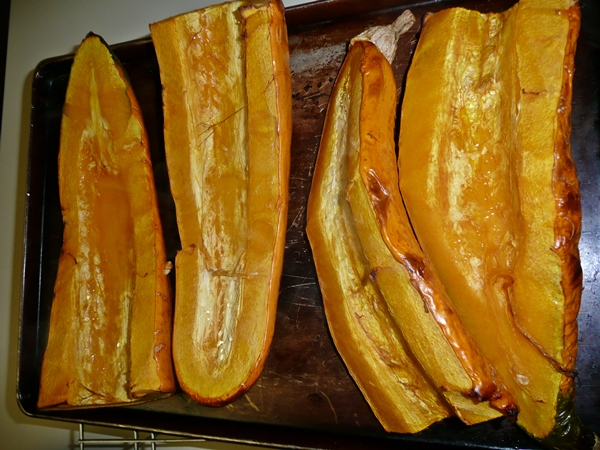 Candy roasters are a decidedly regional member of the squash family, but they have a long, strong culinary history in southern Appalachia. Easily grown, hardy keepers, less stringy than pumpkin, and perhaps the sweetest of the winter squash, they are delightful whether used as a vegetable/fruit dish or in desserts. Pretty much any recipe for pumpkins or sweet potatoes is suitable for candy roasters, but a longtime family favorite is a sweetened version somewhat similar to a sweet potato casserole or applesauce with cinnamon and brown sugar.
1 medium to large candy roaster (will produce about 10 cups of cubed squash)
½ cup brown sugar
½ cup molasses
1 stick butter
¼ cup orange juice and a tablespoon orange zest
Pinch of salt
1 tablespoon cinnamon or all-spice
½ cup chopped pecans or black walnut meats
Prepare the candy roaster by peeling (a heavy-duty vegetable scraper is handy for this), removing the seeds, and cutting into cubes about an inch in size. Place in a casserole or baking dish with a pat of butter.
Combine all the other ingredients except the nuts in a pan and melt/blend over low heat to make a sauce, then pour over the candy roaster. Make sure to coat all the cubes completely.
Bake at 350 degrees for 45-50 minutes or until the candy roaster cubes are tender. Once that point is reached, top with the nuts and bake for 2-3 more minutes.
CUSHAW FRUIT LEATHER
All of the sweeter winter squash lend themselves to making a batch of what is generally known as fruit leather. In this case it isn't exactly "fruit" since the key ingredient is a vegetable, but the leather uses apples or peaches in combination with cushaws to produce a neat and highly unusual snack.
1 quart cooked cushaw flesh (cut in halves, peel, remove seeds and cook in a sauce pan until easily mashed up—it may be necessary to add a bit of water)
1 quart of apple or peach sauce made from reconstituted dried fruit
Pinch of cinnamon or all-spice
4 tablespoons raw honey
Use a whisk to blend the ingredients together and then spread atop lightly greased or silicone-treated baking sheets (or sheets covered with parchment paper), being sure to spread evenly and avoid air holes. A spatula is a useful tool for doing this.
Place in an oven at 160 degrees or a dehydrator at its highest setting (usually 150 degrees). Bake for 4 to 5 hours until the entire spread is set. Remove and allow to cool to room temperature. Roll the cooled leather off the baking sheets onto waxed paper or parchment paper atop a cutting board. Use a sharp knife, ulu, or pizza cutter to slice into strips. If kids will be eating the leather, you might also want to use shaped cookie cutters. For longevity, store in a refrigerator.
PUMPKIN CHIFFON PIE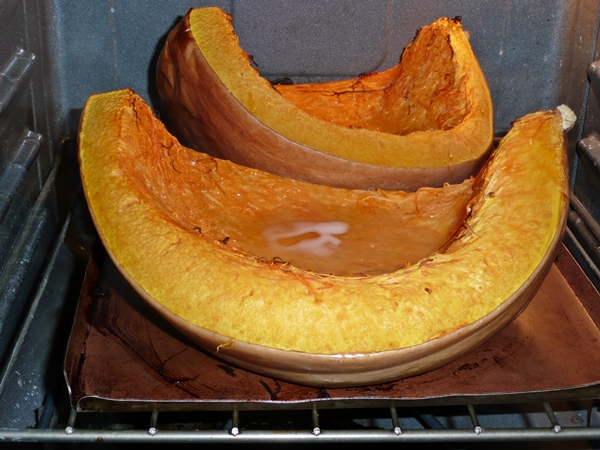 I use the term "cooking pumpkins" simply because many of today's store-bought pumpkins are suitable only for decorative use. Even Grandpa Joe, who wouldn't have known a Halloween pumpkin from Adam's off ox, distinguished between cooking pumpkins and field pumpkins, but the distinction he was making was between those used primarily by humans and those grown as hog food. My favorite cooking pumpkin is an heirloom variety from seed with origins tracing back to Chambers Creek, which empties into the north shore of Fontana Lake, in pre-Great Smoky Mountains National Park Days. It is sweet, has far less fiber than most pumpkins, and works up with relative ease.
Mention pumpkin pie and most folks think of baked ones, but this chiffon pie requires refrigeration rather and than oven.
3 eggs
1 cup sugar
1 ¼ cups cooked pumpkin
½ cup milk
1 tablespoon orange juice
½ teaspoon orange zest
½ teaspoon salt
½ teaspoon nutmeg
½ teaspoon cinnamon
1 tablespoon unflavored gelatin
¼ cup cold water
Separate eggs and to yolks add ½ cup sugar, pumpkin, milk, orange juice, zest, spices, and salt. Cook in a double boiler until thick. Soften gelatin in cold water and add to hot pumpkin mix. Mix thoroughly and cool. When it begins to thicken, fold in stiffly beaten egg whites to which remaining half cup of sugar has been added. Pour atop a prepared graham cracker or ginger snap crust.  Chill in refrigerator for 3-4 hours.
BROWN SUGAR BAKED ACORN SQUASH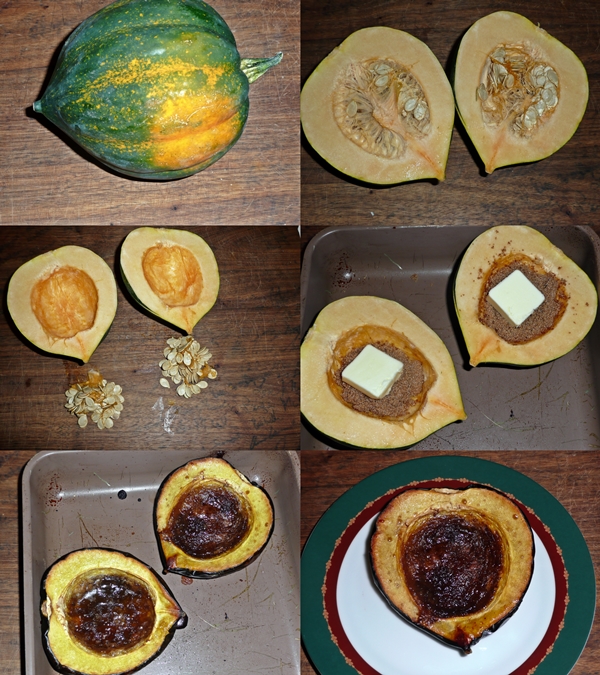 Easily grown in the home garden and readily available at the grocery store, acorn squash also offer the advantage of being much smaller than most types of winter squash (a single one is just right for two ample servings). This recipe is simple, requires little prep time, and has long been a family favorite.
1 acorn squash per two diners
Brown sugar (molasses, cane syrup, maple syrup, or honey can be substituted)
Butter
With a sharp, sturdy butcher knife cut the squash in half length-wise and use a spoon the scrape out the seeds and stringy pulp surrounding them. Lightly score the flesh of the squash, being sure you don't cut all the way through. Place the squash halves on a cookie sheet or in a baking dish. Put 1-2 pats of butter in the cavity and then fill the remaining space with brown sugar or the sweetener of your choice. Bake at 400 degrees for an hour to an hour and 15 minutes (until squash is tender). Serve hot either as a sweet vegetable dish (the way my family ate it) or dessert.
BUTTERNUT SQUASH AND LEGUME STEW
The most common use for butternut squash is in soup, but it can also form the basis of a hearty, healthy, and tasty vegetable stew. Combined with an old-time mountain favorite, crowder peas (you can also use black-eyed peas or lentils), and spinach, and flanked by a pone of cornbread, this dish makes mighty fine fare on a cold winter day.
1 sweet onion, diced
1 teaspoon coriander
1 tablespoon finely chopped ginger root
1 tablespoon vegetable oil
1 teaspoon cardamom
1 butternut squash, peeled, seeded, and cut into small chunks (an inch or so)
1 pound dried crowder peas or other legume (lentils require no pre-soaking, but for crowder or black-eyed peas three hours in a pan of cold water is recommended)
6 cups low sodium chicken broth (strict vegetarians can substitute vegetable broth)
6 cups spinach, shredded
1 tablespoon apple cider vinegar
½ teaspoon ground black pepper
1 teaspoon salt
After carefully "looking" your legumes, combine all ingredients except the final four in a pressure cooker and heat to high pressure and then lower heat to medium. Cook for 12 minutes and release pressure. Check the peas to be sure they are done. If not, cook 2 or 3 minutes longer. When done, add the spinach, vinegar, salt, and pepper and stir in.
NOTE: Ingredients in this recipe can be halved.