AUGUST 2020 NEWSLETTER
THIS MONTH'S SPECIALS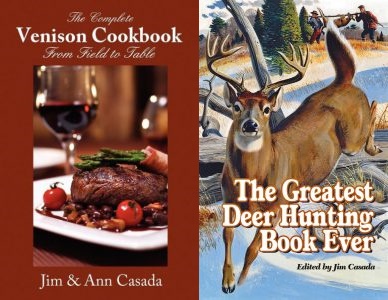 With whitetail season not all that far distant, the need to free up some freezer space for what  hopefully will be plenty of venison to come, and given that a recent sorting and cleaning session in the storage shed where I keep most of the books I have for sale, realization dawned that it was a prime time to reduce an extensive stock of deer hunting books. Accordingly, everything on my list of whitetail books (click here for link) is reduced by a whopping 25% through the end of September. That includes not only the out-of-print books on the list but works I wrote or edited—The Complete Venison Cookbook, Tales of Whitetails: Archibald Rutledge's Greatest Deer Hunting Stories, and The Greatest Deer Hunting Book Ever. Details on the latter three can be found on my website, www.jimcasadaoutdoors.com. Also, as an added bonus, all orders over $100 will be shipped postage paid. For smaller orders, postage is $5 for the first book and $2.50 for each additional one to a maximum of $12.50. Only checks or money order accepted for this special—PayPal takes a bite out of sales and also poses all kind of problems with the order form when special rates are involved. Check with me by e-mail (jimcasada@comporium.net) to be sure books are available or to reserve them.
**********************************************************************************
DOG DAYS DREAMS
There's a great deal not to like about August. It brings the heat, humidity, and general misery associated with dog days. Mosquitoes seem to be at their worst, the opening day of deer season, although actually not all that far off seems a distant dream, and even the pleasure of fresh garden truck has worn a bit thin. Fish are in the doldrums, you're so tired of mowing grass that a bitter January day seems like a vision of paradise, and just being outside after 10:00 a. m. or so finds you withering. Yet there's a great deal to be offered on the plus side, and here are some August memories to attest to that.
*The delicious coolness of the linoleum floor in our kitchen touching bare feet after being outside in the heat.
*The fragrance of the air after a late afternoon thunderstorm which cooled things down and brought temporary but welcome relief.
*The sheer hedonistic joy of turning over a pillow in a house lacking air conditioning to get a few moments of coolness.
*Jumping in a chilly creek on a torrid afternoon.
*Digging into a watermelon Grandpa Joe had hauled home from town in a tow sack and had cooling in a wash tub filled with ice water.
*Sitting on the porch while eating that melon, spitting out seeds and laughing at the chickens as they scrambled for them.
*Listening to one of Grandpa's tales, perhaps of a tussle with a mighty "jackfish" (muskie) or of a really successful day of running trotlines for catfish, in the aftermath of a watermelon feast.
*The rare pleasure of a churn of home-made ice peach ice cream, made doubly welcome if you were allowed to lick the dashers.
*Listening to katydids fill the evening air with a chorus, rising to a crescendo , falling, and then commencing all over again. It was music no philharmonic orchestra, no gathering of talented musicians, could ever match.
*Peeling peaches, shelling peas, breaking beans, or other chores conducted on the porch after supper. The porch was also a gathering place for visitors, and most evenings in the Smokies it was cool enough by the time light gave way to night (before the advent of that invention of Beelzebub, daylight savings time) to be quite comfortable. If there had been a late afternoon shower it would actually sometimes be cool enough for Momma or Grandpa to drape a sweater across their shoulders.
*Chasing lightning bugs and imprisoning them in a jar just to watch the light show. Honesty also compels me to admit that there were times I pinched the light bulb portion of the fireflies just to see what would happen. Maybe future generations of lightning bugs got their revenge, because a mere sniff of one of them (and they have a distinctive, noxious odor) will set me to sneezing almost uncontrollably.
*Catching catfish in the Tuckaseigee River. It was badly polluted then from a paper mill upstream and raw sewage, but that didn't deter a young river rat in training. August was arguably the best of all months for catching catfish, never mind that other species had gone on a prolonged hunger strike.
STORYTELLING CORNER: THE SMOKY MOUNTAIN RAIN MAN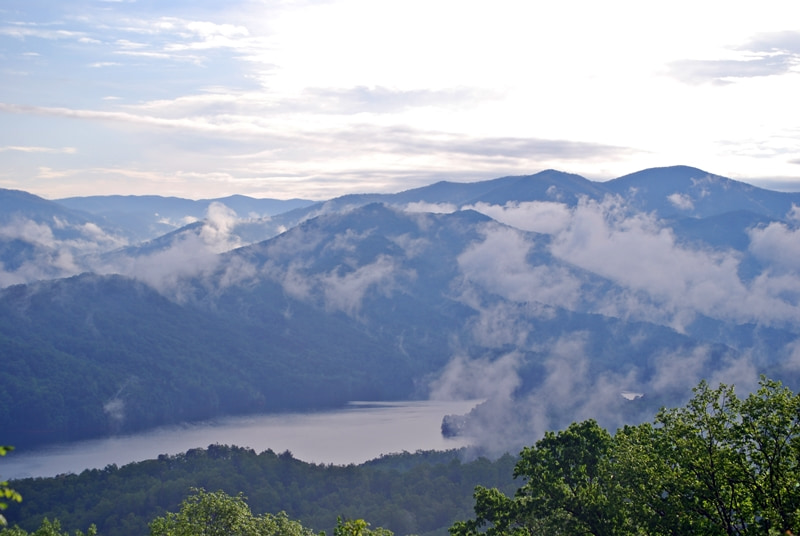 In my July newsletter I inquired about reader interest in sharing tales of some of the grand characters I was privileged to know as a boy. A number of you expressed strong interest in such stories, so I'm going to try to include one in each of my upcoming newsletters. You'll meet all sorts of characters in addition to repeat visits with already familiar figures such as my Grandpa Joe. Some were reprobates of the first water, others were comics, more than a few had been on the wrong side of the law in varying degrees of criminality, and then there were those who had personalities which were endearing for any of a number of reasons.
Let's start with a grand local character from my boyhood named Arthur Blanton. He was a harmless, eccentric fellow, usually described along the line of "he's not quite all there" or simply with statement "he's a bit quare." Such thoughts would be taboo in today's world where political correctness has run amok, but no one (including old Arthur) gave a second thought to such evaluations in the 1950s. Strange and mentally challenged though he undoubtedly was, and always broke as the Ten Commandments, the fact remained that Arthur was self-sufficient and happily made his way through life in his own contented, carefree way.
A key aspect of that life was a daily routine that found him wandering around the streets of Bryson City toting a capacious tow sack. In it he carried soft drink bottles picked up from ditches or given to him by folks who wanted to help Arthur out a bit. When he had accumulated a suitable number of bottles, he would carry them to local grocery stores or one of the three (Coca-Cola, Pepsi-Cola, and Nehi) distributors of what he called "belly washers" for redemption. They brought two or three cents each, a refund of the deposit paid on the original bottle, and his return on a good day of collecting might have gone as high as a $1.50. That wouldn't have been enough to keep body and soul together, so presumably he had some other source of income.
Arthur also gathered pieces of wire that he strung from tree to tree around his humble abode in a mystifying maze. I have no idea whatsoever why he did this, although I've since theorized, in an admittedly bemused fashion, that maybe he had himself a huge dream catcher which was in a state of constant construction.
Warm and outgoing, he always paused to talk a bit with everyone he encountered. The fact that almost everyone would greet him in return, as opposed to turning away in disdain, says a great deal about the temper and tone of the times. Although anything but articulate, Arthur had rightly come to the conclusion that weather formed an ideal conversational gambit. Accordingly, whenever you encountered him, he would invariably smile in gap-toothed fashion and opine: "A little shower of rain wouldn't hurt nothing."
Winter or summer, no matter what the situation, his offer of that weather-related pronouncement on the current state of affairs was totally predictable. A good buddy of my father and one of my sporting mentors, Claude Gossett, discovered just how much that was the case in a situation which left him dismayed and everyone else who was present delighted.
Claude worked at the local Pepsi-Cola bottling plant, and one summer's day he saw Arthur headed his way with a sack full of bottles. Thinking he could have a little innocent fun, he said to a group of co-workers: "I'll bet I can engage Arthur in conversation for a minute without him bringing up the subject of rain." His ploy was a simple one—he'd discuss his recent fishing expeditions and thereby direct Arthur's attention away from the matter of rain showers.
When Blanton arrived Claude immediately approached him and said: "I've been catching a lot of trout lately and think I'll head up Deep Creek after work to see if I can catch some more." His intention was to talk about his recent trips and the fish he had caught, but old Arthur interrupted him before he could say another word.
Casting his eyes in the direction of Deep Creek, he said: "Well, I'm glad you've been catching fish, and it probably would be a good idea to go this afternoon. Mind you, a little shower of rain wouldn't hurt nothing and it would probably make them bite better." Claude, who was seldom at a loss for words, for once just stood in silence while his audience broke into unrestrained laughter.
Arthur Blanton may have epitomized the expressive mountain word "quare," but in his preoccupation with weather in general and rain in particular he couldn't have been more normal.
********************************************************************************
RECENT READING
As often is the case, I go on reading binges involving one author or subject. Recently, I've been on a Sherlock Holmes tear. I read and re-read all of Arthur Conan Doyle's Holmes stories as a boy and have periodically returned to them as an adult. I've also enjoyed a number of the spin-offs from other authors. Recently I went through a collection, compiled by Alan K. Russell, of some forty period pieces (late Victorian and Edwardian era), titled Rivals of Sherlock Holmes. That in turn somehow flipped a switch in my muddled mind and I remembered having read, years ago, a story of a female understudy who made a connection with Holmes after he retired to Sussex to pursue his hobby of beekeeping.
A bit of digging revealed that the author's name was Laurie King, and it turns out she has made a lucrative cottage industry of a literary nature out of the woman she styled "The Beekeeper's Apprentice" in the first of an ongoing series of books. They feature Holmes working in company with a much younger companion, Mary Russell, who soon becomes his wife. I've read four or five of the volumes, interspersing them as I've done so with re-reads of George M. Fraser's Flashman series, and I've got a bunch more ahead of me. Other than a propensity for taking side roads into somewhat arcane theological matters I find both boring and distracting, King's works are masterful. She's done her homework when it comes to the setting and historical accuracy (one of Fraser's strongest traits), and the end result is enjoyable reading.
**********************************************************************************
DOG DAYS DINING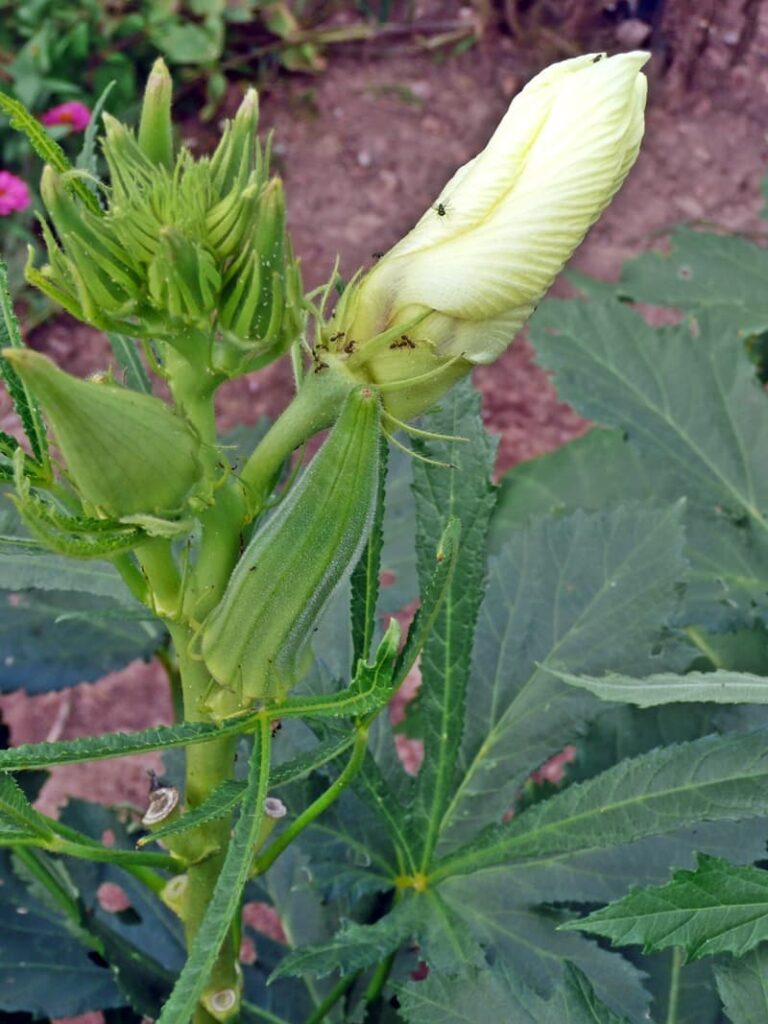 This time of year sees the garden beginning to wind down and sets the avid gardener to thinking about getting fall stuff in just a few weeks down the road. Except for tomatoes, crowder peas, eggplant, and okra, most of my spring plantings have come and gone. In fact, if we ever get enough days in a row without rain I desperately need to till most of my two garden spots and prepare them for things such as chard, cabbage, broccoli, turnips, cauliflower, mustard, spinach, and lettuce. A number of these do better here in the fall than in the spring.
Meanwhile, it takes almost daily harvesting to keep abreast of okra and crowder peas, and I've given both away to the point I worry about running out of someone who will take my surplus. Of course I can always dry a bit more okra and freeze surplus crowder peas.
As for food on the table, this is a season for salads, sandwiches, and cleaning any remaining meat out the freezer before the arrival of another deer season. It seems almost surreal to think about sitting in a stand when currently temperatures are approaching 90 and humidity 70, but in a couple of months that grand time will once more be at hand. Meanwhile, readying the freezer can produce some fine fixin's, as does the offerings from my garden.
OKRA AND ONION EGG FOO YUNG
This recipe combines three items I dearly love—okra, sweet onions, and eggs—in an easily prepared, hearty, and decidedly different dish.
8 eggs
1 cup chopped onion
1 cup okra chopped into small pieces
1 tablespoon soy sauce
8 teaspoons sesame oil, divided
Whisk the eggs in a large bowl then add the vegetables and soy sauce and combine.
Next, heat one teaspoon sesame oil in a skillet on medium heat and add about half a cup of the egg mixture to the pan. Cook each side until golden brown, turning once or twice. Repeat until you have used all the sesame oil and egg mixture.
NOTE: You can add other vegetables such as mushrooms or celery if you like. Also, make a brown gravy for a topping if you wish.
FRIED OKRA WITH EGG AND CORNMEAL BATTER
Okra is normally fried after having been battered with flour or corn meal, but I prefer a heartier batter featuring corn meal and egg. Just whisk an egg or two add some corn meal and mix the two together, then pour sliced okra into the egg/cornmeal blend and coat completely. Place okra in a frying pan with just enough cooking oil to fry it. Make sure the oil is hot before you add the okra so it crisps up immediately rather than soaking up oil. Salt to taste and serve piping hot.
MUSTARD VENISON BURGERS
Mustard just flat-out goes well with venison. Mustard-fried venison steak is one of my favorites, but if you've got some ground venison left over here's another approach.
1 teaspoon Worcestershire sauce
1 pound ground venison
Mustard (I like Spicy Brown but any standard mustard works just fine)
Mix Worcestershire sauce and ground venison and form into patties. Brush mustard onto both sides of patties and grill (use a grilling pan). Don't have the heat to high or the mustard will burn. Turn frequently and continue to coat lightly with mustard as you do so. Burgers are ideal when they are still slightly pink on the inside when taken from the grill. With lettuce, a big slice of tomato, one of onion, and a whole-wheat bun brushed with mustard, this is a tangy summer treat.
BLUE CHEESE BURGERS
1 pound ground venison
¼ cup finely chopped onion
¼ cup crumbled blue cheese
1 teaspoon Worcestershire sauce
¼ teaspoon salt
1/8 teaspoon freshly ground black pepper
Mix all ingredients thoroughly but gently and shape into patties. Grill over hot coals (about four minutes per side or until burgers reach desired doneness). Serve on grilled hamburger buns with choices of condiments.
TACO CORNBREAD PIZZA
Anyone who has followed my food writings over the years has probably noticed I've got a mighty craving for cornbread. I like it about any way it can be offered, but this may be about the most unusual approach I know.
1 package (8.5 ounces) cornbread mix
2 tablespoons olive oil, divided
1 pound ground venison
1 package (1.25 ounces) taco seasoning mix
1 to ½ cups sharp white cheddar cheese
½ cup sliced black olives
Preheat oven to 400 degrees and spread 1 teaspoon olive oil on a 12-inch pizza pan, making sure pan is well coated. Prepare the cornbread mix by package directions and spread batter onto prepared pizza pan. Bake 8-10 minutes or until lightly browned. Meanwhile, heat remaining olive oil in skillet and brown venison until it is no longer pink. Add taco seasoning mix and prepare according to package directions. Simmer to reduce liquid. When cornbread crust is removed from the oven, sprinkle it with ½ cup cheese. Add venison mixture, then top with sliced olives and remaining cheese. Bake 4-5 more minutes or until cheese is melted. If desired, top with garnishes such as fresh cilantro, salsa, guacamole, or sour cream.