MAY MEANS MAGIC, MEMORIES, MESMERISM, AND MORE-
THIS TIME AROUND IT ALSO MEANS PROCRASTINATION
What was supposed to be a May newsletter has turned out to be a mid-June combination of coverage for the months of May and June. In the corridors of my mind I can hear Daddy's reproving thoughts on my deleteriousness. Lazy, triflin', and shiftless might have been among his choices for the right word, but more likely he would simply have asked: "Where has all your gumption gone?" I'll try to answer and explain, although I can't really offer an excuse because there isn't one which suffices.
One factor, though it pains me to acknowledge as much, is the fact that I don't work as fast and can't work as long as I once did. By the time I've followed my daily routine of 90 minutes or so in the yard or garden, taken a shower, and eaten breakfast, it's already 9:00 a.m. I can work with a will until lunch but afternoons don't find me particularly productive. I think maybe the explanation, in a roundabout way, was provided a decade or more ago by a good friend and fishing buddy.
We were wading a mountain stream in the Smokies and I somehow managed to make a misstep, slip on a rock, and stumble all over the creek before I finally regained my balance. Once my friend realized I was all right he had a hearty laugh at my expense. Not a half hour later he pretty much replicated my performance. His assessment of the situation summed things up quite nicely. "Jim," he said, "I reckon we just ain't as catty as we used to be." He was right, and not only am I lacking in "cattiness" when it comes to balance and agility, I "ain't as catty" in terms of energy as once was the case.
A second factor in my shameful lateness focuses on a book I have been editing and compiling. It is an anthology of great deer hunting stories which will be published by Sporting Classics. The underlying concept for the book closely follows the pattern employed in a predecessor work from last year, The Greatest Quail Hunting Book Ever (available for $35 plus $5 shipping through my website). The new volume will be a collection of well over 40 great deer stories, and I provide an editor's introduction, biographical profiles of the contributors, a bibliographical note, and introductory material for each topical section as well as each individual selection. The book should be available by late summer or early fall. It is one of this month's special offers (see that section of the newsletter). Efforts of this type, while not as demanding as writing an original book, nonetheless require considerable time. That's where much of my literary effort has gone.
Add a protracted bout (actually two of them) with a sinus infection, various discombobulations in daily life, and three acres of lawn and garden which demand a great deal of effort to keep in proper condition, and you have the current situation. Namely, a woefully late newsletter. Hopefully it will furnish a bit of interesting reading and I'll try to do better in coming months. With that out of the way, let's get on with my continuing coverage of my emergence as an outdoor writer.
********************************************************************************
MY EVOLUTION AS A WRITER (CONTINUED)—THE 1980S
Every seasoned writer has certain tricks of the trade they regularly incorporate into their work. Among those I favor is alliteration, although admittedly my title for this month's newsletter is a bit over the top. Other techniques I regularly employ include internal rhythm, quotations from a lifetime of reading in a wide variety of subject areas, snippets of wisdom from my mentors (my Grandpa Joe leads the field by a considerable measure), and "sayings" from my Appalachian roots. There's more—a lot more—and possibly I'm sufficiently predictable that attentive readers can recognize my style. At any rate I've had more than one fellow sporting scribe tell me that I'm sufficiently distinctive that they recognize my work even without a byline.
Perhaps that is the case. If so, there's no doubt that the period in my life which witnessed the most notable developments as far as my emergence as a writer was the 1980s. By the onset of that decade I had ten years of work as a college professor behind me. By its end I was a full professor with tenure, had served multiple terms as chairman of Winthrop's graduate faculty, been selected as the institution's distinguished professor (1983), had students vote to select me as an outstanding professor on multiple occasions, and won three "coach of the year" awards for my efforts connected with the institution's soccer team. By 1990 I also had four scholarly books, several score scholarly articles, and hundreds of book reviews on my resume. In other words, I had paid my dues and earned my laurels in the rarified (and sometimes stultifying) atmosphere of academe.
For present purposes though, what really matters is that the 1980s saw my emergence as a productive outdoor writer. Early in the decade I wrote my first article for a newly established magazine, Sporting Classics. It was a profile of the noted African hunter, naturalist, and writer, Frederick C. Selous, and by great good fortune the magazine's readers, in a survey, selected it as their favorite piece from that year's issues. Bolstered by that success, I soon was contributing to the magazine regularly, became a masthead presence, and had intimate involvement in two book reprint series the magazine launched in that period—the Premier Collection and the African Collection. I served on the Editorial Advisory Board for both, had a great deal of input in selecting the volumes to be reprinted, and wrote the introductions or forewords for a good many of them.
Eventually the Premier Collection would run to 50 titles and the African Collection to 24, so both were substantial undertakings. The Premier Collection came in a limited, numbered edition of 3000 copies while the African Collection featured a regular edition (unnumbered) and a deluxe one of 500 numbered cases with linen slipcases. These books were beautifully done, with leather bindings and a whole host of other aesthetic attributes that make them visual delights. You can find most of them for sale on my website (there are separate lists for both series and considerable information about the history and nature of each series as well).
Along with this work, I was attacking the freelance life with almost feverish fervor. Through the decade I averaged something like 150 magazine articles a year, and I was writing a column for the local daily newspaper (it started out on a weekly basis but for much of the 1980s appeared three times a week). The period also saw me become a columnist for magazines such as North American Fisherman, Sporting Classics, Deer & Deer Hunting, and The Fly Fisherman, and thoughts of undertaking my first outdoor-related book began to rumble through my mind.
Along the way I got a couple of doses of jarring reality regarding the pitfalls of the writer's life. One involved payment issues. I wrote features and columns—dozens of them—for an outfit known as "Fins and Feathers" which was publishing magazines in almost every state. As time passed I got some payment, but payments never kept pace with my productivity. Finally, when they owed me several thousand dollars, I applied the brakes. I never got paid, they folded, and I learned a valuable lesson. From that time on I've never written a second piece for any publisher until receipt of payment for the previous effort.
Another episode was hurtful yet in some ways valuable. It involved a profile of Arnold Gingrich, longtime editor of Esquire magazine and a talented angling writer I prepared for a major fly fishing magazine. Weeks then months passed without any word, and a couple of polite letters (back when business was transacted by mail) went unanswered. Finally I got a bit more assertive and pointed out that this had been an assignment and that common professional courtesy dictated that the editor let me know where matters stood. The editor (a name any fly-fishing aficionado would readily recognize) responded this time, and in decidedly nasty fashion. The essence of his letter was this sentence: "You'll do yourself and the world in general a great favor if you never write another word."
Take it any way you like, that was ungracious. I moped around in dismay for several days before going back and re-reading my profile which had drawn this response. It seemed a sound piece of work to me and instead of wallowing in pity, I submitted it to another publication. The editor of that magazine, The Fly Fisher, not only liked it, he asked me to write an ongoing series of similar vignettes for his magazine. I did and eventually they resulted in the Federation of Fly Fishers recognizing me with an honorary Life Membership and their Arnold Gingrich Award for contributions to the literature of the sport. When I received the letter announcing that honor I was terribly tempted to make a photocopy of it and send to the editor who had treated me so shabbily. For once thought my better impulses emerged and I didn't.
Another development from this period would also prove to be of great importance to my future. In the middle of the 1980s I became a member of two professional organizations of outdoor writers—the Outdoor Writers Association of America and the Southeastern Outdoor Press Association. Within a decade both would become quite important in my life, and eventually I would serve as president of each group (twice in the case of the latter one). I began entering their excellence in craft competitions and was fortunate enough to garner some awards. I also began attending their annual conferences, established friendships with a lot of wonderfully talented communicators, and generally began growing as a sporting scribe. The next newsletter will share more on that score.
JIM'S DOIN'S
Each year in May a longtime local friend who is an avid outdoorsman and genuinely good man, John Good, puts on what he styles a fishing rodeo for a group of adults who have moderate to severe physical and mental (especially the latter) handicaps. It has become quite an undertaking with 70 or so folks fishing and that many more assisting in everything from baiting hooks and casting to making bathroom trips in golf carts for the participants (the bathroom rides create almost as much excitement for some as the fishing). Another good friend, Spec Plowden, generously gives access to his fish-filled pond for the event, and after a morning of angling the entire group is treated to hot dogs, hamburgers, and all the trimmings.
I participated this year, as I have a number of times in the past. I was the designated rod and bait dispenser at the outset, then for the rest of the morning I was the "drink man" (providing water or Kool-aid). Plenty of fish were caught, lots of food was eaten, and there was a general abundance of excitement. From a personal perspective, about all I can say is that any time I'm down or tempted to feel a bit sorry for myself, all I need to do is think of these folks and I get a slap-in-the-face reminder of just how fortunate I am and have been. I might also note that being a tiny cog in the big wheel which is this event is uplifting and soul filling.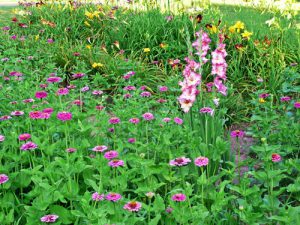 It's gardening time, and a plethora of rain the latter 10 days of May, followed by virtually no rain for the last two-plus weeks, has not been good for my garden. It was so wet I couldn't get tomatoes staked when they should have been. That translates to buckeye blight and lots of loss. Similarly, weeds prospered in the absence of regular hoeing and tilling. I've about got things under control other than depredations by deer, rabbits, and Japanese beetles. There's always an enemy at the gardener's gate.
Still, I ate the first blueberries atop cereal for breakfast today, and my three fig bushes are absolutely loaded. The zinnias I annually plant by saving seed and just scattering them over tilled ground, then running the tiller lightly over everything, are thriving. They are among my favorite flowers because they demand little care, bloom virtually all summer, and in my case come from seed which trace back a couple of decades to a flower bed of Daddy's. Since these particular words are being written on Father's Day, that's a comforting thought indeed.
*************************************************************************************
BOOK SPECIALS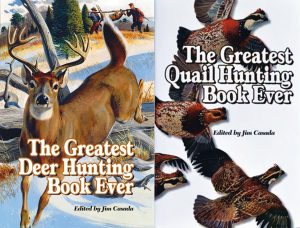 The specials for this newsletter focus on two of my most recent book efforts, The Greatest Quail Hunting Book Ever and the forthcoming The Greatest Deer Hunting Book Ever. Obviously the publishers see value in hyping the books with the word "greatest" in the title. I'm not at all sure about that, but I do guarantee that the books incorporate some of the finest material ever written on their respective subjects. I've got two special offers this time around. The first is a pre-publication deal on the above-mentioned deer anthology. It will retail for $35 (possibly $40, but certainly at least $35). Buy it in advance and your cost is $30—total. I'll pay the shipping so you save $10. Or, if you don't already own the quail anthology I'll offer the pair (to be shipped with the deer book is published) for $60 postpaid. That's a saving of $17.50 on the two books and shipping. No orders through PayPal.  Just checks to me, Jim Casada, 1250 Yorkdale Drive, Rock Hill, SC 29730.
*********************************************************************************
COOKIN' ON THE GRILL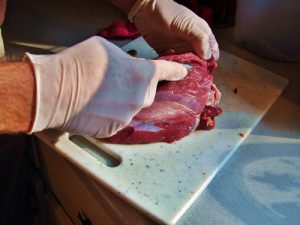 With the advent of summer and hot weather grilling takes center stage on the culinary front. In truth grilled food can be a delight at any season, but for some reason we tend to focus our heaviest attention on grilling in warm weather. In keeping with that custom, here's a selection of recipes, all involving venison and all designed for the grill.
BACKSTRAP IN BACON
Bacon can make most any meat seem better, thanks to its delightful infusion of flavor, aroma, and moisture, and certainly such is the case for backstrap, one of the finest cuts from a deer.
Cut venison loin into one-inch chunks and place in a bowl. Mix equal amounts of water and Dale's Steak Seasoning. Pour the mix of the loin chunks and marinate in the refrigerator for six to eight hours. Wrap each marinated chunk in bacon and secure with a toothpick. Grill until pink in the middle, being careful not to overcook.
VENISON STEAKS WITH MUSTARD RUB
1 tablespoon lemon pepper
2 tablespoons dry (powdered) mustard
1 teaspoon garlic salt
1 teaspoon paprika
Blend these ingredients in a small bowl. Rub mixture evenly over the surface of venison loin steaks. Grill over medium heat (not hot coals) until desired doneness is reached. Turn only once and be careful not to overcook.
Tip: You can use other venison steak besides backstrap. Beat it with a meat hammer to tenderize before adding rub.
VENISON KABOBS
1 pound venison steaks, cut into chunks
Herb Marinade
½ cup vegetable oil
¼ cup lemon juice
1 teaspoon salt
1 teaspoon marjoram
1 teaspoon thyme
½ teaspoon black pepper
1 garlic clove, minced
½ cup chopped onion
¼ cup snipped fresh parsley
Reserve a small amount of the marinade to brush on vegetables.
Place venison in a non-metal container. Mix herb marinade ingredients with a whisk and pour over Vinson. Marinate overnight. Drain and place chunks on skewers alternately with desire vegetables which have been brushed with marinade. Grill until venison is cooked to desired doneness and vegetables are tender. Among possible vegetables are cherry tomatoes, potatoes, onions, bell peppers, zucchini, yellow squash, and mushrooms.
VENISON BURGERS WITH TOMATO TOPPER
1 pound ground venison—Shape gently into four patties. Grill until done and serve on warm buns with tomato topper.
TOMATO TOPPER
2 tablespoons olive oil
2 teaspoons lemon juice
1 teaspoon dried basil
Salt and pepper to taste
Mix ingredients with a whisk and pour over slices tomatoes and slice red onion and toss. Serve atop burgers or as a side dish.
EDDIE SALTER'S VENISON AND PORK ROAST
Many of you will recognize the name Eddie Salter. He's a noted personality in the hunting world and without question one of the finest turkey hunters on the planet. I've been blessed to spend many delightful hours afield with him. He's also a first-rate camp cook, and here's an example of the fine fare he can prepare.
3 pound venison roast
3 pound pork roast
Seasonings: minced garlic, salt and pepper, Italian dressing, other herbs and spices of your choice.
Place venison roast atop heavy duty foil, season, and then top with pork reason and season it. Wrap the entire selection of meat in foil and place atop grill, cooking until the pork is fully done. Slice and serve venison and pork together. The pork roast will have enough fat to keep the venison moist.