THE SWEET OF SUMMER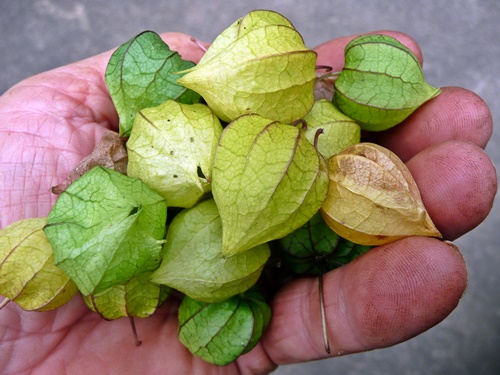 At some indefinable point, always in July but not much more specific than that, summer reaches its peak. Or at least that's the way I have long viewed matters and I'll try to explain why that moment of lushness, what English Romantic poet William Wordsworth described as "splendor in the grass and glory in the flower," is so captivating. A cherished friend who also happens to be my webmaster as well as the author of a daily blog, recently described it in one of her posts as the "wildness of summer." There's accuracy in that, and I'd add quite a bit more.
This time of summer's height of perfection has other characteristics—many of them. Gardens have been "laid by" and are now yielding their abundant bounty. There's "sweetness" in watermelons and cantaloupes, in mushmelons and corn, in peaches and early pears; there's savor and succulence in eggplant and beans, in crowder peas and okra, in tomatoes and their miniature cousins I've always called tommytoes; there's garden truck to be canned, frozen, or dried; and there's promise of coming autumn with swelling pumpkins and candy roasters, sprawling October beans and Indian beans climbing everything in sight, and even ground cherries showing the first signs of ripening as their husks yellow and dry.
Katydids are in swelling chorus that no human symphony can match, and lightning bugs bring golden stars to arm's reach as evening's gloaming gives way to full night. There's dew-laden grass at dawn and, often, rumbles of distant thunder at dusk. Joe Pye weed reaches towards the heavens and soon will be a feast for the eyes with purple top hats. Concord grapes begin to show the first hint of their own tints of purple, and the same is true of fox grapes. Muscadines are swelling and will, in a scant few weeks, be sugary sweet and ready to eat. Overriding everything is a sensory feast which can almost overwhelm—a muskiness to the still air of early morning and late evening, the slightly acrid smell of overripe tomatoes or cucumbers missed when in their prime and now rotting on the vine, the visual delights of blooming squash and pumpkins in the garden or corn tassels waving gently in evening thermals, zinnias and marigolds at their most brilliant, dahlias showing early hints of a profusion of blooms as nights begin to cool a bit, and so much more.
Overriding all this, although remote, are the first hints that sweet summer will soon yield to summer's dog days and then, all too quickly, the bluebird skies of Indian summer. I can literally smell the coming change, and I think the same is true for anyone closely attuned to nature who pays sufficient attention. The transition from the fullness of summer to the slow but sure decline of fall is a slow one in my part of the world, and that's a blessing because it means a few weeks when you can enjoy "touches" of both.
A FRIEND IN NEED IS A FRIEND INDEED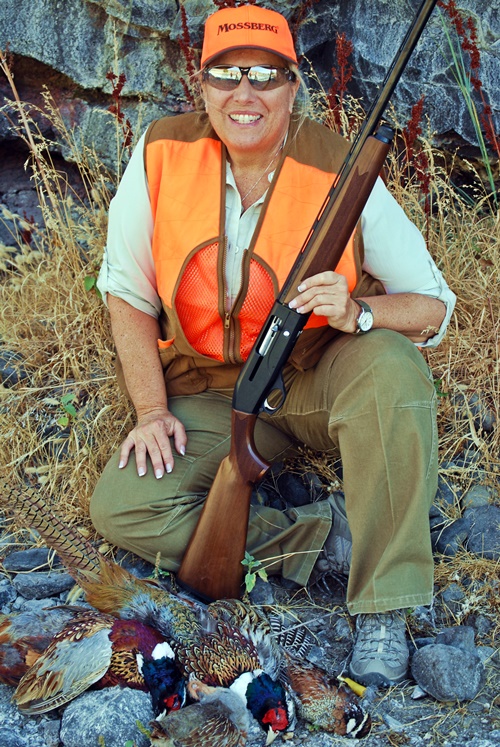 Fans of the poetry of Robert Service may recognize the words above, and I wanted to share with all of you some thoughts on the importance of friendship, caring, compassion, and good will. All are qualities which I come to appreciate, ever deeper, as I age.
One of my dearest friends in the outdoor industry is a woman named Linda Powell. After a long and eminently successful stint as public relations director for Remington she took a similar position with Mossberg. I've worked with her closely during her affiliation with both firearms-related companies. That includes hunts introducing new products, seeing one another at industry gatherings, doing some writing in connection with promotional materials, and more. Over time realization dawned that Linda was the consummate professional.
She's well-spoken, to borrow once more from Robert Service invariably wears "a smile you can see for a mile," and doesn't merely talk the appropriate talk about the function and effectiveness of Mossberg firearms. She has made the transition from an adult woman with no familiarity whatsoever with firearms to an avid and accomplished hunter, not to mention someone who has cleaned my clock more than once when shooting at clay pigeons.
On top of that, she's a true trooper. I've seen her cover mile after arduous mile under trying circumstances while hunting turkeys (bitter cold and a skiff on snow on the ground), watched her sit completely immobile for an impossibly long time as a fine gobbler made its painfully slow way within gun range (with anything but a calm demeanor I urged her to shoot three different times—she blithely ignored me until the turkey was in what she considered her comfort zone then dropped it with a telling and true shot), and even saw her adjust to left-handed shooting on an upland bird hunting trip where some torn tissue in her right shoulder made mounting a gun in her normal fashion impossible.
Whether doing her job on the air or in front of cameras, dealing with demanding and often cranky outdoor writers, handling situations which have gone awry (she once got me to an airport in NASCAR-like fashion after the bus which was supposed to carry a bunch of writers left me behind), or in the field, she's as dependable as she is pleasant.
For years Linda has struggled with worsening kidney problems, and she has reached a point where there's a pressing need for a kidney transplant. Recently, in a singularly meaningful and generous gesture, a major player in the outdoor industry, FMG Publications, which publishes magazines such as Shooting Industry, GUNS, and American Handgunner, took a positive and deeply meaningful approach to address Linda's plight. Here's the link to the material they provided, and I urge you to give it careful reading and serious thought.
Most of us, I fear, pay too little attention to the needs of others on a daily basis and in our lives in general. I've long had a driver's license which indicated I was a donor, but honesty compels me to admit I could have been far more proactive in this arena over the course of my years. Alas, my age and health problems of my own make me a non-starter when it comes to exploring the possibility of helping Linda Powell, but I would urge each of you to think about her situation and, beyond that, do a little bit of self-examination on the entire nature of just how much of a "giving" person you are. Linda is a dear friend in need, and someone I am proud indeed to call friend, and her situation has served as a powerful, poignant reminder to me of some of what calling someone a friend should mean. I hope you'll pause and ponder the matter as well.
************************************************************************************
JIM'S DOIN'S
I tell myself I've been busy, although sometimes when I try to define the end results I have to wonder. The deer anthology which was last newsletter's special book offer is at the printer and I'll ship to those of you who took advantage of the special offer as soon as the book arrives. Presumably that will be sometime in the next three or four weeks. Beyond that I've agreed to write a sort of retrospective for South Carolina Wildlife as this fine magazine reaches an anniversary landmark. I'm privileged to be a regular contributor and it is a market I've served for virtually all my years as a freelance writer.
I'll be finishing off two pieces for Carolina Mountain Life's fall issue in the coming days, and the topic of my regular column, "Mountain Wisdom and Ways," in the summer edition is on "Mountain Talk." I've recently also had several contributions to "Sporting Classics Daily," a blog which appears five times a week. They include "An Angler for the Ages," "Of Catfish and a Smelly Old Codger," and "The Funniest Man I Ever Knew." All are profiles of interesting and offbeat individuals I knew as a boy.
I got up to the N. C. high country for a couple of days earlier this month, the first nights I've spent away from home in several months. It was good to visit with some of my more immediate family (my brother and his wife and a first cousin and his wife) and also to attend a family reunion. There's something about those ancient, storied mountains which lifts my soul and brightens my life's path.
Finally, I've agreed to write an overview of the history of Mossberg. The venerable "every man's" gunmaker, always a family operation, will be celebrating its centennial year in a few months. Certainly I have plenty to keep me busy, especially when you add in the demands of lawn and garden maintenance as we approach the dog days of summer. I've had enough heat to last me a while, but reality tells me there's a couple more months to endure before I can be sitting in a deer stand in the gloaming, waiting for a fine buck to appear or maybe just reveling in solitude and the soothing feel of evening thermals wafting through the woods.
*********************************************************************************
THIS MONTH'S BOOK SPECIALS
First of all, I've got a few copies of books I've written which have some type of flaw. I'd like to move them and accordingly they are priced to go. No orders through PayPal. Just checks to me, Jim Casada, 1250 Yorkdale Drive, Rock Hill, SC 29730.
I have two copies of the paperbound version of Fly Fishing in the Great Smoky Mountains National Park: An Insider's Guide to a Pursuit of Passion. Both have some minor cover damage (slight creasing) but are otherwise new. They are $14 each, postpaid, to the first two folks to e-mail me and reserve them (payment for these and the other offers by check only—no PayPal at these special rates).
A single copy of my limited edition of The Literature of Turkey Hunting. The slipcase is new and so is the book other than the fact that my signed inscription "bled" over to the previous page a bit because the ink wasn't completely dry when the book was closed. Normally $100, this copy is $40 postpaid.
A single copy of my Remembering the Greats: Profiles of Turkey Hunting's Old Masters. The book and dust jacket are as new except for the same problem as #2 above—an inscription bleed to the facing page. Normally $35; this copy for $17.50 postpaid.
A single copy of Roger Latham's Complete Book of the Wild Turkey. The book is fine but it lacks the dust jacket. Only $10.
A single copy of an anthology, Hunting and Home in the Southern Heartland: The Best of Archibald Rutledge, I edited and compiled. The book is fine but the dust jacket is tattered and worn. $15 (half the retail).
Lamar Underwood (editor), The Bobwhite Quail Book. A whopping collection (well over 400 pages) of more than 30 great stories. Reading copy only (internally clean but the hardcover is worn and stained). $10.
Deer hunting season lies not all that far off, something to dream of while enduring summer's dog days. That hopefully means stocking the freezer with venison in the near future but it also suggests cleaning it out at present. An ideal way to do that is with a copy of The Complete Venison Cookbook which Ann and I wrote. It offers hundreds of recipes, most of them fairly simple, and has earned considerable acclaim as a first-rate cookbook for venison lovers. $12.
Finally, I have obtained a number of copies of Michael J. Miller's Facing the Charge: African Dangerous Game (as told to Scott T. Longman and with a Foreword by Fiona Capstick). I edited this lavishly illustrated, gripping story of modern African hunting and also provided an Afterword. I'm offering copies, as long as they last, for $30, which is half the publication price (postpaid).
*********************************************************************************
MY EVOLUTION AS A WRITER (CONTINUED)—THE 1990S—PART 1
By the early 1990s I was approaching something of a career watershed. In January of 1992 I reached the half-century mark in age and maybe I experienced something of a mid-age crisis or what country singer Jerry Lee Lewis called "Middle Aged Crazy." I didn't trade for a Porsche and you certainly didn't have to look for the grey in my hair (the song says "because he ain't got any," but in my case it was a sparsity of hair, not grey, which was striking), but I was feeling considerable frustration on various fronts.
I was tired of endless meetings which were almost meaningless. While I still enjoyed the classroom experience my frustration with uncaring undergraduates (or in some cases, students who simply lacked the intellectual capacity for college-level work) was growing. Then there was my disgust with Winthrop's president, a leader of sufficient ineptitude that an overwhelming majority of the faculty, somewhere around 90 percent, voted "no confidence" in his leadership. Sadly, the Board of Trustees, despite a study which cost tens of thousands of taxpayer dollars and found the faculty had every justification for their vote, thought he was the cat's meow. Matters were even worse for me because during the most controversial portion of his presidency I was chairman of the graduate faculty and thus cast in a role where confrontation was far more likely than might otherwise have been the case.
Matters, at least as far as I was personally concerned, came to a head when several faculty members, disillusioned by slender to non-existent raises over a three-year period, began digging into the salaries of the president and his top administrators during the same period. The results were shattering to morale. In three years where faculty had "enjoyed" total raises of about 3 or 4 percent, the top dogs saw their pay rise by something in the range of 40 percent.
Although I had nothing to do with the faculty who checked on the salaries and indeed knew nothing about it, a reporter for the Associated Press called me about the matter when it first became public. I confessed it was news to me but added, in a prime example of a lifelong penchant for saying exactly what I think without worrying too much about the fallout, that if true the whole matter reminded me of lines from a classic country song by Jerry Reed, "She Got the Goldmine, I Got the Shaft." In other words, it seemed that the president and his flunkies had gotten the goldmine while faculty got the economic shaft.
The following day that quotation, with due attribution to yours truly, appeared in newspapers across the state. Suffice it to say that from that point on I was not exactly a fair-haired faculty child in the president's eyes (and he did nothing to change my views of his ineptitude in ensuing years). That particular occurrence, strange as it may seem, was a catalyst for career change, although in looking back I realize that my mind was already drifting in that direction in distinctive fashion.
About the same time I had the opportunity to take a research sabbatical. These leaves to pursue major projects were by no means automatic, but I had several scholarly books and scores of articles under my belt, so the likelihood of my being granted the paid leave was fairly high. It became even higher when I decided to take the seldom-chosen option of a full year's sabbatical at half pay rather than a semester's one at full pay. I opted for that route because I knew it would provide me with the most meaningful assessment of my ability or lack thereof to earn my livelihood as a full-time freelance writer.
I researched and completed my research project (a bio-bibliography on the noted explorer, linguist, expert on pornographic literature, and writer Sir Richard Francis Burton), and it appeared in conjunction with the centenary of his death. Mainly though, I wanted to ascertain whether or not I could really make a "go" of it as a writer. I beavered away like nobody's business, churning out magazine columns, newspaper pieces, and articles in a steady stream even as I worked on some outdoor-related books, did a bit of consulting, began to sell out-of-print outdoor books, did some editing and proofreading, and made a fair number of public appearances as a speaker. At the end of the year a quick assessment of my income indicated that I could not only match what I had been earning as a professor but that with sufficient effort I could exceed that amount.
Mind you, there were down sides to the equation—a lot of them. I wrote "pot boiler" pieces without end for state and regional magazines where literary quality meant little and where much of the subject matter bored me beyond belief. I cranked out material which, while reasonably clean and presented to editors on time, was about as far removed from literary merit as it is possible to imagine. But those often humdrum hook-and-bullet efforts put money in the bank and assured something at least approaching a continuity of income.
Our mortgage was paid off, our daughter had finished college and that considerable monetary obligation lay behind me, and I was closing in on the point where I could retire from the South Carolina state system and have medical insurance as well as, in time, retirement benefits. That point would come when I reached 25 years of employment, and a few years in advance of that date I determined to take the plunge. Accordingly, in 1996 and in my mid-50s, I retired. I wasn't even old enough to draw state benefits and had to pay for a year's insurance coverage on my own. However, 55 was the magical age and it was just a year away.
The long and the short of it was that after the spring, 1996 academic semester, I became a free man (i. e., my own boss). It was a glorious feeling but also a frightening scenario for someone who had to wonder, from time to time, if I was indeed "middle age crazy." I wasn't. While I missed the classroom and at times still do, it was sheer glory to be independent, reliant solely on myself and completely in control of my destiny. The next few years were perhaps the most intense and in some ways most meaningful of my entire career, and next month we'll look at what they embraced and how my life as a fill-time freelancers began to shape up.
********************************************************************************
FOCUS ON FOOD
One of the most obvious and welcome examples of the sweet of summer comes in the form of garden bounty. It seems like everything "comes in" at once, and for my part I've been quite busy just trying to keep abreast of daily harvest rituals, giving away most of what I grow, and putting up the remainder. Of course a great deal goes to waste, something which runs counter to my raising and give me mental qualms on an ongoing basis. For example, I've had gallons upon gallons of blueberries rot, fall from the bushes overripe, or be "harvested" by birds. I've picked and given away a lot, but picking blueberries is a slow, tedious process, one I'm unwilling to undertake for folks perfectly capable of doing it on their own. I've got plenty of people who are delighted to take what I pick, but suddenly they lose interest when it comes to doing their own picking.
Such situations ultimately lead to me thinking of Momma. She held high rank (if not a general at least a full bird colonel) in the "waste not, want not" army. It flat out pained her to see food go to waste, and she was something of a genius in detecting potential waste and turning it to good advantage. A fine example of this characteristic of hers came at this time of year.
PEACHES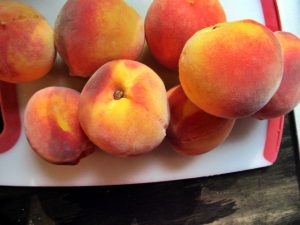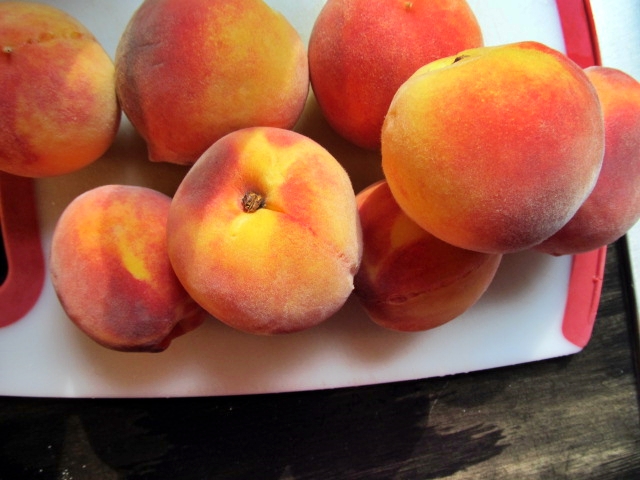 Although peaches, especially what old-timers referred to as "Indian" or "Cherokee" peaches had once done wonderfully well in the Smokies, by the time of my youth virtually no one grew peaches. To my knowledge, there were no commercial operations involving the fruit. Instead, everyone got their peaches, mostly trucked in from South Carolina, at roadside markets or impromptu set ups on the tail gate of pick-ups.
Momma had an understanding with the largest local produce market. Whenever they had peaches going bad she would get a call (or maybe she just checked periodically, I don't recall which) to let her know that a bushel or two of culled, bruised, or "going bad" fruit was available. For a pittance of payment—perhaps ten cents on the dollar—those peaches became hers. It was a good deal for all involved. The vendor got a bit of return for what otherwise would have been thrown away, and Momma had the makings of pies, dried peaches, and especially what she called peach butter.
She would get the peaches home and set to work almost immediately, knowing that even minimal delay meant further deterioration of overripe or rotting fruit. She would peel the peaches, carefully cutting out the bad spots, and then work them up according to what suited her fancy or future family needs. Mostly she made large runs of peach butter (just a type of preserves which adorned a cathead biscuit in mighty fine fashion) but there would also be some drying done in order to have fruit for dried peach pies in the winter. Maybe once or twice a summer there would also be a churn of homemade peach ice cream, although I think this came later, after I was grown and married and we had an electric ice cream churn. There would also be container after container of peaches treated with some type of fruit freshener to prevent browning which went into the freezer once we got one. Finally, any time she got fruit from "the peach man," as she called the produce stand owner, there would be either a peach cobbler or peach pie.
SOUP MIX
Still thinking about Momma from a culinary perspective, one of her "must do" rituals of the height of summer was to put up soup mix. Her soup mix was canned in quart jars and as a rule it involved pretty much whatever bounty the garden offered at the time. The most common ingredients were corn, okra, green beans, lima beans, and crowder peas, although from time to time she used other vegetables. Tomatoes, always a basic ingredient in soup come winter, were canned separately.
In the winter, perhaps when she was pressed for time or just because a hearty bowl of vegetable-beef soup (sometimes she used hamburger; others cheap cuts of beef or maybe leftovers from a roast) seemed the perfect answer to cold or dreary weather, she would combine a quart jar of tomatoes and one of soup mix with beef and some stock, maybe add some leftover navy beans or pintos, perhaps throw in some rice or macaroni, and set it to simmering in a big pot. Served along with a pone of cornbread it made a fine and filling meal. An alternative, again utilized in her grand scheme of cooking with some regularity, was to combine a bunch of leftovers for a hearty soup (Daddy called it by the name slumgullion, and I have no idea where he got the word). No matter the exact nature of the soups, and they weren't done by any recipe or with repetitive exactness, they served to utilize things from the garden or leftovers from the refrigerator which otherwise might have gone to waste.
CORNBREAD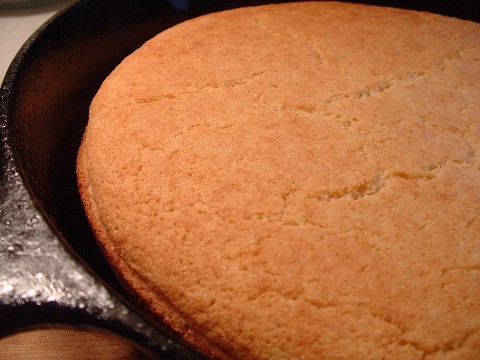 Mere mention of soup turns my thoughts to cornbread, because one of my favorite meals is a steaming bowl of some rich soup with a hefty, well-buttered chunk of cornbread. Yet as I think back on boyhood and beyond, cornbread has figured in the culinary side of my life in varied ways beyond a pone as a standard part of dinner (biscuits were for breakfast and at supper you had leftover biscuits or cornbread). That was the main meal of the day, and for country folks of my background and raising dinner is the meal eaten around noon.
Momma baked cornbread a lot, and she had delightful ways of utilizing it that went beyond just a buttered slice of a pone hot from the oven. A personal favorite was stuffed squash or zucchini. She would cook yellow squash or zucchini whole until they were pretty well done but still firm. Then she would slice them in half and carefully remove the middle with a kitchen spoon. The seeds and flesh she spooned out would then be mixed up with crumbled cornbread and put back into the cavity she created. This made a big mound which stuck up above the halves of the squash. She'd top each stuffed crater with a liberal chunk of rat cheese and pop one or two cookie sheets of the squash in the oven. There they would bake until the cheese melted and just began to turn brown. I could eat four or five halves fixed this way without a second thought.
Momma also used cornbread as the basis for dressing for turkey or chicken any time she made it (normally just at Thanksgiving and Christmas or for some special occasion). Cornbread, giblets, boiled eggs chopped into small pieces, and chunks of boiled Chinese chestnuts (we had a big tree which always bore a hefty crop) were hand mixed, with plenty of broth involved, before the dressing was baked. I've never had any which was finer, and I think the chestnuts were the key.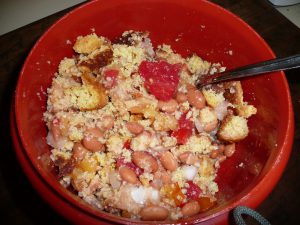 Then there's cornbread salad. This is a great summer dish and a fine way to use leftover vegetables. Just crumble up cornbread and add raw vegetables such as tomatoes and cucumbers, cooked ones such as crowder peas and lima beans, maybe cut some sweet corn kernels right off the cob if the corn is still in the milk stage, add bell pepper or a bit of fresh hot pepper if you like, and top with ranch dressing or even thick buttermilk.
Speaking of cornbread and milk, that would have to be the way, other than a hot pone just out of the oven, I've eaten it the most over the years. Both my grandmothers regularly offered cornbread and milk as the main part of supper, although if you were lucky there would be a sweet potato left over or maybe corn on the cob as well. I still, occasionally, will have cornbread and milk for my evening meal or as a hearty snack.
Cornbread is, I reckon, poor man's vittles, but it suits me mighty well and always has. Properly made, with stone-ground, slow-ground meal, plenty of buttermilk, and a couple of eggs in the batter, it's about as fine a fixin's as a fellow could want.