DEEP IN DECEMBER
This newsletter is coming to you quite belatedly. I can't offer any truly valid excuse, but I will throw out a couple of half-hearted and marginally valid ones. Fittingly, I just listened to one of Merle Haggard's many wonderful songs, "If We Make It Through December," as I get this belated start on this number of the newsletter. Along with Dwight Yoakam, he's my favorite country singer, with Del McCoury, Rhonda Vincent, and the Wilburn Brothers, taking pride of place on the bluegrass front. That's probably enough to tell you I lean distinctly in the direction of the traditional, and it also is representative of my pronounced penchant for following tangential rabbit trails or running off track into groundhog holes.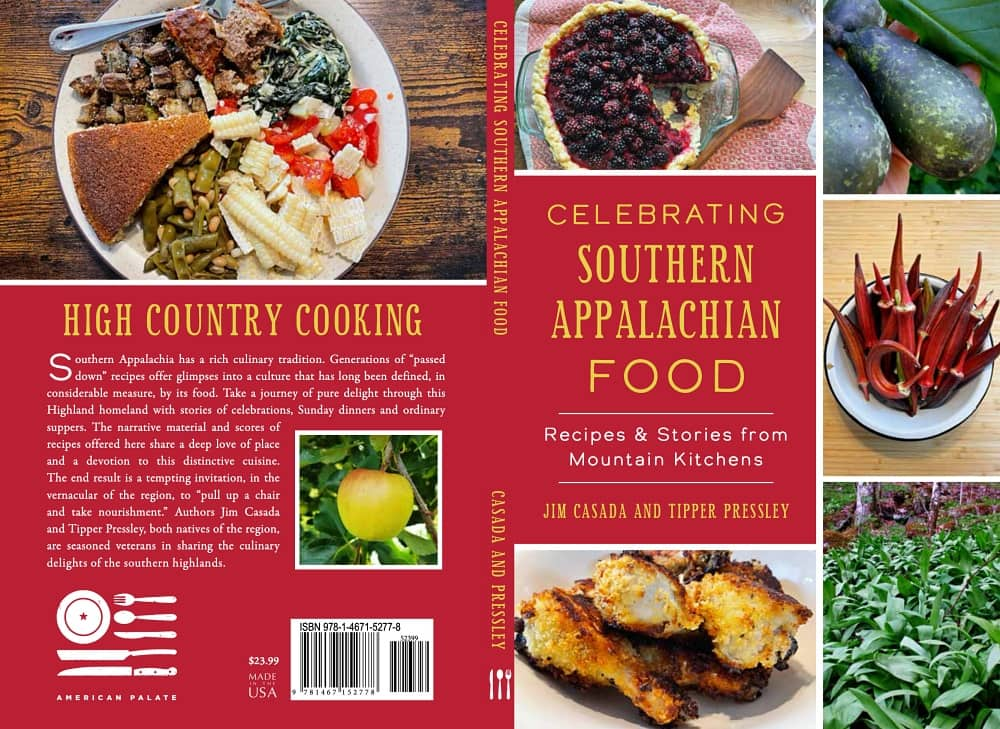 First and foremost, the middle portion of December was devoted in large measure to dealing with a final proofreading of the manuscript of the cookbook I'm doing with the woman whose expertise and knowledge of the ins and outs of the computer stuff that leaves me in the dust, Tipper Pressley. The book, titled "Celebrating Southern Appalachian Food: Recipes & Stories from Mountain Kitchens," is scheduled to appear on May 1. The two of us, after lots of suggestions, questions, and other input from the copy editor, signed off on the manuscript last week. It is now ready to go to the next step in the publication process, and from this point on we'll have minimal input or work to be done. Both of us just hope you'll find the finished product a delight. There's a picture of the cover (both of us like it a lot) above, and you can pre-order a copy for $23.99 (thereby saving the $5 cost of shipping) by sending me a check for that amount (Jim Casada, 1250 Yorkdale Drive, Rock Hill, SC 29730). Alternatively, send me an e-mail (jimcasada@comporium.net) and I'll send you notice of the book's availability as soon as it arrives. Many of you have already taken one of these two steps, but if you haven't, here's your opportunity. As a peek at what its contents will be like, all of the recipes offered at the end of this newsletter are taken from its pages.
Otherwise, as is an old feller's wont and privilege, I've spent the month indulging in a lot of nostalgia. Well to the forefront in that regard have been memories of special moments associated, in one way or another with Christmases past. Among my especially fond memories are those of Yuletide gifts that meant a lot, and in a number of cases monetary value had little to do with how I've treasured those gifts. They include my first gun (a dandy little Stevens Model 220A single shot, break shotgun choked tight as Dick's hat band), a now well-worn copy of Zane Grey's Spirit of the Border, multiple pocket knives from Christmas stockings of youth (and in one instance, a Case knife from my daughter in recent years), a handy hatchet that has seen decades of honest and useful work, and a Remington .243 my late wife got me (and for once simultaneously surprised and delighted me, especially since I've long had a reputation in the family of being "impossible" when it came to Christmas gifts). Also in the mix of memories, though I no longer actually possess them in a physical sense, are various items of Duxbak apparel, the box of shotgun shells I got every Christmas (most of the time I bought shells in small quantities, something that was standard in my boyhood), tents and other camping gear, trout flies, and a bunch of other things mostly associated with hunting or fishing.
Thoughts of those long ago gifts link to the present. As my daughter has said, more than once: "Dad, you are all but impossible when it comes to gifts." She's right, and in that regard I'm blessed. While I'm anything but wealthy, I have enough money to get what I want because my wants are simple and not particularly pricey. As a result, I buy what I want when I want it (paying cash, since one thing I learned from my parents that has certainly served me well is that if you have to borrow money for almost anything you can really manage without it). Other than their home, I'm not aware of anything else they ever borrowed on, although how they managed when both my sister and me were in college remains a mystery. I've been pretty much the same—borrowing money for a home and having a mortgage on some hunting land but otherwise waiting until I could pay cash. As my Daddy suggested, "If you can't pay for it up front maybe you can't afford it."
That being said, the gifts I received this Christmas, without exception, were not only welcome but ones I'll use—a new office chair with various gadgets and adjustments; a dandy non-stick ceramic skillet for cooking some of my favorite things such as pancakes, corn cakes, potato patties, and the like; a bluegrass tape I'm already enjoying; and a set of two high-quality non-stick frying pans. I'm anxious to try all the cookware out and that will begin forthwith. However, what has to qualify as my finest Christmas gift came in the form of friendship rather than a wrap-up and hand over present. As was likely the case with the majority of you who are reading these words, Christmas Eve dawned bitterly cold (it was 8 degrees here at 7:00 a.m. and the wind chill was well below zero.) Despite having left my water running overnight, my pipes had frozen.
When it comes to plumbing, as is true of electricity, dealing with any kind of motor, and indeed most aspects of being a handy man other than gardening and plant care, you can pretty much put me in the useless category. Fortunately I have a cherished friend and hunting buddy, Darrin Dawkins, who is everything I'm not. He's what my Grandpa Joe would have described as "mighty handy" when it comes to motors, home maintenance (he and his wife own a number of trailer homes he pretty much maintains), turkey call making (he's one of the country's top makers of custom calls, and he has a truly extraordinary ear for turkey sounds), and pretty much anything else you can think of. Anyway, in something of a panic, although losing water is a far cry from being without heat, I gave him a call and said I needed his help. He was at my home within 20 minutes, identified the well head as being the source of the problem, and fortunately had a little heater that operates on the kind of butane canisters similar to those used with camping stoves. He had the pipe thawed in short order and I was back in business. There's an old saying to the effect that a friend when you are in need is a friend indeed, and my Christmas gift was having such a friend who showed up and solved my problem in short order. I later learned that a local plumbing outfit was charging people $400 for precisely the same service. That's highway robbery, in my opinion, but it also provides a measure of how blessed I was to be able to call on a buddy like Darrin Dawkins. 
What he did and the goodwill associated with the effort offered a splendid reminder of what was once common in this country and now seems to be going the way of the passenger pigeon or ivory-bill woodpecker. Neighbors helped neighbors, communities were close knit, and a hand up (not a handout) was almost taken for granted. You'll never convince me that particular aspect of the past wasn't better than the way our world is today. At any rate, I know I got a great Christmas gift by having a friend who helped me out and in doing so not only solved my problem but provided me with a wonderful reminder of the meaning of giving (and receiving).
JIM'S DOIN'S
As has already been noted, a goodly portion of my work efforts during December focused on the forthcoming cookbook on Appalachian foodways. Otherwise it was pretty much the normal endeavors—my weekly newspaper column for the Smoky Mountain Times, working on a few magazine assignments, and thinking about future book projects. In that regard, I'm almost finished with the manuscript of a book on mountain characters, notable and notorious. Also, the folks at the University of South Carolina Press have encouraged me to compile yet another anthology of Archibald Rutledge tales, this one devoted to his many stories of fearsome beasts (huge rattlesnakes, alligators, sharks, and the like) along with those dealing with the supernatural. I hope to get a solid literary shoulder under that concept.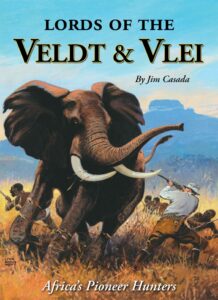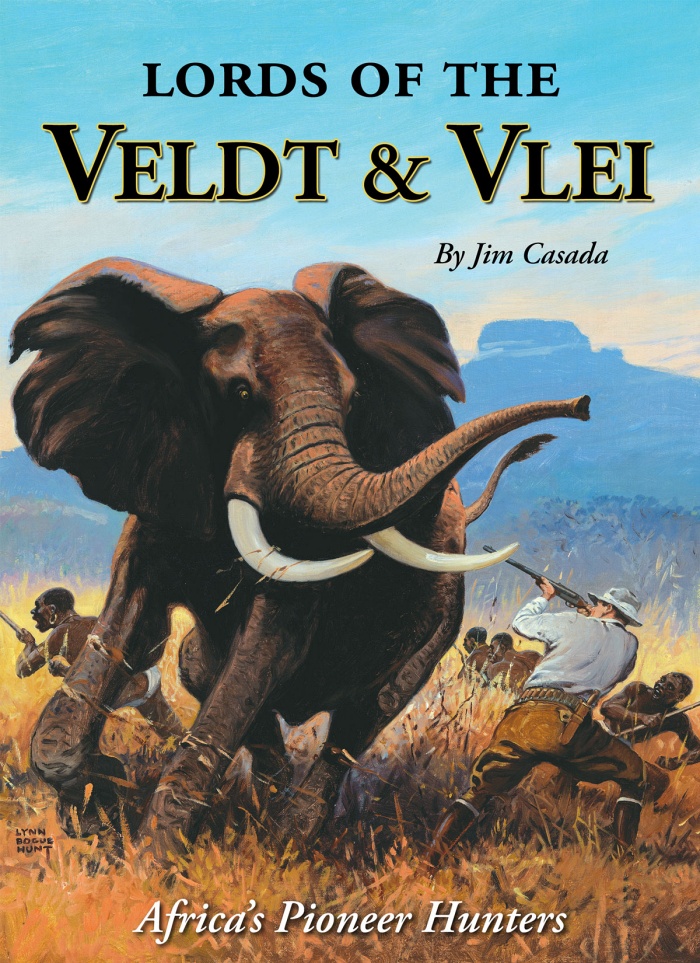 I've also devoted some time, though not as much as I should have, to promoting and publicizing my most recent book, Lords of the Veldt and Vlei: Africa's Pioneer Hunters. It consists of 17 chapters profiling some of the true greats of early sport in Africa. Most were fascinating characters, all had incredible and often dangerous adventures, and each of those I cover had grand tales to tell. Full details of ordering the book, which is available in a hardbound format with a striking dust jacket as well as in a limited, numbered edition bound in leather, are available on my website (www.jimcasadaoutdoors.com).
Recently published efforts in magazine form include "The Funniest Man I Ever Knew," "Sporting Classics Daily," Nov. 21, 2022; "Traditional Mountain Drinks," "Smoky Mountain Living" (on-line version), Dec. 2, 2022; "Yuletides of Yesteryear," Columbia Metro, Dec., 2022, pp. 54-58; "Unusual Eating Customs Among Appalachian Folks," "Blind Pig & the Acorn," 12/12/22; and "Traditional Winter Foodways," Carolina Mountain Life, Winter 2022-23, pp. 70-71. 
RECIPES
As has already been noted, the recipes that follow are all taken from the forthcoming "Celebrating Southern Appalachian Food."  The book has 27 chapters, each of them dealing with a specific foodstuff or type of food. These are but a sampling of the 200+ offerings it will contain, along with plenty of stories and background information on foodways and family as Tipper Pressley and I have known them.
CORNBREAD THE CASADA WAY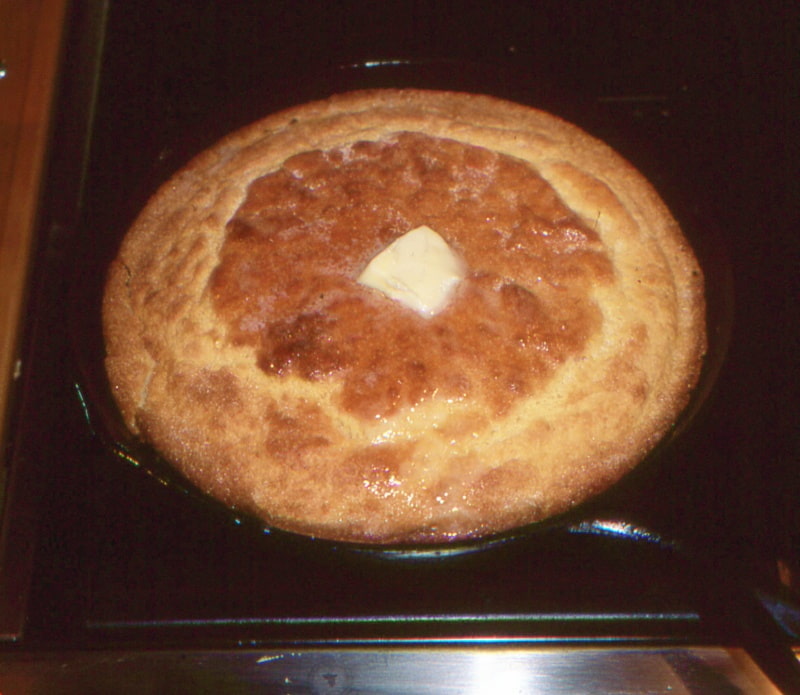 "The Casada Way" part of this recipe comes from the fact that it is distinctive enough, or perhaps more accurately, sufficiently different from the way Tipper prepares cornbread, for each of us to have contributed a way to prepare this most basic of all items of Appalachian diet. Cornbread was the ultimate staple in my family, exceeding other regular items on the daily menu such as canned apples, green beans, and some type of pork, and often being served at both dinner and supper.
"My way" simply means cornbread as it has long been made in my family, and with slight variations, I think you'll find the recipe that follows is fairly standard among the folks of southern Appalachia. Some key points, before we even get to the recipe, are:
1. Cook in a well-greased cast-iron skillet.
2. Grease the skillet with a piece of streaked meat or bacon before you pour in the batter.
3. Use stone-ground cornmeal. Store-bought stuff is ground at too high a rate, and heat hurts its flavor. Also, if you like a bit of crunch in your cornbread, and I do, stone-ground meal, even if sifted, has more "body" to it.
4. Use buttermilk, not sweet milk. This recipe makes just the right size pone for a standard 9-inch cast-iron skillet. A frequently uttered adage holds that "yellow corn is for critters and white corn for folks," but my personal preference is for yellow cornmeal.
1 extra-large egg
1 ⅓ cups buttermilk
¼ cup bacon drippings
2 cups stone-ground yellow cornmeal
Cracklings (optional)
1/3 cup frozen corn kernels (optional)
Preheat your oven to 400 degrees. Mix all the ingredients in a large bowl and whisk until thoroughly blended. Place the pan—well seasoned by rubbing in a bit of the bacon grease or by running a piece of streaked meat across it after the pan is hot—in the oven for a few minutes. Then take out and pour the batter into the pan, return to oven and cook until golden brown.
Tips:  
1. If you have access to cracklings, add a handful to the batter when you stir it up and cut back just a tad on the bacon drippings.
2. For a bit more moisture and a nice texture surprise, add 1/3 cup of frozen corn kernels (thaw them in advance) to the 
batter.
3. When you remove the cooked pone from the oven, place a couple of pats of butter atop it and, as they melt, spread 
them across the crust.
STREAKED MEAT DUTCH OVEN POTATOES
In my family, and I think it was generally true, streaked meat (also known as fatback, middlin' meat, side meat, salt pork, and a bunch of other terms) was a widely used seasoning. Also, slices of it fried crunchy crisp were often the only meat we had at supper. Rest assured a slice of it tucked away in a slab of cornbread goes down mighty fine. Here's a way of using streaked meat to give plain old taters a major step up.
Thoroughly scrub 5 or 6 good-sized baking potatoes and then quarter them. Place in a Dutch oven and sprinkle with black pepper to taste. Cover with strips of fatback and cook at 400 degrees for about an hour. Check while cooking to be sure they aren't overheating. Use a fork to make certain the potatoes are done. You may need to add salt, but do not do this until after the potatoes are cooked. The streaked meat will usually contain enough salt to season them.
ANNA LOU'S FRIED CHICKEN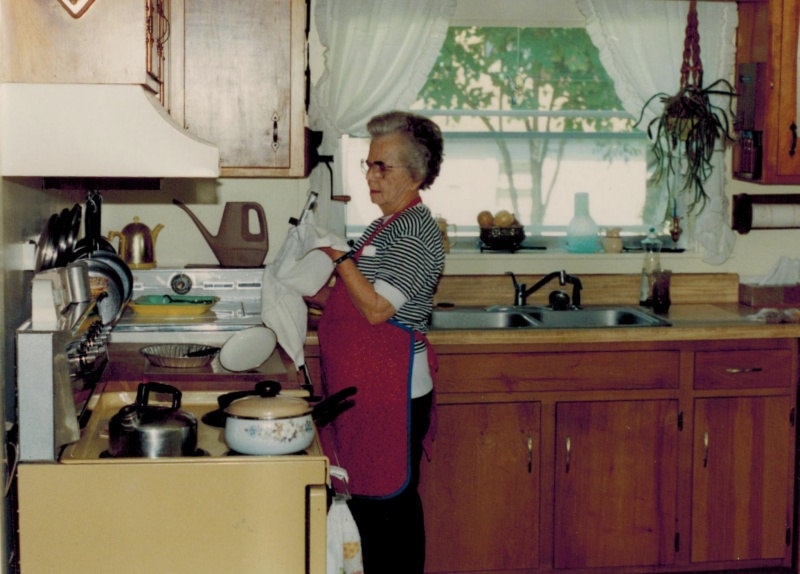 My mother, Anna Lou Moore Casada, was a multi-faceted wizard in the kitchen, but when it came to the Gospel bird (chicken—the description comes from the fact that chicken was almost sure to be on the menu when the preacher came to lunch) she was in a class by herself. It was the one area where she outshone even Grandma Minnie, the matriarch of all things culinary as I knew them as a youngster.
While chicken is today among the less expensive meats found in your local grocery store—though none of them is cheap—there was a time when yard bird appeared on the family table only for special occasions. Chicken was normally served only for holidays, a birthday, Sunday dinner with the preacher in attendance (hence the title of this chapter) or a visit from a family member who had not been seen for some time. The lyrics state, "We'll kill the old red rooster when she comes," and "We'll all have chicken and dumplings when she comes," are suggestive in that regard, as is the wording of the thankful remembrance written by legendary singer/songwriter/storyteller Tom T. Hall and sung by Bobby Bare and numerous other country musicians, "Chicken every Sunday, Lord, chicken every Sunday." 
Every dedicated and skilled kitchen wizard has a few recipes that stand out as being truly special. My mother, Anna Lou Casada, was gifted with a wide array of culinary skills, but when it came to frying chicken, she invariably outdid herself. It was the standard Sunday meat on the family table.
1 (or more) chickens cut into frying portions (legs, thighs, wings and halved breast), skin intact
1 or 2 eggs, whisked
Flour
Salt and pepper to taste
Lard or cooking oil (cast-iron skillets should have between 1/8 and ¼ inch, and I can't imagine using any other 
utensil to fry chicken)
Drench each piece in the egg wash and then coat thoroughly with flour (mix salt and pepper in with the flour) before placing in piping hot oil in a large cast-iron pan. It is important that the oil be so hot the chicken sizzles immediately on contact; otherwise, it will soak up too much oil. Reduce heat once pieces begin to brown and continue to cook slowly until thoroughly brown and done.
All of this seems simple and straightforward enough, but it was Mom's final step that made all the difference. Once she had all the chicken fried and placed atop paper towels to drain a bit, she would drain and clean the cast-iron skillet and then put the fried chicken back in it. She next turned the oven on at low heat (200 degrees or maybe a bit less) and put the chicken in it. She normally did this just before heading off to church. When we returned home after church, and once she had readied the rest of the meal, Mom would pop the skillet out of the oven and serve the chicken immediately. Being in the oven seemed to do two things—cook away some of the surplus grease and make the chicken so tender it almost fell from the bones and melted in your mouth.
Tips:
1. For crustier chicken, do the egg wash/flouring process twice.
2. Use tongs to ever so gently turn the chicken in the pan and transfer it to a serving plate.
Mustard Greens and Turnips
This is a traditional New Year's Day dish in my family but one that is mighty tasty any time you have the ingredients available.
Wash a big bait of greens fresh from the garden, being sure to give them multiple rinses to remove all dirt and grit. If they are overly large, it is best to remove the stems. Chop up two or three turnips in small pieces (diced is best). Place greens and turnips in a large pot with plenty of water. Throw in a couple of slices of streaked meat and bring to a boil. Reduce to a simmer and allow to cook until greens and turnips are done (if the greens are a bit tough and require quite a bit of cooking time, hold off on adding the turnips for part of the period in the pot). Add salt to taste. Serve piping hot.
Be sure to save the cooking liquid (often called pot likker, although strictly speaking, pot likker is a cabbage-based dish). It makes for mighty fine eating when you dip a chunk of cornbread in it or, as Grandpa Joe used to do, pour it in a bowl and crumble cornbread over the rich, vitamin-filled juice. Turnip greens can also be cooked this way, but my personal preference is for mustard. Collards are the green of choice here in South Carolina where I now live, but you can have my part of them.
GRANDMA MINNIE'S FRIED PIES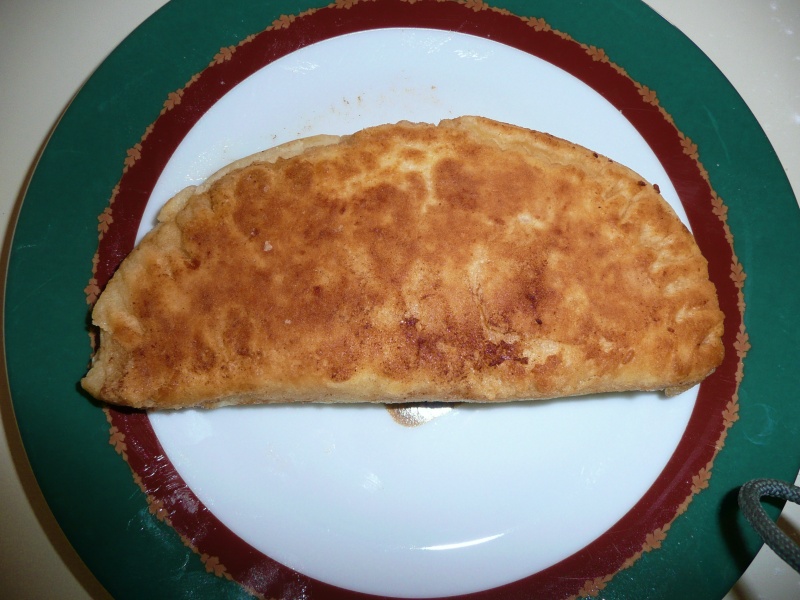 Thanks to being comparatively easy to make and to the ready availability of key ingredients in season, pies and cobblers have long held sway as standards of the sweet portion of daily diet in Appalachia. Of course, mere mention of the word sweet also conjures up thoughts of cakes, jams, jellies, syrups, honey and the like, but those are covered elsewhere. This chapter offers a cross section of pies and cobblers, and as a general rule, it should be noted that substituting one fruit or berry for another is perfectly feasible in many of the recipes that follow.
1 pound dried fruit
¾ cup brown sugar
2 teaspoons cinnamon (or to taste)
2 tablespoons butter
1 pie crust
Lard for frying
Cinnamon or cinnamon sugar
Cover the dried fruit with water and soak overnight. Drain any extra water and cook slowly until completely 
tender. Mash the fruit to make a sauce and then add the other ingredients. Stir well and allow to cool.
Make a pie crust, but use less shortening than normal. Roll out the crust quite thin, cut in circles the size of a saucer (and a saucer serves as a fine marker),add fruit sauce to each circle, fold over and pinch edges. The end result is often called mule ears or half-moons because of their shape. Fry in piping hot lard and turn only once. Serve while still warm. If desired, you can sprinkle with cinnamon or cinnamon sugar.
Tip: Fried pies warm over quite nicely, and they also make a wonderful cold dessert for a field lunch.