OH, THE JOYS OF OCTOBER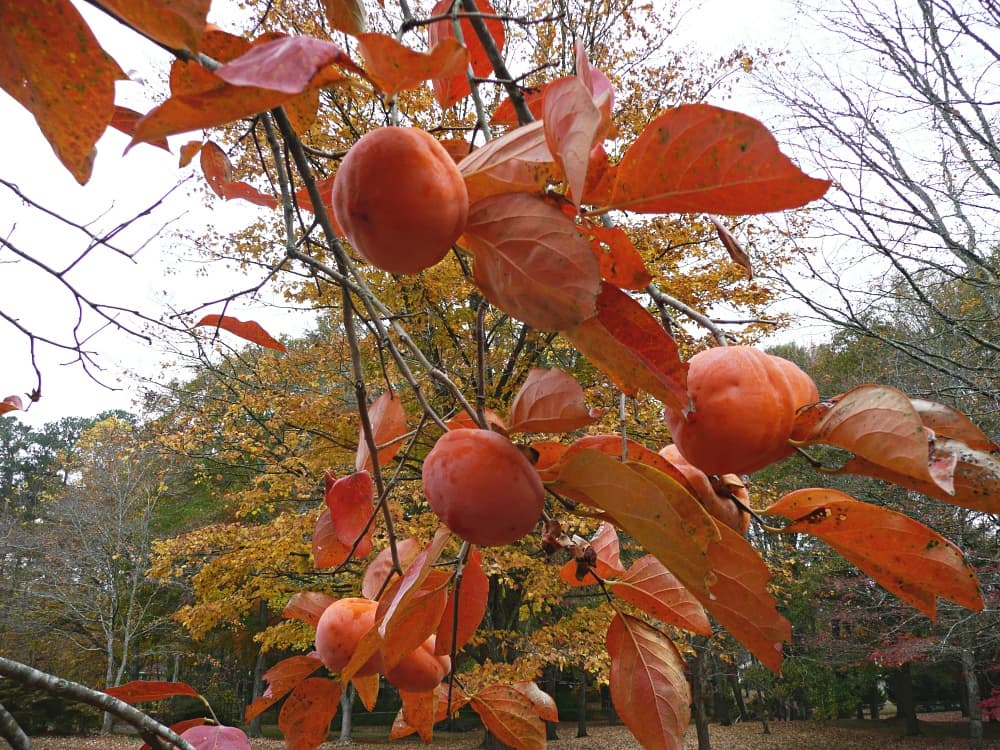 With the arrival of October each year I undergo a change that is, in its own way, about as dramatic as the seasonal movement from summer to fall. Invariably it seems I once more become a child and fond memory runs wild. I look back on carefree Indian Summer afternoons when I rushed home from school, grabbed a cold fried apple pie or two for a snack (or maybe a big chunk of cornbread and a raw turnip if Momma had not made any fried pies), stuffed a couple of apples from our little orchard in the game pouch of my Duxbak hunting coat, and headed for the squirrel woods. Often these jaunts found me walking right through the middle of the little town where I grew up, my little single shot Savage Model 220A 20 gauge tucked under my arm, without anyone giving me much more than a passing glance. Today there would be panic, a police presence, and likely a juvenile being arrested. How things have changed, and not necessarily for the better.
I would hunt until dusk and the last chance of a squirrel stirring as it headed back to its nest or den, then set off for home. More often than not I'd have a brace or more of bushytails for my afternoon's efforts, and that meant that in the next day or two Momma would be turning out a mighty fine meal of fried squirrel, gravy, either sweet or Irish potatoes, and maybe a mess of late green beans or October beans. I knew every little patch of woods, every den tree, and every place where I had seen squirrels over the years that lay within walking distance (say a couple of miles) of home. It didn't matter than our home place was on the edge of town; if there was game you hunted it.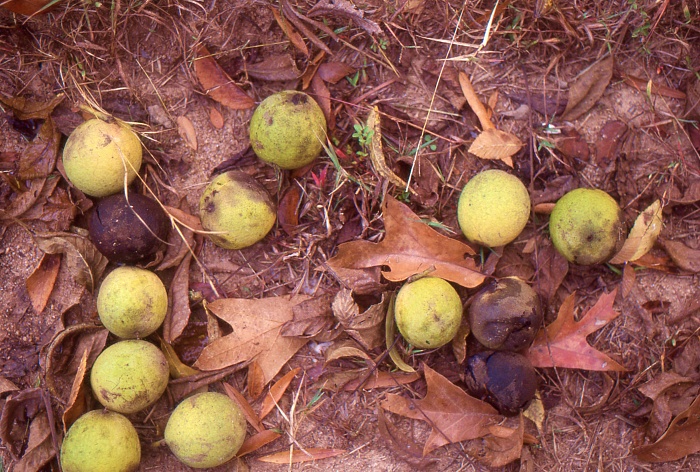 One delightful sidelight to those afternoon forays after squirrels, as well as Saturday outings when Daddy went and we would drive to more distant locales where hunting pressure was minimal, was looking for bearing walnut trees. Our family always gathered walnuts a bit later in the fall, and Momma made use of their delicious meats in a wide variety of delightful treats (see recipe section below for black walnut uses). Collecting the walnuts, spreading them out for the hulls to dry, getting rid of the hulls, cracking the nuts, and picking the kernels were all family endeavors. Walnuts are a lot of work but in my view the end result is worth every bit of the effort, and looking back, I have to reckon that the sense of family togetherness and mutual endeavor was special as well.
Sometimes I look back on nutting when eating something containing black walnuts, but just the other day a somewhat different scenario sent me on a bit of time travel. A buddy was helping me drag a deer I had shot out of the woods (or to be precise, he was doing the dragging after I had led him to where I had trailed the deer after shooting it) and we passed underneath a walnut tree. Our mast crop is extraordinarily heavy this year, and he said something to the effect of "watch your step or you will break an ankle." His warning was sound, for you couldn't take a step without putting your foot down on a walnut. Persimmon mast is equally heavy, and that was another aspect of nature's rich bounty I always looked for this time of year (see recipe below).
In retrospect, there are several things to be said, or perhaps "lessons learned" to be noted, about those autumn days of yester-youth. First, there was a lad's close acquaintance with the good earth. Computers or electronic games, couch potato existence or obsession with social media didn't exist. I was living a mighty good life of freedom, learning about the natural world, and even contributing a bit to the family table. Second, as a great outdoor writer from my youth, Robert Ruark, once suggested, youngsters who hunted and fished were too busy having fun to get in trouble. Then there were the health benefits of walking several miles while hunting along with the educational benefits of learning something about the world around me every time I ventured afield. In short, though I didn't fully realize it at the time, mine was a truly blessed boyhood.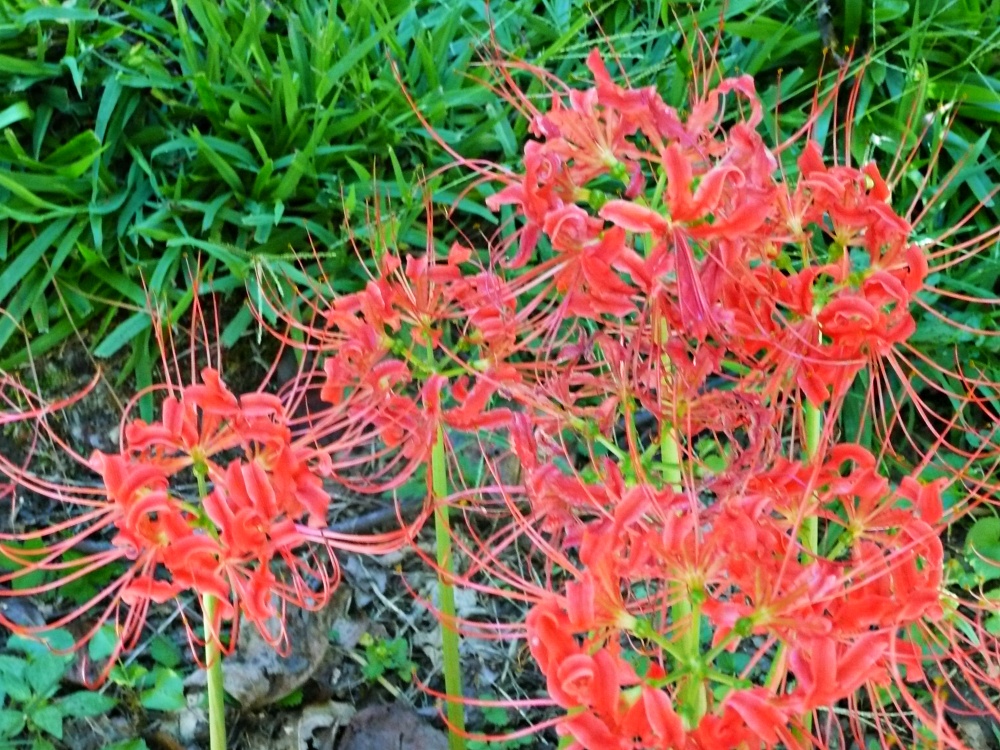 I could ramble on interminably about October memories, but since there's a lot to cover on the "Jim's Doin's" front, I'll conclude with mention of two October delights I didn't experience as a boy. Both involve fall flowers. The beginning of the month saw my naked ladies (also known as ghost lilies and by other names) in full bloom. I love the way the long, slender stalks, topped by a bevy of blooms, appear from out of nowhere with what is truly a ghost-like suddenness.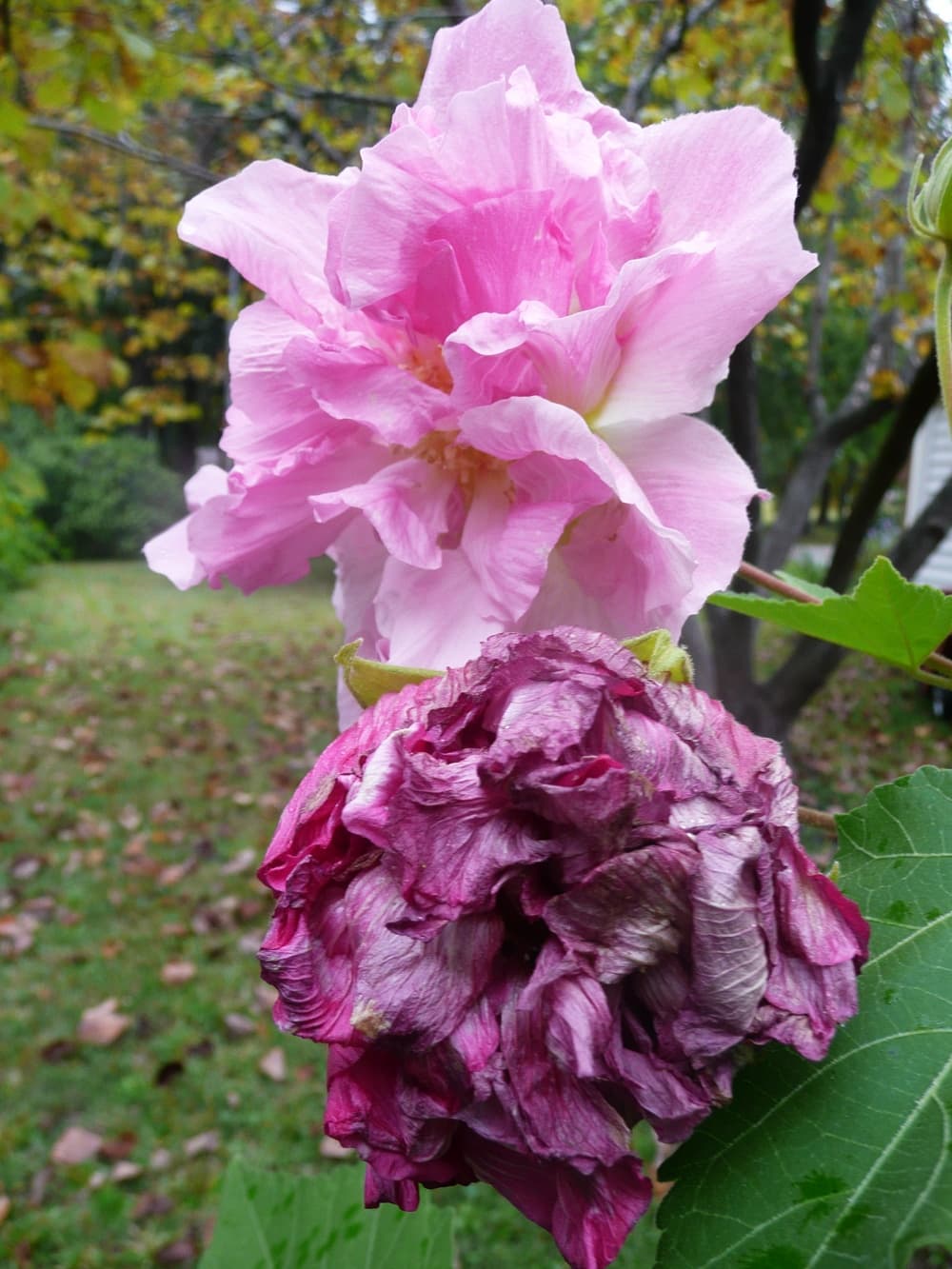 They have faded and gone, only to be replaced by the loveliness of the blooms topping my two stately Confederate roses. They are a vision of pink and to me a sort of harbinger of the transition from cool to cold, from dew-drenched grass to early frosts. One conclusion is inescapable—for a carefree boy in the Smokies or an old man in the South Carolina piedmont, October is a great time to be alive.
EARLY HOLIDAY BOOK BARGAINS
I've been remiss in recent newsletters in terms of special book offerings, but with the onset of the Christmas shopping season (mind you, if it wasn't for my daughter and granddaughter I wouldn't get any done, so in a sense my personal shopping never starts) I'll try to do better this month and next. Before getting to some truly special offers, I should note that I have hundreds of books listed on my website. They are grouped in various categories and from time to time I add new offerings. For now, I'm offering fine deals on three anthologies I edited and compiled. I've done a lot of this sort of thing over the years, having done more than a dozen books of this type featuring the writings of the likes of Archibald Rutledge, Theodore Roosevelt, Fred Selous, Robert Ruark, and Havilah Babcock, For the present, I'm offering two Rutledge collections and one of works by the great African hunter Selous. Here are the details, and before listing the books let me note that the prices include shipping (the USPS continues to raise prices and almost any book except slender paperbacks costs over $4 to ship by the cheapest rate, Media Mail). However, for these offers I will accept payment only by personal check, money order, cashier's check, or cash. PayPal takes too much of a bite out of my financial hide.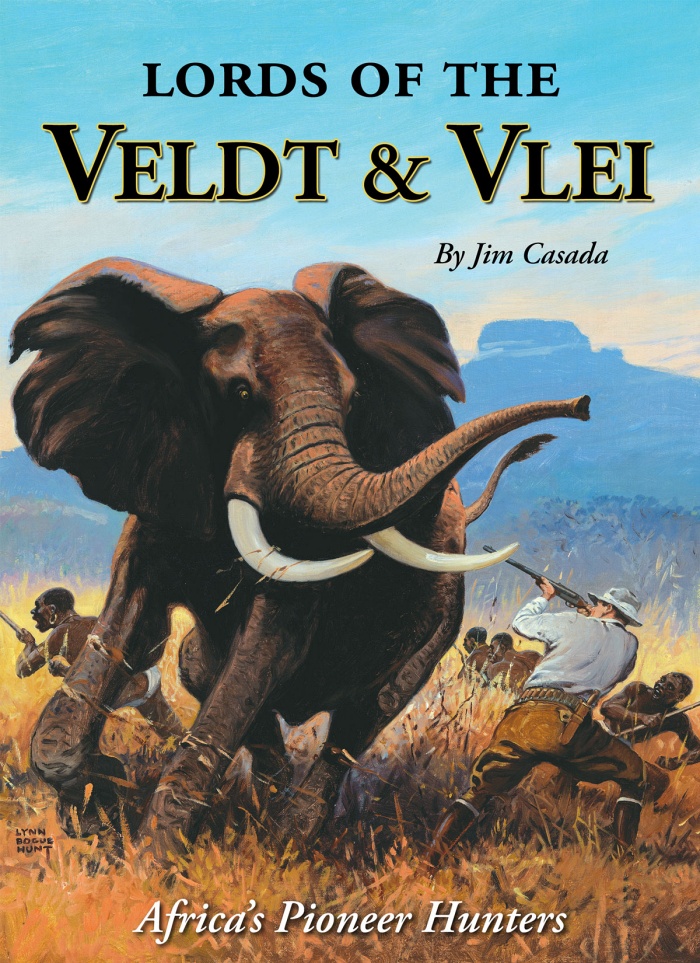 OFFER  #1—Jim Casada, Lords and the Veldt and Vlei: Africa's Pioneer Hunters. This is an original work of 272 pages offering detailed profiles of 17 of the Dark Continent's early hunters, with coverage embracing sportsmen who were active in the Victorian and Edwardian eras—individuals such as Fred Selous, Sir Samuel Baker, William Cornwallis Harris, and Theodore Roosevelt. Each profile is accompanied by a vivid selection from one of the hunter's books, and there are scores of vintage photographs and drawings accompany the narrative material. Available in two formats—A deluxe, leatherbound version of 1000 signed, numbered copies at $75 or a hardbound collector's edition with a colorful dust jacket featuring a Lynn Bogue Hunt drawing for $45. The book is scheduled to arrive in early November. For pre-paid orders I'll take care of shipping. Also, order one of each version for $110 or for three or more copies of either version take $7.50 off the list price. I would note that this is a book I have worked on, from time to time, from graduate school days until now, and I'm quite pleased with the finished product.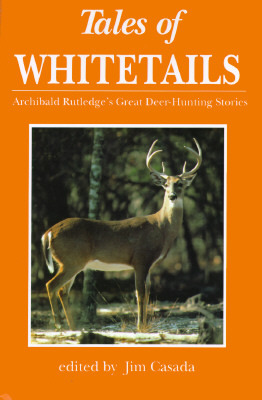 OFFER  #2—Jim Casada (Editor), Tales of Whitetails: Archibald Rutledge's Great Deer Hunting Stories. Hardbound in dust jacket. This book lists for $30. Special at $22.50 (and free shipping).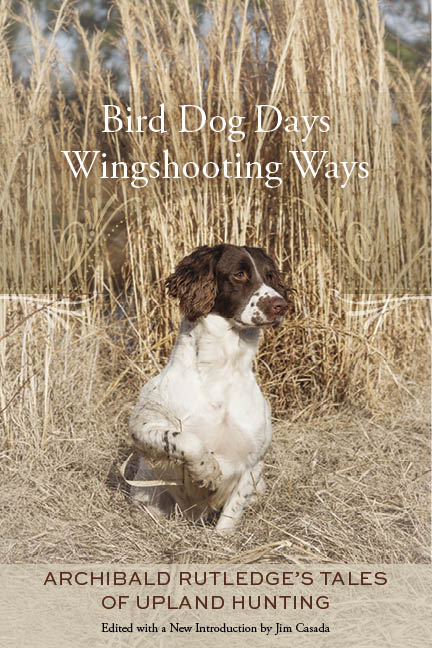 OFFER  3—Jim Casada (Editor), Bird Dog Days, Wingshooting Ways: Archibald Rutledge's Tales of Upland Hunting. Hardbound in dust jacket. This book lists for $30. Special at $22.50 (and free shipping).
JIM'S DOIN'S 
The last few weeks have been exceptionally busy ones, and as someone who has had a sound work ethic throughout my adult years, that's a welcome state of affairs. Tipper Pressley and I have pretty well wrapped up the manuscript for our cookbook, Celebrating Southern Appalachian Food: Recipes and Stories, and I can give you some advance indication of what the book will be like. It will contain dozens upon dozens of recipes from the two of us grouped into 27 chapters ranging from regional basics such as foodstuffs featuring cornbread or pork to seasonal ones drawing on what gardens and nature have to offer at that time of year. There's also a glossary of food terms, lots of notes and tips with individual recipes, a color photo insert with 32 images, and scads of black-and-white photographs scattered throughout the book. Some of you have already asked me to notify you when the book is available, and if you would like to be added to that list just send me an e-mail (jimcasada@comporium.net). Also, rest assured that I'll keep you abreast of things as they unfold.
Earlier this month I attended the annual meeting to the South Carolina Outdoor Press Association (SCOPe) at Black's Camp on the sprawling Santee-Cooper lake complex in Cross, SC. Incidentally, Black's Camp, with its launch, a fine fish camp type restaurant, simple but clean and comfortable rooms (both hotel style individual rooms and cabins), full hookups, and a well-stocked tackle shop, is a destination any avid angler interested is species such as catfish, stripers, largemouth bass, or panfish, ought to have on their destination list (www.blackscamp.com). They were stellar hosts and the simple food, from the breakfast buffet (with grits done right) to meals featuring the likes of fried catfish, fried chicken that melted off the bone, and an old-time beef roast that was juicy perfection, was outstanding.
As always, it was good to see longtime friends, make some new ones, learn something about the craft I've pursued for so many years (I'm of the firm opinion that when you stop learning you should stop, because there's always new approaches or outlooks to greet the open mind), and enjoy seminars and camaraderie. I've been a member of SCOPe since its founding in the 1980s, and right now, unlike the case with many other outdoor communicator organizations, it is thriving.
One of the highlights of the annual conference is the Excellence in Craft competition where one's work is judged alongside that of fellow communicators. This year I was blessed to win a number of awards, and I take comfort in believing (whether it is actually true or not) that despite the passage of lots of decades in the field I'm still able to produce meaningful work as judged by my peers. Among the awards I received were first place recognitions for best book (Fishing for Chickens: A Smokies Food Memoir—signed copies available through my website), best blog (this monthly newsletter), best magazine story (a feature on the great African hunter, Sir Samuel Baker, in Sporting Classics), and the Bob Glendy Award for best fishing story (an electronic feature in "Sporting Classics Daily" with the title "A Fascination with Fly Rodding"). 
Among my recent publications, in addition to my weekly newspaper columns in the Smoky Mountain Times, are "Versatile and Delicious Pumpkins," Smoky Mountain Living, Oct./Nov., 2022, pp. 18-21; "Did You Ever? A Longing Look Back at Aspects of the Mountain Past," Smoky Mountain Living, Oct./Nov., 2022, pp. 70-76; "Simple Autumn Joys from Yesteryear," Carolina Mountain Life, Autumn, 2022, pp. 91-92; and "The Making of a Sportsman: The Noble Sport of Squirrel Hunting," Columbia Metro, Oct., 2022, 48-53.
RECIPES
The recipes below all feature nature's fall bounty, with an opening one for persimmon bread and the others desserts using black walnuts. I might note that all will be included the cookbook Tipper Pressley and I are doing, and they are in effect a tiny sampling of the dozens upon dozens of examples of traditional Southern Appalachian foodstuffs that will be on offer in the book.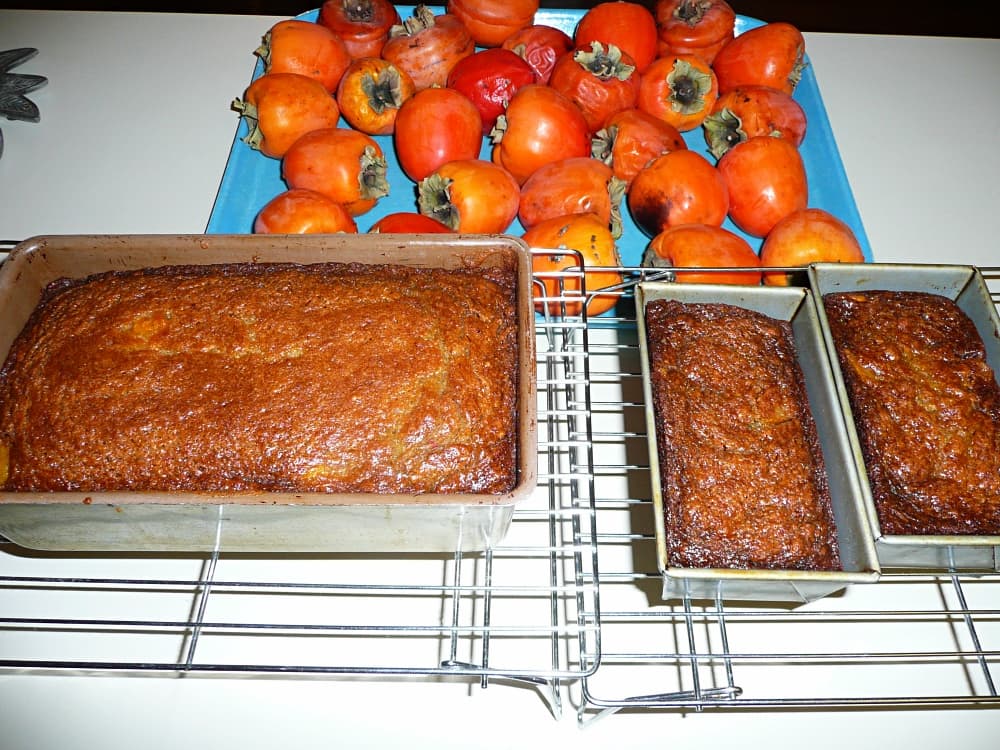 SMOKY MOUNTAIN PERSIMMON BREAD
2 brimming cups of persimmon pulp (fruits should be squishy ripe, and incidentally, pulp freezes well)
3½ cups all-purpose flour
1 teaspoon salt
2 teaspoons baking soda
Pinch (maybe half a teaspoon or a bit less) of nutmeg or allspice
2 cups brown sugar 
1 cup (2 sticks) melted butter (allow to cool to room temperature after melting)
4 large eggs, lightly whisked
1 cup black walnuts (you can substitute two cups of lightly toasted and chopped pecans or English 
walnuts, although black walnuts are more flavorful)
2 cups dried fruit such as apricots, raisins, yellow raisins, or dates, chopped fairly fine
2/3 cup bourbon (a cheap brand is fine)
Butter a pair of loaf pans or use non-stick pans. Sift flour, salt, spice, soda, and sugar into a large plastic mixing bowl. Whisk in the butter, eggs, bourbon, and persimmon pulp until thoroughly mixed. Add and whisk in nuts and dried fruit. Place batter in pans and slide into a pre-heated 350 degree oven. Check periodically as bread begins to brown by inserting a toothpick. When the toothpick comes out clean the bread is ready. Cooking time varies depending on configuration of pans you use. 
SUPER EASY BLACK WALNUT FUDGE
Many fudge recipes are complex and time-consuming, but not this one.
12 ounces semi-sweet chocolate chips
1 can (14-ounce) sweet condensed milk
1 teaspoon vanilla extract
½ cup black walnut meats
Line a 9- x 9-inch baking pan with wax paper, completely covering the bottom and sides and have in readiness. Place the chocolate chips (they must be semi-sweet, not milk chocolate) and sweetened condensed milk in a large bowl and microwave for 1 minute. Stir, making sure the chips melt completely, and if necessary, microwave a bit more. The chocolate needs to be smooth. Immediately stir in the vanilla and walnut meats and then transfer to the lined pan. Spread evenly and place in the refrigerator for at least 2 hours to set. Remove the fudge and cut into small squares once it has set and then store in an air-tight container. It can be returned to the refrigerator or kept at room temperature. It will be softer if the latter approach is taken.
OATMEAL/CHOCOLATE CHIP/WALNUT COOKIES
1¼ cups softened butter
½ cup granulated sugar
¾ cup firmly packed light brown sugar
1 large egg
1 tablespoon vanilla extract
1½ cups all-purpose flour
1 teaspoon baking powder
½ teaspoon salt
3 cups quick-cooking oats
1 cup semisweet chocolate chips
¾ cup black walnuts, chopped and toasted
Beat butter at medium speed with a mixer until creamy and gradually add sugars, beating well. Add egg and vanilla, beating until combined. Mix flour, baking powder, and salt and then gradually add to the butter mixture, beating until blended. Stir in oats and remaining ingredients. Drop by rounded tablespoonfuls onto baking sheets. Bake at 375 degrees for 12 to 15 minutes or until lightly browned. Cool cookies on baking sheets for a minute and then remove to wire racks to cool completely.
BLACK WALNUT BARS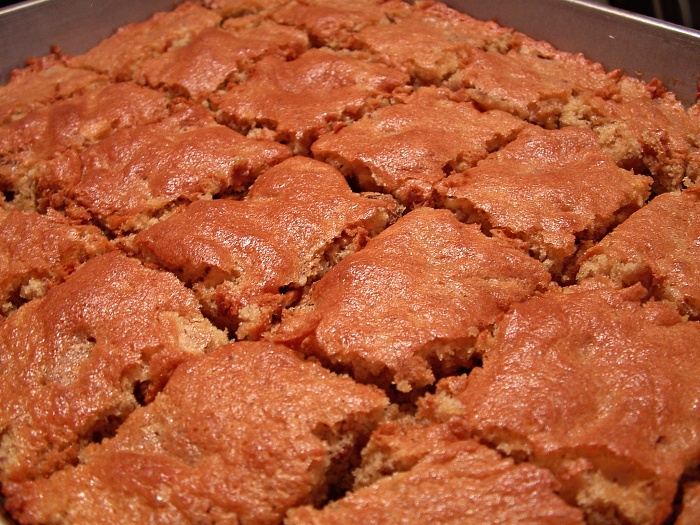 CRUST
½ cup butter
½ cup packed brown sugar
1 cup flour
FILLING
1 cup brown sugar
2 eggs, beaten
¼ teaspoon salt
1 teaspoon vanilla
2 teaspoons flour
½ teaspoon baking powder
1½ cups shredded coconut
1 cup black walnut meats
Cream butter and brown sugar.  Slowly add flour and mix until crumbly.  Pat into 7- x 11-inch baking dish.  Bake for 8-10 minutes at 350 degrees until nicely browned.
BLACK WALNUT POUND CAKE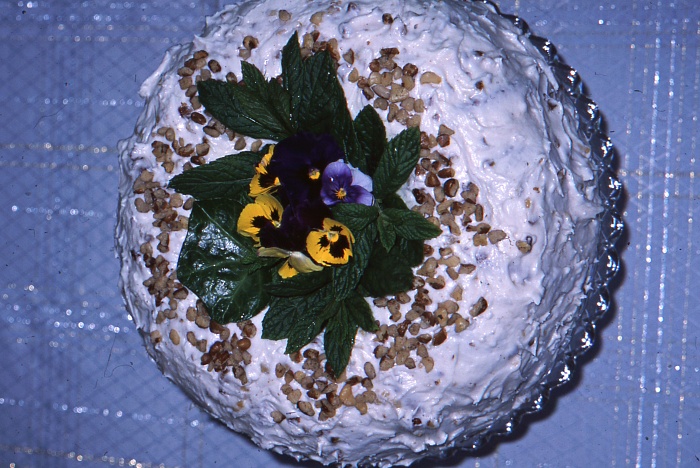 This recipe came from the late Beulah Suddereth, as good a soul and fine a cook as ever called Swain County home, not to mention being a treasured family friend.  I was blessed to have known her well.
1 cup butter (no substitute)
½ cup shortening
3 cups sugar
6 eggs
3 cups sifted flour
1 teaspoon baking powder
1½ cups finely chopped black walnuts
1 teaspoon vanilla
1 cup half-and-half milk
OPTIONAL:  For a more moist cake, use 8 ounces of sour cream
Cream butter and shortening thoroughly.  Gradually add sugar; cream until light and fluffy.  Add eggs one at a time, beating well after each.  In a separate bowl sift flour and baking powder and add chopped black walnuts.  In measuring cup, add vanilla to half-and-half.  Add flour and walnut mixture alternately with half-and-half to creamed mixture, and if you opt to use sour cream, alternate it as well.  Blend and mix well (beating well is the secret to a fine pound cake).  Pour into a prepared 10-inch tube pan.  Bake at 325 degrees for an hour and 15 minutes or until done.  Cool for 10 minutes and remove from pan.  You can, if desired, prepare a frosting for this cake.
BLACK WALNUT FROSTING
1 stick butter, melted
1 (16-ounce) box powdered sugar
Half and half or whole milk
¼ to ½ cup finely chopped black walnuts
Blend melted butter and powdered sugar. Add enough half-and-half to reach desired consistency. Fold in walnuts and frost cooled cake (do not put atop cake until it is fully cooled).