THIS MONTH'S SPECIAL
The November issue of the newsletter, which will be far more timely than this one, will carry a whole batch of special book offers with Christmas gifts in mind. Meanwhile, here's a head start sure to be welcome by anyone who loves bird hunting, bird dogs, or telling of upland game tales at its best. Last year I edited not one but two books in this subject area, Bird Dog Days, Wingshooting Ways: Archibald Rutledge's Upland Game Hunting Stories and The Greatest Quail Book Ever. Let me assure you right off the bat that I had nothing to do with the choice of a title for the latter work. It is a fine compilation of some of the best writing ever produced on quail hunting, featuring the likes of Robert Ruark, Nash Buckingham, Havilah Babcock, and many more. However, I would never, ever have presumed to offer the grandiosity suggested by the book's title. That was a marketing ploy from the publisher, and I was aghast when the finished book, with that title splashed across the dust jacket, reached me.
Still, I will say with full confidence that it is a great quail book, and those of you familiar with the work of Archibald Rutledge will readily realize that the subject matter in the other offering represents the art of sporting storytelling at its best. The two books retail for $30 and $35 respectively, but I'm offering the pair for $50 postage paid. That's a savings, when you include postage costs, of $20, and of course I'll gladly sign and inscribe the books.
**********************************************************************************
AUTOBIOGRAPHICAL NOTES
THE FORMATIVE YEARS—PART 2
Last month I began a sort of random exercise in autobiography endeavoring to explain how I have evolved as a sportsman, a writer, and to some extent, I guess, as a person.  We'll continue this month although in briefer form thanks to an unusually lengthy of "Jim's Doin's" below.
Educational experiences influenced me greatly in my grade school and high school years, and in varying ways a number of teachers helped shaped and mold me as a writer and teller of tales. The first significant influence in that regard came in the second grade. I had a teacher that year, Emily Davis, who loved wild foods and paid me a quarter a poke (bag) for poke salad. It was the first money I ever earned and somehow it seems fitting that it came from a wild food. She would, in later years, also buy blackberries from me.
The next real educational landmark came with a seventh grade teacher, Mildred Wood, who was a splendid storyteller. Occasionally she would set aside an hour or so of class and provide us with a wonderful treat—telling some of Edgar Allen Poe's mystery stories or horror tales. She didn't read them—she told them—and invariably it would be on a dark, gloomy day, with the classroom shades closed and an atmosphere which leant itself to the rendering of Poe's magic. She was marvelous and I've often wished I had paid more attention to her methods, as opposed to being totally absorbed in the story.
Then came two high school English teachers who, each in his distinctive fashion, planted literary seeds even though they took a long time to sprout. One was Thad DeHart in the ninth grade. The man was, I now realize, a pedagogical genius. At the start of the year he handed the class a lengthy list of words—all of them BIG words he called "ten-dollar words." You were expected to learn their meaning, know how to use them in a sentence, and you gained extra credit if you found them used in print. The end result was vastly expanded vocabulary, an appreciation of words and language, and additional reading which actually, at least in my case, was welcome.
Mr. DeHart also gave me the first inkling of becoming an outdoor writer. For an essay where we could choose a topic to our liking, I wrote on certain aspects of squirrel hunting. I don't think the paper even earned an A (maybe an A- or a B+) but what really mattered to me was his comment alongside the grade: "This is the type material, in much more sophisticated form, that outdoor magazines buy." One of the lasting regrets of my life is that I never let him know about the impact of that short statement when, decades later, I became a published outdoor writer. I did let his widow know, multiple times over, and there's a lesson here for all of us. As Grandpa Joe was fond of saying, "Thank yous don't cost anything and they go a long way."
The other teacher who exerted unknown influence at this stage of my life came in the 12th grade. John Wikle did some freelance writing on his own, contributing pieces on a fairly regular basis to the Asheville Citizen-Times, the daily newspaper serving the area where I grew up in the Smokies. I noticed these, he knew of my consuming interest in the outdoors, and on multiple occasions he would tender a suggestion to the effect "you ought to consider doing some writing." I have no idea whether this came from him having recognized some small spark of promise in my class essays or simply because he reckoned anything associated with the outdoor experience would pique my interest. Whatever the case, he gently added an ember to a fire that waited until I was in my late 30s to flicker into life.
Meanwhile, as these teachers offered guidance and inspiration, I was reading—constantly. I'm convinced there's no better route for a writer to travel than that of reading the finest material in his field. Certainly that's something I've done from childhood onward, and next month we'll move into how reading shaped and molded me from my pre-teens onward.
JIM'S DOIN'S
The last few weeks have been hectic but by the same token gratifying. I've gotten a fair amount of writing done and will touch of some of it. My article "Yankees Come A-Calling" was a featured piece in the Fall issue of Charleston Mercury. It deals with the near invasion of Yankee sportsmen into Low Country South Carolina in the decades following the Civil War. They brought deep pockets, bought derelict plantations, and while resented in some quarters gave work to many. Quail and ducks were their main interests, but escape from Northern winters and genteel relaxation also loomed large.
As some of you know, I write a column for the weekly newspaper in my home town, Bryson City, NC. The column in the Smoky Mountain Times offers me a chance to relive my boyhood, give back a bit to a region I love, and delve into all sorts of interesting and offbeat topics under the general them of "Mountain Musings and Memories." For some weeks now I've been doing a series on "Mountain Mysteries, Mayhem, and Murders." It's proving to be a lot of fun, takes up far more research time than is prudent (but I'm of an age when I don't always have to do what is economically sensible but not necessarily all that much fun), and has led me into some sho 'nuff dark corners. Other work currently under way or in editor's hands includes a piece on quilting (Momma made at least one quilt for all her grandchildren), corn as a staple in mountain life, the latest in my series of profiles for Smoky Mountain Living, columns for the newly revived Turkey & Turkey Hunting magazine, and a big piece on squirrel hunting as a means of shaping youthful sportsmen for South Carolina Wildlife.
My talk on Sam Hunnicutt and his timeless book, Twenty Years Hunting and Fishing in the Great Smoky Mountains (you can order copies through my website for $20 + $5 shipping) at Western Carolina University was a delight. A whole bunch of members of the Hunnicutt family showed up as did two classmates from well over a half century ago. There was a standing room only crowd, I had an opportunity to meet and talk with the editors, Mae Claxton and George Frizzell, of a forthcoming anthology of the writings of Horace Kephart for which I'm providing some material on the man as a firearms authority, and I think Hunter Library folks were generally pleased.
The immediate aftermath of that event saw me travel to Florence, SC to attend the annual meeting of the South Carolina Outdoor Press Association (SCOPe). It was a good time with a most enjoyable round of sporting clays, a short fishing tournament, a couple of first-rate seminars, and a chance to venture afield on a brisk morning marking the first day of the preserve quail hunting season. My experience at Moree's Sporting Preserve with guide/dog handler Bobby Benson and Preserve manager Mike Johnson was a pure delight, never mind that I didn't exactly cover myself with glory when it came to wingshooting. My excuse? A 28 gauge semi-automatic that failed to recycle about every other shot. Of course I wouldn't have needed a second shot if I'd been on target with the first one. Still, I brought home the makings of three quail suppers, and if you haven't eaten fried quail with all the fixin's you've got some culinary joy ahead of you.
I also was fortunate enough to win a number of awards in the SCOPe's annual excellence in craft group. Mind you, the number of awards quite possibly was more a product of limited competition than any literary excellence on my part. Still, it is always gratifying to be recognized by one's peers. Here's a listing:
Newspaper feature—First place–"A Love Affair with October," Smoky Mountain Times, Oct. 10, 2016
Newspaper feature—Second place–"It All Goes Back to the First Bushytail," The Herald, Oct. 2, 2016
Non-Game Outdoor Enjoyment—Second place–"Autumn Walks to Waterfalls," Carolina Mountain Life, Fall, 2016.
Editorial/Opinion—First place–"South Carolina's Coyote Conundrum," The Herald, Nov. 13, 2016.
Editorial/Opinion—Second place–"Welcoming in the Sweet Month of September," Smoky Mountain Times, Sept. 8, 2016.
SCOPe–Electronic Media—First place–"In Praise of Pocket Knives," "Sporting Classics Daily," Jan. 11, 2017.
Short Feature—Second place—"Summer Stirs Memories of Catfish and an Old Codger," The Herald, June 25, 2017.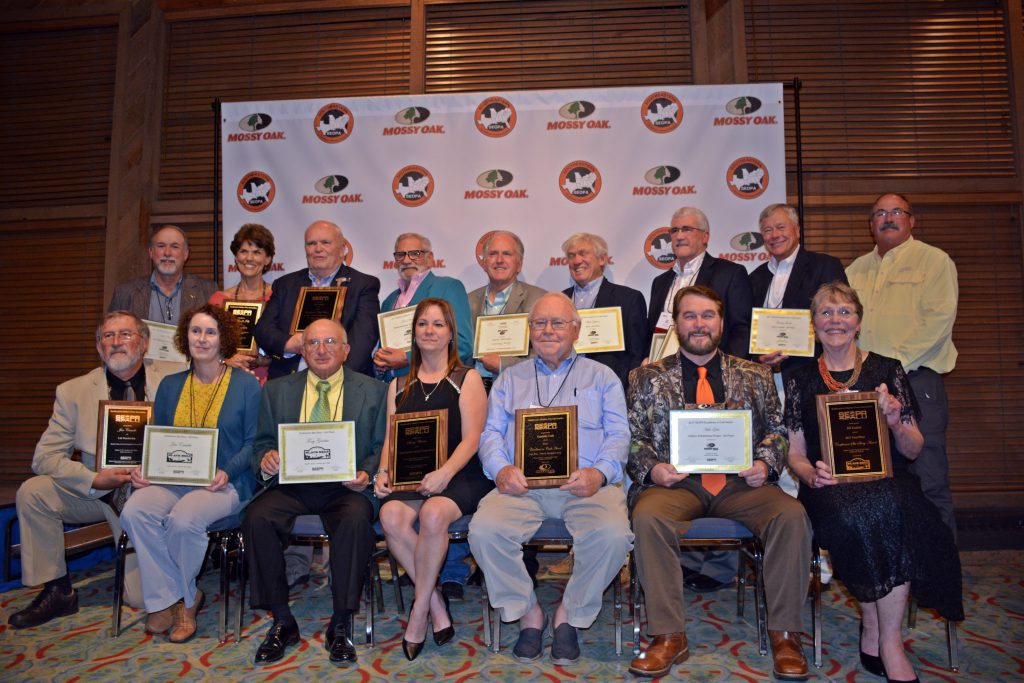 Finally, and from a personal standpoint most significantly, I'm just back home and getting settled into something of my normal routine in the aftermath of the annual conference of the Southeastern Outdoor Press Association (SEOPA). The conference is always one of the highlights of the year for me and I've never missed one in the thirty-plus years of my membership. I see old friends, make new ones, get my mind primed and my energy renewed, and on top of that have a grand old time.
It's always a special few days but this year was even more so. As I indicated in last month's offering I knew I had won something in the SEOPA Excellence in Craft Competition. As it turned out, I was recognized in three categories—a third place in the Daily Newspaper and Conference Site Story categories and first place in the Outdoor Entrepreneur one. Also, and it confirms what I already knew, my webmaster and friend, Tipper Pressley, was one of the winners in the website category. If you like what I do in this paltry monthly presentation, check out her wonderful daily offerings at www.blindpigandtheacorn.com.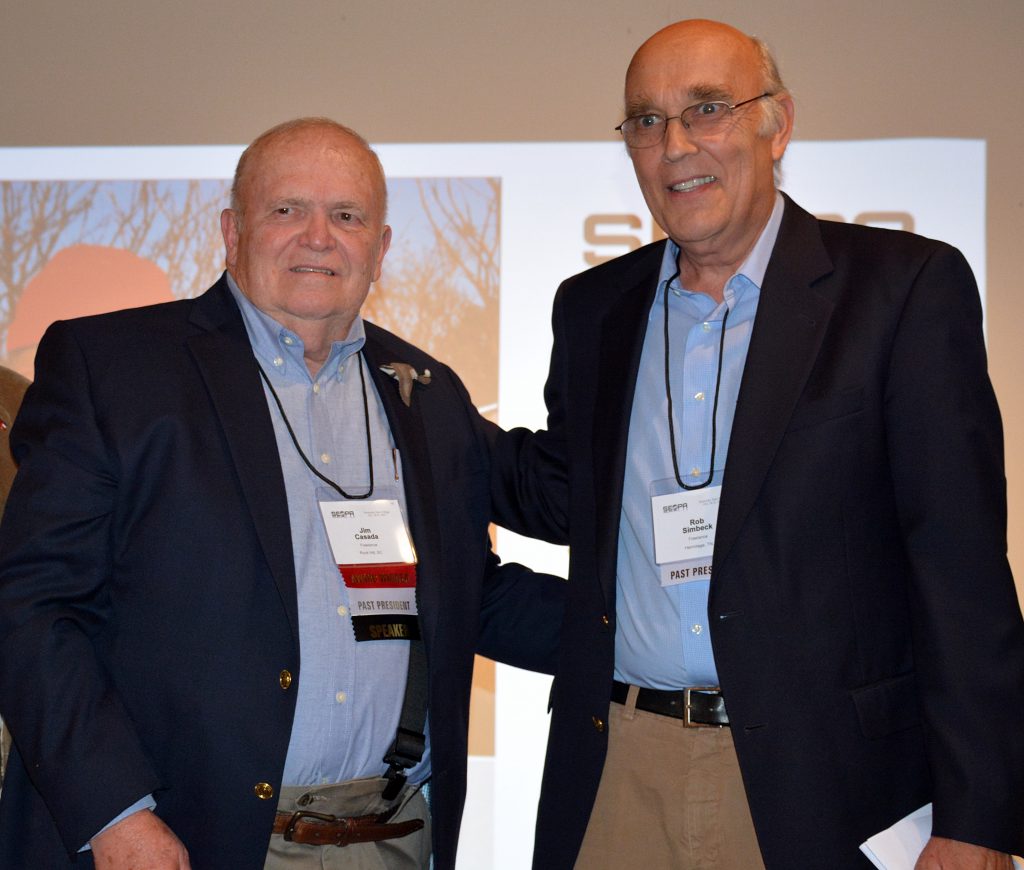 All that was gratifying indeed, but there was a big surprise as well. SEOPA occasionally bestows Life Membership on individuals to recognize their service. The award requires unanimous board approval and in the fifty-plus years of the organization's existence only eighteen individuals have been so honored. I was richly blessed and humbled to join their ranks at the conference. Here are the presentation remarks from Rob Simbeck, a past president of the organization who is not only an exceptional writer but one of SEOPA's shining stars as well as a cherished friend.
It is with great pleasure that I bestow this award. It is Life Membership, presented in recognition of "long, loyal and distinguished service to SEOPA." I'm convinced every one of us who knows the individual we are about to honor would agree he more than meets those criteria. He came to us by way of academia, and he is by degree and disposition a scholar, someone made happy by the painstaking work of pursuing information and furthering knowledge.
But he came to academia by way of the woods and water. His upbringing in the Smokies was filled with country ways and a respect for the land and its inhabitants, human and otherwise. That marrow-deep affinity for nature and its wonders, combined with that keen intellect and a knack for writing perhaps best described as folksy erudition, have made him one of our most readable and consequently one of our most honored writers.
His achievements are many; his accomplishments enviable. And yet such is his humanity that the qualities I most associate with him are humility and service. He is quick to help a fellow traveler in the ways of writing, hunting, fishing, gardening, book collecting or a dozen other vocations and avocations he pursues relentlessly and well. We have recognized him with our highest accolade, the Tom Rollins Award, and we are here now to extend that honor with this. I consider him a dear friend, a mentor in word and carriage, and perhaps as good an audience as a picker or grinner could ever want. It is with great delight that I fulfill the wishes of our board in their unanimous vote and present Life Membership to our esteemed colleague and dear friend, Dr. Jim Casada.
RECIPES AND REMEMBRANCES: THE COOKING CORNER
PUMPKINS AND PERSIMMONS
PUMPKINS

I've always had a real hankering for pumpkin dishes. I think it comes from youth when Momma made use of the pumpkins Daddy (and Grandpa Joe) raised every year. Incidentally, a few pumpkins will go a long way, they store well for months, and if one starts to go bad in a root cellar or similar place of storage both pigs and chickens love them. They are an integral part of the "three sisters" approach to agriculture common in the Smokies where I grew up—corn; runner beans or peas such as October beans, pole beans, or crowder peas; and pumpkins. The corn furnishes "stakes" for the legumes. The legumes fix nitrogen and help the soil. The pumpkins sprawl across the ground and help keep weeds at bay. It's a wonderful triumvirate of a symbiotic relationship.
I'm especially blessed because the pumpkin with which I'm working has a long, lovely history. I call it a Chambers Creek pumpkin because the heirloom seeds trace back to that small settlement in the Smokies. It has been part of the Great Smoky Mountains National Park since the flooding of Fontana Like in the 1940s, but prior to that a thriving community of folks lived there. One of them, Christine Cole Proctor, has saved the seeds year after year and generously shared them with other folks. Christine is one of those salt-of-the-earth individuals who makes you proud to be part of the human race, and this simple yet meaningful example of her perpetuating history through foodstuffs is but one of countless examples of her goodness. I'm proud to call her a friend and here's three recipes for using Chambers Creek pumpkin (or, since you aren't quite as blessed as me, any cooking pumpkin or canned, store-bought pumpkin.
PUMPKIN CAKE WITH CREAM CHEESE FROSTING
This recipe requires considerable effort, but rest assured the end result is worth the labor. Moist, tasty, and redolent of the flavors of fall, it will be a hit even with folks who insist they don't like pumpkin.
2 cups sugar
2 cups all-purpose flour
1 cup canola oil
4 eggs
2 cups of pumpkin (use the real McCoy, not pumpkin pie filling in a store-bought can)
2 teaspoons baking powder
Large pinch of salt
1 teaspoon ground cloves
½ teaspoon nutmeg
Preheat your oven to 350 degrees and great and flour two nine-inch cake pans. In a mixing bowl whisk together the flour, sugar, baking powder, salt, cinnamon, cloves, and nutmeg. Form a hollow in the center of these dry ingredients and into it pour the oil and eggs. Whisk this together and then add the pumpkin, stirring until well mixed. Pour into the cake pans and bake for 30 minutes or until a toothpick comes away from the center clean. Let the baked cakes cool on rack for 10 minutes and then, with the aid of a spatula if needed, slip around the edges of the pans and remove the cakes. Let set for an hour.
When this period is over, add cream cheese icing or, if you prefer, caramel icing, using your favorite recipe for either one. Yet another alternative is to serve in without icing using apple sauce, whipped cream or even warmed molasses as an "adornment." If desired (and I always desire) sprinkle black walnut meats atop the cake and press some into the side as well.
ANNA LOU'S PUMPKIN PIE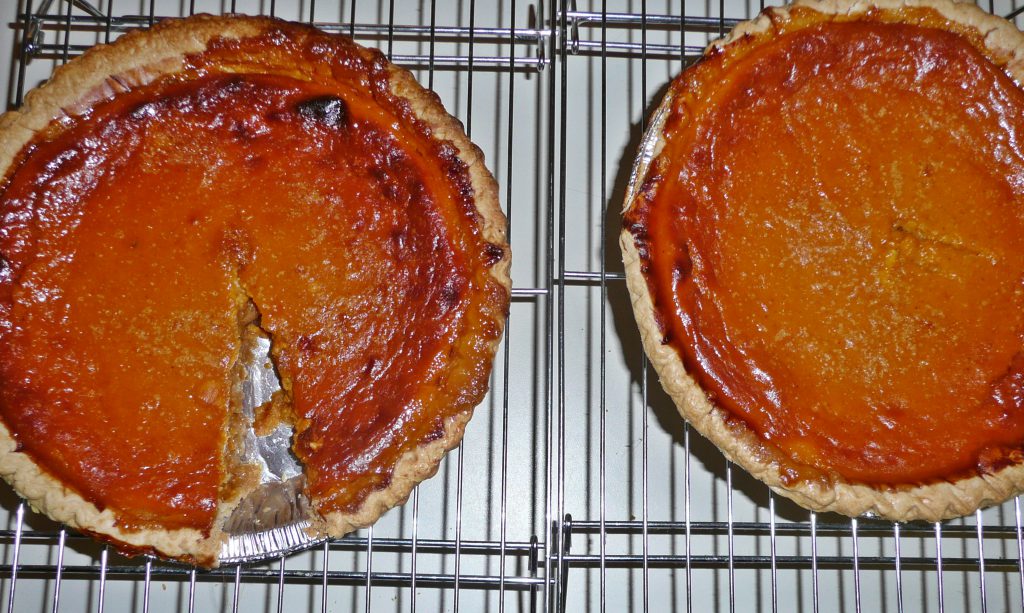 My mother, Anna Lou Moore Casada, made two types of pumpkin pie. Once was a gelatin-based, refrigerated version she called pumpkin chiffon pie. It featured a graham cracker crust and was best after being in the refrigerator for a couple of days so that the crust absorbed enough moisture to melt in your mouth. Her other offering was more traditional, and the recipe offered her is how she made it (although I'm fairly sure she didn't measure some of the ingredients—she did a lot of her cooking by sight and feel but rest assured the end results rivaled anything precise measurements could produce.
2 eggs, beaten
¾ cup sugar
Pinch of salt
½ teaspoon ground nutmeg (or allspice)
1 ½ cups evaporated milk
1 cup pumpkin
Prepared or homemade pastry crust (Mom always ground up graham crackers, mixed in just enough butter to hold the crumbs together, and lined her pie pans with it
Preheat oven to 425 degrees. Combine and stir together the ingredients and pour over pie crust. Bake at 425 degrees for 15 minutes and then reduce the heat to 350 degrees for 45 minutes or until a toothpick or knife inserted at the center comes away clean. Mom usually made two or three pies at a time (they disappeared like magic), but as best I can determine, this would have been the measurements for a single pie. I've prepared them many times so don't get the idea this is a culinary "shot in the dark."
PUMPKIN BREAD
I don't recall ever having pumpkin bread in my boyhood, but I've eaten more pumpkin prepared this way in the last three decades than any other. As a snack, a breakfast food topped with cream cheese, or as a dessert, it's delightful. I also like slices toasted in the oven just long enough to make them slightly crispy on the edges and melt the dab of butter placed on top.
3 cups sugar
1 cup canola oil
3 large or four small eggs
1 16-ounce can of pumpkin on the home-prepared equivalent (pumpkin cans and freezes quite well)
3 cups all-purpose flour
1 teaspoon ground cloves
1 teaspoon ground cinnamon
1 teaspoon ground nutmeg
1 teaspoon baking soda
½ teaspoon salt
½ teaspoon baking powder
1 cup chopped black walnuts (or substitute English walnuts or pecans, though they aren't as tasty)
Preheat your oven to 350 degrees. Butter and flour two 9x5x3-inch loaf pans. Pour sugar and oil in large bowl and blend before mixing in eggs and pumpkin. Sift flour, cloves, cinnamon, nutmeg, baking soda, baking powder, and salt in a separate bowl. Gradually and thoroughly stir into the pumpkin mixture while adding the walnuts.
Divide the batter equally between the two pans and bake (60-70 minutes) until a tester inserted into the center of the loaves comes away clean. Transfer to cooling racks and after allowing the loaves to cool for 10-15 minutes, use a knife to cut around the edges and turn loaves out onto the racks to cool completely.
PERSIMMONS
One of the grand "discoveries" of my gardening career has been Asian persimmons. They are many times the size of a wild persimmon, have no seeds, and insofar as I can tell taste exactly the same. The only real problems they present me are gathering them (they need to reach a stage of considerable softness while still on the tree and have stubborn stems—I find clipping them off with pruning shears works best. Once you've gathered them, they are a wonderful sweet treat eaten raw (Tipper Pressley, the webmaster who handles this newsletter, told me that she ate the better part of a peck I gave her last year one by one as a daily snack at work). They also lend themselves to a variety of other desserts of snacks, and here are three examples—persimmon leather, bread, and pudding.
PERSIMMON LEATHER
To my way of thinking, fruit leathers rank well towards the top of overlooked food items. They can be eaten as a snack, reconstituted for use in sauces or desserts, and are easily prepared. For the hunter heading out for a long day a Zip-lok bag filled with persimmon leather is at least as tasty as and far healthier than jerky. You need a dehydrator for this, but once you own one you'll soon wonder "Why didn't I get this years ago?" Puree persimmon pulp in a blender (for taste variety you can mix two parts persimmon to one part pineapple). Spread thinly atop plastic wrap or Teflex (my dehydrator has Teflex sheets for each of its six layers or drawers) and dry at 135 degrees until leathery. Normal drying time is 4 to 6 hours. When the leather is ready it will be shiny, non-sticky to the touch, and flexible. Allow it to cool and then roll into cylinders and wrap with plastic wrap. When fully dry (don't overdo it and let the leather become brittle) persimmon leather will store in a dry place, preferably in a plastic container such as those designed to hold cereal or pasta, and it will keep for months.
PERSIMMON PUDDING
I still recall the first time, when a small boy, I had persimmon pudding. As surely as pawpaw custard was George Washington's favorite sweet, it has been my choice (and I have a decided sweet tooth). Until I discovered and began growing Asian persimmons, the effort required to obtain enough pulp, with all the gathering, removal of seeds, and related work, meant having a persimmon pudding was a rare treat. No more. The actual cooking process is now on the easy side. Try it for a real treat.
2 cups persimmon pulp
2 cups packed brown sugar
¼ cup butter, melted
1 teaspoon vanilla
1 ½ cups self-rising flour
½ cup light cream or whole milk
2 eggs, beaten
½ teaspoon cinnamon
½ cup raisins or nuts (optional)
Combine all the ingredients in a large bowl and beat just until well mixed. Pour into a greased 9 x 13-inch pan and bake at 350 degrees for 30 minutes or until golden brown and just beginning to pull away from the sides. Remove from oven and cool slightly. Then cover and seal tightly with foil or plastic wrap. Cut into squares and serve with whipped topping or whipped cream.
PERSIMMON BREAD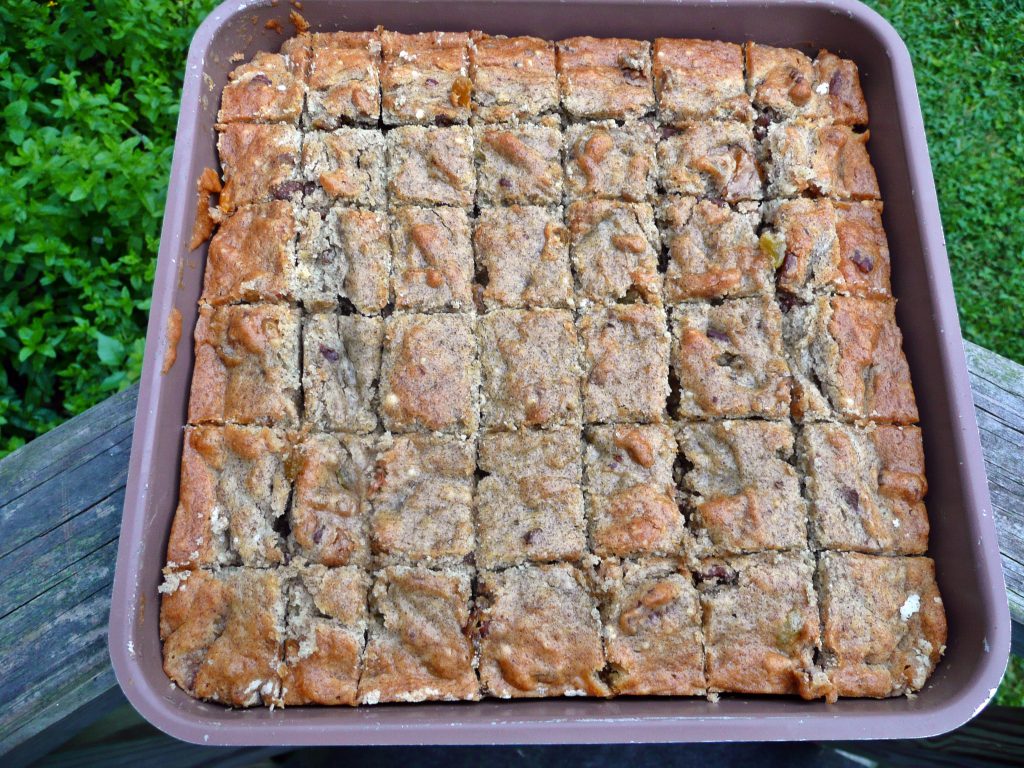 I first found this recipe in a cookbook by the famous James Beard, Beard on Bread. I make a couple of small changes but the end result is what you would expect from Beard, namely, purely delicious.
3 ½ cups flour
1 ½ teaspoons salt
2 teaspoons baking soda
1 teaspoon ground nutmeg
2 t 2 ½ cups brown sugar (vary according to how sweet you want the bread—it's very rich)
1 cup melted butter, cooled
4 large eggs or 5 small eggs, beaten (let eggs set out for a few hours to bring them to room temperature
2/3 cup bourbon (I've also tried dark rum and cognac, and they work equally well)
2 full cups persimmon puree
2 cups English walnuts or pecans, chopped and lightly toasted
2 cups raisins (I like golden ones). You can substitute other dried fruits such as dates or apricots or mix them by using a cup of two different fruits.
Butter two loaf pans or use a single large baking pan, dusting with flour and tapping out the excess. Preheat oven to 350 degrees. Sift the first five dry ingredients in a large mixing bowl. Make a well in the center and stir in the melted butter, eggs, liquor, and persimmon pulp before finally adding the nuts and raisins. Mix thoroughly. Bake for an hour (less if you used a baking pan) or until a toothpick comes away clean.