MEMORIES OF MAY AND MOM
By the time you read this Mother's Day will have come and gone, but in my view being a few days after the actual calendar date for the occasion doesn't mean that it's too late to rejoice and recollect. If you were fortunate enough to have a mother like mine, every day should celebrate her life. Daily some little thing will trigger a warm memory or serve to remind me of her influence. Also, she's been very much to the forefront of my thinking in recent months thanks to work on a Smokies food memoir to be published by the University of Georgia Press. The book is dedicated to her, my late wife, and my paternal grandmother. Maybe sharing a portion of what I say about Mom in the Acknowledgements will give you a fuller indication of the woman and what I thought of her.
"To the memory of the three of the finest cooks I've ever known, my paternal grandmother, Minnie Casada; my mother, Anna Lou Casada; and my late wife, Ann Casada. All were self-taught culinary wizards, loving souls, and in the case of the first two, wonderful mentors when it came to the mystery and magic of mountain cooking. Both Momma and Grandma had traumatic childhoods—Grandma Minnie was indentured or "bound," something which still existed in the late nineteenth century, while as an infant Momma lost her mother and her peripatetic father essentially left others in the family to raise her. As a result Momma's youth was so filled with moves from one place to another that when she and Daddy married, bought a home, and settled down in Bryson City, her heartfelt statement was: "I never want to move again." For well over a half century, until the final weeks of her life when the ravages of Parkinson's Disease forced her into a nursing home, she never did.
"For these two women cooking became an expression of who they were, a means whereby they could simultaneously exercise creativity and convey love to others, and an activity which gave them a great deal of quiet satisfaction. Even after the passage of decades I miss them terribly, but their influence in the form of mountain fixin's and a great deal more remains as powerful and persuasive as ever."
I also devoted a great deal of material to Mom in my book, A Smoky Mountain Boyhood: Memories, Musings, and More, and will share a bit of that coverage from the chapters on Mother's Day and Christmas as well.
"Mom has been gone some two decades now, yet seldom does a day pass when I'm not reminded of her. Usually it is some small, seemingly insignificant occurrence which brings back poignant memories of a woman whose whole outlook on life seemed to be one of surpassing sweetness and serenity. She was seldom frustrated, and the sole time I ever heard her use a four-letter word was in the immediate aftermath of having given her thumb a mighty whack with a hammer. Even then, she was so mortified at the 'damn' which escaped her lips it seemed shame instantaneously replaced pain.
"Years ago I shared a newspaper tribute to her with both my siblings, and each of them responded with their own recollections. My brother, Don, who shares my tendency to think of things from the perspective of closeness to the earth, reckoned that on Mothers' Day he might wear a single white flower from wild strawberries in tribute to the woman and the scrumptious wonders she could work with wild (or tame) strawberries, a home-made pound cake so moist it glistened, and whipped cream. Of course his thinking along this line combined fond culinary memories with the old mountain tradition of wearing a rose (red if one's mother is living; white if she is deceased) on Mother's Day. He also harkened back to early childhood days listening to her sing in church and shared Alan Jackson's rendition of Mom's favorite hymn, the hauntingly beautiful 'In the Garden.'
"My sister, Annette, for her part, rightly recalled just how loving and easygoing Mom was, never mind three sometimes tempestuous children and a husband who could, as is the wont of males in the Casada family in general, be difficult in terms of hard-headedness, almost cussed independence, and a deep-rooted 'I'll do it my way' outlook on life. An excerpt from Annette's thoughts goes right to the essence of Momma's personality and perspective. 'When I think of Mom, the phrase 'she loved them anyway' always stirs my brain. This phrase definitely held true with the love she held for Dad and us as we were not always an easy bunch to love with our independent, stubborn, and judgmental ways. More importantly, I think the phrase is representative of the way she viewed the world as she always seemed to find that little nugget of specialness in everyone. I have no idea what helped her develop into the positive, warm, loving adult she was but somehow Momma was just about as pure of spirit as a human can be.'
"From my perspective, I think of Momma most often in terms of food. She was a splendid cook and I never eat certain dishes, with fried chicken being at the top of the list, without her coming to mind. Another recurrent recollection is the manner in which she not only tolerated but actively encouraged my passion for the outdoors. Never mind how many times I came home muddy, soaking wet, or smelling of rank stink baits used for catfish, it was somehow all right. Occasions without number I befouled her pristine clean kitchen sink with guts from small game or feathers for upland birds, yet she always took matters in stride and smiled as she promised (and delivered) a feast from earth's wild bounty. She greeted a gallon of blackberries, a mess of wild strawberries, or a creel of fresh-caught trout like manna from Heaven, and the wonders she wrought with wild game make me wish we had had deer in those youthful days.
"I have always envied her outlook on life. She found joy in the simplest things, remained eternally upbeat, showed kindness in some way every day, looked upon work as a blessing rather than a burden, and retained a bit of the childhood innocence she never had opportunity to enjoy fully in her youth. One indication of the latter aspect of her perspective was the fact that none of her children, and later her grandchildren, derived more delight from the Christmas season and special occasions than Mom. When she opened a present, got a surprise, blew out the candles on a birthday cake, or enjoyed something as simple as an ice cream cone, there was invariably a priceless brightness in her eyes and beaming smile on her face.
"Of all my warm and wonderful recollections of Mom though, arguably the fondest ones focus on her role in my development as a sportsman. To my knowledge Momma never hunted, and although she loved to fish she would have been the first to acknowledge she was an inept angler. On the other hand she relished the end results of a successful day afield after small game or a productive fishing trip, and thoughts of the culinary wonders she could work on rabbits, squirrels, quail, or trout still lay a craving on me.
"She was a marvelous cook and a living, loving example of the old mountain adage which suggests: 'Make do with what you've got.' Mom scoffed at the concept of catch-and-release fishing. 'You catch them,' she would say, 'and I'll release them—straight to hot grease.' To her the idea of catching a fish only to return it to the water was absolutely ludicrous. A standard exchange between us was a joke connected with my countless forays after trout. As I headed out the door I'd ask: 'Do you want me to keep a mess?'
"To her that was a question that bordered on idiocy. 'You're going fishing, aren't you? And aren't trout mighty fine on the table? Why in the world wouldn't you bring a mess home?'
"Momma's tolerance level for a sportsman husband and two similarly inclined sons was both admirable and incredibly high. She took early risings; muddy boots; tattered and torn clothing; squirrels, rabbits, quail, and trout cleaned in her kitchen sink; incessant talk of the outdoors; the occasional responsibility for feeding our hunting dogs; and much more in stride.
On a strictly personal level, she was an endless source of support and active encouragement of my boyhood hunting and fishing adventures. When Lady Luck saw fit to cast a beam of good fortune on my solitary efforts afield or astream, Mom would brag about my bulging creel or weighty game bag in a fashion which filled a youngster with inexpressible pride. Moreover, when relatives or friends stopped by for a visit, she would often make comments such as: 'You should have seen that fine mess of trout Jim caught yesterday.' To an adolescent such praise brought pleasure that left my spirits buoyed for the rest of the day.
"Long after I was grown and gone from home Mom continued to be interested in my sporting activities. There was never a visit and seldom a phone call when she didn't ask about whether I'd been hunting or fishing and what sort of luck I'd experienced. Those weren't idle inquiries. She genuinely cared, and right up to her death I could do her no finer favor, bring her no greater pleasure, than to show up with a limit of wild trout cleaned and ready for the frying pan."
Then there was Mom's love of the Yuletide season. Again, here's an excerpt from the same book.
"If the spirit of Christmas embraces things such as love of family, togetherness, warm feelings, goodness, excitement, and faith, then Momma was the quintessence of that spirit. Many adjectives seem appropriate when describing her love of life in general as well as the Yuletide season in particular, but to me none is more fitting that the word merry. She always had a sparkle in her eyes, breathless excitement in her being for even the most ordinary of undertakings, and a constant joie de vivre. She was merriment personified.
"Although she never said much about it, and certainly the care and devotion she lavished on her adoptive parents in their later years would have led one to think otherwise, clearly warmth and love were scarce commodities in her childhood.  Likewise, she never had much in the way of Christmas gifts as a youngster.  This was evident in two ways—the frequency with which she mentioned an elderly man who had befriended her and given her a quilt at a point when her adoptive family was living in California, and the pure delight Momma took in everything associated with Christmas right up until her death.
"She loved the rituals of preparing for the season, especially decorating with materials from nature.  Gifted with considerable crafting skills, at one time or another during her adulthood she made Cherokee-style baskets, knitted, crocheted, enjoyed macramé and appliqué, grew and rooted all sorts of indoor plants, prepared lovely flower arrangements, was a superb seamstress, and had a real knack for decorating. Never was the latter ability on fuller display than at Christmas. It might be noted that Momma was exceptionally frugal, a combined product of upbringing and necessity, and all these hobbies saved money.
"Momma was always involved in anything and everything Christmas-connected at Bryson City Presbyterian Church—filling pokes with stuff for young kids, performing behind-the-scenes work in connection with pageants, and volunteering in any way she could.  Similarly, some of my earliest Christmas memories revolve around charitable endeavors in which she would, usually although not always through the church, do her part and then some to make sure the was some joy in the season for those who were less fortunate.  Later on, although anything but a political creature, she didn't have much truck with food stamps and government support. But like many hard-working mountain folks Momma believed in helping those who were down and out and needed a hand.  She always worked with her children to craft handmade Yuletide gifts for their teachers, rightly feeling that the personal effort had more meaning.
"Then there was Christmas-related cooking, and as an endlessly hungry boy who still holds his own as a trencherman, that was of immense importance to me.  Momma was a splendid cook, and one of our family's real losses in that connection was a compulsion, when Parkinson's disease afflicted her late in life, to throw away a great many things.  Among the items lost to that well-intentioned but misguided mania to organize were hundreds of discarded recipes. 
"Fortunately though, she had already passed many of her favorite recipes on to my wife and other family members.  Among those which survived were chestnut-and-cornbread dressing, orange slice cake, applesauce and black walnut cake, pumpkin chiffon pie, her special approach to preparing squirrel, cracklin' cornbread, Russian tea, popcorn balls made with molasses, fried pies, stack cake (handed down from Grandma Minnie), and a number of types of homemade candy.  However, if I had to pick out one dish in which her culinary skills shone brightest, it would not necessarily be associated with Yuletide. 
"She could fry chicken better than anyone I've ever known, and that included Grandma Minnie, who was an absolute wizard in the kitchen.  I know how Momma did it—each piece well coated with flour after having been dipped in egg, then slow fried, followed by a session of sitting in a cast iron skillet in an oven on low heat. This was standard dinner fare on Sunday, and by the time we got home from church that big skillet full of chicken would have achieved crunchy, moist, and tender perfection.  All of her children know the process and remember it well, but duplicating the end product to a degree which matched her fried chicken has always eluded us. 
"Momma took quiet pride in her cooking skills, and she loved to see her family and friends eat.
Throughout my boyhood, and I think precisely the same held true for both my siblings, she truly fed the multitudes in terms of setting the table for our friends.  We never had a lot of money but you could rest assured the Casada table was set with a precious plenty. There was never any issue with an extra place or two.  Interestingly, and it's a testament to Momma's generosity and hospitable nature, my friends ate with us far more than I ever ate with any of them.  We were at times almost a communal kitchen for neighborhood kids.
"Speaking of kids, no starry-eyed youngster, no 'Christmas will never come' mindset, or the firmest of believers in Santa Claus has ever derived more sheer joy from receiving gifts than Momma. As much as she gave of herself, and she was tireless, totally unselfish in that regard, she loved to open presents. Curious as a cat or eager child, for days before December 25 finally arrived she would pick up gifts bearing her name from under the tree, heft and maybe shake them a bit, and wonder out loud:  'Now what that could be?'  Similarly, I can hear her, decades since she left us, saying with a mixture of disbelief and excitement when handed a gift: 'Another one for me!'  She was careful in opening presents, because after all, wrapping and ribbons could be recycled in the "waste not, want not" approach to everything which was her mantra.  Still, it was easy to tell she would have loved to rip the paper asunder like a child. Year after year she would, once all the presents had been opened, offer thoughts to the effect 'I can't believe how lucky I am,' 'I'm so thankful,' and 'This has to be the best Christmas ever.' She may not have had much of anything that was 'the best' as a child, but far from looking back with regret or bitterness, as an adult she instead brought an attitude of optimism, excitement, and simple goodness to the season of Christmas. 
"She enjoyed a good joke.  There were always gag gifts in our family, and at times Momma would laugh until tears rolled when Daddy received something such as a pair of underwear adorned with images of Mickey Mouse or a Sammy Davis, Jr. audio tape (Daddy absolutely detested Sammy Davis).  Her laughter was infectious, and even though she was the butt of jokes more than a fair share of the time, it never troubled her." I share a prime example below in the "Laughter" section
"Unabashed love and devotion to family lay at the core of Momma's being.  She was completely unselfish, genuinely moved anytime something was done for her, loving in the sort of fashion which grows in meaning over time and given reflection, and the embodiment of everything associated goodness.
"Almost any time I think of Mom there will be a moment of temporary sadness, but it will soon give way to gladness and a smile.  That's the way she would have wanted it, because Anna Lou Moore Casada was a woman and a mother who walked life's path as a shining embodiment of the spirit of good will and all thank forms enduring family bonds. I can only hope that each of you was blessed with a similarly wonderful mother and that these words bring back warm reflections of her role in your life."
BOOK ALERT
Years ago I sold numbered, limited edition volumes in the series of books by Neil "Gobbler" Cost to two dozen or more customers. Now, after an interlude of a decade or so, the publishers have come out with a fourth and presumably final volume in the series. I had assumed, like pretty much everyone else, that the third volume, with the title The Last Hurrah, completed it. That was especially true given the fact that Neil died almost immediately after the work appeared. However, the two men who worked with Neil have come up with a fourth volume, It Was a Great Party, and out of a sense of duty to past customers I bought the numbered volumes I had handled before. So if you bought previous volumes from me I should have your number in the set. Unfortunately I didn't keep a record of who bought what numbers, and this is a sort of desperate attempt to contact folks. If you think you acquired the earlier Cost books from me or if you are interested in this one, e-mail me at jimcasada@comporium.net.
LAUGHTER: THE BEST MEDICINE
BUBBLE BATH MERRIMENT
Since the general thrust of this newsletter involves memories of Mom, it seems appropriate to share a bit of humor connected with her life. She had a wonderful sense of humor, just enough naiveté to be prime fodder for pranks, and was someone who could readily laugh at herself or be convulsed with chuckles when a good joke was told or prank played. Our entire family enjoyed gag gifts at Christmas, and perhaps my favorite recollection of all the many tricks where Mom was the focus came on such an occasion.
She was curious as a kid when Yuletide rolled around and was simply constitutionally unable to ignore gifts with her name on them. She would heft boxes, give them a bit of a shake, or ponder their shape with all the curiosity of an eight-year-old kid. One Christmas my brother and sister-in-law took advantage of this cat-like curiosity in hilarious fashion. They somehow found a small box labeled "Hillbilly Bubble Bath" which contained pinto beans. They were loosely packed (or maybe some were removed), but the result was a most satisfying rattle and mysterious noise whenever the gorgeously wrapped and beribboned gift box containing them was shaken. It had Momma's curiosity in overdrive and I bet she had picked up the box, given it a shake, and come away with a puzzled look twenty times before present-opening time arrive on Christmas Day.
The tell-tale index to how much it had intrigued her came with Mom selecting it as the first thing she wanted to open. She dug into the paper with a will (although not to the degree of failing to save the paper and ribbon—there wasn't much in the way of decorative stuff which she wouldn't recycle). She was so excited that when she got to the box of dried beans and read "Hillbilly Bubble Bath" she said something to the effect of "Oh, how special and thoughtful." Then reality hit home as everyone else in the room convulsed in laughter. She muttered, "Oh, shoot," which was about as close to an oath as she was likely to come, and then joined the rest of us in a moment of unbridled mirth.
JIM'S DOIN'S
There have been a number of developments on the home front, most notably in connection with my book-related efforts. I'm delighted to reveal that the final potential hurdle to publication of a book which will bear the title "Fishing for Chickens: A Smokies Food Memoir," has been cleared. The faculty oversight committee for the University of Georgia Press gave unanimous and (according to the acquisitions editor with whom I've been working) enthusiastic approval to the book. That includes the somewhat quirky title, which comes from coverage in the chapter on "Yard Birds" telling of how my grandfather used hook, line, and cane pole to procure a chicken or chickens for the Sunday table. Publication likely lies a year or so down the road, but I'll keep you updated. Meanwhile, I'm beginning to compile a list of those who want the book. If you'd like to be notified via e-mail once it appears, just drop me a message.
With the bulk of the work on the memoir behind me, although there will be lots of little things requiring attention—photo support, a map, permissions, securing blurbs recommending the book, proofreading, exchanges on cover design, and a bunch of other matters which never cross the minds of the average reader—I am now free to devote more time to other projects. One of them will be completion of a two-volume work consisting of profiles of great African hunters along with selections from their books. It will be published under the Sporting Classics umbrella and is an opportunity for me to bring a lifetime of study, reading, and research on the pioneer hunter/explorers in Africa into hopefully meaningful printed form.
Beyond that, there are the usual efforts for magazines and blogs. Recent publications include "Strutting Splendor," Columbia Metropolitan, April, 2021; "Fringe Benefits: The Subtle Surprises of Turkey Hunting," Columbia Metropolitan magazine, Apr., 2021; "A Yearning for Yard Bird," Smoky Mountain Living, April/May, 2021; "Women in the Literary Heritage of Hunting," "Sporting Classics Daily," Apr. 7, 2021; "The Fine Art of Fishing lies," "Sporting Classics Daily," April 16, 2021; "Venison Osso Buco," "Sporting Classics Daily," April 21, 2021; "Spring's Wild Bounty," Carolina Mountain Life, Spring, 2021; "10 Tips for Organizing Your Sporting Library," "Sporting Classics Daily," Apr. 27, 2021; "Dr. James A. Henshall: The Godfather of Bass Fishing," Sporting Classics, May/June, 2021; and "A Year Round Pursuit: The Soul Soothing Pleasure of Gardening," Columbia Metropolitan magazine, May, 2021. At least some of these can be accessed on-line.
RECENT READING
Once she got her children raised and required less time at home, Momma was able to turn a personal passion into a profession. She became the librarian at the Marianna Black Library which served our home town, Bryson City, and Swain County. She had no formal training directly linked to librarianship, but she had two invaluable assets for the position and its nature at the time. First, she was an avid reader and always encouraged my siblings and me to read. Second, she was a wonderful "people person" and even today, more than four decades after her ten-year stint as librarian, someone occasionally shares a memory with me of how Mom helped them select books or just paid a little special attention to them when they visited the library. That was just her nature, and on top of everything else the library had been founded by our next-door neighbor. There were wonderfully good vibes there and I have no doubt whatsoever that Momma always saw her work as a tribute to the gracious soul who was Marianna Black.
One thing is absolutely certain, she endowed me with a love of reading and I consume books in a fashion probably matched by relatively few. Literature is my companion, an inspiration to my writing, an escape at times, and always uplifting. My reading tastes range widely as mention of some recent indulgence in this daily tonic will indicate. My friend and webmaster, Tipper Pressley, mentioned the mystery writer Julia Keller in passing and in the context of the manner in which her books, set in West Virginia, are reflective of some of the problems afflicting Appalachia. Of course I had to check Keller out and in the last two weeks I've read the first three books in her ongoing series featuring a small-town prosecutor named Bell Elkins. Somewhat similar, in that it's a mystery series and one of the central characters is a woman, is the Loon Lake fishing mystery series from Victoria Houston. The geographical setting is a different one, but Houston writes with considerable facility, doesn't make much in the way of the all too common mistakes revealing lack of intimate knowledge of her subject matter, and knows how to tell a fine tale. I have a regular reader of this newsletter, Jack Loudermilk, to thank for my introduction to Houston (and for most graciously sending me a number of books in the Loon Lake series).
On a decidedly different path, I'm well into Rick Bragg's biography of Jerry Lee Lewis, have figuratively devoured a number of cookbooks which feature narrative material as well as recipes (from Ronni Lundy, Patricia Mitchell, Mark Sohn, and others), and have done considerable re-reading of classic works on nineteenth-century African sport. Seldom does a day pass when I don't spend two or three hours in a book, and since I read rapidly that translates to reading at least a dozen, and often more, books each month. Mom gets much of the credit for this love affair.
RECIPES
With this month's focus on mothers in general and Mom in particular, it seems appropriate to wrap up with some recipes which were specialties in my boyhood home. These are things Mom made with regularity, and some of them involve not only culinary skills but shrewd awareness of cost.
HAMBURGER GRAVY
One such item featured the tried-and-true matter of making a little go a long way. Meat, other than the pork from pigs and chickens which Grandpa Joe raised and game we killed or fish we caught, was expensive, and it was a matter of some moment when it came to whether or not to have preacher bird for Sunday dinner. After all, doing so meant one less egg layer in the chicken lot. We did eat some store-bought meat, but Mom sure knew how to make a little go a long way. Hamburger was a prime example. She could turn a pound of cheap hamburger, long on fat and somewhat lacking in lean, into a meal-stretcher that shamed "Hamburger Helper" in terms of taste. She simply browned the meat in a large skillet and then added flour and milk until she had a whopping pan full of hamburger gravy. It sounds easy and if you have the knack it is, but gravy just doesn't magically appear out of some meat, grease, flour, milk, and seasonings. But hers was magic, and whether served atop crumbled cornbread or halved biscuits it was as hearty as it was tasty. A pound of meat would feed a family of five in a decidedly hearty fashion, and if one of us children happened to have a friend visiting or spending the night, the answer was a bit more milk and flour in the making of the gravy.
MOMMA'S FRIED CORN
What Momma called fried corn wasn't really fried at all although it was prepared in a frying pan. Cut three or four thick slices of streaked meat (you can call it streak-o'-lean, side meat, middlin' meat, salt pork, or any of a number of other names, but to me it has always been streaked meat for the simple reason that is what folks called it in my boyhood) into a large skillet. Fry the streaked meat until crisp and brown. Set the meat aside on paper towels to drain and retain the hot grease in the pan. If you have too much grease pour some off and save for use in cooking and seasoning other dishes such as green beans, crowder peas, or butterbeans. Pour corn which has previously been cut or grated from the cob into the hot grease. Stir steadily until the corn is cooked and serve piping hot. A piece of the streaked meat crumbled atop a serving of corn is right tasty while a big slice of a garden grown tomato is this dish's equivalent of a cherry atop a sundae.
MOMMA'S FRIED CHICKEN
I'll acknowledge at the outset that try as I might I've never quite been able to match Momma's fried chicken, and I don't think anyone else has either. Grandma Minnie was a wizard in the kitchen, but when it came to frying chicken Mom had her beat. My brother Don fries first-rate chicken as well, and keeps experimenting. Momma didn't need to–she had the touch and knew when she'd reached the pinnacle.
1 or 2 whole chickens, cut into pieces (legs, thighs, wings, and breasts) with skin left intact
1 or 2 eggs beaten
Salt and pepper to taste
Flour
Cooking oil
Drench each piece in the egg wash and then coat thoroughly with flour (mix your salt and pepper in with the flour) before placing in piping hot oil in a cast iron pan (I think cooking in cast iron makes a difference, but don't ask me to prove it). Then lower the heat to medium and cook until thoroughly brown.
All of this seems normal enough, but it was Mom's final step that made all the difference. Once she had all the chicken fried and placed atop paper towels to drain a bit, she would wipe the cast iron skillet clean with a dish rag and put the fried chicken back in it. She then turned the oven on at low heat (175 degrees or maybe a bit less) and put the skillet in the oven. She normally did this just before heading off to church on Sunday. After church she would pop the skillet out of the oven once she had readied the rest of the meal. I don't recommend leaving it for a couple of hours the way she did, or at least not until you figure out the right timing and temperature of the oven, but for her it worked wonderfully well. Being in the oven seemed to do two things—cook away some of the surplus grease and make the chicken so tender it almost fell from the bones and melted in your mouth. Mercy was it fine!
PEACH COBBLER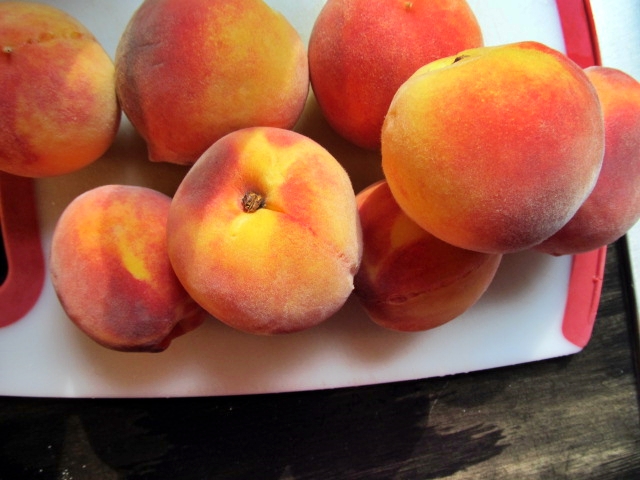 In our family we ate far more fruit and berry cobblers than we did pies. I suspect the reason was that cobblers were less trouble and didn't require as much prep time. Also, Momma had a fail-safe recipe she had made so many times using so many different basic ingredients—apples, peaches, cherries, raspberries, blackberries, strawberries, and blueberries—that she didn't even have to check one of her carefully maintained wooden boxes stuffed with recipes to make certain of the ingredients. The recipe is offered for peaches, but it will work equally well with almost any of the fruits and berries covered in these pages.
1 cup all-purpose flour
1 cup sugar
2 teaspoons baking powder
1 cup whole milk
1 stick butter (or margarine), melted
2-4 cups sliced fresh peaches
Combine flour, sugar, baking powder and milk; stir with a wire whisk until smooth.  Add melted butter and blend.  Pour batter into a 9 x 13-inch baking dish.  Pour peaches (amount depends on personal preference) evenly over batter.  Do not stir.  Bake at 350 degrees for 30-40 minutes or until golden brown.  Serve hot with milk, cream, whipped topping, or vanilla ice cream.
BLACK WALNUT BARS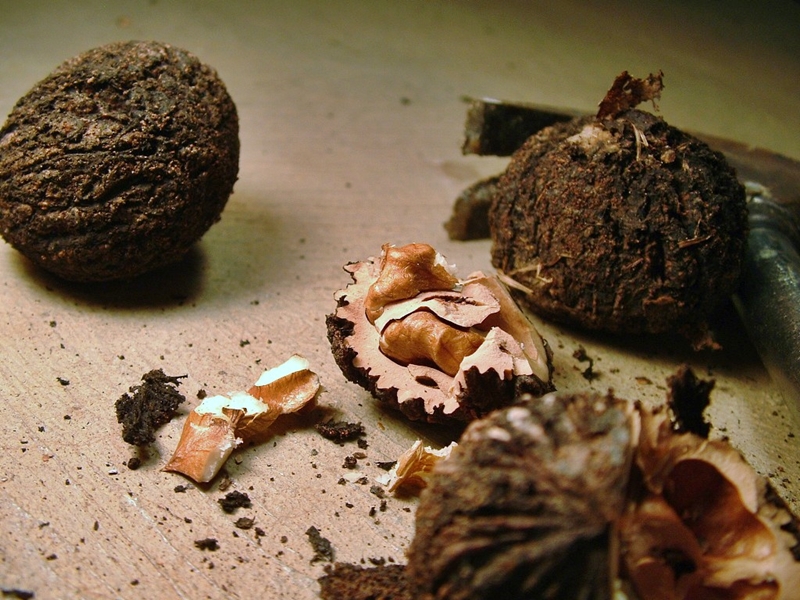 This time of year Mom began to take stock of what she had left in terms of unused canned goods, dried fruit, and the like. If things were tending in the direction of good fortune there would be some of the black walnuts we'd painstakingly cracked and hulled out many months earlier. If so, she'd use them in a batch of raisin/walnut cookies or a personal favorite, black walnut bars. As was true of about anything containing black walnuts, I loved these bars.
CRUST
½ cup butter
½ cup packed brown sugar
1 cup flour
FILLING
1 cup brown sugar
2 eggs, beaten
¼ teaspoon salt
1 teaspoon vanilla
2 teaspoons flour
½ teaspoon baking powder
1½ cups shredded coconut
1 cup chopped black walnuts
Cream butter and brown sugar.  Slowly add flour and mix until crumbly.  Pat into a 7 x 11-inch baking dish.  Bake for 8-10 minutes at 350 degrees until golden.
Combine brown sugar, eggs, salt and vanilla.  In separate bowl, add flour and baking powder to coconut and walnuts.  Blend into egg mixture and pour over baked crust.  Return to oven and bake for an additional 15-20 minutes or until done.  Cut into bars and place on wire racks to cool.