JULY NEWSLETTER
THE SUMMER OF MY DISCONTENT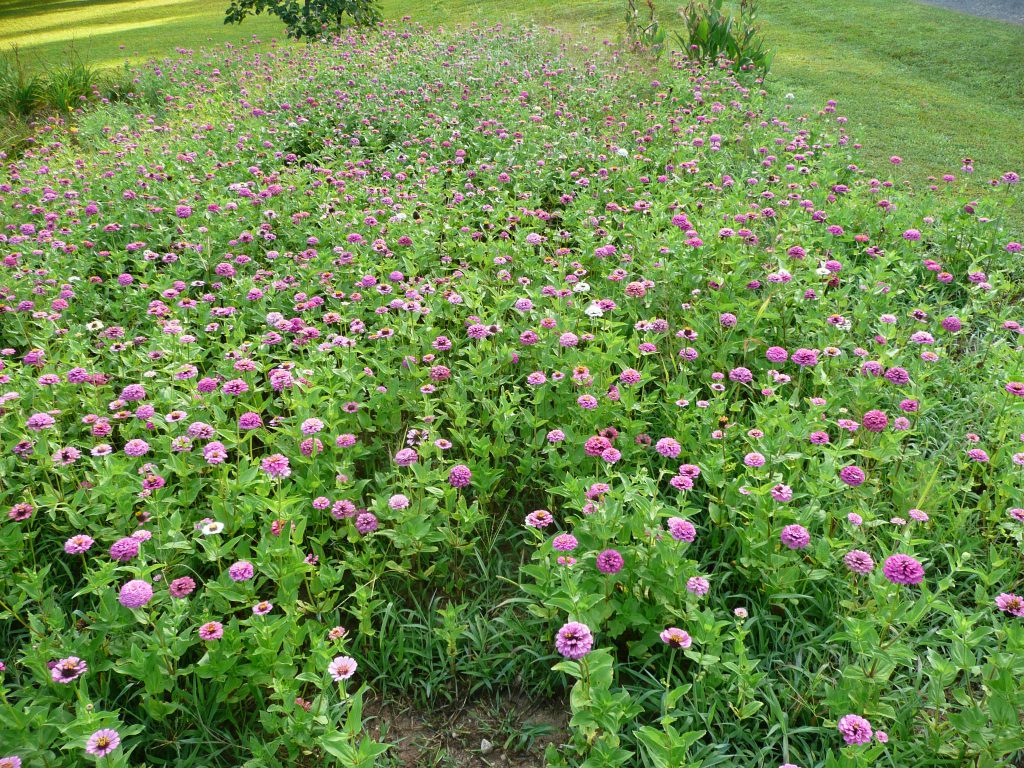 Thankfully zinnias aren't bothered by deer
I don't know whether any of you have paid sufficient attention to notice, but I completely missed getting a newsletter out last month. I'll offer a variety of explanations (not excuses) for this situation. First, when it comes to energy I'm pretty much in the same situation as I am in connection with physical agility. In the words of a longtime fishing buddy, who laughed at me stumbling all over a trout stream before he did the same thing not a half hour later, "I ain't as catty as I used to be."
In addition, I became deeply immersed, as General Editor, in a major coffee-table book project entitled Black Belt Bounty. It is a work celebrating a decade of existence for the Alabama Black Belt Adventures Association, an organization which promote recreational activities, especially hunting and fishing, in a 23-count region stretching across the heart of Alabama. As these words are being written the manuscript is complete and awaits only final proofing and any needed editorial attention before going to press. It will be a beautiful book and I'll share more details when it is published. Now that I have that task behind me, I can once more focus on other projects.
Okra after deer have dined
Then there's the matter of an ongoing and losing war with critters. The title of this month's newsletter pretty well sums it up. I've encountered disappointment, and thus discontent, at about every turn when it comes to things which are and long have been an important part of my life—gardening and working outdoors. My multi-decades war with deer now finds me in something between defeat and abject retreat. I've shaved Irish Spring soap around the garden, enclosed it with 8-foot high netting and surrounded that with a second barrier decorated with lots of surveyor tape, hung pie plates, peed on the ground at strategic entry points, sprayed the most odiferous of perfumes, and taken various other steps. The end result is basically the same—the deer keep coming. They've even taken to eating green tomatoes and the tomato plants, not to mention munching on okra, mowing down crowder peas, devastating ground cherries, and generally doing major damage.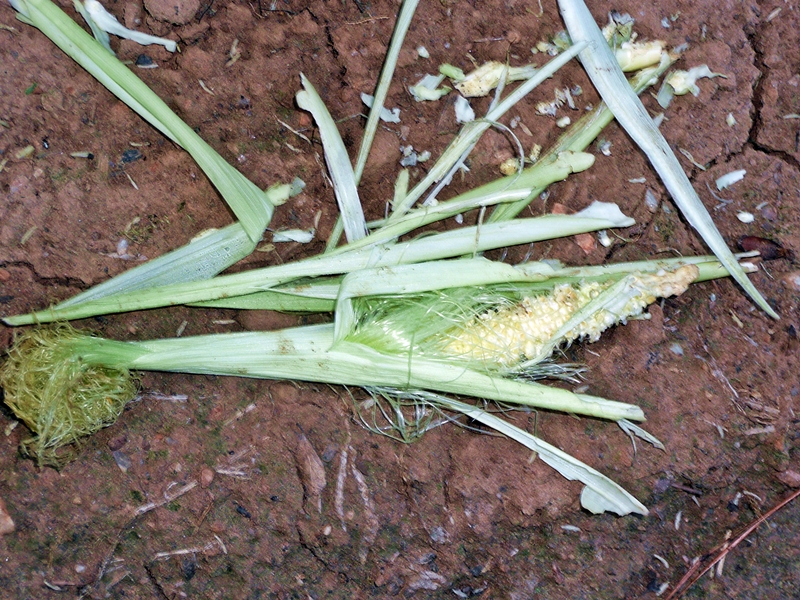 An ear of corn not ready for harvest eaten by squirrels
As if that wasn't enough, both 'coons and squirrels have taken to harvesting ears of corn long before they are ready. Every day it seems I find two or three stalks down as well as ears of corn dragged away from the garden and cleaned of kernels.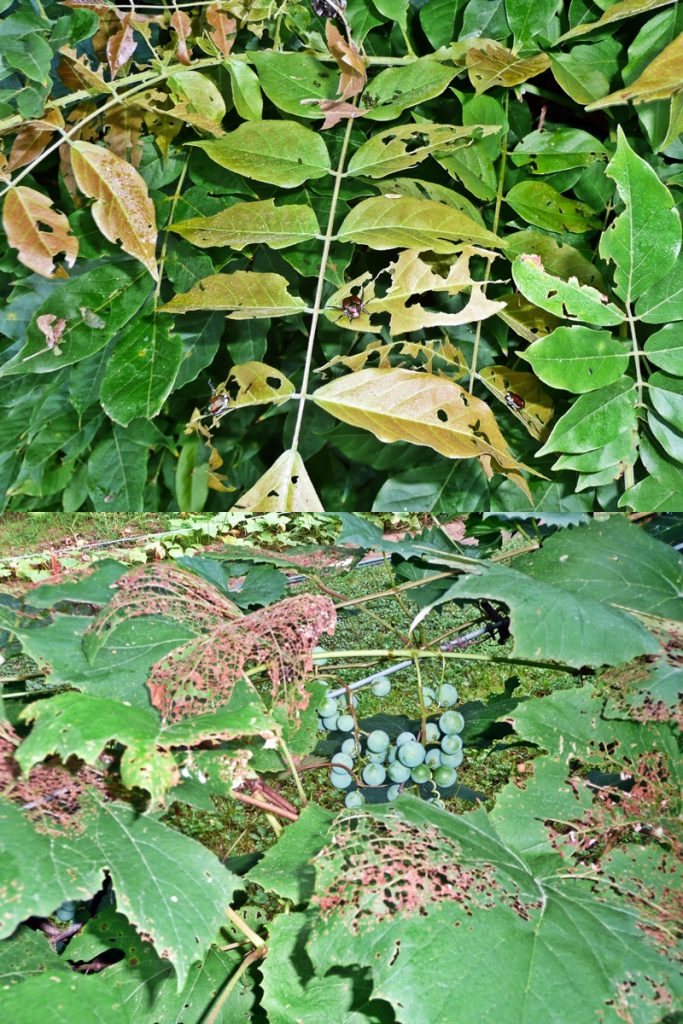 Japanese beetle damage to wisteria and Concord grapes 
Then there are the depredations of Japanese beetles on grape vines and flowers, birds in the blueberries (in this case I have enough to share) and what has been a bumper crop of figs, and dealings with stinging insects. I don't know what the explanation is, but I've got more wasps this year than I ever remember. I've been stung and I must have destroyed at least a dozen nests already. If you don't get the word picture I'm trying to paint, I'm providing some visual evidence to offer some indication of my summertime misery.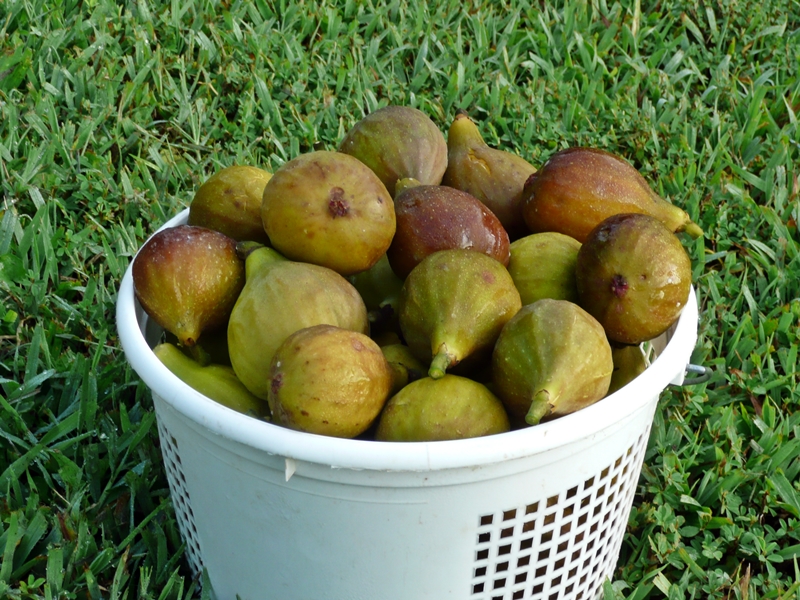 A gallon of figs
Still, there are blessings and bounty as well. This year has produced a bumper first crop of figs (my variety, and I have no idea of their name but they aren't the traditional brown turkey type. They are much larger, maybe twice as big, than the brown turkey variety and more fragile. I say "first crop" because most years the bushes will produce two harvests—one about this time of year and a second picking in September.
My blueberry plants, most of which are 50+ years of age and still bearing strong, have offered more than I can pick as is usually the case. The birds get their share and then some, and a couple of the bushes have begun to die, but I've still gathered gallons and had many more gallons go to waste. I give a lot away but I'll be darned if I going to pick for anyone and everyone. If folks have enough gumption I let them pick, but I've got better things to do than pick for perfectly capable friends and neighbors. Of course I do make major exceptions for my daughter and some elderly folks who aren't up to picking.
Then there are the Chambers Creek pumpkins, an heirloom member of the squash family which traces back to before the creation of the Great Smoky Mountains National Park. Nothing seems to bother this fine "eating" pumpkin, and I've got pumpkin-holder runners all over the garden.
Still, overall I'm disappointed in productivity, thanks mainly to depredation, and I'm thinking that next year I'll maybe make my garden a bit smaller and a lot more fortress like. It doesn't take a lot of ground to produce a great deal of food, and while I derive pleasure out of giving stuff away, there are times when I've got more than I can get rid of. There's probably a message there.
***********************************************************************************
JIM'S DOIN'S
Other than my war with everything which seems to want to put me out of the gardening business (I walked out early this morning to pick some blueberries and a doe snorted at me 25 yards away and ran off, but she then proceeded to "blow" down in the woods for the next 15 minutes as if I had committed an almost unpardonable act by intruding on her territory), things have been marching along in more or less normal fashion. Yesterday afternoon I sent the manuscript of the above-mentioned book, Black Belt Bounty, off to the printer. Now it's just a matter of waiting, hoping everything goes smoothly with the printer, and waiting for the finished product. Even though this is a process I've been through numerous times before, there's always a good bit of anticipation, along with a hint of anxiety, while waiting for the literary child to be born.
On other fronts my weekly column in the Smoky Mountain Times continues. It is now in its fifteenth year (I had to check and did not realize that I had been writing on all sorts of matters connected with the place of my raising—Bryson City and Swain County—until I went back and checked my files). Overall I've written some 750 of these columns, which started out dealing strictly with outdoor-related subjects but soon expanded to include a little bit of everything, as the current title, "Mountain Musings and Memories," suggests.
Compared to the situation two decades ago, when I was producing over a hundred magazine articles annually as well as two or three weekly newspaper columns, I guess I've back off considerably. On the other hand, I'm putting a lot of energy into books and realize, as I do so, that they have far more permanency than anything found in a newspaper, magazine, or, more recently, on-line blogs or other Internet sources. I've also cut back, appreciably, on public speaking engagements. That's partly from choice but also likely because I no longer actively seek such engagements or participation in sporting shows the way I once did.
That being said, I'll be appearing as the keynote speaker for the Great Smoky Mountains Association's (a support group for the Great Smoky Mountains National Park) annual membership gathering in September. The theme of the three-day event, which features dozens of seminars, outdoor activities, classes, tours, and more, is "Picture Yourself in the Smokies." My keynote address, scheduled for the evening of September 20, will be squarely in keeping with that theme. I will speak on four skilled photographers—George Masa, "Doc" Kelly Bennett, Jim Thompson, and Dutch Roth—who not only snapped untold thousands of images of the storied mountains but played major roles in the creation of the Park. If you would like more information on the Association or their annual membership gathering, visit www.smokiesinformation.org/membership-weekend-schedule.
I've got an article, "An Enduring Tradition: Fly Fishing in the Southern High Country," in the current (June/July) issue of Smoky Mountain Living. It is accompanied by a number of support photos. Another piece of mine can be found in the Summer issue of "Mountain Wisdom and Ways" column I write for Carolina Mountain Life. It is on "Simple Childhood Pleasures from Summers of Yesteryear." I'll also have pieces in the upcoming issues of both of these publications. One will be a profile of noted east Tennessee hunting and pioneer "Black Bill" Walker while the other will deal with "Yard Birds" (chickens) and the place they had in traditional mountain life.
Beyond that, most of my current energy, writing wise, is involved with fine tuning and/or preparing biographical vignettes for my book, "Profiles in Mountain Character," and continuing to work on a biography of Archibald Rutledge. Right now I'm spending much of my research effort digging through newspapers.com. There's an incredible amount of information secreted away in old newspapers. It takes some ingenuity to find coverage (I'm still learning the ropes in that regard—it's somewhat similar to a Google-like treasure hunt through a vast accumulation of back issues of newspapers, with occasional gems to be found among a great deal of useless information), but there are discoveries on a sufficiently regular basis to make it all worthwhile. It's tedious, but nothing like what I did thirty or forty years ago when I read through microfilm hour after eye-straining hour.
If I make the progress I hope to, I'll have the "Profiles" manuscript finished by year's end. Below you'll see a tentative Table of Contents, and I suspect at least some of you will recognize certain names. Many of the individuals, however, are those faceless figures fading away before the inexorable ravages of time, remembered only by their descendants and possibly a few others. Yet, in one way or another, each of these figures represents key aspects of mountain life in yesteryear. Maybe humor (Britt McCracken was the funniest man I've ever known), simple goodness (Beulah Sudderth), being an irresistibly likeable rapscallion (Petey Angel), or a grand repository of mountain ways (my Grandpa Joe). Collectively I hope they will present readers with a solid grasp on what has historically made dwellers in the Smokies distinctively delightful. If you recognize some of these names and have a tale connected with them, by all means share it. I'm always delighted to get that kind of insight and add anecdotal information to my research. Here's the working Table of Contents:
PORTALS OF PARADISE—VOLUME 1
PROFILES IN MOUNTAIN CHARACTER: PEOPLE OF THE SMOKIES
TABLE OF CONTENTS
PART 1
BRANCH-WATER PEOPLE
CHAPTER 1—JOSEPH HILLBERRY CASADA (1878-1967)
CHAPTER 2—MAGGIE "AUNT MAG" WILLIAMS (1863?-1962)
CHAPTER 3—MARK CATHEY (1871-1944)
CHAPTER 4—WILEY OAKLEY (1885-1954)
CHAPTER 5—GEORGE MONTEITH (1899-1989)
CHAPTER 6—BRITT McCRACKEN (1914-1974)
CHAPTER 7—FRANK YOUNG (1925-2005)
CHAPTER 8—BEULAH POWELL SUDDERTH (1923?-2011)
PART 2
PILLARS OF MOUNTAIN LIFE
CHAPTER 9—JUDGE FELIX EUGENE ALLEY (1873-1957)
CHAPTER 10—GRANVILLE I. CALHOUN (1875-1978)
CHAPTER 11—COLONEL DAVID CHAPMAN (1876-1944)
CHAPTER 12—KELLY BENNETT (1890-1974)
CHAPTER 13—LILLIAN FRANKLIN THOMASSON (1900-1995)
CHAPTER 14—HARVEY BROOME (1902-1968)
CHAPTER 15—ELLEN BLACK WINSTON (1903-1984)
CHAPTER 16—JOHN A. PARRIS, JR. (1914-1999)
CHAPTER 17—CARSON BREWER (1920-2003)
CHAPTER 18—HERBERT L. "HUB" HYDE (1925-2006)
PART 3
TARNISHED SOULS: RASCALS, RENEGADES, AND ROUNDERS
CHAPTER 19—WILLIAM "BLACK BILL" WALKER (1838-1919)
CHAPTER 20—AQUILA LIAM "QUILL" ROSE (1841-1921)
CHAPTER 21—NANCY KERLEE [ALSO KNOWN AS NANCE DUDE (1848-1952)]
CHAPTER 22—SAMUEL J. "SAM" HUNNICUTT (1880-1970)
CHAPTER 23—ALVA L. "AL" DORSEY (1894-1982)
CHAPTER 24—WILLIAM PAUL "PETEY" ANGEL (1907-1988)
PART 4
OUTLANDERS
CHAPTER 25—JOHN E. "JACK" COBURN (1866-1934)
CHAPTER 26—HORACE KEPHART (1867-1931)
CHAPTER 27—OLIVE TILFORD DARGAN (1869-1978)
CHAPTER 28—STANLEY WARREN (1876-1965) AND MARIANNA FISCHER BLACK (1874-1960)
CHAPTER 29—GEORGE MASA (1881-1933)
CHAPTER 30—IRVING KIP "I. K." STEARNS (1895-1942)
CHAPTER 31—HIRAM WILBURN
CHAPTER 32—JOSEPH S. HALL (1906-1992)
CHAPTER 33—HARRY MIDDLETON (1949-1993)
*******************************************************************************
THIS MONTH'S SPECIALS
Given the information above and my current endeavors, it seems logical to focus on a pair of books connected with my work in profiling mountain characters. At least a dozen of these folks wrote books, and some of them, notably Kephart, Dargan, Middleton, Brewer, and Hyde, counted multiple volumes to their credit. The least likely of the authors, without question, was Sam Hunnicutt. He had only a few grades of education and certainly will never be reckoned a Shakespeare of the Smokies. Yet his quaint volume, Twenty Years Hunting and Fishing in the Great Smokies, is chock full of information and sporting lore, and it's difficult to resist a man who opens his book by stating "I claim to be the perfect hunter and fisherman." Extraordinarily rare in either the 1926 or 1951 editions, the book was reprinted a couple of years back with a new Introduction I wrote. I'm offering signed copies for $20 post paid.
The second offer, again for $20 post paid, is for the paperbound version of my 448-page work, Fly Fishing in the Great Smoky Mountains National Park: An Insider's Guide to a Pursuit of Passion. Many of the folks I am profiling—Cathey, Hunnicutt, Young, Middleton, Calhoun, McCracken, Monteith, and Oakley among them—figure in the book's pages. It is about as much a history of the Smokies as it is a book in fishing, and throughout its pages there are tidbits from the past.
These books are not available through my PayPal account or regular website orders. Instead, send payment in the form of a check to: Jim Casada, 1250 Yorkdale Drive, Rock Hill, SC 29730.
******************************************************************************
RECIPES
Given the depredations of deer in my garden, I guess it's fair to state that every time I sit down to a meal featuring venison (and that's pretty regularly) I have at least a passing thought about "revenge." Mind you, I'm not eating deer meat from the marauders in my garden but from deer killed a good many miles away, but I do enjoy the healthy, tasty meat and reflect on the fact that one offsetting factor in dealing with whitetails destroying garden work is the opportunity for some mighty fine eating. With that in mind, all this month's recipes are venison ones, and all but the last come from The Complete Venison Cookbook. That's my third special offer this month. Copies of that book are available for $12 post paid.
DINNER ON THE GRILL
1 pound venison loin steaks, sliced
Allegro bran Game Tame Wild Game Marinade
Vegetables (potatoes, yellow squash, zucchini, onions, mushrooms, green peppers, tomatoes) cut into chunks
Italian dressing
Place the steaks in a shallow pan or plastic page and marinate in the refrigerator in Game Tame for 5 to 8 hours. Drain steaks and grill over charcoal to desired doneness.
For vegetables, place on skewers and brush with Italian dressing. Cook alongside the venison steaks. Since the steaks will be ready quickly, it is a good idea to partially cook the veggies in a microwave before placing skewers on the grill. That way you will have everything ready simultaneously.
CAROLINA STYLE VENISON BURGERS
1 pound ground venison
1/3 cup uncooked oats
1 tablespoon Worcestershire sauce
Mix above ingredients lightly and shape into four patties. Grill, broil, or pan fry the burgers. Do not overcook and turn only once. About seven minutes will be enough time. Serve with your favorite condiments or venison chili as a topper. Messy and marvelous.
CHEESEBURGER PIE
1 pound ground venison
½ cup evaporated milk
½ cup ketchup
1/3 cup dry bread crumbs
¼ cup chopped onions
½ teaspoon dried oregano
Salt and pepper to taste
1 cup sharp cheddar cheese, shredded
1 teaspoon Worcestershire sauce
1 8-inch prepared pie shell
Combine venison, milk, ketchup, bread crumbs, onion, and oregano and season to taste with salt and pepper. Pre pastry to line an 8-inch pie plate or use a prepared shell. Fill with venison mixture and bake at 350 degrees for 35 to 40 minutes. Toss cheese with Worcestershire sauce and sprinkle atop pie. Bake 10 minutes more and let stand 10 minutes before serving.
CHEESEBURGER VENISON PIZZA
½ pound ground venison
¼ cup chopped onion
3 slices bacon
1 pizza kit
8 ounces light mozzarella cheese (in addition to cheese in the kit)
Brown venison and onion in a frying pan. Cook bacon in microwave on paper towels. Place sauce (it comes with the kit) atop crust. Top with pit cheese then spread venison on top. Crumble bacon and distribute evenly. Finish topping with the 8-ounce package of light mozzarella. Bake at 425 degrees for 8 to 10 minutes or until crisp and cheese is melted and golden.
BLEU CHEESE VENISON BURGERS
Bleu cheese is one of those things you either like or you don't, but it the flavor is one you enjoy, it marries wonderfully well with venison. For scrumptious burgers with a distinctive taste, mix any rich, creamy blue cheese dressing with ground venison, pat into burgers, and grill. If you want a bit of extra bleu cheese taste, just before taking the burgers from the grill crumble some bleu cheese atop the meat and remove the cooked burger just as the topping melts and starts to run.