JANUARY MUSINGS
Grandpa Joe
For me, January always has been and always will be more a month for reflection than for resolutions, and as my years grow longer and my hair thinner and whiter, living in the past becomes increasingly pleasant in the present. During my boyhood, January was a time of year when Grandpa Joe would ease close to the fire in the living room (we'd never heard of a "den" except as a place bears holed up when the weather turned bitter). He would get settled comfortably in his rocking chair and, if the weather was inclement, pay a bit of grudging verbal tribute to what he styled the "miseries." That word could embrace a whole litany of ailments—a chest cold, rheumatism, arthritis, a general case of the mollygrubs, and more. Since he most frequently talked about the "miseries" when it was cold, with either a chilling rain or snow falling, I suspect that usually his trouble centered on arthritis.
Overall though, Grandpa wasn't much of one for complaining. He was tough as a hickory hoe handle and about as inured to pain as any human you are likely to encounter. Even when he shattered his hip while out squirrel hunting and had to slide and crawl the better part of a half mile through snow just to get to the road, he refused any kind of pain relief in the aftermath of orthopedic surgery. Folks at Swain County Hospital found this so remarkable they commented: "That is sure one tough old man."
While Grandpa was far removed from complaints about his health or hypochondria, he was powerfully given to philosophizing. So fiercely independent he couldn't and wouldn't work for another man, he took orders from no one but Grandma Minnie (and did that reluctantly, irregularly, and with what can only be defined as a considerable degree of grumpiness). He distrusted any and all government authority, an approach which seems increasingly wise to me with each passing year, had more than a streak of paranoia, and when someone disagreed with him was regularly given to a pithy pronouncement: "You'll learn!" He was, in short, a truly crusty curmudgeon, and I adored him.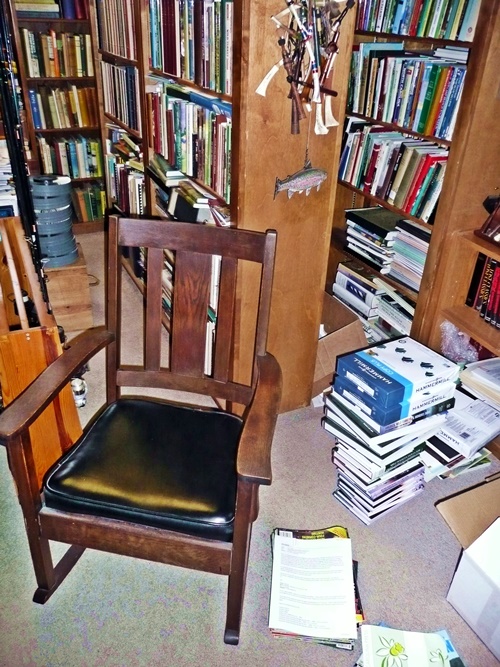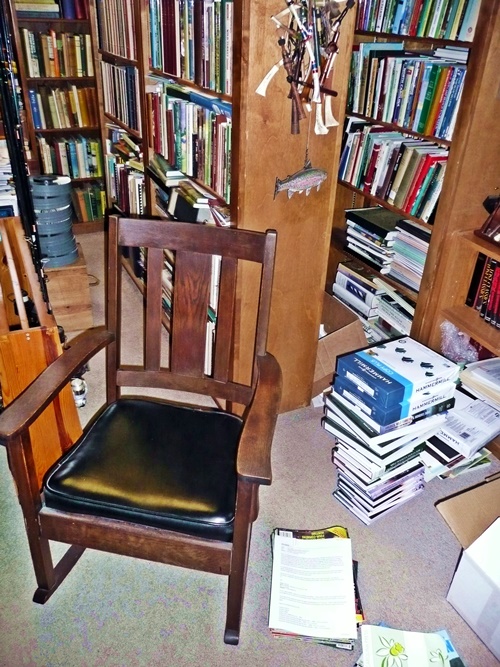 Grandpa Joe's rocking chair
As his attentive one-person audience, sometime understudy, and regular sidekick, none of his behavioral patterns, examples of being what mountain folks sometimes describe as "quair," bothered me a bit. We got along just fine whatever the season, but one of my favorite times of the year to be with Grandpa Joe was January. There wasn't much work to be done other than occasionally tending the fire or feeding the chickens, and as a result I could listen to hour upon hour of stories.
Grandpa's voice was barely above a whisper, and for decades after his death I thought that was just a peculiarity distinctive to him until my brother, Don, recently came across a recording of Granville Calhoun. Made when that grand old sage of Hazel Creek, now long part of the Great Smoky Mountains National Park, was 90 years of age (he lived to 103), it provides remarkable listening. In the recorded interview Calhoun sounds a great deal like Grandpa did, but straining to hear and understand what he has to say is worth every bit of the required effort. Other than a slight difference in accent, when listening to Calhoun I could have been back in the 1950s sitting alongside Grandpa.
As old men are wont to do, and I find myself increasingly guilty on this score, Grandpa talked primarily about things he had experienced over the course of his life, with a distinct and no doubt intentional focus on January. Here are some of the joys he recalled. I have no way of knowing how truthful they were. I can merely note that while Grandpa certainly knew how to embellish, he also was a stickler for factual accuracy. Wherever the boundary between fact and fiction lay, it really doesn't matter after the passage of more than half a century.
*He talked of killing a "painter" (panther) when he was a young man, and described the scream of a cougar so accurately it sent chills down my spine. "It was like the cry of a woman dying," was the way he put it.
*He recounted glory days of the American chestnut, when mast was so plentiful that his family, along with every other one earning a hardscrabble living in the high country, gathered great quantities of the nuts in the fall to sell and eat through the winter. "A bait of roasted chestnuts on a cold winter day," he would say, "made for mighty fine eating."
*Food figured prominently in other parts of his monologue as well. Grandpa could speak of simple mountain vittles in a fashion which invariably had me all primed to eat when Grandma called us for dinner or supper. Of course the fact that she was a splendid cook and that I was permanently peckish didn't hurt.
*I loved his oft-recounted tale of a massive snowfall of some three feet. It was of the soft, fluffy kind and so deep rabbits couldn't run. He and his brother caught a whole sack full of cottontails in that snow.
*Speaking of rabbits, two or three times during those joyful January days Grandpa and I constructed rabbit gums. Merely thinking of those simple devices leads me to wonder whether anyone makes and uses these traps anymore.
*Grandpa was greatly given to whittling, and often he would have his pocket knife out working on a piece of wood as he talked. It might be the beginnings of a flutter mill, but one of the most common projects was shaping and notching, ever so carefully, a dogwood fork. Dogwood is a dense, extremely hard wood (so much so that old-timers often used a section of it as a wedge when splitting firewood), and that meant the whittling process was a slow, tedious one. Yet patience and persistence were bywords for Grandpa—he wouldn't be hurried no matter what—and steady whittling perfectly suited his demeanor when in a tale-telling mode. Once he had the dogwood fork shaped to his satisfaction, all the piece of wood required was to be outfitted with some inner tube rubber, stout string, and a rectangular piece of leather. The end result was a fine slingshot.
*Eventually Grandpa would tire of talking, perhaps with a nap in mind, and at that point he'd gently shoo me out of the house. "Cold January days," he would say, "are a time for young boys to plunder about and maybe see if they can find a squirrel or jump a rabbit. They are also a time for old folks like me to hang close to a warm fire with a cup of Rooshian (Russian) tea."
Those naps hadn't always been his practice, but an event from a January day when he was well into his seventies, briefly alluded to above, needs to be shared as a sort of wrap-up to this month as well as an explanation of his suggestion that it was the duty of the young to take care of outdoor rambling in the dead of winter.
Grandpa Joe had always loved to squirrel hunt, and it was something he pursued with a passion that never dimmed despite the toll of advancing years and aching joints. When he shared hunting stories, sooner or later Grandpa would harken back to the time when the American chestnut reigned supreme in mountain forests and when squirrels were incredibly abundant. I guess you could say he was looking back to the "good old days" in his own way. Even though bushytails numbers weren't what they had once been by the time we became staunch partners separated by a generation, he still hunted them with a will. Time and again I heard him reckon "a mess of squirrel flanked by a platter of cathead biscuits, a bunch of baked sweet potatoes, and some of your Grandma's squirrel gravy," was about as near to culinary heaven as a body was likely to get.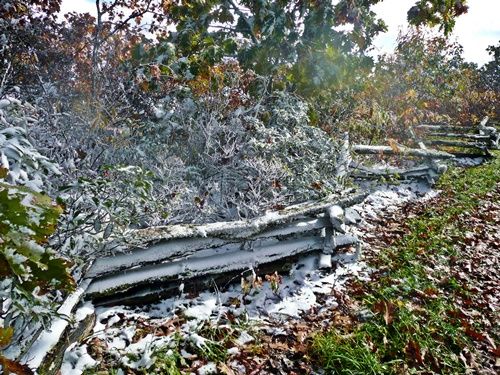 It was on an early January day, bitterly cold and with a skiff of snow on the ground, that the urge for such a meal laid holt of Grandpa. He set out from the house with his trusty little .22, never mind the temperatures in the twenties or a skiff of snow on the ground. Alas, the trip went bad in a big way. Grandpa slipped and fell, perhaps a half mile from the nearest road, and shattered his hip. Somehow he managed to slide and crawl through the snow until he got to old U. S. 19 above Bryson City. He yelled and waved for help as one car after another passed by, but since he was high atop a bank where the road had cut through a ridge, no one noticed him. Finally, realizing something had to be done, Grandpa gritted his teeth, turned on his side to his uninjured hip, and slid down the steep bank to the roadside. From there he was transported to the hospital.
Somehow this tough old man survived the ordeal, and folks at the hospital told my father they had never treated anyone with a higher tolerance for pain. Once he came out of anesthesia used to repair his hip, Grandpa refused any and all pain medication. Eventually he was able to walk again and get about quite well, although it took a bit of a mean trick—my sister and I hiding a crutch on which he had become overly dependent—for him to realize he was pretty well back to his pre-accident status.  Predictably, given a stubborn mindset which those who know me well will readily realize was passed down to at least one of his grandchildren, come the following autumn he once again took to the squirrel woods. Indeed, late fall and winter bushytail jaunts were a part of his life until two or three years before his death, but he never again went out in the snow.
Those Januaries of my boyhood which found me spending considerable time with Grandpa were filled with wonder and joy. Looking back on those experiences reminds me, in a warm-the-cockles-of-the-heart fashion, that in many ways I was mighty privileged as a youngster. I had a Dad who took me hunting, a Mom who gladly cooked any game I brought home, and a grandfather who was just a boy trapped in an old man's body. On top of that, Grandpa Joe had endless quantities of that most precious of possessions, time, which he freely shared with me. Every red-bloodied youngster should be so blessed.
*********************************************************************************
*Lightning in January means snow in April.
*If January has no snow; in March expect flakes to blow.
*******************************************************************************
THIS MONTH'S SPECIALS
Unless otherwise noted, these offerings are one-of-a-kind. They comprise a mixture of duplicates from my own collection, dramatically reduced books because of some type of damage or fault (described in each instance), and books with which I was in some way involved as a contributor. Postage is $5 for the first book and an additional $2.50 for each of the next two, with the maximum topping out at $10. South Carolina residents will need to pay 7% tax. No orders through PayPal. Just checks to me, Jim Casada, 1250 Yorkdale Drive, Rock Hill, SC 29730.
Jim Casada, Remembering the Greats: Profiles of Turkey Hunting's Old Masters. This copy is as new in every way except, because of a printing error, it begins with page 15. I will supply photocopies of the missing pages. Only $7 (if you want an original, complete copy, it is listed on my website).
Another copy. This one is complete but there are small tears to the top of the dust jacket and the spine. Otherwise as new. $10.
Jim Casada, The Literature of Turkey Hunting. Copy #427 of a limited, numbered edition of 750 copies. The book is as new in every way except the slipcase has a minor wrinkle to the back. Less than half price at $40.
Jim Casada (Editor), Tales of Whitetails: Archibald Rutledge's Great Deer-Hunting Stories. Paperbound page proofs sent out to reviewers in advance of the book's release. Only $5 for almost 300 pages of great reading.
Jim Casada and Chuck Wechsler (Editors), Last Casts and Stolen Hunts: The World's Best Hunting & Fishing Stories. Hardbound in dust jacket. About fine. 270 pages. Signed by Dan Metz, who illustrated the book, to Chuck Wechsler, one of the editors. As the other editor, I'll gladly sign it as well. A nice association item. $30.
Jim Casada (Editor), Classic O'Connor: 45 Worldwide Hunting Adventures. About fine (some pages appear rough-cut) but lacks the dust jacket. Well over 400 pages of great reading, and a bargain at $15.
Russell A. Hopper, Angler Profiles: A Collection of Some Legendary Anglers' Favorite Flies, Foods, Rods & Waters. Fine. I'm one of the fishermen covered in this 335-page book and I'll gladly inscribe my profile if you wish. $10.
Ken Czech, An Annotated Bibliography of African Big Game Hunting Books, 1785 to 1950. Hardbound in dust jacket. Very fine. [xvi], 181 pages. Illustrated. Contributor's copy #2 of a limited, numbered edition of 750 copies. Signed and inscribed by Czech to me (I wrote the book's Foreword and will gladly sign and inscribe it if so desired). This is a key reference work for any serious collector of Africana. $50.
Mike Gaddis, Legend's Legacy. Hardbound in dust jacket. Very fine. 301 pages. An immensely readable and incisive exploration of the vital subject of outdoor mentorship by one of today's finest sporting scribes. $16.
N. P. Watson (Editor), Collecting Sporting Art. Hardbound in dust jacket. Fine. 160 pages. Lavishly illustrated. Mostly devoted to horses and hounds art. $10.
A BATCH OF JOHN GIERACH BOOKS
John Gierach is among the most talented and almost certainly the most prolific of modern fly fishing writers. I've long been a fan of his offbeat, quirky writing, perhaps because it would seem we share certain common ground in our outlook on being astream. Anyway, I recently acquired a large collection of his books with the intent of filling in spaces in my personal library. I accomplished just that but as a result also found myself with a batch of Gierach duplications. They are offered below at what has to be reckoned as bargain prices. All the books are in fine or very fine condition with the dust jackets present (two volumes are paperbacks).
Another Lousy Day in Paradise. $5
Even Brook Trout Get the Blues. First edition. $7.50
Fishing Bamboo. First edition. $25
Flyfishing the High Country (this volume is paperbound). $5
Fly Fishing Small Streams (this volume is paperbound). $5
Good Flies: Favorite Trout Patterns and How They Got That Way. First edition. $12
Standing in a River Waving a Stick. $7
Still Life with Brook Trout. First edition. $7
Trout Bum. First edition. $100 (rare and highly collectible—this is the book that got Gierach going)
The View from Rat Lake. First edition. $18
Where the Trout Are All as Long as Your Leg. First edition. $50 (rare)
*********************************************************************************
FAMILY FUNNIES
TO BUILD A FIRE: PART 2
Last month's newsletter related my humiliating experience involving a backcountry adventure where I couldn't locate matches for a cooking fire and had to hike miles to get means of starting a fire. My wife, parents, and extended family thoroughly enjoyed my discomfiture, but after a period of merciless teasing I thought it was pretty much over. Come Christmas time, I discovered just how wrong I was.
For many years our family made a point of giving gag gifts of one kind or another. I've related the tale of Momma getting "Hillbilly Bubble Bath" (a box of dried beans) and Daddy receiving a tape of some songs by Sammy Davis, Jr., whom he detested. Those were good for plenty of gift-opening laughter, but they paled in comparison to a gift my oldest nephew, who was probably 9 or 10 years of age at the time, gave me the Christmas following the matches debacle.
Like his younger brothers, he was a dedicated Boy Scout. All three boys would, in due time, achieve Eagle Scout rank. His Christmas gift to me, and it was tendered in complete seriousness, was a stick-and-string fire starting device. It was crude but likely workable, and he had even "tested" it to a point where the stick had become sufficiently hot to leave char marks in the wooden base which came with it. Of course all the adults in the family thought it was a huge joke, and they laughed so hard it may even have hurt his feelings a bit. My father, in particular, found the whole episode so humorous he was absolutely convulsed with laughter. For the rest of the weekend, and to some degree for the rest of Dad's life, all someone had to do was mention the fire starter and he would be seized by an extended fit of mirth. In other words, in my family if you become the butt of a joke memories run mighty long.
*********************************************************************************
JIM'S DOIN'S
Have you ever had a spate of the fidgets or been seized by a working fit? Periodically I get into a special kind of rut, one which doesn't involve boredom or suffering from cabin fever (common enough at this time of year) but rather finds me almost fixated on some project, area of study, or something similar. Often a big project is involved, and such has been the case for the last month or so.
As I've shared in this newsletter from time to time, I am and long have been plodding along on a biography of Archibald Rutledge. I have every intention of completing it, but doing so will require a fairly extended period of time working in the archives of the South Carolina Library in Columbia. That's something, given the situation with my beloved Ann, that I can't undertake just now.
Accordingly, that consideration, together with input from a goodly number of you folks over the years, has sent me hurtling off in another direction. I started out, as many of you have suggested I do, with plans to put together an anthology of some of what I consider my finer or more enduring work. As I got into it though, my perspective changed a bit. I realized there were two pretty clear-cut and distinct books to be cobbled together. One on memories, experiences, and folkways of my beloved highland homeland, the Great Smokies; a second dealing with the food traditions, culinary lore, and recipes of the same region.
I've got potential publishers in mind for both books, although I haven't approached them yet. If there isn't sufficient interest or if demands for changes exceed my comfort level, I can always self-publish. Whatever transpires, I want to let each of you know that you are to some small degree involved. That involvement includes reading this newsletter and in many cases giving me input, suggesting that I undertake some sort of book-length project along these lines, and giving me little "pick me ups" in the form of e-mails, personal notes, phone calls and the like. Collectively you've provided meaningful impetus, and I'm going to take the liberty of asking for even more support. Pasted below you will find a working table of contents for the first book, which I tentatively entitled "A Smokies Boyhood: Mountain Musings and Memories." What I would ask of you is to give it a peek, and if you feel there is some significant aspect of mountain life which appears to be overlooked or really cries out for inclusion, let me know. I won't guarantee I'll suddenly add a chapter, but what I do promise is that I'll ponder your thoughts with care. Already input from two folks on the local scene has led me to include a new chapter (on "School Days," where I pay tribute to memorable moments and marvelous teachers) and revise the content of another to reflect the fact that my boyhood had a degree of freedom and independence, an opportunity to mature on my own and learn from mistakes, sadly missing in today's snowflakes scenario). Let me hear from you on the contents, and thanks in advance.
A SMOKIES BOYHOOD: 
MOUNTAIN MEMORIES AND MUSINGS
TABLE OF CONTENTS
DEDICATION
ACKNOWLEDGEMENTS
INTRODUCTION
PART I–HIGH COUNTRY HOLIDAY TALES AND TRADITIONS
                CHAPTER 1—NEW YEAR'S
                CHAPTER 2—DECORATION DAY DOIN'S
                CHAPTER 3—MOTHER'S DAY
                CHAPTER 4—FATHER'S DAY
CHAPTER 5—FAMILY REUNIONS
CHAPTER 6—HOMECOMING
CHAPTER 7—REVIVALS
CHAPTER 8—THANKSGIVING
CHAPTER 9—GATHERING MISTLETOE
CHAPTER 10—OLD-TIME NATURAL CHRISTMAS
CHAPTER 11—MOMMA AND THE SPIRIT OF CHRISTMAS
CHAPTER 12—CHRISTMAS HEARTBREAK
PART II—SEASONS OF THE SMOKIES
                CHAPTER 13—A LAND OF DELIGHTFUL VARIETY
CHAPTER 14—WEATHER WISDOM
CHAPTER 15—SMOKY MOUNTAIN RAIN
CHAPTER 16—THE SPLENDOR OF SNOW
                CHAPTER 17—MUSINGS ON THE MONTHS
PART III—TOOLS, TOYS, AND BOYHOOD TREASURES
                CHAPTER 18—SIMPLE CHILDHOOD PLEASURES FROM YESTERYEAR
                CHAPTER 19—MEMORIES OF MARBLES
                CHAPTER 20—MY LITTLE HATCHET
                CHAPTER 21—IN PRAISE OF POCKET KNIVES
                CHAPTER 22—SLING SHOT MEMORIES
                CHAPTER 23—DAISY DAYS: BOYS AND BB GUNS
                CHAPTER 24—FIRST GUN
                CHAPTER 25—CANE POLE EXPERIENCES
                CHAPTER 26—A FASCINATION WITH FLY RODDING
PART IV—PRECIOUS MEMORIES
                CHAPTER 27—HAS THE STOCK RUN OUT?
                CHAPTER 28—PICKIN'
                CHAPTER 29—THE AMERICAN CHESTNUT
                CHAPTER 30—THE JOYS OF NUTTING
                CHAPTER 31—TRADITIONAL TREATMENTS FOR BEE STINGS
CHAPTER 32—SCHOOL DAYS
                CHAPTER 33—TOWN SQUARE BIBLE THUMPERS
                CHAPTER 34—THE LORDS OF LOAFER'S GLORY
                CHAPTER 35—THE ROMANCE OF MOUNTAIN RIVERS
                CHAPTER 36—HOT SUMMER DAYS AND COLD WATERMELON WAYS
                CHAPTER 37—OF SEEDS, SOWING, AND OLD-TIME SURVIVAL TECHNIQUES
                CHAPTER 38—THE ENDURING RITES OF SPRING RENEWAL: A GARDENER LOOKS BACK
                CHAPTER 39—DID YOU EVER?
                CHAPTER 40—VANISHING ASPECTS OF THE MOUNTAIN SCENE
                CHAPTER 41—TALE OF AN OLD COFFEE CUP
                CHAPTER 42—THE ANGEL OF BRASSTOWN
                CHAPTER 43—A DAY AT DEVIL'S DIP
                CHAPTER 44—OF AN OLD MAN, HOG FEEDING, AND LESSONS LEARNED
                CHAPTER 45—REMEMBERING GRANDPA JOE
                CHAPTER 46—IN PRAISE OF PORCHES
CHAPTER 47–BORN STUBBORN:  MUSINGS ON THIS AND OTHER TRADITIONAL MOUNTAIN
CHARACTER TRAITS
*NOTE: If you want to be added to a list of those to be notified when this book is published, just send me an e-mail to that effect. I've already started a file.
***********************************************************************************
On other "Doin's" fronts, I wrote a fairly lengthy article celebrating the 65th anniversary of South Carolina Wildlife which appears in the Jan./Feb. issue of the publication. The folks at the magazine, which I've written for a long time and which has always been one of my favorites, had a little birthday party earlier this month. I attended and it was a pure joy to do so. Beyond that, I'll simply note that I'm tired of rain (but would welcome one good snow), don't have the mollygrubs but use the refuge of good books to ward them off, and need a weather break to finish pruning my muscadines. Pretty mundane stuff, although reading continues to give me great pleasure. Recently I've read or re-read pretty much everyone Pat Conroy wrote. His was a sometimes tortured, sometimes tragic, but ultimately triumphant life if you judge it by the quality of the literature he produced. He was masterful in use of the English language, and he's one of a very few writers who sends me to a dictionary with some frequency to check on the meaning of a word unfamiliar to me. I love the complexities of language, revel in what a favorite high school English teacher by the name of Thad DeHart termed $10 words, and find pure joy in the work of someone of Conroy's level of achievement. Although we shook and howdied once or twice, I didn't really know him. He would have been someone with whom I would have liked to share a meal or tip a glass.
***********************************************************************************
RECIPES
While I was cobbling this material together the door bell rang. It was a UPS delivery man bringing me a refrigerated box of dressed quail and doves, courtesy of an avid bird hunter and first-rate writer by the name of John Faris, Jr. If you aren't familiar with his two collections of stories, Ten Was the Deal and We'll Do It Tomorrow, make a point of acquiring copies (Sporting Classics magazine has them for sale). You'll chuckle and you'll cry, you'll be entertained and you'll be enlightened. The books are Southern storytelling of the traditional sort done right.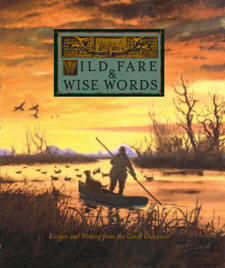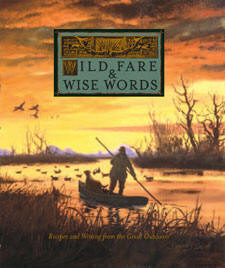 The arrival of the birds couldn't have been more timely. Not only did it mean I had suddenly "laid holt," as my Grandpa Joe would have put it, of the basics for some mighty fine fixin's, it meant some scrumptious meals lay on the near horizon. It also resolved my quandary about what sort of recipes to share this month. Below you'll find a quintet of quail recipes. All but the last come from Wild Fare and Wise Words, a cookbook Ann and I edited in a joint project with the S. C. Department of Natural Resources, the Harry Hampton Fund, and the S. C. Outdoor Press Association. As my final special for this month, copies of this dandy cookbook, which retails for $20 and features scores of our own recipes along with favorites from outdoor writers across the Palmetto State and beyond, are available for $14 postpaid. Most but not all of the recipes focus on game and fish.
FRIED QUAIL
Fried quail are the starting point for any serious culinary consideration of quail, and of course properly made gravy and cathead biscuits are part of the equation. Here's an approach to fixing quail which goes a bit beyond the standard flour-and-fry method that I think you'll find rewarding.
½ cup red wine
½ cup virgin olive oil
½ tablespoon minced garlic
8 dressed quail
1 ½ cups self-rising flour
¼ cup seasoned salt
Vegetable oil for deep frying
Mix the red wine, olive oil, and garlic, then add the quail and marinate in the refrigerator for four hours. Combine the flour and seasoned salt. Coat the quail in the mixture and deep fry in 350-degree oil for 15 to 20 minutes. Serve immediately (recipe can be doubled, but the number of quail per diner should always be at least two).
GRILLED QUAIL
6 to 8 dressed quail
1 cup orange juice
1 cup white wine
½ cup olive oil
1 garlic clove
¼ teaspoon salt
¼ teaspoon black pepper
Rosemary
Combine the quail, orange juice, wine, olive oil, garlic, salt, pepper, and rosemary in a bowl or plastic zip-loc bag. Marinate in the refrigerator for two hours. Heat grill to piping hot. Drain the quail and grill for three minutes on each side. Do not overcook. Serve atop fluffy rice or on a green salad with balsamic vinaigrette dressing.
MARINATED GRILLED QUAIL
Combine equal parts bourbon and apricot jam, seasoning with salt and pepper. Split 6 to 8 quail down the back and soak in this marinade, refrigerated, for four hours. Grill the quail, inside downward, until well browned. Turn and grill the other side, making sure not to overcook.
SMOTHERED QUAIL
6 quail
1 stick butter
¼ cup olive oil
2 (10-ounce chicken with rice soup)
½ cup sherry
Preheat oven to 350 degrees. Brown the quail in a mixture of butter and olive oil in a large skillet. Arrange the quail in a baking dish. Pour the soup and sherry into the pan drippings in the skillet. Bring to a boil and pour over the quail. Cover and bake for an hour. Serve with rice and a fresh fruit salad or curried fruit.
BEEFY QUAIL
1 (2 ½ ounce) package chopped, pressed, cooked beef
6-8 quail
1 cup sour cream
1 (10 ¾ ounce) can cream of mushroom soup
Line a greased shallow baking dish with chopped beef. Place quail on top of beef. Mix sour cream and soup and pour over birds. Bake uncovered at 350 degrees for an hour or until birds are tender.
TIP: Quail can also be wrapped in slices of beef secured with a toothpick if you wish.