THOUGHTS ON AUGUST—YESTERDAY AND TODAY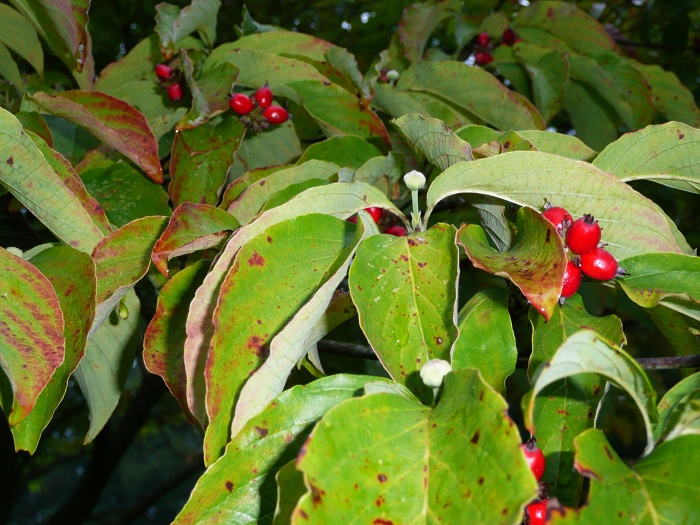 I cannot honestly say that I've ever been much of a fan of the month of August. After all there is (or in some cases for this aging scribe, once was) a great deal not to like about it. Here's a decidedly partial listing of negatives.
*August incorporates the latter part of annual Dog Days with all the weather misery they offer in the way of heat and humidity.
*Everything that bites, stings, or is otherwise bothersome is hyperactive in August—mosquitoes are at their annual worst; ticks are avidly seeking hosts; yellow jackets and their stinging brethren are exceptionally active and increasingly numerous; anyone who ever experience much rural agricultural life knows it's a prime time for encountering one of those brethren of Beelzebub, packsaddles; and various venomous members of the Mr. No Shoulders clan are at a peak of the slithering that passes for prowling in their serpentine world.
*It hasn't been a consideration for me for a long, long time, but the month of August once meant the end of glorious months of freedom from school. Mind you, to be totally truthful, at this time of the year I was in some ways anxious to get back to school and see if any comely girls had moved to the area or somehow landed in my class. Of course, no upstanding, red-blooded juvenile would have dared breathe so much as a hint of such thoughts. Also, it was good to see buddies who lived too far away to visit by shank's mare or on my trusty bicycle.
*For those who love the land and love to cultivate it, August is a bit of a downer. It lacks the luster of the period from early spring crops on into July when it seems every week brings something newly ripened, matured, or ready to pick. Crops have long since been laid by and it's still a bit early to get seeds or slips for fall plantings in the ground. Unless you are exceptionally good at planning, the succession crops of roastin' ears have come and gone. Tomatoes have a pronounced tendency to split, and they don't set new fruit the way they did back in May and June. August is a sort of hiatus between the frenetic activity of get it in the ground, harvest and put it up, and the fall time of closing out another season of working the land.
*Things are somewhat similar on the livestock front. Chickens drop off in their egg-laying duties in dramatic fashion, seemingly wilting from the heat much like their human keepers. Cows seek shade and milk production declines. Hogs are a bit of an exception, but then there isn't a lot about swine that can be easily categorized. Exceptions would be that they stink, or at least pig lots do, to high heaven (it's at an annual worst in August because of the heat), and they will eat almost anything (except cucumbers). August isn't too early to get started on fattening them up for hog-killing time in November, but even that poses issues. If you've ever pulled up purslane or red-rooted pigweed amidst rows of corn stalks already standing brown in the sun, you'll know what I mean. Blades of corn fodder can cut like a razor, and if you perchance have an encounter with the aforementioned packsaddles, which love to hang out on corn, then you have an understanding of what a torture chamber where hot needles were in use would be like.
*Creeks and rivers tend to be low in August, and that, along with elevated stream temperatures, translates to poor fishing and piscatorial lassitude. Catfish are something of an exception, but if you are after trout, bass, and the like, you will be better served in other months.
Yet lest I totally condemn the month of August, hellish though it might be when it comes to heat and other issues, maybe a sense of fairness demands attempts at saying something positive. I'll do so, but you'll notice that a lot of what follows is half-hearted or of a "things can only get better" nature at best.
*One good thing about August that it means September and the arrival of dove season isn't far off, and that in turn means that deer season isn't all that much further down the road.
*As the days left in August dwindle, you know that better times comfort-wise are ahead, and not all that far away, in the form of chilly nights, bluebird days, and Indian Summer. Merely thinking of such things is a tonic.
*One true joy of August is twilight concerts from katydids and other insects, and sitting on a porch with that insect chorus in full swing ranks right up there with lively pickin' and grinnin' sessions featuring fine musicians and traditional bluegrass tunes.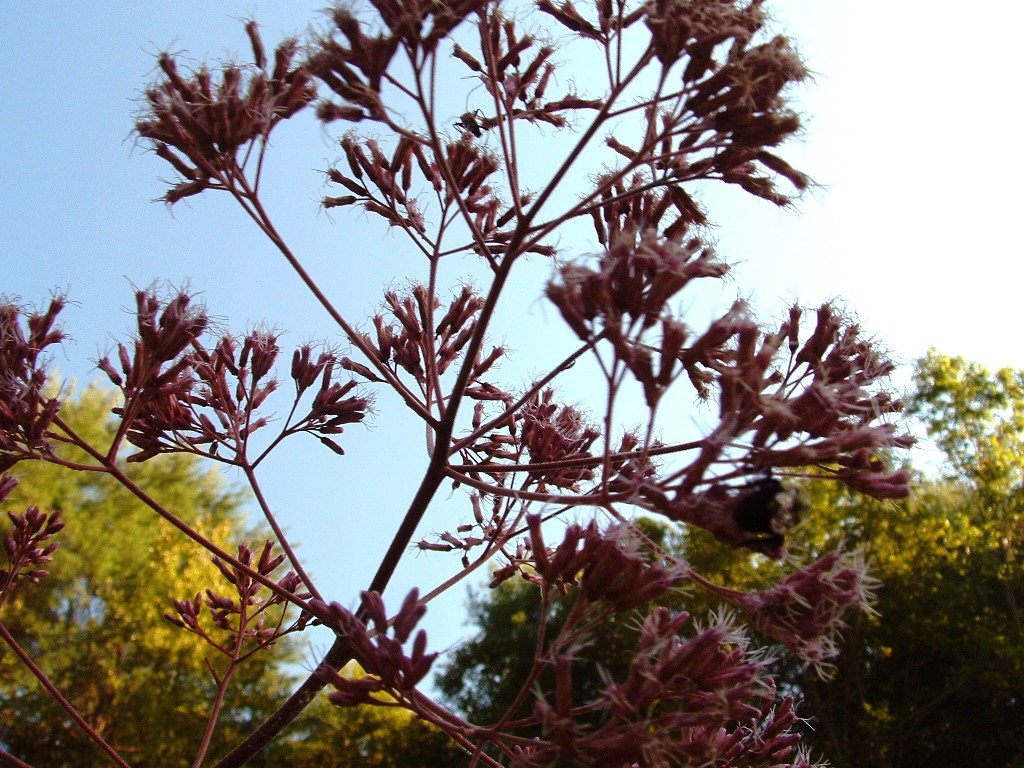 *The month also brings some visual beauty as the first of the autumnal wildflowers begin to appear. A personal favorite is Joe Pye weed. The flowers aren't all that eye-catching, but the tall stalks and the way they draw butterflies most certainly are.
JIM'S DOIN'S AND NEWS ON A NEW BOOK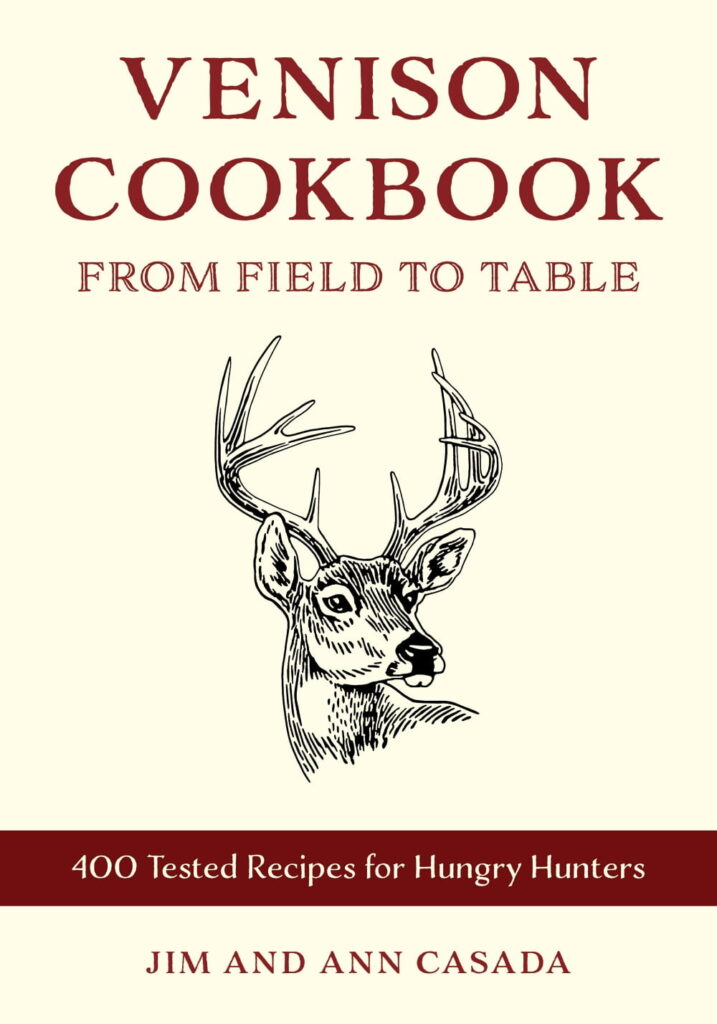 Perhaps the biggest development on the home front is that my book, Venison Cookbook: From Field to Table—400 Field- and Kitchen-Tested Recipes, published by a venerable and venerated name in the outdoor world, Stackpole Books, is out. They moved the process along in admirably expeditious fashion every step of the way. That included getting the book out ahead of schedule. The work, which is an updated and revised combination of two venison cookbooks I wrote with my late wife, Ann, runs to 264 pages of recipes and a detailed index along with an additional 14 pages of narrative material on subjects such as how to handle your deer at every step from shot to pot, health information, and more. There are 282 recipes for venison along with well over a 100 more for sauces, marinades, toppings, and the like. There are dozens of toppings for burgers and other preparations as well. The seven chapters cover "Fancy Fixings," "Ground Venison and Cubed Steak," "Crockpot Cookery," "Venison on the Grill," "Soups and Stews," "Forgotten Portions and Unusual Approaches," and "Health-Smart Venison Cookery." 
Every recipe in the book was, as the subtitle suggests, prepared and tested in our kitchen or on our grill. I would note that there were a good many others that didn't make the cut thanks to one or both of us feeling they didn't meet our taste standards. This isn't any fancy-dancy book. Rather, it's a cookbook for the Average Joe hunter, one who appreciates the wonders properly prepared venison can offer. Many of the recipes are the essence of simplicity although some, especially in the "Fancy Fixings" chapter, are more complicated. None require special utensils or culinary knowledge. Neither Ann nor yours truly ever had so much as a minute of formal training in the world of cooking. Our classroom was our own kitchen and our inspiration was a genuine appreciation for food and awareness that nature's bounty was ours for the taking, preparing, and enjoying.
If you hunt deer and enjoy venison (or even if you don't, I think there are recipes aplenty here to provide an attitude adjustment), you'll find this book deserves a welcome place on your shelves.  Also, at a price of only $25 (plus $6 shipping), it will pay back the cost in only a couple of new approaches to enjoying your wild harvest. The book can be ordered through my website, www.jimcasadaoutdoors.com, and of course I'll gladly sign and inscribe copies, or is available through standard on-line sources and bookstores. 
All of the recipes in this month's newsletter come from the new cookbook—one from each of the seven chapters. On other fronts I've been busy working on sorting, shelving, and generally rearranging the thousands of books I have for sale. Once I've finished, look for a bunch of special offers and sales on mostly one-of-a-kind items that are out of print.
In what may well be a singularly misguided burst of energy, I've decided to try my hand at a bit of humor writing. It's a genre I've never delved into, and I'm dipping my toes in those waters with a bit of trepidation. However, I've created a character named Mollygrubs Messer. His real name is W. McGillahaney Messer but from boyhood on he was universally known as Mollygrubs, a fine mountain word meaning down in the dumps or moving through life under a dark cloud much like Al Capp's character, Joe Btfsplk, in his Li'l Abner comic strip. My coverage involves an ongoing series of misadventures in his life as both a boy and an adult. A fellow outdoor writer who has produced numerous articles and some books of humor writing, Jim Mize, has given me both guidance and encouragement. At some point in the not too distant future I'll run a sample of the unfolding saga of the hapless fellow who is Mollygrubs Messer by you.
As ever, I plug along with various pieces for magazines, and I also continue to produce my weekly column for the Smoky Mountain Times, the little newspaper serving the town and county where I grew up. For the last couple of months my weekly pieces have dealt with boyhood memories of growing up squarely in the middle of the small local black community. I had a great deal of daily interaction with blacks of all ages, and unquestionably my youth was richer for the experience. Maybe I'll share some of the memorable incidents and characters from those days in a future newsletter. Other recently published material includes "Bob Ruark and the Boy," "Sporting Classics Daily," July 27, 2023; "Makin's from Melons," Smoky Mountain Living, Aug./Sept., 2023, pp. 16-19; and "Theodore Roosevelt as an Outdoor Writer," Sporting Classics, July/August, 2023, pp. 118-23.
RECIPES
MUSTARD-FRIED VENISON STEAK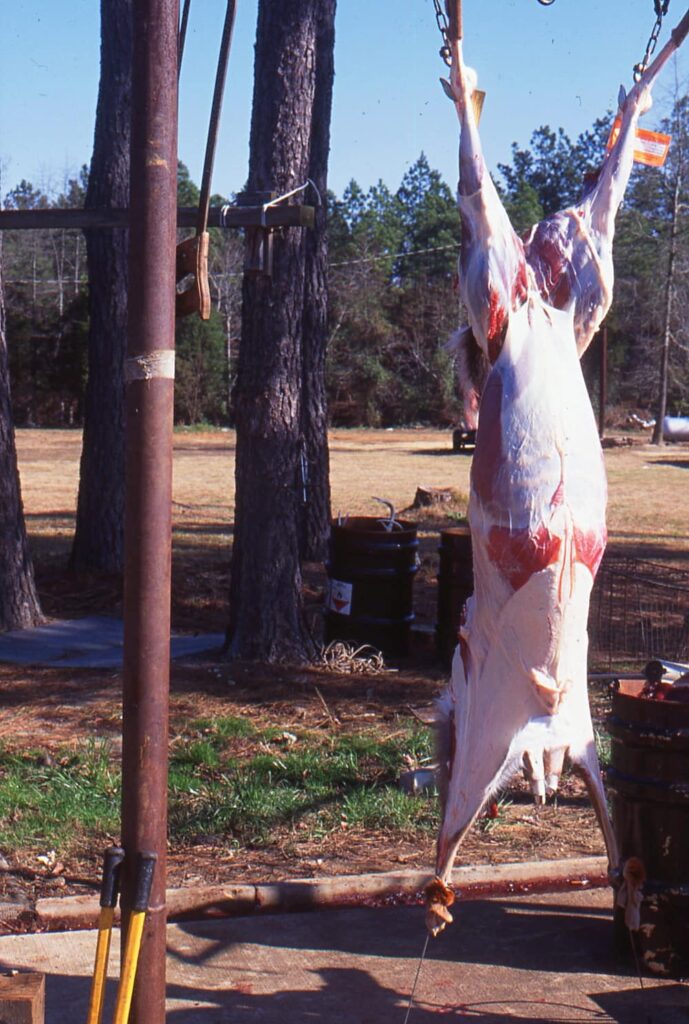 Every year an appreciable portion of the meat from the deer I kill (generally three, which rightly indicates that for one guy venison looms mighty large in my diet) ends up as cube steak. In fact, other than the backstraps and tenderloins, ends up as cube steak. In fact, pretty much everything that can be cubed is processed that way. It's so good in so many ways, from an all-day session in the crockpot with mushroom soup and the addition, in the last couple of hours of cooking, of barley and vegetables, to simply country-style steak, I gladly take this route. Yet for pure simplicity and splendid taste, it's tough to beat this recipe. It can be a main course or cut into bite-size pieces for a grand hors d'oeuvre. 
1 pound cubed venison steak
6 tablespoons canola oil
½ cup prepared mustard such as French's
2/3 cup all-purpose flour
1 teaspoon salt
Brush each piece of cubed steak on both sides with mustard. Place flour and salt in a bag and then shake to mix. Add half of steak to bag and shake well to coat thoroughly. Repeat. Heat oil in a non-stick pan or well-seasoned cast iron skillet and add floured steaks. Cook until golden brown, turning only once. Do not overcook—meat should be pink in the middle when removed from the pan. Serve immediately. Makes 3 to 4 servings.
NOTE: Quantities can be doubled (or more) and steaks cut into bite-size bits make a dandy hors d'oeuvre.
VENISON NOODLE SOUP
4 cups beef broth
¼-½ cup olive oil 
½ pound egg noodles or spaghetti
½ pound ground venison
2 ribs celery, chopped
1 small onion, chopped
2 tablespoons butter or margarine
Garlic salt to taste
Salt and pepper to taste
Chives and Parmesan cheese
Heat broth to boiling and add noodles.  In a separate pan, brown venison in olive oil.  Sauté celery and onion in butter.  When noodles are done, add cooked venison, celery and onion to soup pot.  Add garlic salt, salt and pepper to taste.  Simmer for 10-15 minutes.  Garnish with fresh chives and Parmesan cheese.  
TIP:  If you have leftover venison burgers, they can be chopped up and used in the soup.
QUICK VENISON CHILI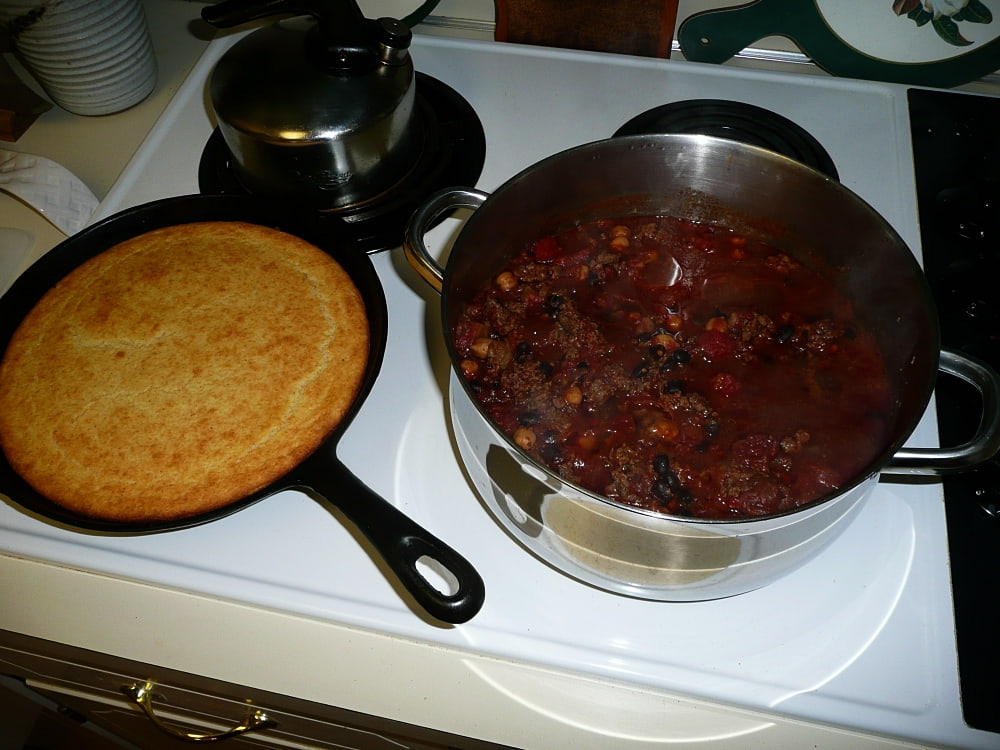 1 to 2 pounds ground or chopped venison
1 large onion, chopped
1 (14-ounce) can diced tomatoes
1 (16-ounce) can drained and rinsed beans (kidney or pinto)
1 (6-ounce) can tomato paste
1 cup water
1 package chili seasoning
Salt and pepper to taste
Brown venison and onion. Add tomatoes, drained and rinsed beans, tomato paste, water and seasonings. Simmer 45 minutes or longer for flavors to blend. Serve hot, topped with grated cheese and chives and accompanied by crackers.
VENISON CHEESEBURGER PIE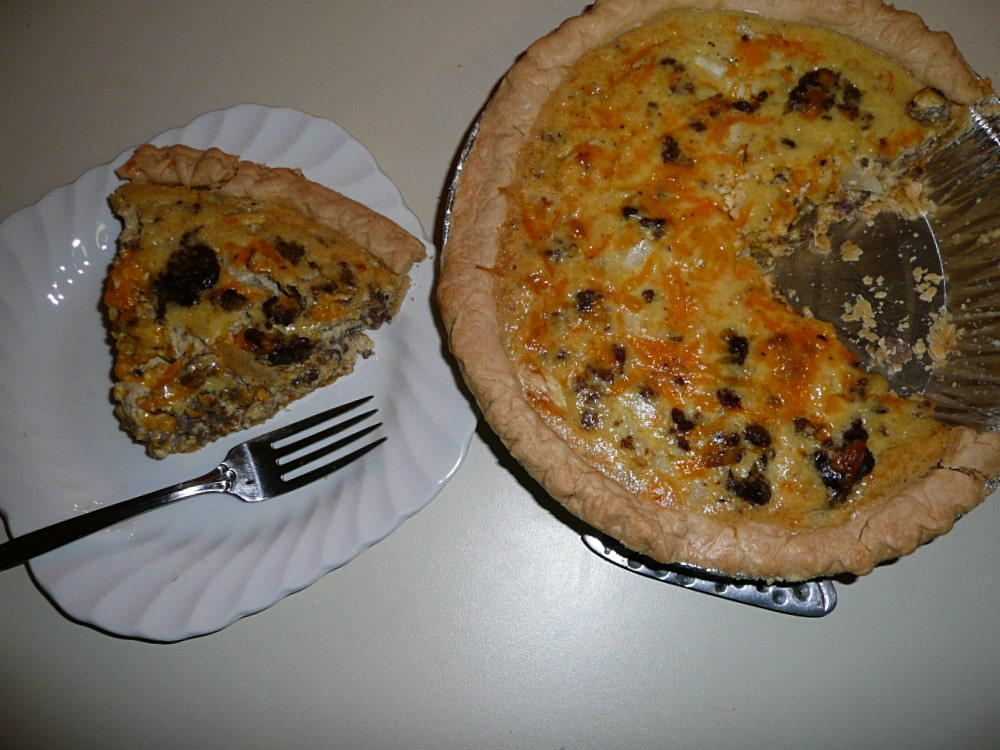 1 pound ground venison
½ cup evaporated milk
½ cup ketchup
1/3 cup dry bread crumbs
¼ cup chopped onion
½ teaspoon dried oregano or two teaspoons fresh oregano
Salt and pepper to taste
1 cup sharp cheddar cheese, shredded
1 teaspoon Worcestershire sauce
1 8-inch prepared pie shell
Combine venison, milk, ketchup, bread crumbs, onion, and oregano. Season to taste with salt and pepper. Prepare pastry to line an 8-inch pie plate (use a prepared shell or make your own). Fill with venison mixture. Bake at 350 degrees for 35 to 40 minutes. Toss cheese with Worcestershire sauce; sprinkle atop pie. Bake 10 minutes more. Let stand 10 minutes before slicing and serving.
DEER LIVER PATE
Liver and other organ meats fall into the category of either you like it or you don't. There's no middle ground, no "I'll eat it but it ain't what I prefer" equivocation about the matter. Like the unofficial national dish of Scotland, haggis, you either dig in or you turn your nose in disdain. I belong to the former clan, and would point out that deer liver, like other cuts, is far better for you than anything you'll find wrapped in cellophane decorating grocery store shelves and carrying prices that will lift your eyebrows to the top of your forehead. Here's one of my favorites. It takes some doing in terms of preparation, but rest assured the end result is worth it.
1 pound deer liver
1 cup milk
½ cup unsalted butter cut into pieces
1 tablespoon olive oil
1 cup chopped onion
2 teaspoons minced garlic
2 bay leaves
½ teaspoon dried thyme
½ teaspoon salt (or to taste)
½ teaspoon freshly ground black pepper (more if you like the tang of pepper)
¼ cup brandy
In a bowl, soak the liver in the milk for 2 hours (keep in refrigerator while soaking). Drain liver well.
In a large skillet, melt 4 tablespoons butter and 1 tablespoon olive oil over medium-high heat. Add the onion and cook, stirring often, until soft (about 3 minutes). Add the garlic and cook until fragrant (about 30 seconds). Add the liver, bay leaves, thyme, salt, and pepper and sauté until the liver is browned on the outside and slightly pink in the middle (about 5 minutes). Remove pan from heat, add brandy, return to heat, and flame. Cook until most of the liquid has evaporated and the liver is cooked through but still tender. Remove from heat and cool slightly. Discard bay leaves.
In a food processor, puree the liver mixture. Add the remaining butter in pieces and pulse to blend. Adjust seasonings to taste. Pack the pate into a mold sprayed with Pam and refrigerate until firm (at least 6 hours).
To serve, unmold and garnish with fresh parsley. Surround with baguette croutons, Melba toast, rye toast, or toasted pita bread. Gherkin pickles compliment the pate, as do a sprinkling of capers atop the pate.