Jim Casada
Looking back over more years than my mind sometimes wants to embrace (though my body tells me there have been a lot of them), I realize I've been the recipient of many wonderful gifts. Here are some of those blessings which, collectively, have molded and made me as a writer.
*By nothing more than an awesome accident of birthplace, I was born and raised in the heart of the Smokies, and the region long ago laid a firm hold on a corner of my soul. I proudly call myself a son of the Smokies, carry the label of hillbilly as a badge of honor, and am blessed by a lifelong love affair with my highland homeland.
*As my father once, said, "Son, you've had a marvelously misspent life." He was referring to the fact that I've been privileged to hunt, fish, and travel all over the world in search of stories, all the time doing something I loved.
*Daddy and my paternal grandfather, Joe Casada, were great tellers of sporting tales and a fair share of any ability I have in that regard is directly attributable to them as mentors. Both also loved hunting and fishing and shared that passion with me in a most meaningful way.
*I was blessed with a mother who tolerated endless outdoor excursions, small game and fish cleaning in the kitchen sink, served as a sometime chauffeur to destinations too far for walking or biking, cooked everything I caught or shot, and always had an encouraging word or a bit of praise to offer.
*Several teachers recognized some small spark of promise in a youngster absolutely entranced by the natural world and the environs of southern Appalachia and gave me encouragement. I owe all of them a lasting debt of gratitude.
*One of the abiding joys of my years is being able to share with others some of the feelings, experiences, and love of place which loom so large in my life. That's a big part of what this website is all about, it's the whole thrust of my monthly newsletter, and I feel privileged to be able to bring things that mean so much to me into print. If I am able to convey some tiny portion of the love I have for sporting literature, the natural world, hunting, fishing, gardening, cooking, and the like to you, I'll be happy. If those efforts bring a ray of sunshine into your world, I'll be happier still.
Free Newsletter – Recipes, Books, Jim's doings
Each month Jim sends out a newsletter which provides a mixture of nostalgia, reflections on his blessed boyhood growing up in the Great Smokies of North Carolina, shared memories of some special times and characters in his life, musings on the season and seasons past, a few recipes, some information on his books or those of others writing about subjects near and dear to his heart, and much more.
Basically the newsletter is a potpourri of literary outpouring from a fellow who knows just how blessed he was in the place and nature of his raising. There will be some lighthearted humor from time to time; maybe a bit of pining for a world we have to some degree lost; perhaps some practical information for the gardener, hunter, fisherman, or naturalist; but most of all an attempt to share thoughts and insight on things near and dear to Jim. If something in the newsletter brightens your day or lightens your way, let Jim know. Likewise, even though he readily admits to being mule stubborn after the fashion of so many of Scotch-Irish origin who came to make the southern Appalachians their home, Jim isn't so old a dog that he isn't interested in new tricks and up to garnering new information.
Follow this
link
to view the newsletter archives.
Click
here
and fill out the short form on the page to sign up for Jim's free newsletter.
Book of the month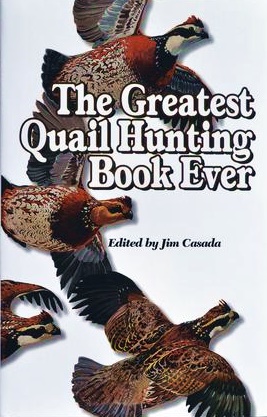 Jim Casada (Editor), The Greatest Quail Hunting Book Ever. Columbia, SC: Sporting Classics, 2016. A collection of some of the finest pieces ever written on birds and the canine companions which make hunting them such a joy, with selections from the likes of Babcock, Rutledge, Ruark, Buckingham, Hill, and a host of others. $35.