Updated Book Lists
---
Remembering the Greats: Profiles of Turkey Hunting's Old Masters
Read a sample here (Chapter 2, on Simon Everitt).
Priced at $39.95 plus $5 shipping and handling, and of course I'll be honored to sign and inscribe it as per your request.
Contact me today or order online now!
---
Sporting Classics Daily Book Expert

It was announced in early January 2013 that Jim Casada has been named Book Expert for Sporting Classics Daily. He will contribute several columns online each week. From Africana to upland game, Jim will provide a wide range of timeless classics for outdoor enthusiasts to enjoy and cherish in the years to come.
---
The Literature of Turkey Hunting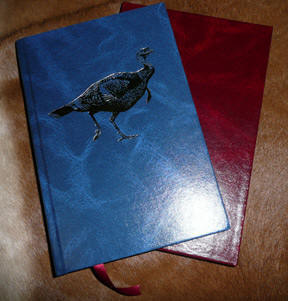 At the Southeastern Outdoor Press Association (SEOPA) conference held in late September 2012, my book, The Literature of Turkey Hunting: An Annotated Bibliography and Random Scribblings of a Sporting Bibliophile, won two first place awards.
One in the Outdoor Entrepreneur category for promotional efforts connected with selling the work and the second as the best outdoor book of the year.
Copies of the award-winning book are still available. However, it was published in a signed and numbered limited edition of 750 copies, and they won't last long!
Order your copy today for just $100 (includes postage and insurance).
---
The Complete Venison Cookbook: From Field to Table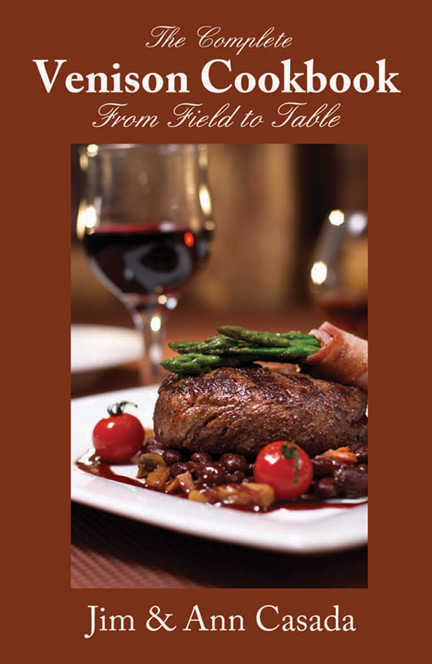 With fairly frequent inquiries from folks asking if I had this book, I decided to dip my toe into a pool of technological water I have heretofore avoided. I've moved forward to make The Complete Venison Cookbook: From Field to Table once more available. This time around it is in both printed and e-book form.
The e-book is now available by checking Amazon or other on-line sources.
Here's the real skinny on the book. It is paperbound, 201 pages, and contains 210 venison recipes, dozens of sauces and marinades, a dozen full menu suggestions featuring venison, and information on field preparation, aging, and care of venison. The book's sections include: Choice Cuts, Crockpot Cookery, Venison on the Grill, Ground Venison and Cubed Steak, Soups and Stews, Sausage, Jerky, and Little-Used Parts, and Suggested Menus.
The book is quite reasonably priced at $14.95, and for my online customers only, from now through the month of June, I'll pay the postage. You can order through my website using PayPal, or just send a check to me c/o 1250 Yorkdale Drive, Rock Hill, SC 29730. Bon appétit!
---
Introducing Close Calls
Jim Casada Wild Turkey Legend
Limited Edition Box Call
Master Call Maker Ron Clough of Close Calls maker of Hi End custom made turkey box calls is now accepting orders for the 6th in his series of Wild Turkey Legends — The JIM CASADA. Lid and front are made from Alaska Yellow Cedar, a beautiful & rare turkey call wood. Artwork on lid is hand painted over the lasering...note the colorized South Carolina state quarter embedded into the unique fantail handle and the Collector's edition is autographed by Mr. Casada. Each call will be signed, # & dated on the base by the maker. $100 each The Casada Legend is also available in an AWESOME Hunters Edition. Lid is Black Locust & Front is Wild Cherry. Great for the Collectors shelf or your turkey woods for $60 each.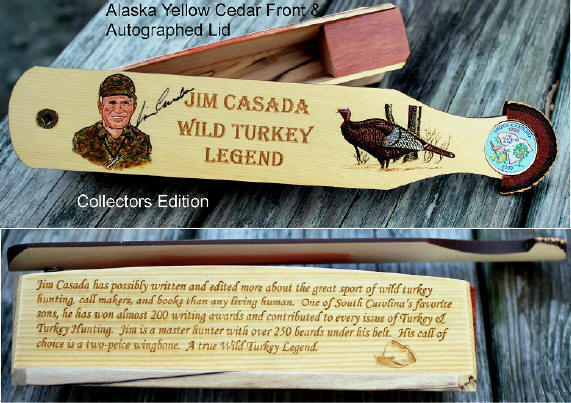 Order online at www.Close-Calls.com. For more information contact Ron Clough, 12940 Goosedown Farm Rd., Worton, Md. 21678. E-mail: closecalls@hotmail.com Phone: 410-778-4746.
---
Africana and Related Items
Big Game, Natural History, And Exploration
I have finally completed a massive "storage shed cleaning" effort, at least for items having to do with Africa! Download the complete list of over 700 Africana-related Items.
---
Turkey Hunting
Another effort recently undertaken was a thorough inventory of turkey hunting literature and other related items I have available for sale. Check out the complete list (of well over 200 items)!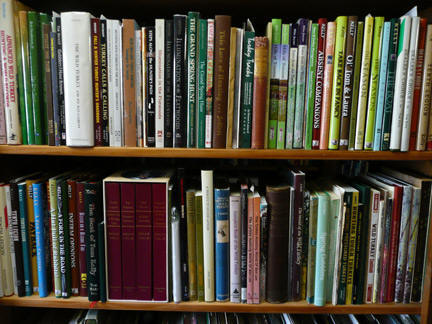 ---
The Bibliography is Here
The Literature of Turkey Hunting: An Annotated Bibliography and the Random Scribblings of a Sporting Bibliophile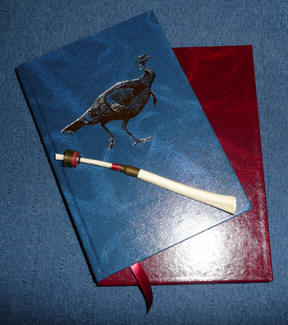 Earlier this week I received two preliminary copies of The Literature of Turkey Hunting: An Annotated Bibliography and the Random Scribblings of a Sporting Bibliophile from the printer. I'm delighted with the appearance of both the book and the slipcase, and hope others will be similarly pleased. As I have noted in recent newsletters, the book was "done right" in terms of quality. It features Smythe-sewn binding, classy Skivertex material for both the book cover and the slipcase, a ribbon marker, all edges gilt, the use of gilt on the cover and spine, 80-pound stock, a selection of color photographs, and other attributes of a fine book. The book's cover is in a striking blue, nicely offset by the maroon color of the slipcase and ribbon marker.
It is produced in a limited, number, and signed edition of 750 copies. The book contains 580 annotated entries, current prices are given for books dealing exclusively with turkey hunting, and there is coverage of various matters which should be of interest to anyone who is a collector or reader of the literature of the sport. My good friend and fellow sporting scribe Jim Spencer lied most graciously in his Foreword. The work's 11 chapters cover the following subjects:
Chapter 1—"Suggestions on Forming a Turkey Hunting Library"

Chapter 2—"The Vagaries of Book Values"

Chapter 3—"Some Notes on Arrangement and the Scope of Coverage"

Chapter 4—"Books on Turkey Hunting"

Chapter 5—"Tom Kelly Books"

Chapter 6—"Scientific Books and Pamphlets on Turkey Hunting"

Chapter 7—"Pamphlets, Leaflets, Booklets, Bulletins, and Other Ephemera"

Chapter 8—"Books with Some Coverage of Turkey Hunting"

Chapter 9—"Elusive Items, 'Ghost' Titles, and Sights Unseen"

Chapter 10—"Magazines and Annuals"

Chapter 11—"A Peek in the Crystal Ball"

Appendix—"Book Terms, Condition, and Related Information"
The book contains 18 pages of introductory material, 171 pages of text, and a separate section of color photographs. It is $100 (includes shipping and insurance), and you can order through this Web site (use PayPal) or by mailing payment to me c/o 1250 Yorkdale Drive, Rock Hill, SC 29730. For those of you who ordered and pre-paid for the book, I will be shipping your copies, via insured media mail, on September 27.
If you are interested but would like a bit more detail, you can read a sample chapter here, and there is a photo of the book and slipcase there as well.
---
Classic O'Connor
In Classic O'Connor, a sequel to The Lost Classics of Jack O'Connor, more than forty of his great stories, none of which has previously appeared in book form, have been carefully selected to reflect the diverse interests and wide-ranging knowledge of the man. The book includes a Foreword by his son, Brad; an Afterword by a close friend in his later years, Buck Buckner; and an Introduction, Note on Selection, and other material by yours truly. I also made the selections for the book and did the editing, with plenty of assistance and input from Chuck Wechsler, the Editor of Sporting Classics magazine.
Running to more than 400 pages, the book is illustrated by numerous photos, many of them never previously published, and is a "must read" for all O'Connor fans.
I have the trade edition in stock at $35 plus $5 postage and handling, and of course I will be glad to sign and inscribe copies. There is also a limited, slipcased edition, and I expect to have a small number of these to offer for sale (at $90 plus $5 shipping) in two or three weeks. OUT OF STOCK.
Want more O'Connor?
View the list of duplicate books I've just compiled and have in stock. Please note that some new items appear, as well.
---
A Southern Sportsman:
The Memoirs of Henry Edwards Davis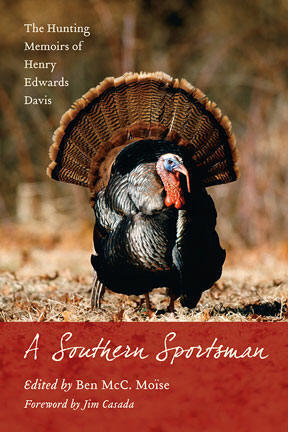 Henry Edwards Davis is best remembered as the author of The American Wild Turkey, a work published in 1949 which many feel is the finest single volume ever written on the subject. Yet Davis was much more than an accomplished turkey hunter. He was a skilled craftsman whose favorite call (which he made) sold a couple of years back for $55,000, the highest price ever paid for a turkey call. He was a fine wood worker, a gunsmith who made many of his own guns, and as this new book reveals, a sportsman for all seasons.
At some point in the 1950s Davis wrote his sporting memoirs and his secretary (he was a lawyer by profession) carefully took his handwritten account and turned it into a lengthy typescript. At that point in time Davis was unsuccessful in finding a publisher interested in the book, although just why this would have been the case, given the fascinating contents of the book, is a mystery to me.
The manuscript languished in obscurity for a half century, although there were several copies floating around (I have had a photocopy for perhaps 20 years). Then a retired South Carolina game warden with a nose for research and a willingness to work ferreting out every possible detail, Ben Moise, took the project in hand. The result is a lovely book, nicely produced by the University of South Carolina Press.
My connection with the project involved the writing of a Foreword offering a biographical appreciation of Davis along with providing a bibliography and some of the photos used in the book. I've been a student of Davis for years and, as a collector, have accumulated various items connected with his career.
The book has a bit of everything. If you are a fan of wings (or well-endowed young women), the title of one chapter, "Hunting the Hooters," will immediately catch your eyes. Rest assured it has nothing to do with the popular chain restaurant with its scantily clad waitresses; instead, Davis lived in a time when it was legal to hunt owls; and he did so with a vengeance. Similarly, there's a chapter on hunting hawks, one devoted to the quest for bobcats, and plenty of somewhat more predictable fare in the form of coverage of hunting whitetails, squirrels, quail, and, of course, turkeys.
The gun nut will find plenty of interest, inasmuch as Davis was a man greatly interested in flat-shooting rifles, the performance of various cartridges, the eternal argument of shotgun versus rifle for turkeys, and the like. All in all this is a delightful book which takes the reader back to a hunter's experiences spanning a period from late in the 19th century (he hunted with Confederate veterans) to mid-20th century.
I've got it in stock, signed by both Moise and me. The 400+ page book is $29.95 plus $5 shipping and handling, and I think you'll agree with me that it takes the reader back to a world we have largely lost in extraordinary fashion.
You can order by sending a check or money order to Jim Casada, 1250 Yorkdale Drive, Rock Hill, SC 29730-7638 or through my Web site using PayPal.
---
Fly Fishing in the Great Smoky Mountains National Park: An Insider's Guide to a Pursuit of Passion
"I am fascinated by this book and will be from now on. This is the complete book about fly fishing in the Smokies. It is obvious that Jim Casada knows more about Park streams, the area's history and heritage, and our sport than anyone I have met. It is a masterpiece."
—Byron Begley, owner of Little River Outfitters
"If your passion is trout of the Southern highlands, this book will prove to be as indispensable as a favorite rod and wading boots."
—Sam Venable, longtime columnist for the Knoxville News-Sentinel.
"This is a book anyone who knows or plans to visit the Smokies will cherish, but also a book that anyone who takes pleasure in fine writing about the outdoor world and especially fly fishing will admire greatly. I do."
—Nick Lyons, noted fly-fishing book author, from the Foreword
Check Out a Sample of the Book's Contents
This is a book I've mentioned repeatedly in my monthly newsletter and in public appearances, and for me it is my "book of a lifetime." The 448-page book features detailed coverage of all the major streams of the nation's most visited national park along with insight on even the smaller feeders. In addition, there are dozens of helpful graphs, scores of both vintage and modern photographs, a detailed list of outfitters and guides, a folding map which is tucked into the book and can be carried with you on the trail, an extensive annotated bibliography, and much more.
With a Foreword by acclaimed angling writer Nick Lyons, this book features a lifetime of knowledge and insight gained from untold days and years of blissful casting and wading in the finest wild trout water east of the Rockies. If you are interested in the history of the high country of western North Carolina and east Tennessee, want to know more about fishing in the Smokies, or are seeking detailed information on tactics and techniques which work well in the region, this book is for you. You'll enjoy all sorts of anecdotal tidbits, take to the stream with endearing old timers, and find answers to about anything imaginable about the Smokies and their fishing.
The samples will give you a feel for the flavor and flair of the book. They include the Table of Contents, the full text of two chapters covering streams (one in each state), a selection from the coverage of "Seasons of the Smokies," and a stream graph of the type provided for all the Park's major drainages. I think you'll find the material of interest, and it's but a hint of what awaits you.
The book is available in both hardback and paperback formats. Both include the folder map showing Park trails and designated backcountry campsites. For the hardbound version, send $37.50 plus $5 postage and handling, while the paperbound version is $24.95 plus $5 postage and handling.
You can order by sending a check or money order to Jim Casada, 1250 Yorkdale Drive, Rock Hill, SC 29730-7638 or through my Web site using PayPal. I'm scheduled to have the books in hand on August 21 and will start filling orders immediately.
Download samples here (pdf file size 503KB) ...
---
Making News
"Fly Fishing in the Great Smoky Mountains National Park: An Insider's Guide to a Pursuit of Passion"from High Country Press
Radio Station WRHI Interview
On Nov. 23, 2009, Jim Casada did a 30-minute interview on local radio station WRHI's "Straight Talk." Take a listen if you are so inclined. (Please note, this page may take a moment to load.)
It deals, for the most part, with the background to and nature of Jim's new book, "Fly Fishing in the Great Smoky Mountains National Park: An Insider's Guide to a Pursuit of Passion."
Great Smoky Mountains TV Webcast
Great Smoky Mountains TV webcasting network offers unique and entertaining programming from in and around the Great Smoky Mountains.
Jim Casada recently sat down with host James Dukes to talk about his new book, Fly Fishing in the Great Smoky Mountains National Park: An Insider's Guide to a Pursuit of Passion.
Jim says, "If you are so inclined to listen to me ramble and reminisce for 20 minutes or so, go to http://www.greatsmokymountains.tv/ (to the right of the video screen, scroll down to "The Smokies Tonight, Jim Casada"). You don't need to watch much of this, unless you are in desperate straits seeking an antidote for insomnia!"
But honestly, Jim's interview offers an inside look at the man behind the book and his lifelong Pursuit of Passion.
---
The Best of Tom Kelly
A long awaited book sure to be a classic. After a lot of prodding from my good buddy Jim Spencer and me, Tom Kelly agreed to let us select stories from his many books to make up a new work, The Best of Tom Kelly.
The book, published in a limited, numbered, and signed edition of 1,000 copies, bound in full leather and with gold lettering on the spine, a ribbon marker, all edges gilt, etc., is a dandy.
It contains 34 of Tom's finest stories, Spence and I wrote introductory comments, the Colonel added his witty preliminary remarks, and the end result was a book no Kelly fan can ignore.
Get yours while it is still available and while I've got copies. $75.
---
Special Items
The biography of Robert Ruark (more info below) written by his secretary, Alan Ritchie, "Ruark Remembered," is a dandy, and I was honored to be chosen to edit it.
I also edited "The Lost Classics of Robert Ruark," and I've got it back in stock.
Then there are three anthologies of Rutledge's writings I've compiled, "The Lost Classics of Jack O'Connor," a couple of fly-fishing books, several cookbooks, and much more.
Furthermore, I have some special recent acquisitions:
Charles Sheldon, The Wilderness of the Upper Yukon. With a new Foreword by Jim Casada (I'll gladly sign and inscribe if you wish). Camden, SC: The Premier Press, 1987. Number 316 of a limited edition of 3000. Bound in full leather, all edges gilt, ribbon marker, Smythe-sewn, raised hubs on spine, and other features of the bookbinder's art. A true classic. As new, xxxviii, 390 pages. $100.

Edouard Foa, After Big Game in Central Africa. With a Foreword by Jim Casada. Camden, SC: Briar Patch Press, 1987. Limited, numbered edition of 500 copies. This is #324. Full leather, all edges gilt, ribbon marker, linen slipcase, and all the other attributes of a top-class book. As new. I'll gladly sign. Listed on the Internet for prices of $500 or more; this one only $275.

Roualeyn Gordon-Cumming, A Hunter's Life in South Africa. With a Foreword by Gary Clendennen. Camden, SC: Briar Patch Press, 1987. Limited, numbered edition of 500 copies. This is #324. Full leather, all edges gilt, ribbon marker, linen slipcase, and all the other attributes of a top-class book. As new. I could not find a copy offered anywhere. A beautiful book in every sense. $300.

Irvine Rutledge (Editor), Fireworks in the Peafield Corner. Clinton, NJ: Amwell Press, 1986. Signed by the artist, publisher, and editor. #786 of a limited edition of 1000 in a slipcase. Leather-bound. About fine (slight signs of wear at top of spine) in a fine slipcase. Even the trade edition of this book is now selling for prices in the $400-$500 range. Extremely desirable and the first I've offered in years. Only $450.
---
Lost and Found
Check out the new listing of Jack O'Connor books available for sale, as well as some great Derrydale Press books!
As many of you know, I'm a great admirer of the work (though not necessarily the life) of Robert Ruark.
I just dug up a whole batch of Ruark-connected items I've had stored away for a decade or more, added a few more recently acquired items, and created a separate listing of them. Take a look, and you'll find copies of most everything he wrote, along with material relating to him. If you are a fan, I hope you locate something of interest to you or that will fill a gap in your holdings.
I also made another delightful discovery amidst the dust and toil. I served on the advisory board of the Premier Classics published back in the 1980s and 1990s. These books were published in beautifully done limited editions, bound in full leather, with all edges gilt, ribbed spines, ribbon markers, marbled endpapers, and in-depth new introductions by authorities in the field. I found two copies each of three works in the series.
Finally, I've updated my complete list of Turkey Hunting Books, and added some NWTF framed prints for sale!
---
Ruark Biography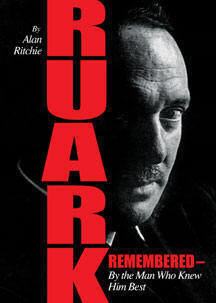 A while back a fellow from over Wilmington, N.C. way (that's Ruark's boyhood stomping grounds) whom I've known for a good while, Steve Bliss, contacted me with some fascinating news. It turns out that the manuscript of a lengthy biography of Ruark written by Alan Ritchie, who served as Ruark's secretary from the early 1950s up until Ruark's death in 1965, had just come to light. Steve and a companion who is deeply involved with the Ruark Museum at Southport (and who knew Ruark personally), George Saffo, shared that glad information with me and did me the singular honor of asking me to edit the work for publication.
Here are the details: Alan Ritchie, Ruark Remembered (edited by Jim Casada). The trade edition is $40 and the deluxe edition (leatherbound, slipcased, and with a photo of Ruark and Harry Selby signed by Selby tipped in) is $90 (Sorry, the deluxe edition is SOLD OUT).
---
Cooking With Remington
A recently-released book by Jim and Ann Casada, Field to Feast: The Remington Cookbook, is intended to round out the Remington story as a sort of companion to The Art of Remington Arms and Remington, America's Oldest Gunmaker. Jim and Ann wrote the book drawing on experience they have garnered over the years in enjoying the results of hunting and in the preparation of a number of prior cookbooks. These include The Complete Venison Cookbook, The Ultimate Venison Cookbook, Wild Bounty, Backyard Grilling, Wild Fare and Wise Words, and contributions to several other culinary tomes. $35.
---
Other Books of Interest
Beginner's Guide to Fly Fishing
Throughout my youth and adolescence I fly fished with a will, and since some of the fine streams of the Great Smoky Mountains National Park were almost literally in my backyard (one was within easy biking distance), that meant plenty of marvelously misspent hours astream. A half century has come and gone since those first footsteps in the world of fly fishing, but my passion for the sport remains unabated. Fifteen years ago or so I wrote an award-winning book, Modern Fly Fishing, on the subject for the North American Fishing Club. Now I have distilled a lifetime of experience into a basic primer, Beginners Guide to Fly Fishing, on the subject. It is just out, published by Barrons, and I'm delighted with the job they did. The 96-page book features plenty of illustrations, an attractive layout and design, and the finest quality paper and binding I've ever seen in a paperback book. While it is a basic guide, even veterans of the long rod and whistling line should find tidbits of knowledge they welcome.
It is a pleasure to offer the book at a very reasonable price of $12.95 plus postage and handling. Of course I'll be delighted to sign and inscribe copies, and the book would make a great gift for anyone interested in this delightful approach to angling. Order Now.
Tall Tales, Gibberish & Malarkey While Hunting Wild Turkeys
For years I have periodically enjoyed a hilarious little newsletter distributed periodically by the Rev. Bill Privette. The good minister long since lost a little corner of his soul to the wild gobbler, and now he has turned his adventures, misadventures, and love of the sport to good effect in the appropriately entitled Tall Tales, Gibberish & Malarkey While Hunting Wild Turkeys. The edition is limited to 500 numbered and signed copies, and I have managed to procure a number of these. One goes directly into my collection, but the others can be yours, as long as they last, for $27.50. The 141-page paperback is perfect-bound and contains 12 chapters offering pure delight. Order Now.
Be sure to check out the complete list (over 200 items) that I have to offer on turkey hunting.
The Special Tom Kelly Collection
I have five low numbered sets (96, 97, 98, 99, and 101) of the leather-bound Tom Kelly Collection. The set consists of eight books in four volumes, together with a slipcase to hold the collection. The books are Tenth Legion and Better on a Rising Tide (Volume 1), The Season and Dealer's Choice (Volume 2), The Boat and A Year Outside (Volume 3), and Faces in the Crowd and A Few Loose Chapters (Volume 4). These sets are part of a special edition consisting of 1,000 numbered and signed copies. The first 50 copies were reserved for the publisher and are not for sale. I was fortunate enough to acquire these five sets of numbers 51-250, which were reserved for subscribers. Number 251 through 1000 will be available to the general public. These books are lovely to look at, with their bright maroon binding, the gilt on the spines, the gilt edges and ribbon markers that distinguish each volume, and striking color photos, protected by a tissue sheet at the start of each volume. An absolute must for the Kelly fan or collector. $250. Order Now.
Field to Feast: The Remington Cookbook
This cookbook is a celebration of Remington's rich history and the way Big Green's guns and ammunition have helped generations of American sportsmen put meat on the table. Here's a sampling of recipes from its pages, which are beautifully illustrated with art work from the Remington collection featuring the efforts of masters such as Lynn Bogue Hunt, Bob Kuhn, Tom Beecham, and others. The book is published in both a regular edition and a special limited, numbered one. Order yours today!
Wild Fare & Wise Words: Recipes and Writing from the Great Outdoors
This is a collection of recipes (Ann and I were major contributors) spiced up with apt quotations from great outdoor writers from the past. Ann and I edited and compiled the work, and I wrote the narrative portions that accompany it.
You can read a liberal excerpt from my general Introduction to the book, along with a sampling of fish recipes from its pages.
This is a joint project of the S.C. Outdoor Press Association, the Harry Hampton Fund (a non-profit group in S.C. devoted to the natural world), and S.C. Wildlife magazine. Appearance-wise the book is a true "thing of beauty," and at just $19.95 you'll want to order yours today.
The Lost Classics of Jack O'Connor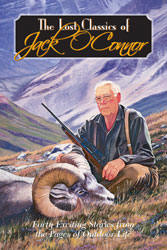 Since boyhood I've been a great fan of Jack O'Connor, the greatest gun and hunting writer of the 20th century. Finally that interest has come to published fruition in a book entitled The Lost Classics of Jack O'Connor. This work follows a format similar to that used in The Lost Classics of Robert Ruark. I selected some 40 of O'Connor's finest stories; none of them ever published in book form. I've also included detailed information on the man, a full bibliographical essay, and other material. The book includes extensive color and black and white photos. The Lost Classics of Jack O'Connor is available in a hardbound trade edition of almost 400 pages for $35 or a limited, numbered edition of 1,000 copies, bound in genuine leather and housed in a slipcase, for $150. The limited edition includes four extra stories and is signed by his son, Bradford O'Connor.
The Marksmanship Primer
In recent years I've done considerable work for Palladium Press as the Editor of their Firearms Classics Series that reprints great gun books. Building on the success of that series, they asked me to edit and compile a rifle and pistol marksmanship primer. The result is a work entitled The Marksmanship Primer. The 480-page book includes information and insight from many of the greatest authorities on accurate shooting – Charles Asks, Jack O'Connor, Townsend Whelen, Bryce Towsley, Wayne Van Zwoll, and a host of others – along with my editorial input. Paperbound, $17.95.
Backyard Grilling
In Backyard Grilling, Ann and I join two other nationally known cookbook authors, Kate Fiduccia and Teresa Marrone, in sharing 150 scrumptious recipes on grilling, smoking and deep frying. Along with all sorts of tips and suggestions, these recipes offer a simple, straightforward road map to being king or queen of the culinary arts in your own backyard. Now available for $21.95. Order Now.